Leap in Production by Lowering Bank Interest Rates
The editorial of Tejarat online, written by a current lawmaker, discusses the need to lower bank interest rates in order to help the production sector.
Banks are not supposed to behave like businesses; their first and foremost task is to keep money safe and lend money to those in need. But currently banks are acting as businesses and this is creating a lot of problems for people's savings.
When banks offer high interest rates under any guise, it is still usury and robbing people. Now that the banking interest rate is almost 18 percent, no one will even think of taking their money out of banks and investing it in the production sector – which won't pay back as much as 10 percent. So, people would rather have their money in banks instead of investing it in the production sector.
If we insist on having a leap in production and jihadi management, we must decrease the interest rates of banks. We must lower the interest rate as well as the rate on loans to less than 4 percent. In all developing countries, the interest rate is less than 2 percent. Why should teachers pay taxes on their salaries, but those who have billions of tomans in banks should not be taxed?
Due to loans granted by banks, industries and businesses have shut down. Vacant houses and money deposited in banks must be taxed. As it is customary all over the world, people must pay taxes on all their assets. So, this is an issue that we must focus on: as far as the interest rate is not lowered, we cannot support production.
If we decrease the interest rate to 2 percent, people cannot take their money to countries like Germany, America, and Japan to receive a 20 percent interest rate. The level of the interest rate in these countries, like most other countries, is about 2 percent. Therefore, we should not be lazy and keep our money in banks. In some countries, people are charged for keeping money in banks.
Fighting Poverty; Theory to Practice
The editorial of Jahan Sanat focuses on the inadequacy of the Iranian government's plans to fight poverty in the country.
Fighting poverty or helping low-income families in society by giving them relief packages can be viewed from two perspectives. Firstly, such packages are costly to society. Secondly, how can the government know what the essential requirements of the poor are? So, implementing such plans has two clear outcomes: a large percentage of resources allocated to relief packages is squandered, while the government assumes that all households have the same needs.
Instead of helping low-income households by giving them relief packages, the government can give them the means to participate in the production and distribution of goods. Temporary support for such households is only for propaganda purposes and will not solve the problems of low-income families. Unfortunately, the coronavirus disease has added to the problems of these households, making them poorer than ever.
One other way to fight poverty is to eliminate the government's incorrect, ineffectual policies. It is not acceptable for policymakers to wait and have high hopes for the result of the US presidential elections to see if there will be any change in US policies towards Iran. Also, it is not acceptable for the government to adopt policies that will aggravate poverty and then to try to fight poverty by providing relief packages.
Evidently, printing money to fund these packages will lead to more poverty. One of the self-evident truths about Iran's economy is that policies are designed to favor certain groups and factions. These policies might be in the interests of these groups but they are against the interests of low-income families and society.
In today's world, other countries have achieved transparency, provided subsidies, created jobs and are engaged in constructive dialogue on an international level. It seems that the members of the Parliament, like the government, are wanting to create instability in the economy.
Perhaps, instead of relying on such a government and Parliament, we should be after reforming the Constitution to pave the way to elect competent people to significant positions.
Mutual Confrontation With America is Our Right
The editorial of Arman Melli, written by former lawmaker Abulfazl Hassan-Beigi, argues that Iran has the right to retaliate against US measures targeting Iran. In a recent case, a US fighter jet approached a Mahan Air passenger flight over Syria for inspection.
The Americans announced that the Mahan airplane was not flying via its usual route and was in the flight path of the US aircraft. In accordance with international law, the Iranian airplane was moving in the established air route and was for civilian purposes.
The second point is that the United States is not allowed to be present in other countries.
The American presence in Iraq and Syria is unlawful. As a result, Iran has filed a lawsuit with international organizations to punish the US aircraft.
Thirdly, Iran can retaliate whenever its passenger and cargo carriers or oil platforms are attacked. We are, of course, trying to follow the issue through legal international channels. Nevertheless, when necessary, Iran will retaliate.
Iran could retaliate against American measures in different ways. It could increase efforts to pressure the United States to exit the region. Fourthly, it is our right to down US aircraft or target US military assets in the air, sea, or land with our rockets.
International organizations will certainly consider Iran's lawsuit, but they are weak, due to heavy US pressure on them. International organizations are not strong and, as everyone says, the United Nations has lost its place in the world. Taking advantage of this situation, America is humiliating the UN Security Council.
Why Is Public Opinion Neglected in the Policy to Turn Towards the East?
The editorial of Setareh Sobh explains why the Iranian people are against Iran's policy of turning towards the East.
The Iran-America confrontation started after the revolution and reached its peak in November 1979 when American diplomats were taken as hostages in Tehran. However, according to Iranian authorities, American pressure on Iran has been unprecedented since 2018. The most recent incident took place in Syrian skies when a US fighter jet approached and threatened a Mahan passenger aircraft.
For all governments after the revolution, the policy of turning towards the East has been of great importance. This policy has been justified on the basis that Iran can't get closer to China and Russia to mitigate the impact of sanctions and Western threats. However, in actuality, we can see that the ramifications of sanctions have increased, while the security danger posed by the United States and its allies against Iran has reached an unprecedented level.
At the diplomatic level, Iran still insists on signing a 25-year agreement with China and renewing and updating a 10-year agreement with Russia. The establishment is in charge of such agreements, but the question is: has the establishment ever been able to convince the Iranian people about getting closer to China and Russia?
As for Russia, it has a poor reputation among the Iranian people because of certain treaties in the past that resulted in the relinquishing of Iranian territory to Russia. China does not have such a history with Iran, but it is known among Iranians as a producer and seller of "shoddy" goods and products.
What is more, during the tenure of former US President Barack Obama, both China and Russia took part in an international consensus against Iran and signed six UN Security Council resolutions against Iran.
Countries create a balance between the East and the West in accordance with their own national interests and while ensuring the observance of basic public rights. Now, is it not fruitful to move towards the East to stop America and its allies' measures against Iran? The best way in foreign policy is to create a balance between the East and the West.
Holding Muharram Ceremonies Despite Coronavirus Crisis
The number of coronavirus infections is on the rise in Iran. There are many hotspots all over the country, including Tehran. Hundreds of people die every day due to coronavirus. The Iranian government, however, insists on holding Muharram ceremonies in which people will gather to mourn the death of Imam Hossein after hundreds of years.
President Hassan Rouhani has said that Muharram ceremonies must be held all over Iran, even in coronavirus hotspots. He made the remark during a meeting at the Coronavirus Combat and Prevention Headquarters. Rouhani emphasized that "Ashura culture" is a sign of resistance against "the enemy." In addition, he said that holding religious ceremonies during Ramadan showed that the virus did not spread because of these gatherings.
"Everybody knows that the Iranian people, Shiites and Muslims love Imam Hossein," stressed Rouhani. "One cannot separate religion from science," noted Iran's president, "we practice both religion and science."
Hassan Rouhani also stated that the mourning ceremonies of Muharram should be performed in an open space for a limited time – one or two hours instead of three or four – while observing health protocols, "or else we might face problems in terms of coronavirus outbreak." He also mentioned that the people attending the ceremonies should wear masks.
As for the elderly and those with underlying medical conditions, Rouhani said they can participate in the ceremonies virtually or by watching TV. "God will accept their mourning at home too," added Rouhani.
Although the spokesperson of Iran's Health Ministry has openly disagreed with holding religious ceremonies during Muharram, the spokesperson of the judiciary has said that such ceremonies can be held with health protocols being fully observed.
New Head of Supreme Audit Court; Bracing for the Next "Hardliner" President?
Although many documents were released regarding Mehrdad Bazrpash's corruption and fraud during the past year, he was inaugurated as the next head of Iran's Supreme Audit Court.
Bazrpash was born in 1980 and started his political activities as head of the Student Basij Office in Sharif University. His political career started while participating in the crackdown on the student movement. He later became an adviser to former President Mahmoud Ahmadinejad while he was Tehran's mayor. Hence, Bazrpash joined the circle of administrators in Iran.
In recent days, many documents regarding Bazrpash's corruption, counterfeiting and rent seeking were released on the internet. People with different political backgrounds disagreed with his appointment to this position.
Last week, Bazrpash was appointed as the head of the Supreme Audit Court of Iran, with 158 lawmakers out of 224 voting in his favor. Nonetheless, his candidacy prompted criticism from some officials.
For example, former MP Ahmad Tavakoli, asked the Parliament speaker Mohammad Bagher Ghalibaf in a letter to reconsider Bazrpash's candidacy for this position. Tavakoli pointed to Bazrpash's "insufficient background and related education" which render him unfit to head the Supreme Audit Court.
Parliament Speaker Ghalibaf, himself charged with numerous cases of corruption, has defended Mehrdad Bazrpash as the new head of the Supreme Audit Court of Iran, saying he was elected legally.
In 2015, Mohammad Ashrafi Esfahani, who headed the preliminary board for investigating administrative violations at the time, announced that Bazrpash had been "sentenced to five years of imprisonment on charges of corruption and land grabbing."
However, the fate of this judicial case remains unclear.
Mehdrad Bazrpash was a lawmaker in the ninth Parliament, and served as the deputy head of the IRGC Cooperative Foundation, head of the National Youth Organization, and CEO of SAIPA and Pars Khodro auto manufacturing companies. He was also the manager of Vatan-e Emrooz Daily.
Many see Bazrpash's new position as a means to ascend to higher positions in Iran, with some considering him as the next "hardliner" candidate to head the government of Iran.
Iran's Highest Mountain Confiscated by Endowment Organization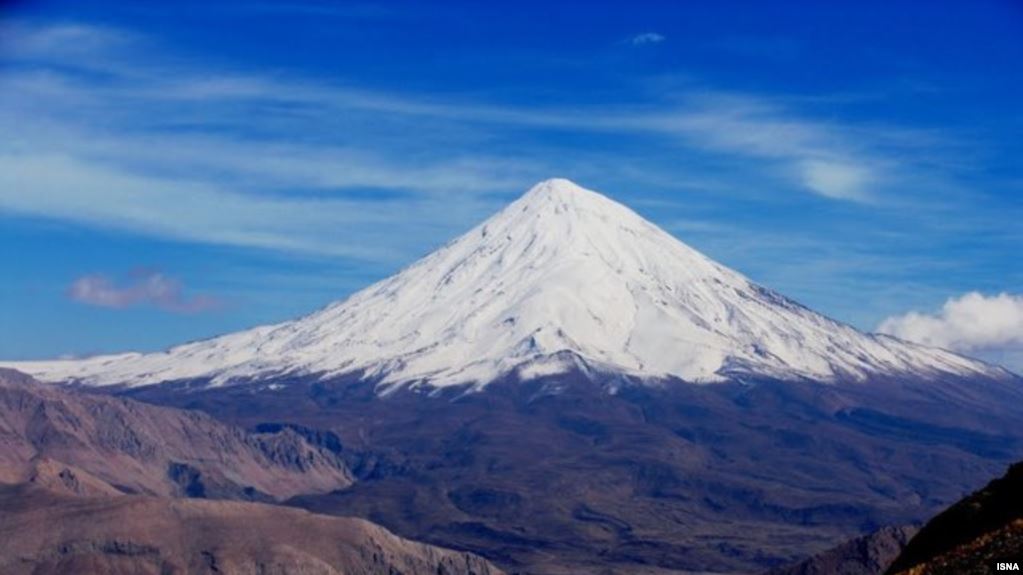 From land grabbing to confiscating mountains – organizations under the aegis of the supreme leader are seizing control of natural resources in Iran.
Recently, a part of Mount Damavand, Iran's highest mountain, was seized by the Endowment Organization after confirmation by the Supreme Court. The Endowment Organization is supervised by the Ministry of Culture and Islamic Guidance, but the appointment of its head is approved by Iran's Supreme Leader Ali Khamenei.
Based on an "endowment deed" issued to the Endowment Organization, Mount Damavand and 18,000 acres of its foothills is now in its possession.
Masoumeh Ebtekar, President Hassan Rouhani's deputy for women's affairs, has described this move as "against the Constitution," adding that Mount Damavand is a national property which, according to law, "cannot be granted or exploited" by anyone. She added that this mountain is currently under the management of Iran's Department of Environment.
Mohammad Ali Rajabali Pisheh, director of natural resources in Mazandaran province, said the Endowment Organization has taken this step with the Supreme Court's approval but with an utter disregard for the views of the Forest, Rangeland and Watershed Management Organization.
Standing at 5,610 meters, Mount Damavand is Iran's highest mountain and was registered as a national monument in 2008.
Siavoush Aghakhani, an academic and environmental activist, pointed to similar cases of seizing natural resources in the past, calling for existing laws in this regard to be changed.
China Doesn't Buy Iran's Oil Any More
Iran calls China a "strategic partner." Nevertheless, despite a deterioration in Iran's economy due to US sanctions, recent statistics show that China has stopped importing oil from Iran under US pressure.
In the latest report of China's Customs Office, Iran is not mentioned as one of the exporters of oil to the country for June. Details of trade with Iran also show that China has not received any oil from Iran.
The Customs Office's statistics show that China purchased Iran's oil from January until the end of May, but no imports are mentioned from Iran during the month of June. Meanwhile, oil imports from Saudi Arabia, Iraq, the UAE, Russia, Kuwait and others continued in June, and in some cases, even increased.
Before US sanctions, China imported 700,000 barrels of oil per day (bpd) from Iran.
China's imports (oil and non-oil) from Iran in the first half of 2020 witnessed a $3.132 billion decrease compared to last year, a 62 percent drop.
Last month, China increased its oil imports from Saudi Arabia by 15 percent, reaching 8.88 million tons. Oil imports from Russia also increased by 13 percent, reaching 8 million tons.
Over the past two months, China has also resumed its oil imports from America, purchasing 140,000 bpd from the United States.
While China has stopped purchasing oil from Iran and has increased its oil imports from Saudi Arabia, Russia, America and other exporters, Iran is signing a 25-year agreement with China, without announcing its details.