Iranian Middle Class on the Verge of Collapse
The editorial of Eskenas daily highlights the fact that the salary rise of 20 percent ­– as stipulated in the government's draft budget for the next Iranian year (starting on March 21) – is not enough to increase the purchasing power of workers and employees.
The predicted rate of increase in salaries and wages in next year's draft budget is an alarming sign, which indicates a further decline in the purchasing power of the middle and lower classes in Iran. Certainly, the rate of increase in wages and salaries stipulated in next year's draft budget cannot enhance the living standards of government employees.
The average increase in the draft budget is 20 percent, while the current rate of inflation is 45 percent – and it will probably keep rising. The question is: how come the government has decided to increase salaries by 20 percent?
If the salaries of government employees were to increase by 45 percent next year, then they could live their lives as this year. But even this year, government employees are suffering from economic problems, and 30 percent of the population who live below the poverty line partly consist of government employees, workers, and pensioners.
More importantly, food inflation has reached more than 60 percent. When there is a 60 percent increase in food prices and housing costs and there is only a 20 percent increase in salaries, it means that government employees and workers are going to obviously face serious difficulties in meeting their basic needs.
This is alarming and means that more people from the middle class are going to be pushed below the poverty line. A 20 percent rise in salaries is not sufficient to compensate for expenses, and this will result in a greater loss in the purchasing power of government employees.
When the poverty line is reportedly at 7.5 million tomans, and it is twice as much for Tehran, then how can workers and employees pay for the cost of living in big cities with their salaries and wages which are up to 7 million tomans?
Well-informed Nations of the World
The editorial of Arman Melli states that Iranian officials are not as wise or well-informed as the Iranian people, underscoring that they must change their attitudes and must try to provide for Iran's national interests.
The biggest enemy of mankind is ignorance. Fortunately, the majority of Iranian people are well informed because of access to technology and global databases. Technology and access to global databases have played a significant role in the rise in awareness and people have acquired a global perspective. Criticisms and even anti-government protests are because some "hardliner" officials in Iran have not accepted this fact about Iran and the world.
In the 21st century, nations have become much more informed and wiser, and the Iranian people are no exception. So, it has become evident that there is a gap between the Iranian people's outlook towards the world and that of officials.
The main question is: does not an informed wise nation deserve managers and officials who are wiser than themselves? People deserve officials who are committed to them and to their national interests. When officials are simply committed to a certain group, they will not be able to resolve the numerous economic, cultural, and political problems.
Today, Iran needs officials who have a better understanding of the natural proclivities within society. If Iranian officials have a better understanding of their times and act accordingly, the Iranian people will naturally face less problems.
The point is that sometimes it is of no use to resist the zeitgeist. Today's world is multidimensional – a place where politicians and nations are after providing for their own national interests. What has been proved is that no country has been able to grow and develop through economic and cultural conflicts with the rest of the world.
Prerequisites for Economic Development in Iran
The editorial of Eskenas daily underscores that economic growth and development in Iran is impossible without reaching an agreement over the nuclear deal with the West.
When we talk about economic development, many economic experts point to the significance of building trust between the government and the private sector. As the Iranian government is not using experts, a widespread distrust has been created in Iran's economy, while people do not support the government's economic projects and policies.
So far, those who have been appointed by different presidents to technical and special fields have not had the necessary qualifications and competence for the job. Of course, the fact that the Iranian authorities' promises have not come true is partly because of their wishful thinking, and the fact that they are unprofessional. Meanwhile, those making economic promises have not used proper economic teams to fulfil them.
It has been more than a year since Ebrahim Raisi's government took office, and they have not been able to fulfil their promises yet. In some cases, the situation has even worsened. As such, it is highly unlikely for the government to regain people's trust.
We should wait until the next election to see if the next government can fulfil its promises. Currently, it is very difficult to restore public confidence.
Resolving the issue of the nuclear deal can have a significant impact on regaining people's trust. But now there is not much chance for reviving the deal. There is also the issue of the recent protests regarding which the government does not have a successful record. As a matter of fact, the government has not made any promises for social and political reforms to meet people's demands. Previous governments in Iran only had to face political and economic problems, but now public demands have changed.
Without reviving the nuclear deal, it is impossible to make economic progress in the country. No country can resolve its problems without having access to the world's resources. All countries need each other. So, Iranian officials are wrong to say that they can resolve all issues without having relations with other countries. Economic growth requires that all countries should share their resources with each other.
When Iranian officials talk of economic growth without reviving the nuclear deal, it means that none of their economic promises will come true, which is why they must change their path and revive their relations with the world.
Russia Keeps Backstabbing Iran
The editorial of Jahan Sanat goes over how Russia recently deceived Iran to achieve its own goals.
The bitter truth about Iran's economy is that it is crushed under the weight of politics. That Iran's economy is crushed under politicians' feet and people's interests are destroyed can be traced back to some neighboring countries, particularly Russia. If some were not benefitting from the sanctions and Russia was not playing its political game with Iran for its own gains, then perhaps the Iranian people's lives would have thrived.
Russia's leader has been able to convince the Iranian authorities that he is Iran's only friend, making them believe that were it not for Russia, the United States would plunder Iran. Much worse is the fact that there are those who still have absolute trust in the Russians, despite numerous decisions made by Russia against Iran in recent years.
Last year, Russia buried the nuclear deal with its own hand, and, of course, shed tears over its grave. After launching the war on Ukraine, Russian officials convinced Iran not to export natural gas to European countries. After that, while Iranian officials repeatedly denied giving any offensive weapons like missiles and drones to Russia to be used in its invasion of Ukraine, Russian officials revealed to the West the use of Iranian drones in attacking Ukraine.
As such, Iran was dragged into the Russian war on Ukraine, with Western countries escalating sanctions on Iran and blocking Iranian oil exports.
The latest example of Russia backstabbing Iran was when Russian officials announced that Iran has not yet officially demanded any help regarding the drone attacks against Iranian facilities in the city of Isfahan. With this announcement, Russian officials implied that the attack in Isfahan was significant and successful and now the Russian Defense Ministry's help is needed. Furthermore, the implication is that Iran might have unofficially asked for help from Russia.
Images of Jailed Iranian Activist on Hunger Strike Shocks the World, Recalls Prisoners of Nazi Camps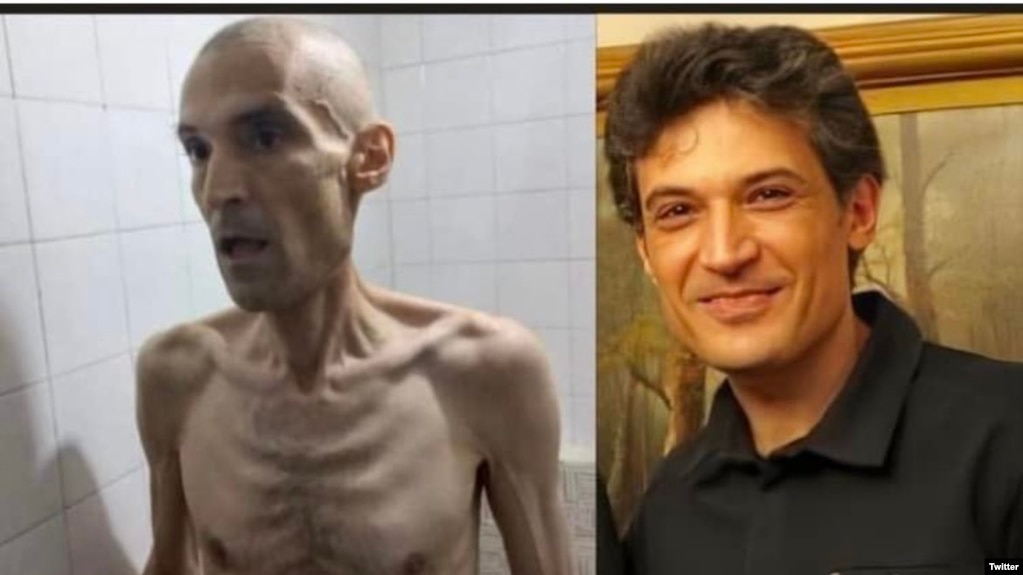 The publication of the images of an imprisoned activist on hunger strike has appalled people in Iran and abroad, shedding new light on the conditions of prisoners of conscience under the Iranian republic.
Farhad Meysami – physician, translator, and civil activist – has been behind bars since August 2018 without a day of furlough for opposing compulsory hijab in Iran. In Meysami's recently published images, he looks emaciated with his ribs and bones showing. He has lost 52 kilograms due to his hunger strike in protest against being transferred to the dangerous prisoners' ward.
In an open letter recently published from Rajaee Shahr prison, Meysami says he doubles down on his three demands which includes halting executions, releasing six political-civil prisoners, and stopping the persecution of women because of compulsory hijab.
One image shows this activist holding three books in his hands, The Power of the Powerless, Tyranny, and Narrow Path to Freedom. It seems that he is sending a message to people: the power of the powerless against tyranny will pave the way to freedom.
Meysami's images have gone viral on social media, provoking widespread reaction inside and outside Iran. "This is [an image from] the death camp of the Islamic Republic establishment," tweeted a social media user, "it recalls a crime similar to those of the Nazis at Auschwitz."
Robert Malley, special envoy for Iran, tweeted, "Shocking images of Dr. Farhad Meysami, a brave advocate for women's rights," adding, "Iran's regime has unjustly denied him and thousands of other political prisoners their rights and their freedom."
Reza Pahlavi, son of the former shah of Iran, expressed grave concerns over Meysami's physical condition, tweeting, "He should stay alive and see a free Iran with his flesh and blood; an Iran where no one will be incarcerated and go on hunger strike for his beliefs and voicing his opinions."
GAMAAN's Poll: More Than 80 Percent of Iranians Say "No" to the Iranian Republic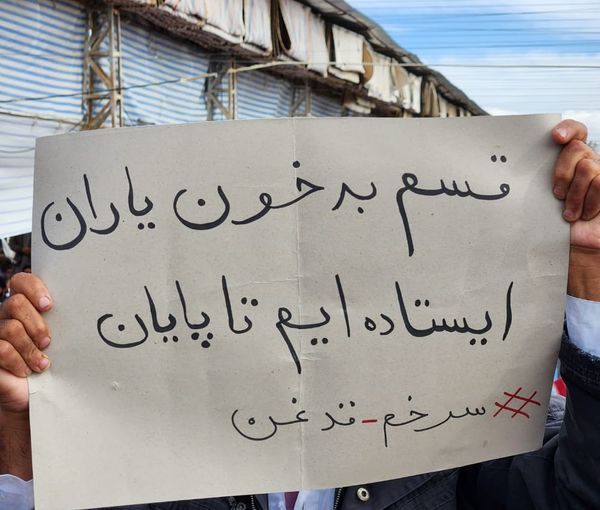 A new poll held inside and outside Iran reveals that despite the claims made by Iranian officials and authorities, the overwhelming majority of Iranian people have given up on the Iranian republic.
According to a poll held by GAMAAN, 80.9 percent of participants have said that if a free referendum is held in Iran today, they will say "no to the Islamic Republic regime."
44 years after Ayatollah Khomeini's government took over power in Iran, only 15.3 percent of people have said that they would still say "yes" to the Iranian republic. 99 percent of Iranians living abroad have voted "no" to the Iranian republic.
Despite the relative decline in the recent popular protests in Iran, many observers underscore that people might take to the streets at any minute.
Muhammad Dehghan, one of the deputies to Iranian President Ebrahim Raisi, recently acknowledged that the current protests have been the "biggest security and political challenge" for the Iranian government.
According to a GAMAAN poll, 81 percent of Iranians within Iran are in favor of the protests, while 67.3 percent of them hold that these protests will come to fruition, with only 13.7 percent believing that the protests will end in failure. 90 percent of Iranians living overseas are for the protests against the Iranian government, and are optimistic that these protests will achieve their goals.
53 percent of those endorsing the protests within the country have said that they are ready to take part in future protests. 75 percent of Iranians within the country back the protests, and recommend boycotting products that belong to government-affiliated companies.
Among Iranian prominent figures inside and outside Iran, Reza Pahlavi is the most popular among 34 public figures whose names were mentioned in the poll. Maryam Rajavi stands last on the list. The MEK considers her as their "elected president."
More than 200,000 people participated in this poll, with more than 158,000 participants inside Iran and more than 42,000 Iranians living abroad.
Mir-Hossein Mousavi Calls for New Constitution, Formation of Constituent Assembly to "Save Iran"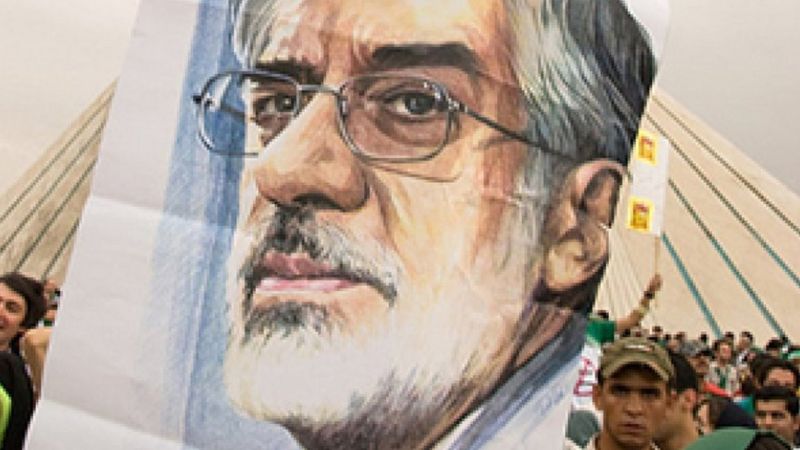 The leader of the Green Movement Mir-Hossein Mousavi, who has been under house arrest for 12 years, in a new message, has called for drafting a new Constitution to "save Iran," urging that a new Iranian Constitution must be approved by people in a free referendum.
Mousavi, who had previously demanded the full implementation of the Constitution after the rigged 2009 election, has underscored in his new message that "full implementation of the Constitution is no longer the solution."
Calling for drafting a new Constitution for Iran, Mousavi has urged that a free referendum must be held in this regard.
Mousavi's message was released on the eve of the anniversary of the 1979 revolution. Critics and opponents of the Iranian republic say that the ruling establishment is at its lowest level of legitimacy, emphasizing that with its bloody crackdown on Iranian citizens, the leadership has closed the door to any reforms.
Pointing to the current growing crises in Iran because of the Iranian government's performance, Mousavi has said that "the most significant crisis is the contradictory structure within the country. This [regime's] unaccountable and irresponsible authority has darkened our days, blocking the path to the welfare of the downtrodden people [in Iran]."
Mousavi emphasizes that Iran and Iranians are in need of a fundamental change, the main outline of which must be based on the movement of "Woman, Life, Freedom." These three words, he adds, are the seeds of a bright future – a future which is free of injustice, poverty, humiliation, and discrimination for the Iranian people.
Mousavi and his wife Zahra Rahnavard, along with another leader of the Green Movement Mehdi Karoubi, have been under house arrest for 12 years.
The then commander of law-enforcement said that Iranian Supreme Leader Ali Khamenei was personally in charge of Mousavi's house arrest.
Ahmad Tavakoli Warns Heads of Branches: Do Not Sell Public Properties
Despite Iranian Supreme Leader Ali Khamenei's support for the plan to sell national and public properties, Ahmad Tavakoli, member of Iran's Expediency Discernment Council, has slammed the plan ratified by the heads of branches in Iran, comparing it to the desperate behavior of drug addicts.
In an open letter to the heads of Iran's government branches, Tavakoli stated, "This manner of running the government is in contradiction with principles 52 and 53 of the Constitution, very much like the behavior of a drug addict who needs to find money for his drug."
He added that a drug addict first spends his income to fund his addiction, but, after a while, his income is not enough, so he turns to selling his furniture.
According to a ratification published on the Iranian government's website, a seven-member group with extensive powers, such as "judicial immunity," are going to decide on the prices of government properties deemed as unnecessary and sell them.
While the plan has been widely criticized by lawmakers, Deputy Parliament Speaker Ali Nikzad said that it must be enforced because the Iranian supreme leader has approved it.
A few days after the plan was published, Ali Khamenei himself, calling for privatization in Iran, indirectly but strongly endorsed this plan.
Earlier, economic professor Hossein Raghfar had called the plan for selling public properties a "cause of corruption," warning that "under the current circumstances of the country when there are no applicants for buying public properties, who are they going to entrust these properties to at a very low price?"
"Reformist" analyst Abbas Abdi, in his editorial for Etemad daily, had called the plan illegal.
According to former lawmaker Soheila Jolodarzadeh, this plan is a "big danger" and "the final blow to what is left of industry in Iran."