Empty Tables, Empty Baskets
The editorial of Etemad focuses on how as a result of declining family incomes and high prices, Iranian families are unable to put nutritious food on their table.
The result of a study by a research center shows that nutritious food items are no longer on the shopping lists of thousands of Iranian households. The study warns about widespread malnutrition in the near future in Iran due to nutritious foods no longer on the tables of middle class and low-income families.
The results of the study – carried out by Nutrition and Food Industry Research Institute – indicates that many urban and rural families have significantly decreased – or ended – the consumption of animal protein, eggs, red meat, white meat, and dairy.
Many families participating in the study said that protein is no longer part of their household food baskets due to their low income. Many of them also said that because of unemployment and a significant drop in their incomes due to the coronavirus outbreak, they had to remove protein from their household food basket.
The overall result of the study indicated that because of high prices and declining incomes, households have been forced to remove nutritious food items and replace them with much less nutritious ones.
All studies and opinion polls undertaken in this regard point to one fact: deterioration in the country's economy and incompetence of governments during the past decades. A decline in purchasing power prevents people thinking about nutritious foods; they just want to put some food – any food – on the table.
A Possible Third Wave of Coronavirus in the Autumn
The editorial of Setareh Sobh criticizes the government for not putting any restrictions on holding ceremonies and undertaking unnecessary trips during the Moharram holidays, saying it will lead to a third wave of coronavirus in the upcoming weeks.
It has been more than six months since coronavirus entered the country. People who are facing the crisis now have to deal with considerable economic, social and health problems and they are not able to make the right decisions and recognize what is right for society.
Under these circumstances, it is incumbent upon the government to manage society and the people. It would not undermine the government's responsibility if it said that by people not observing the protocols, holding different ceremonies and making unnecessary trips, they are contributing to the virus spreading.
According to statistics regarding the recent Moharram holidays, approximately 3 million to 4 million people travelled nationwide. But under these circumstances, we shouldn't put all the blame on the people. The role of the decision-makers in managing and controlling society is important as well.
So, whatever happens in the upcoming weeks, it is not just the people who must be blamed; the officials too are responsible. As the rate of mortality in Iran is higher than the global average, it is clear that merely providing recommendations and warnings would not be sufficient, as people cannot make the right decision for the sake of the public good.
During the recent holidays, the government should have been involved and should have banned all trips. But that didn't happen. With all the trips during this period, we should expect a third wave of coronavirus in the country in the next two to three weeks. People must know that at the beginning of autumn and with a rise in respiratory diseases such as the common cold and the flu, coronavirus too might begin to spread again.
On the other hand, according to reports, hospitals are at full capacity nationwide and they cannot admit any more patients. So something should be done to decrease the number of infections. Healthcare workers are already under pressure and exhausted.
Now the question is: why didn't the officials place tough restrictions on holding Moharram ceremonies and making unnecessary trips, only offering recommendations?
The Sad Story of Violence Against Women in Iran
The editorial of Arman Melli focuses on the penal code's inadequacy and education in Iran in regard to violence against women.
Under the Islamic penal code, harassing women and children physically or verbally is punishable with two to six months of imprisonment. It is also stipulated that rape is punishable with execution. It must be noted that this kind of harassment of women has been common all over the world. Violence against women starts from simple verbal abuse to rape. It must also be mentioned that in this regard the United Nations has designated November 25 as the International Day for the Elimination of Violence against Women.
In Iran, we have seen for years that some women activists have tried to ratify a comprehensive law in this regard, but to no avail. As mentioned previously, violence against women is of different types. Some is physical, whereas some is sexual, and mental – as can been seen on the internet. Also, there is economic violence against women such as not paying them their allowance.
Punishing those who harass women mentally, physically, and sexually has not been highly effective. The Islamic penal code only deals with harassment in public places; however, we know that violence is widespread in many companies, factories, offices, and even in universities. It is so common in certain places that women are hesitant to participate in social affairs.
The media, the press and those involved in these matters have not acted as best as they could. It is the duty of officials and cultural figures to offer proper education in this regard – based on the collective knowledge of psychologists, psychiatrists, sociologists, and lawyers – from primary school to university so that women are aware of their legal rights.
Mr. Rouhani, Think of People's Lives and Talk With Great Deliberation
The editorial of Setareh Sobh is addressed to Iranian President Hassan Rouhani asking him not to put people's lives in danger or make false promises about US sanctions.
Mr. Rouhani, people faced many difficulties during the two terms of Mahmoud Ahmadinejad's presidency from 2005 to 2013, which is why they voted for you twice so that there might be an improvement in their lives. Even though your first government's record is defensible, the performance of your second government is entirely different.
Because of you wanting to reconcile with your opponents, the performance of your second government is indefensible. You have done [terrible] things, Mr. Rouhani, just to please them. The supreme leader and others gave you a greenlight to combat coronavirus. With respect to the coronavirus, the supreme leader said that the recommendations issued by the Coronavirus Headquarters – headed by you – must be adopted. He held the Moharram mourning ceremony without the presence of others. But you, Mr. President, insisted on holding the Moharram ceremony in public.
With an executive order, Mr. Rouhani, you could have blocked all the roads to the northern provinces during the Moharram holidays. For your information, the road police announced that during the holidays last week, there was an 80 percent increase in road trips compared to Iran's new year's holiday. The question is: If there is an upsurge in the number of infections and deaths due to coronavirus in the next two weeks, who will be responsible and accountable for them?
The other issue is that you predict that in November Joe Biden, the Democratic nominee for the US presidential election, will win the election and America will lift the sanctions on Iran. You and your chief of staff promised the end of sanctions. But the sanctions will not come to an end soon. Mr. Rouhani, you must tell the truth to the people. You have said again and again that sanctions have failed. If so, why are people witnessing the negative ramifications of sanctions on their lives?
Khamenei Accuses UAE of Treason for Its Relations With Israel;Rouhani: Developing Strategic Relations With Neighboring Countries Is One of Our Priorities
Iranian Supreme Leader Ali Khamenei calls Iran's neighboring country's move to establish relations with Israel "treasonous," while Iranian President Hassan Rouhani claims that Iran wants to build strategic relations with its neighboring countries.
Khamenei, in a belated reaction, described the UAE's move to normalize relations with Israel as "treason" to the world of Islam, the Arab world and the Palestinian cause. He said that this decision by the UAE government will be a "disgraceful stain" for those who brought Israel to the region.
The Iranian supreme leader expressed hope that the "Emiratis would soon wake up and rectify what they have done."
This is the first time that Ali Khamenei has taken a stance against the normalization of relations between the UAE and Israel. Iranian authorities have always questioned Israel's existence and threatened to annihilate it.
In the meantime, President Hassan Rouhani claimed that developing and boosting strategic relations, especially in trade and economy, with neighboring countries is one of Iran's priorities.
Rouhani stressed that historical and cultural ties with regional countries are considered a strong basis to develop cooperation with neighboring countries, adding, "This would provide common interests for nations and governments in the region."
In a meeting on examining more ways to strengthen relations with Iran's neighboring countries, Hassan Rouhani told his cabinet that improving economic relations with neighboring countries can play a significant role in overcoming obstacles.
He emphasized that to establish foreign relations has a more extensive meaning than foreign policy. He said, "Of course, the Foreign Ministry is in charge of foreign policy, but all ministries have the opportunity to cultivate relations and foreign exchanges and they should make use of all those potentials."
Iran's president also referred to improving tourism among regional countries, and to undertake joint investments and develop banking and financial relations as major steps in developing relations with neighboring countries.
Clashes Between Police and Village Residents Near Ahvaz Over Land; 130 Individuals Summoned
Following clashes between security forces and residents of Abolfazl village in the suburbs of Ahvaz who would not allow the police to demolish their homes, 130 individuals have been summoned so far.
Last week, security forces shot tear gas and pellets at residents of the village who were protesting against the destruction of their homes as the Foundation of the Oppressed claims to own the land in the village.
Human rights activist Karim Dahimi said that a bail bond of 200 million tomans has been set for several detainees. He added that these individuals were summoned in spite of officials promising to resolve the dispute in Abolfazl village and this has led to tensions rising.
300 families live in Abolfazl village, a deprived village in the southern province of Khuzestan. They have resided there for the past 40 years. However, the Foundation of the Oppressed now claims to own the village.
The Head of the Foundation of the Oppressed Parviz Fatah has stated that the foundation's officials had gone to Abolfazl village because they were told the residents of this village were "landgrabbers."
Video clips and photos from clashes in Abolfazl village published on social media showed that the security forces fired pellets at residents and wounded some of them.
The Foundation of the Oppressed is one of the largest economic institutions whose head is appointed by Iran's Supreme Leader Ali Khamenei.
The properties which this foundation possesses actually belonged to individuals and legal entities before the 1979 revolution but they were confiscated from them by Iran's establishment.
Holding Moharram Funeral Ceremonies in Hospitals With COVID-19 Patients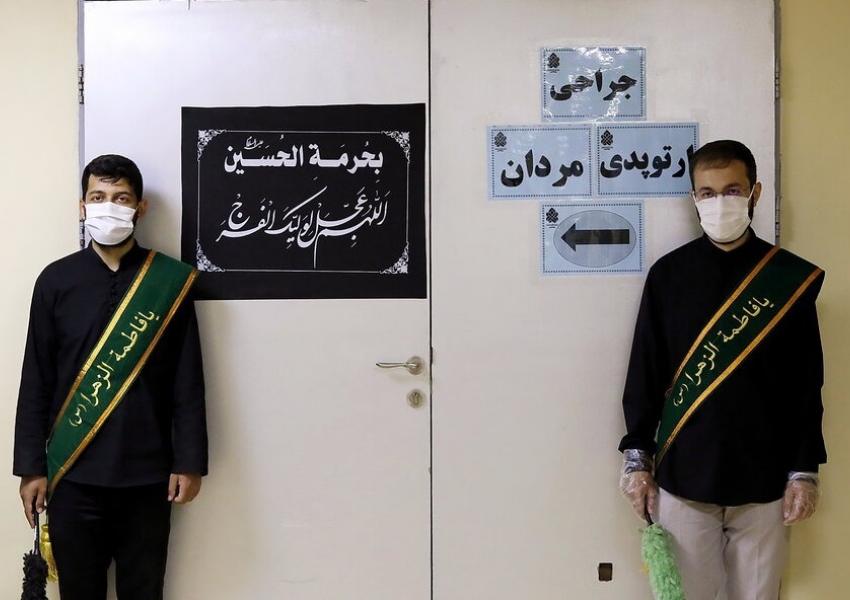 Videos and photos released by Iranian state media show that seminary students and religious delegations sent by the Iranian government went to some hospitals to hold Moharram funeral ceremonies – including singing heart-wrenching songs and chest-beating for the martyrdom of Imam Hossein – in wards where coronavirus patients are kept.
Tasnim news agency, affiliated with the IRGC, released footage of the ward holding patients suffering from coronavirus in Masih Daneshvari Hospital in Tehran, in which a number of "health workers" headed by a seminary student conducted the ceremony and were beating their chests right in front of patients' beds.
Mehr news agency too released similar footage from Forghani Hospital in the city of Qom. In this hospital, a number of people in black used a megaphone to sing heart-wrenching songs about Imam Hossein while others were beating their chests.
The Islamic Propaganda Organization, under the aegis of the Supreme Leader Ali Khamenei, has covered holding Moharram ceremonies in public places and treatment centers, saying that health protocols were strictly enforced at these ceremonies.
Ali Khamenei, however, has cancelled all his public appearances and meetings, including public Moharram ceremonies.
In a report, Mehr news agency has called concerns about the coronavirus spreading during the Moharram ceremonies as an "effort by the enemies of Islam and the revolution to disrupt the conditions."
IRIB, Iran's state TV, has also released a video report about the holding of a Moharram ceremony in a hospital yard, while one of the hospital's officials said that the ceremony was a live broadcast for hospitalized patients.
Instagram and Twitter users have reacted to these videos, criticizing them for "disturbing the patients."
Tehran's Municipality Has no Plan to Collect COVID Waste Yet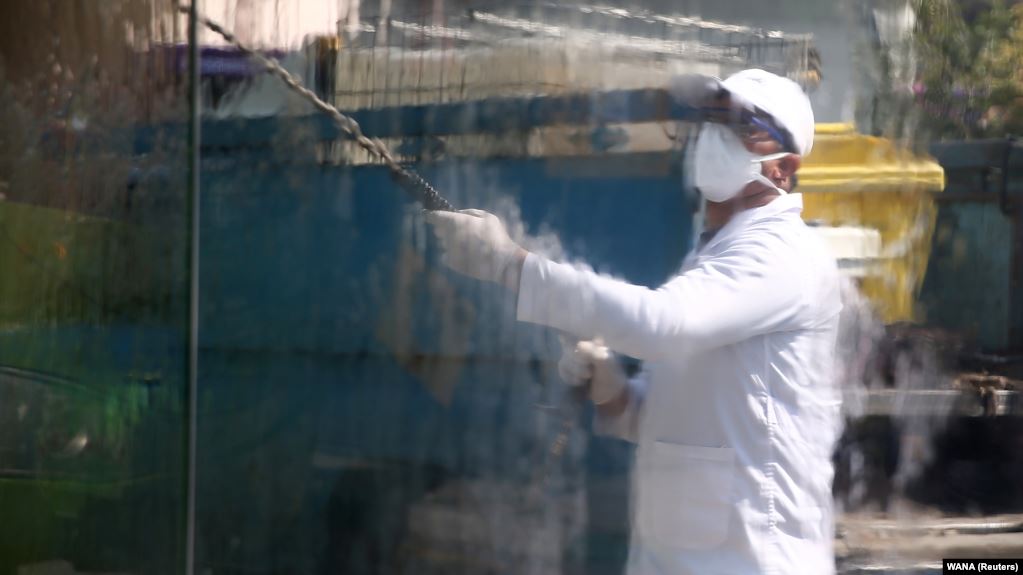 The Department of Human Environment in Tehran province says despite the fact that it has been months since the COVID-19 outbreak in Iran, Tehran's municipality has not submitted any plans to collect the discarded protective equipment used to fight the virus.
The Head of the Department of Human Environment told ISNA that no plans to install separate trash containers and to collect masks, gloves and protective equipment separately have been submitted yet.
Disposing and collecting residue and waste of protective equipment, as well as other waste related to the virus, is one of the issues that has created concern in all countries, and some countries have set fines and penalties for masks and gloves not being disposed properly.
Fatemeh Akbarpour, Head of the Department of Human Environment in Tehran province, has proposed giving separate trashcans to families in Tehran to collect this waste, but she urged that due to the city's high population, implementing any plan in this regard will be very difficult.
Nevertheless, Akbarpour asserts that a smart plan and using "start apps" are needed to implement this task.
She also asked the citizens to place the waste from personal protective equipment in separate trash bags and tie them carefully to protect those in charge of collecting waste.
Fatemeh Akbarpour said currently coronavirus waste is disposed and collected in regular trash containers, and there are no separate containers to dispose protective equipment in Iran's capital city, Tehran.