Fear and Hope for Last Round of the Nuclear Talks
The editorial of Aftab Yazd argues that resuming the nuclear talks can create both hope and fear – hope that an agreement might be reached that will be satisfactory to all sides and fear that if the talks do not come to fruition, all sides might opt for other dangerous plans.
All these can be positive signs: the sudden resumption of the nuclear talks in Vienna and its announcement by Iran, US and European representatives as well as the negotiators going to Vienna immediately to resume the talks. It means possible solutions might be available to reach an agreement over the nuclear talks.
There are three important issues when it comes to reviving the nuclear deal which remained unresolved in previous talks. Perhaps, the issue of the US guaranteeing to remain in the deal is the most important one for Iran, while Iran's regional activities are of great significance to the United States. The IRGC's designation as a terrorist organization is another concern for Iranian authorities.
The Iranian Foreign Ministry just announced that Iranian negotiators have gone to Vienna to resume talks. But from what is published by the world's media outlets, one can gather that even though this can create hope for reaching an agreement over the nuclear deal with Iran, it can be also seen as a last-ditch effort to revive the deal.
So, if the negotiations do not come to fruition, the parties to the nuclear talks might opt for their other plans, which might be dangerous.
National Automobiles' Serious Role in Increase in Gasoline Consumption
The editorial of Akhbar Sanat states that the substandard cars produced in Iran are one of the main causes of the increase in gasoline consumption in the country.
The significant increase in the consumption of gasoline in recent weeks during the summer holiday season has made it more likely for Iran to import gasoline. Gasoline consumption has increased, although there has been emphasis on consuming less gasoline, as well as on the impact of the reduction of gasoline consumption on air quality and its economic effects. But people cannot be blamed for this because substandard national automobiles play a significant role in this regard.
While national automobiles and automobiles that are produced domestically consume 12 liters of gasoline per 100 kilometers, this number is 4 liters per 100 kilometers for standard cars which have been designed and produced to reduce environmental pollutants.
Without a doubt, it can be said that the gasoline consumption of domestically produced automobiles is two to three times more than the global standard. If this number reaches global standards, the consumption of gasoline will drop and the country will considerably benefit from it.
There is no doubt that the most significant way to reduce gasoline consumption is to optimize fuel consumption efficiency and produce cars that will use 4 liters per 100 kilometers, just like foreign cars.
Producing standard cars that are environment-friendly is one of the solutions for reducing gasoline consumption. Other countries are focused on producing electric cars, but this issue has not been taken seriously in Iran. If electric cars are imported or produced in Iran and the necessary infrastructure is prepared, they can be a very good solution for lowering gasoline consumption, reducing pollutants and addressing the associated economic issues.
Weakest Government After Iran-Iraq War
The editorial of Jahan Sanat calls Ebrahim Raisi's government the weakest since the Iran-Iraq War.
In the free world where free elections regulate relations between citizens and governments, there is a kind of contract between governments and citizens, while citizens vote for parties that have had the best records in running the country. Citizens of the free world only look at the records of the winning party to measure its competence. In those countries, the philosophy of holding elections is not to elect incompetent individuals and groups that are incapable of running the country.
In Iran, however, it seems that the philosophy for presidential elections is that some politicians want to put the presidency and government under the control of individuals who are obviously incapable of running the country. Eliminating those who had a long history in legislating and implementing the law was the first step in weakening the government and presidency.
This has resulted in the election of the 13th government headed by Ebrahim Raisi. The truth is that one year after Raisi's taking office, his government has not been able to meet citizens' demands at all.
Iranian citizens maintain that US sanctions on Iran have made their lives miserable, and they openly say so. The reasonings of the government and other institutions have failed to convince citizens that the sanctions have had no impact on their businesses.
Moreover, citizens' grievances and protests against the growing inflation rate show that the government has not been successful in controlling inflation.
In the past three decades, Iranian citizens have voted for different presidents, but it seems that each time, those who take charge of the government are weaker than their predecessors. The truth is that Raisi's government has been the weakest since the Iran-Iraq War.
Importance of Economic Growth and Distribution of Revenue
The editorial of Eghtesad Pooya goes over the issue of the underground economy in Iran and the role of the country's institutional failings in creating it.
When governments take office in Iran, they become so engaged in daily political issues that they do not have enough power to address infrastructural issues. These governments, when they take office, spend the majority of their energy on overcoming the obstacles created by the opposite political faction. On the other hand, so far no government has taken office in Iran with a clear economic program.
One of the issues that is damaging the country's economy is the growth of the underground economy. Studies indicate that the relatively considerable growth of the underground economic sector has created many economic problems. Estimating underground economic activities is crucial in identifying tax evasion, the effectiveness of financial and economic policies, economic growth, and the distribution of revenues.
Corruption is one of the institutional failings which is considered the main cause of the growth of the underground economy. Under an incompetent government which is suffering from extensive corruption, citizens increasingly lose their trust in the establishment and people's enthusiasm for participating in official activities declines. Studies show that an increase in government transparency and accountability will limit financial and bureaucratic corruption and bribery.
The size of the underground economy in Iran over a 40-year period has grown from 7 percent of GDP in 1974 to 38.5 percent in 2013, with the prediction that it will continue to increase.
But what is the main cause of the development of the underground economy in Iran? A look at the institutions in the country reveals their inadequacies for economic actors which constitutes one of the reasons why the underground economy is so extensive in Iran. Iran's ranking in international reports which are about other countries' institutional conditions shows that it needs serious revisions and reforms in its institutional infrastructure. The World Bank's business index in 2018 showed the unsuitability of conditions for undertaking official economic activities in Iran. Iran ranked 124 among 190 countries.
Other factors such as taxation, unemployment and economic sanctions also play a role in the underground economy.
So, identifying, studying and reforming Iran's main institutions must be on the government's agenda.
Mir-Hossein Mousavi Warns About Khamenei's Son Becoming Supreme Leader
Iranian politician and former Prime Minister Mir-Hossein Mousavi recently released a statement on Kalameh website warning about the issue of "hereditary succession to the leadership" in Iran.
Citing speculation regarding Iranian Supreme Leader Ali Khamenei's son succeeding him, Mousavi stated, "for 13 years, there has been talk about this conspiracy. If they are not after doing this, how come they haven't denied this even once?"
Mousavi is referring to the possibility of Mojtaba Khamenei replacing Iran's 82-year-old supreme leader, while in certain political circles his name is raised as a possible successor to his father.
Mir-Hossein Mousavi, who has been under house arrest since 2011, points to rumors regarding Khamenei's son as his successor, asking "have they returned to 2,500-year-old dynasties to allow a son to replace his father?"
In the last decade, in certain political circles and news outlets, there was speculation about Khamenei being replaced by his second son, Mojtaba. He is one of the most influential behind-the-scenes figures, and there are reports regarding his close affiliation with the IRGC and high ranking security officials.
Mojtaba Khamenei's name is also mentioned in relation to the IRGC's corruption cases.
Mir-Hossein Mousavi has also slammed Iran's regional policies.
Pointing to the "disgraceful crimes" of the Iranian government in the Middle East and its "tragic" measures in Syria which are still going on, he added. "The [Iranian] regime changed the phrase 'Arab Spring' to 'Islamic Awakening' to describe the mass movements for freedom and justice."
Mousavi underscored that "the biggest sin of our regime is to manipulate the meanings [of words]. Glorious names are given to the most heinous of crimes. Defending the shrine which refers to guarding the heart of the believer against tyrants is used to refer to shedding blood in foreign lands to consolidate a regime that kills children."
Iran-backed military forces are called "defenders of the shrine" by the Iranian establishment. Iran's interventionist policies in regional affairs and other countries' domestic affairs including Syria, Iraq, Yemen and Lebanon have been strongly criticized by the West and Arab countries, as well as by Iranian activists and politicians.
Holding Muharram Ceremonies Amid Seventh Wave of Coronavirus
Iranian health officials reported a spike in coronavirus infections and an increase in the death toll. The Health Ministry announced that 341 people lost their lives in one week.
According to the latest reports, the provinces of Tehran, Kerman, Mazandaran and Khorasan have had highest number of hospitalizations due to COVID-19. At the same time, holding Muharram mourning ceremonies, as well as trips that are made during holidays, have created concerns.
Every year, Shiites in different countries, including Iran, hold Muharram mourning ceremonies to commemorate the martyrdom of Imam Hussein for 10 nights.
Last month, the Iranian health minister stated in a televised interview that given the increase in the number of coronavirus infections, the seventh wave of COVID-19 has started in Iran.
Despite the seventh wave of coronavirus, holding Muharram ceremonies means that health protocols are not observed by those who participate in them. Many people take part in these ceremonies without observing social distancing, wearing masks, or following other health protocols.
As footage of people holding these ceremonies in different Iranian cities was released, there were also images of Iranian Supreme Leader Ali Khamenei who observed the ceremony alone.
Since the outbreak of coronavirus, Khamenei has been seen in public less than before, and in the past two years, he participated in Muharram ceremonies unaccompanied by other people or officials, all by himself.
This has drawn widespread criticism as people say that while the supreme leader does not appear in public, he does not call off holding Muharram ceremonies in which a great number of people participate and do not observe health protocols.
Many experts maintain that Khamenei's ban on importing vaccines from Western countries resulted in the deaths of thousands of Iranians.
A number of activists who opposed Khamenei's decision in this regard were later sentenced to imprisonment.
Although Iranian authorities have made numerous claims about the efficacy of domestically produced vaccines, none of these vaccines has been approved by the World Health Organization.
Workers of Abadan Refinery Faint due to Excruciating Heat
A number of workers in a refinery in the city of Abadan, who were working in high temperatures above 50 degrees Celsius, had to be taken to hospital because of heatstroke.
35 workers fainted due to unbearable heat and a number of them had to be taken to hospital.
On Saturday, August 5, temperatures surpassed 50 degrees Celsius, and humidity increased to 90 percent in Abadan.
At least five workers of Abadan Refinery were taken to hospital due to severe heatstroke.
Previously, one worker died because of heatstroke. Abdolrazagh Simarian who worked in Phase 2 of Abadan Refinery lost his life due to a heart attack because of the pressure of his workload under searing heat. His employer did not call for a halt in work despite the heat.
In spite of the temperature above 50 degrees Celsius and with very high humidity, the contract companies who employ these workers do not call for a halt in work for even a few hours to give them some respite from the heat.
Although most of these workers are working in adverse weather conditions with low wages and no job security, officials have not adequately responded to their employment demands.
These workers have to continue to work under any conditions to provide for their families.
This week, the maximum temperature in the city of Abadan reached 53 degrees Celsius, setting the record for the highest temperature in this city record for the third time.
With the significant rise in temperature and humidity in the southern province of Khuzestan, there have been power outages in southern Iran, which has been blamed on an increase in consumption.
300 Percent Increase in Prices of Essential Food Items Last Month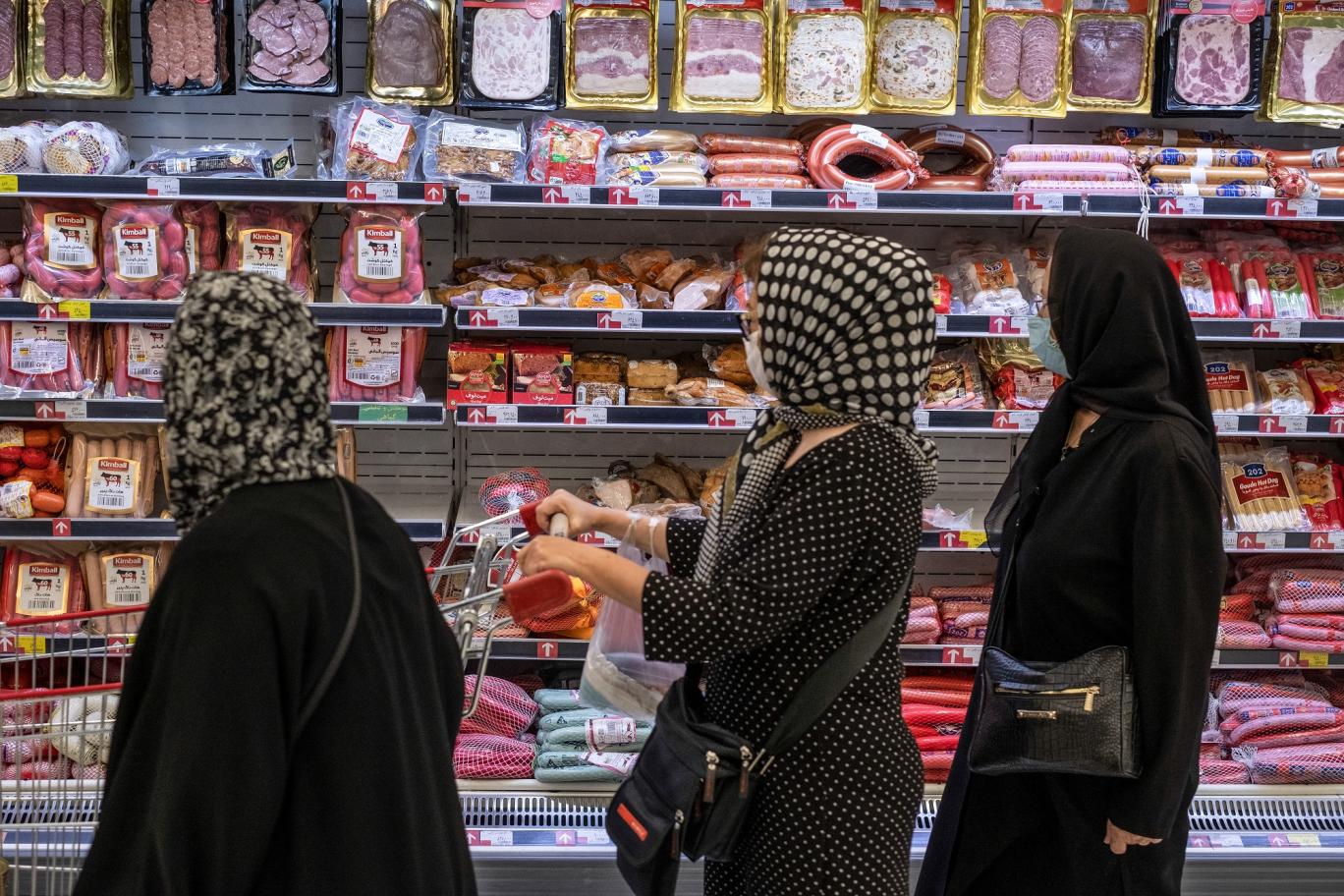 Several fold increases in food prices in recent months have put economically deprived groups of people in Iran in danger of malnutrition and hunger. Economic actors in different sectors reported a significant drop in food purchases, while producers say that despite the increase in prices, they are making less profits and more losses.
According to Iran's Statistical Center, the prices of certain food items showed a 300 percent increase last month compared to the previous month. The price of cooking oil increased by 327 percent and rice by 188 percent. These essential items were on top of the list of goods whose prices broke records.
Prices of dairy products increased by 100 percent. The Statistical Center's report reveals that certain other food products witnessed a price increase of roughly 25 percent. Last month's inflation rate was 54 percent compared to the same period last year. According to this report, point-by-point inflation for food products reached 100 percent in 10 provinces last month.
Recently, the union for vegetable and fruit sellers also reported a 50 percent increase in the prices of fruits and a 40 percent decrease in people's fruit consumption during the last year. There has also been a reduction in the consumption of eggs among Iranians.
Despite all these facts, Iranian President Ebrahim Raisi and his government defend their own economic performance, claiming that they have compensated for high prices by paying cash subsidies. Many people, nonetheless, are living below the poverty line, facing challenges to even purchase basic food products.
Given the soaring prices of food products in Iran, malnutrition is now posing a serious threat to a large number of Iranian people.
Recently, an Iranian official confirmed a significant drop in milk consumption following the rise in its price, warning that it will result in osteoporosis and stunted growth in children who suffer from malnutrition in deprived regions. He also confirmed a decrease in the consumption of protein rich foods.