Why has Vice President Eshaq Jahangiri faded out?
The editorial of Aftab Yazd focuses on why the Iranian Vice President Eshaq Jahangiri, who belongs to the "reformist" movement, is less involved with serious issues that Iran is facing these days.
The fact that Eshaq Jahangiri is silent and no effective words are heard from him is certainly not due to his incapability or lack of understanding of the current issues. Rather it seems that in the light of the government's approaches, Jahangiri feels that he has no effective role in the government and cannot fulfill public demands.
Jahangiri knows that if he wants to be seriously involved in Iran's political domains, he will certainly have to answer many questions about the current problems in the country, for which he has no answers.
As he has a different view towards the economic and political challenges facing Iran in different domains, Jahangiri is forced to remain silent and not to involve himself in facing and resolving the challenges, as this might be problematic.
Jahangiri was the one who proposed that the government supplies the US dollar at 4200 tomans. At that time, since some in the government and other entities didn't endorse this exchange rate, this resulted in many abuses. As a result, today he is convinced not to get involved in many issues and to remain silent.
On the other hand, the Iranian President Hassan Rouhani has given extensive powers to the Presidential Office. His office appoints and removes governors as well as cabinet members. Mahmoud Vaezi, Rouhani's Chief of Staff, believes that he is the only one who played a role in ensuring Rouhani became Iran's president.
This has resulted in many unethical measures by the moderates, to whom Rouhani belongs. These measures by the moderates, will probably not have a happy conclusion. The "reformists" helped the moderates in gaining public votes.
Aftab Yazd – August 7
The Iranian Parliamentary Supervisory Board must reconsider the qualifications of lawmakers
The editorial of Arman Melli deals with the recent cases of corruption in the Iranian parliament. Several lawmakers illegally received apartments from certain ministers in order not to impeach them.
These recent incidents in parliament have resulted in all officials criticizing the inappropriate behavior of lawmakers. The structure of parliament must be reconsidered.
So far, the Guardian Council has tried to qualify only those people who are politically approved by members of this council. However, this approach is not thorough. It is not enough to see if these individuals are politically committed to the regime or not; they must be vetted for important issues such as corruption and sex scandals.
After what happened in parliament, even some members of the Guardian Council started protesting, let alone government officials. Everybody started criticizing the lawmakers for giving apartments to their own children.
People who are elected by public votes should have integrity, be free of scandal, and be politically committed to the system, so that they can be role models for ministers and judicial officials. Nevertheless, no such thing has happened. This is why government officials and the Iranian people have serious reservations concerning the qualifications of lawmakers.
After the 6th parliament, the Supervisory Board's goal was to send those people who were politically approved to parliament. Moreover, other qualifications were not seriously important or considered. In the light of these very important problems, the Supervisory Board, Executive Board, and even voters must reconsider their approach to parliament.
The voters must be careful not to vote for corrupt individuals who have no integrity. If they vote for such individuals, society will dearly pay for it later, and an inefficient, worthless parliament will be formed.
Arman Melli – August 6
Government as a source of corruption
The editorial of Jahan Sanat stresses that the government in Iran is the source of economic corruption, just as the recent case of its meddling in the Forex market shows.
Whenever there is talk of corruption in large-scale economic domains, the role of the government becomes more prominent in such rent-seeking activities, and government officials are the first suspects. Because of its power, the government has the capability to use facilities and possibilities for personal gains, thus providing for its own interests and for those groups affiliated with it.
It can be argued, therefore, that the government and governmental groups play the main role in economic corruption. That is why corruption always penetrates the government and it provides for the interests of statesmen and entities affiliated with it.
A clear example of economic corruption is foreign currency scarcity during the last year. The government eventually implemented certain policies to supply foreign currency, trying to stabilize volatility in the currency market. However, implementing such policies created grounds for the government and its cronies to undermine national interests.
The judicial system has started to put on trial those accused with malpractises in the Forex market; trial of those who are accused of economic corruption is one of the main steps in countering corruption. Nevertheless, preventing such corruption is more reasonable than bringing lawsuits against them. After all, by sentencing people, lost economic resources will not be retrieved.
Jahan Sanat – August 5
Who sanctioned Zarif?
With the Iranian Foreign Minister Mohammad Javad Zarif being sanctioned by the U.S., the editorial of Arman Melli deals with the hypocrisy of the so-called Iranian hardliners who for the past six years attacked Zarif, but are now strongly backing him.
These days we are witnessing crocodile tears coming from the hardline "fundamentalists" in Iran due to the sanctions imposed on Zarif by Donald Trump and the White House. This is strange. Those who for the past six years slandered, accused and even made a TV series to question Zarif's performance, are now expressing their concerns over why Zarif is sanctioned.
They should be asked to make it clear what they think of Zarif. If he is a patriot and supporter of the government and has tried hard during the past six years to secure the country's interests, then why did they slander and level accusations against him?
However, if what they said about Zarif is true during the past 6 years, then why are they expressing concerns over his sanctions now? Why are they now shedding tears for him and acting as if they are concerned about him?
The truth is that the "fundamentalists" do not believe in any principles; it is as if the end justifies the means. Their goal is to continue with their anti-Americanism. Therefore, if Americans mistreat Zarif, they will support him. Probably if anyone else was mistreated by the Americans, they would back him as well.
At the time when Saddam Hossein had attacked Kuwait and the Americans were getting ready to attack Iraq, many Iranian "fundamentalists" used to say that Iran had to help Saddam. They said that despite what Saddam had done in the past; Iran had to stand with him against America.
The hardliners also know that if they firmly back Zarif, then they should explain to the Iranian people why they kept attacking and accusing him for the past six years.
Arman Melli – August 4

Reaction to the US sanctioning Zarif: Rouhani to the US: Peace for peace, war for war Qassem Soleimani congratulates Zarif for being sanctioned

The Iranian President Hassan Rouhani slammed the U.S. for putting sanctions on Iran`s Supreme Leader Ali Khamenei and Foreign Minister Mohammad Javad Zarif, while addressing the United States. He said "you cannot damage our security and then seek security for your own soldiers in the region; peace for peace, war for war."
In a speech at Iran's Foreign Ministry, Hassan Rouhani pointed out that making peace with Iran is the mother of all peace and war with Iran is the mother of all wars. "We're open to negotiations," noted Iran's president, "If the U.S. really wants to negotiate, it should lift all its sanctions at first." What America is doing is "economic terrorism", added Rouhani.
Rouhani then emphasized "You cannot close the Gibraltar and then expect the Strait of Hormuz to be open for you," referring to the recent seizure of Iran's supertanker by the British in Gibraltar. Addressing America, Rouhani said "your friend seized our ship and we didn't overlook their mistake and seized their ship."
In the meantime, the Commander-in-Chief of the IRGC Quds Force Qassem Soleimani visited Foreign Minister Mohammad Javad Zarif at his ministry, congratulating him on being sanctioned by the United States.
Soleimani called the U.S. sanctions against Iran's foreign minister "insane," adding Zarif was sanctioned because of his "deep influence on public opinion," especially in the U.S.
"I congratulate you on provoking the enmity and outrage of America for your affiliation with the Supreme Leader of the Islamic world," said the IRGC commander to Zarif.
IRNA
Etemad Online
Khamenei to the Iranian youth: Procreate!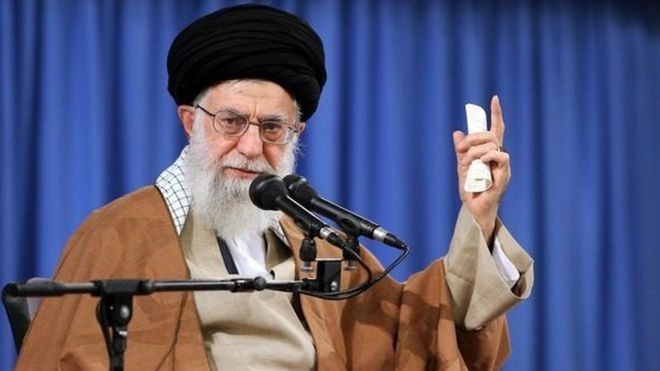 Iran`s Supreme Leader Ali Khamenei has called for an increase in the population of Iran. "In America, each family has 15 to 20 kids and they're encouraged to have more," said Khamenei, "but in our country, people are encouraged otherwise, namely having fewer kids."
Ali Khamenei made those comments in a meeting with young couples. He also stressed that the Iranian people and senior authorities support his demand for increasing the population.
Khamenei explained that if the population figure is high in Muslim countries, growth possibilities increase as well. He then explained his point by referring to China and India, saying overpopulation as a social, political and international value has brought these two countries success against all odds.
Khamenei's statistics about American families is far from the truth. According to the U.S. Census Bureau, the average family consisted of 3.14 persons in 2018; that is, there was an average of 1.9 children per family in America last year.
Khamenei has repeatedly criticized population control policies in Iran. For instance, in 2013 he said Iran should have at least 150 million people instead of 75 million—which was the population figure at the time.
For years, Iran has been facing various economic and international pressures because of its current policies. It has also faced many environmental challenges.
Earlier, the head of Iran's Environment Organization Isa Kalantari had said that the country's development plans are "imposed", adding that these plans do not take into account the country's water and soil capacities. He had underscored the limited nature of Iran's resources.
BBC Persian
Radio Farda
14 women's rights activists call for Khamenei's resignation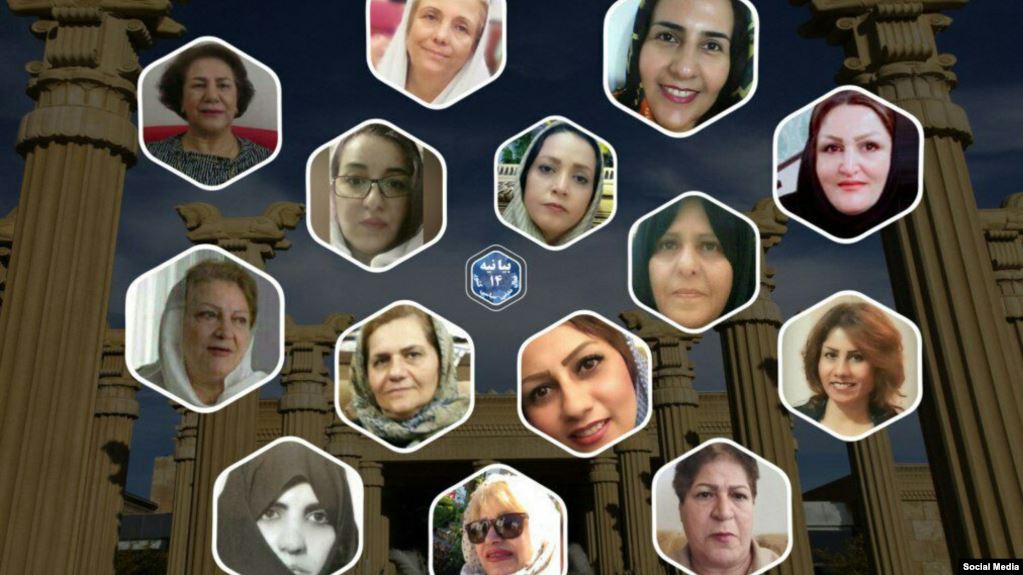 14 women's rights activists in Iran have issued a statement, calling for the resignation of the Supreme Leader Ali Khamenei as well as a transition from Iran`s establishment.
In their statement, the Iranian women demanded a "full transition from Iran`s establishment as well as adopting a new constitution" for Iran. The statement called Iran`s regime a "gender apartheid," saying "we rise against this misogynist establishment."
The activists also emphasized that after the 1979 Revolution, Iran has stripped women of their basic rights and "whoever voiced protest against this discrimination, was insulted, humiliated, beaten, imprisoned and in some cases, even tortured and executed."
"We are determined to continue our campaign in a civil, non-violent way by saying 'No to the Islamic Republic' until achieving our demands," concluded the statement.
Less than two months ago, another group of 14 political and civil activists issued a statement, urging Khamenei to resign.
That group had referred in their statement to Iran's "horrifying history of the past 40 years", saying those who love this country have continually tried to prevent Iran`s authorities– especially Ali Khamenei– from taking "destructive" measures, but to no avail.
Meanwhile, senior "reformist" politician Saeed Hajarian has said if all of the election restrictions are removed and elections are held transparently in Iran — like in other democratic countries–, neither the hardliners nor the "reformists" will gain any votes.
Hajarian added that currently people have lost their trust in the country's political trends: "Some people say the "reformists" told us to vote for Rouhani to improve conditions, but that didn't happen, so we won't listen to them anymore."
Radio Farda
Radio Farda
How does the IRGC Quds Force work?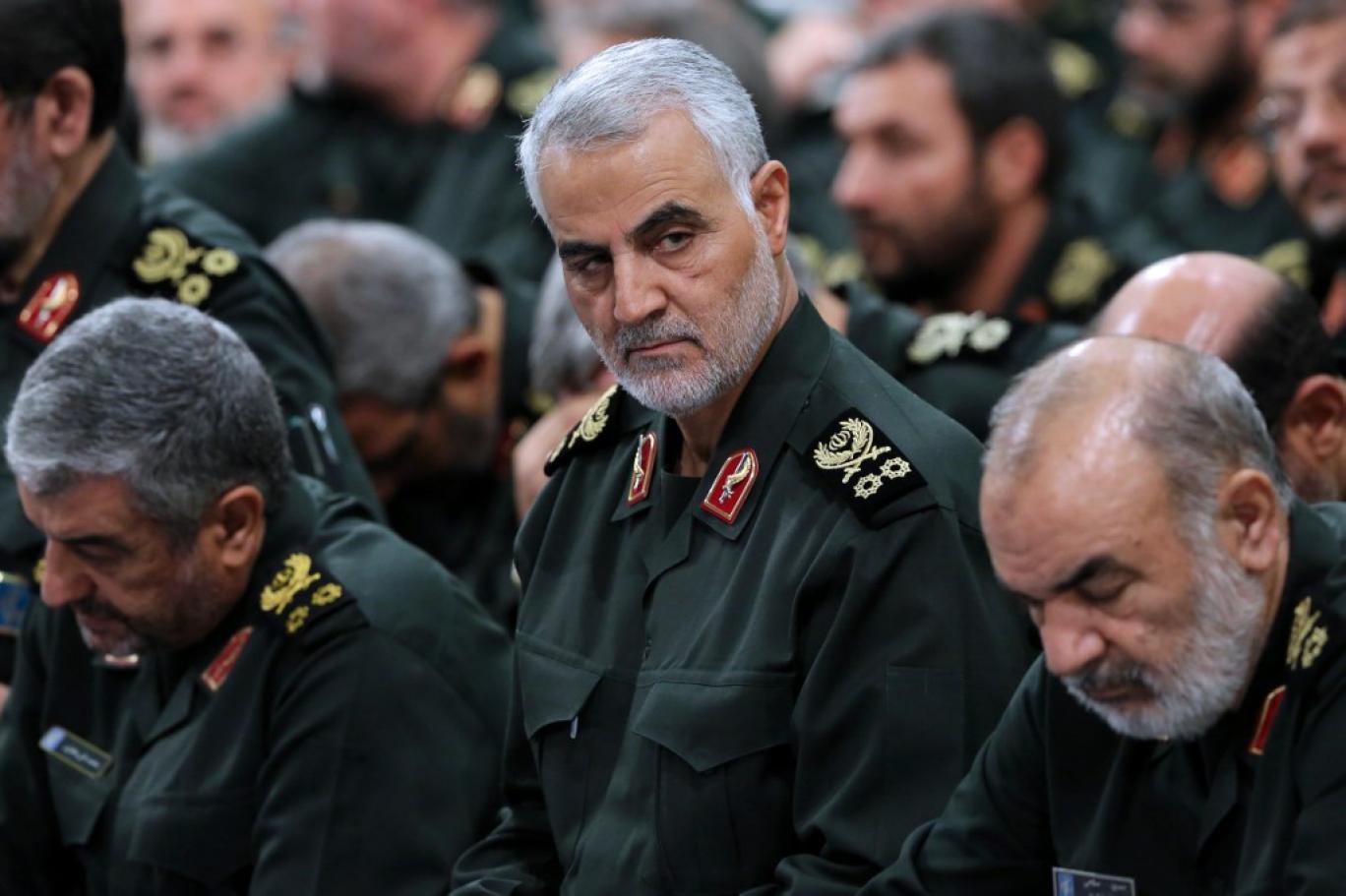 Everybody knows the main mission of the IRGC Quds Force includes military intervention in the region to expand the Shia state, as well as occupying Israel and then the White House with IRGC officials having talked of conquering the White House.
What is less known is how the IRGC Quds Force fulfils its mission? How does it increase its influence in the countries of the region? The following are some strategies used by the IRGC Quds Force: assassinations, religious ceremonies, building religious sites, relief aid, and underground economic activities.
When looking to consolidate its place in a country, the IRGC Quds Force assassinates its opponents in that region. Since entering Iraq, thousands of Iraqis who were staunch opponents of Iranian influence in Iraq have been assassinated. These assassinations were justified due to the victims' participation in the war against Iran during the 1980s.
Under the current circumstances, the most important religious ceremony for Iran is holding Arbaeen in Iraq. Management of this ceremony has been unofficially given to the IRGC Quds Force so that this ceremony can be used for consolidating the forces recruited by the IRGC Quds Force or for recruiting more forces.
Iran constructs religious buildings like mosques, religious schools, and shrines in other counties and pays for their maintenance in order to hold its sway in those places. Of course, Iranians are told that the expenses are paid by charities and donations from people, but the money earned through such channels is not enough for hundreds of millions of dollars to be spent by Iran all over the world.
IRGC officials know very well that in an emergency people look for help and do not care where the help comes from. They usually see themselves as indebted to those who help them. That is why the IRGC is in charge of dealing with natural disaster crises, so that ordinary people forget about the black record of this organization in particular its crackdown on Iranian citizens and its violation of human rights.
With secret activities like drug trafficking, transferring money, counterfeiting money, and money laundering on international levels, the IRGC Quds Force provides for some of its own expenses in carrying out terrorist operations and overseas interventions.
Independent Persian
A significant drop in Iran's trade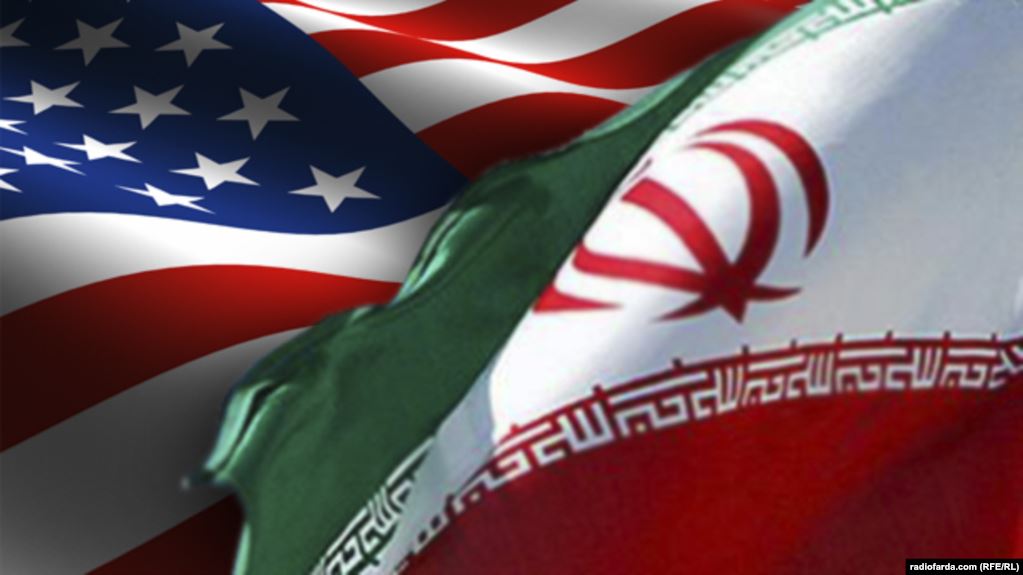 The U.S. statistics center in its recent report says that U.S. bilateral trade with Iran in the first half of 2019 has had a 2.33 time drop compared to last year, reaching $42.5 million. Iran's share of exports to America has been only $1 million.
America mostly exports agricultural products, food, and medical devices, to Iran. Since September last year, Iran's annual exports to America have been almost zero.
Since last May, the United States pulled out of the nuclear deal and imposed heavy sanctions against Iran, which has had a significant impact on Iran's other partners as well.
China's custom statistics, Iran's biggest trade partner, show that this country has had $4.552 billon worth of exports to Iran in the first half of 2019, which shows a 46% drop compared to last year. During the same period, China's imports from Iran show a 28% drop, reaching $8.131 billion.
India's Deaprtment of Economic Affair's statistics indicate that this country's imports from Iran have had a 59% drop in the first half of 2019, reaching $3.22 billion. However, India's exports to Iran had a 72% increase, reaching $2.577 billion.
Japan's official statistics for the first half of 2019 show that this country's exports to Iran have had a 98% decrease, reaching $28.5 million, while its imports from Iran had a 42% drop, reaching $1.165 billion.
South Korea, the other buyer of Iran's oil, had only $164 million worth of exports to Iran in the first half of 2019 which shows a 94% decrease compared to the same period last year. Iran's exports to South Korea have had a twofold drop, reaching $2.70 billion.
Radio Farda