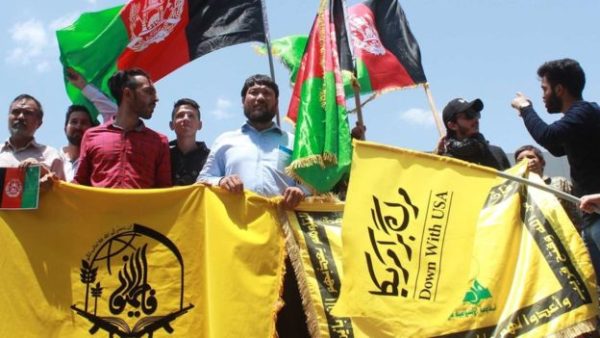 Afghanistan's government sees members of the Fatemiyoun Division – who have mostly joined Shia paramilitary forces in Syria due to poverty – as a threat. Afghanistan's officials hold that Iran has created a secret army of Hazaras Shias so that they become active upon America leaving this country. One of the soldiers said that the IRGC, in the proxy war in Syria, has used them as self-sacrificing forces, and now upon returning to Afghanistan, their lives and livelihoods have become worse than before.
Mehdi, a little after becoming 17 years old, was so poor that he couldn't even buy a pen and a notebook for attending school. He left his home in Afghanistan and went to Iran, hoping that he would find a job and go to Europe. But eventually, he ended up in war zones, in the middle of the Syrian civil war – a war that was 2,000 km away from his home and had nothing to do with him. Mehdi was one of the 10,000 Afghan men who was recruited, trained and paid to defend the ally of the Islamic Republic – Bashar Assad, the Syrian President.
In Syria, Mehdi was sent to one of the bloodiest war fronts, where he was surrounded by his friends' corpses and under the fire of ISIS, the fighters were so close that they could hear the voice of their friends saying 'Allah Akbar' before any deadly explosion.
With the outbreak of the war in Syria, Iran launched an extensive operation to recruit Shias in the region and it created a network of Shia paramilitary forces to prevent the fall of Assad's government. They were Afghans, Pakistanis, Iraqis, and Lebanese. Now with the Syrian war coming to an end, the question is: what will the Islamic Republic do with these trained forces?
After the rise of protests in Syria, the IRGC forces went to Syria to back Assad's forces, but the Islamic Republic started creating a coalition of paramilitary forces – the most well-known and powerful is the Lebanese Hezbollah.
Nevertheless, the biggest paramilitary force has been recruited from Afghans, known as the Fatemiyoun Division. Experts estimate that this group consists of 15,000 fighters. During the years, thousands of Afghans have been militarily trained and have fought in this Division. Most of them have been from the Hazara ethnic group that is considered among the poorest in Afghan society.
One of the senior officials in Afghanistan's Interior Ministry – who is close to the government's intelligence department and didn't want his name to be disclosed – said that about 10,000 fighters from this Division have come back to Afghanistan, including Mehdi and other fighters who have been recruited from Afghanistan's poor Shia community.
Fatemiyoun and its domestic security threat in Afghanistan
Nevertheless, everyone at home looks at them with doubt and suspicion. Afghanistan's security officials hold that Iran is still controlling them, and this time, they are acting as a secret army to develop Tehran's influence in continuous conflicts in Afghanistan.
Mehdi says: 'we are scared here. They say we are all terrorists.' Mehdi is now 21 years old and has returned to Herat, his birthplace. Scared that his identity might be disclosed, he avoided talking to the AP reporter in his house or in a public place and was only ready to talk in a car parked in a distant neighborhood whose residents are mostly Shia. Even there, he covered his face with a scarf, suspicious of any vehicle passing by.
Afghan fighters who have returned from Syria are threatened by different groups. They are threatened to be arrested by Afghan's intelligence forces who see them as traitors. They might also face deadly violence by ISIS in Afghanistan, as it sees Shias as apostates and it has repeatedly announced that it would kill them.
One of the local elders says: 'merely knowing them can put us in jail. He said 8 men from his village were killed in the Syrian war, but their bodies hadn't returned to Afghanistan and they have no graves in Afghanistan; 'they are all buried in Iran'.
Afghanistan's government and many experts believe that Iran intends to mobilize these people to consolidate its influence in Afghanistan, given that the US wants to pull out its forces from Afghanistan to end the war with the Taliban.
Bill Roggio, the Chief Editor of the Long War Journal, a website that covers the US longest war, warns against the continuation of terrorism in Afghanistan: 'Expect Iran to reconstruct its paramilitary groups someplace in Afghanistan. Iran will not discard these people over whom it has invested money, time and expertise.'
Even now, Afghanistan faces a crisis of an over overabundance supply of active armed forces, many of which have been formed based on ethnic differences. These groups include paramilitaries that are loyal to warlords in this country – warlords who stand by the government are mostly against each other. On the other hand, Sunni groups as well are active in Afghanistan: the Taliban rules over half of the country, and ISIS too is an enemy that has tenaciously tolerated brutal bombing campaigns by US fighter jets.
Michael Kugelman, the Asia program's Deputy Director at the Wilson Center in Washington, says that Iran will probably intend to use the excuse that Afghan Shias need a defender to mobilize the Fatemiyoun inside Afghanistan. If Afghanistan becomes more unquiet, 'Iranians will have a strong motivation to help Shia forces – Shias who will face a serious threat by the Taliban and particularly ISIS'.
According to a senior official of Afghanistan's Interior Ministry, Iran is already helping the Fatemiyoun forces who live in Kabul and it backs the Hazara-dominated region of Bamiyan. He says Afghanistan intelligence forces have identified an Iranian senior official who 'administers the forces that have returned to Afghanistan', giving them money and weapons and creating a framework for them to rapidly mobilize if necessary.
He said Abdulghani Alipour, one of the Hazara's warlords who is called the 'commander of the sword', too, helps Iran in this issue. Last year, he was arrested for creating an illegal military group but was released after protests by thousands of Hazaras.
The story of poverty and violence
Reza Ghassemi, a researcher at the Afghanistan analyst network, an independent research group located in Kabul, says that many of those who joined the Fatemiyoun Division did so due to despair and poverty, and not due to loyalty to Iran: 'the first problem is that they don't see any future for themselves in Afghanistan'.
When Mehdi went to Iran in 2015, he started working as a construction worker to save his money to go to Europe. When he managed to do so, European borders were closed. 'I was so desperate. I had come to Iran so that I could go to Europe for education and a better life. But I was still there and had nothing'.
One of his Afghan friends had suggested going to Syria together. If they fought for Iran, they would be paid $950 per month. At that time, Mehdi's income was barely $150 per month.
'I thought about that suggestion and like the anger of a roaring river, I strengthened my heart. I made up my mind: live or die, I will go.'

They registered and were sent to a recruiting center in Tehran. Then the officials gathered his personal information including the names of his father, and his relatives as well as his place of residence in Herat: 'They told me as I might die, they want all my information (so they can inform my family).'
The day after, along with other Afghans recruited by the Fatemiyoun, they were taken to Yazd and had military training for 27 days under the IRGC supervision. As a result of Mehdi's wonderful ability in aiming, he was trained to be a sniper. At the end of the training period, 1,600 new fighters were transferred to Damascus.
In Damascus, they opened a bank account to get their salary from the Iranian government. Then they were taken to Zaynab's Shrine so that they could pray one last time before being deployed. The day after, they were taken to Aleppo by bus and were immediately deployed to the frontline.
There, Mehdi faced Al Nusra forces, Al Qaeda's wing in Syria and had one of the toughest days of his life. That conflict showed the international nature of the Syrian war. On the one side, the Al Nusra Front with paramilitary forces from Syria, Iraq, Chechen, Turkmenistan, Uzbekistan, and jihadis from other countries; and on the other side, there were forces of the Syrian Army along with troops from Iran, the Lebanese Hezbollah, and Shias from Iraq and Afghanistan, backed by Russian fighter jets. They were fighting over a piece of land (city of Khan Toman close to Aleppo). The conflict took months and hundreds of people were killed from both sides. Only in one day, 80 people from the forces backing Assad were killed including 13 Iranians and tens of Afghans, Iraqis and Lebanese. At the end of that day, Khan Toman was captured.
According to Mehdi, there was a terrible amount of bloodshed in these conflicts. He said in one of these conflicts, 800 Fatemiyoun fighters were sent to the frontline, and only 200 returned alive. 'In the mornings, I usually saw 7 or 8 corpses. In the first days, seeing such scenes and hearing the sound of explosions was very frightening for me. Abdullah, one of my co-fighters in these conflicts, still sees nightmares of death and dismembered body parts.' He said the Fatemiyoun troops were sent in advance. 'I saw Afghan troops, just like ants, being crushed under tanks; the bodies were scattered everywhere.'
Mehdi returned to Afghanistan last year, and his life hasn't changed a lot. He is still poor and can't find a job. He bitterly talks of having no option, saying that many of the Fatemiyoun troops have stayed in Syria to find work as construction workers. 'I don't know what will happen in the future. Perhaps I will become a thief or go back to Syria.'
The salary of paramilitary forces who fight under Iran in Syria, however, has been reduced, and many say that Iran doesn't have the economic capability to equip these forces due to the US sanctions.
Source:radiozamaneh