Benefitting From Shanghai Pact Depends on Reviving Nuclear Deal and Ratifying FATF Bills
Iran recently joined the Shanghai Cooperation Organization (SCO) as a full member, which was seen as an important achievement for Ebrahim Raisi's government. But the editorial of Setareh Sobh argues that if US sanctions are not lifted against Iran and the country does not ratify the FATF bills, then joining the pact is not going to help Iran's already deteriorating economy.
Iran's membership in the SCO is a step forward in Iran's look East policy, which can have significant repercussions for Iran's economy, security and politics. Nonetheless, we cannot say that Iran joining the SCO is likely to have an impact on the nuclear talks and this incident is not related to the nuclear deal (JCPOA).
The nuclear negotiations have their own conditions and must be examined accordingly. Perhaps, Iran's permanent membership in the SCO might be seen as a political and propaganda achievement in the short run, but it cannot have any effect on the sanctions and the nuclear talks in the long run.
Under the current circumstances, Iran's most important priority is lifting the sanctions which must be achieved through negotiations with the Western sides. But Iran's joining the SCO signals Iran's shift to the East, and has no direct impact on the nuclear talks.
What is to be noted is that if the nuclear talks come to fruition and the sanctions are lifted, Iran can enjoy the lifting of trades tariffs with Eastern countries and make economic gains. As such, Iran joining the SCO can be an opportunity only if it is accompanied by the lifting of economic sanctions.
Iran's presence in the recent SCO summit can be seen as a regional achievement for Ebrahim Raisi and his government. But as long as the sanctions against Iran are not lifted, member countries of the SCO are not going to establish multilateral cooperation with it, and it makes no difference if Iran is an official SCO member or not. Moreover, if Iran does not pass the FATF bills, this too will create serious challenges regarding its active presence in the SCO.
If Only There Were Vaccines for High Prices!
The editorial of Aftab Yazd underscores that Ebrahim Raisi's government must take immediate measures to fight and contain the rise in prices of essential goods, as many Iranians are living below the poverty line and cannot afford to meet their daily needs.
Advances in science and technology have made it possible for people to overcome many unknowns and obstacles and find answers to many questions. All around the world, scientists and specialists are working hard in laboratories to save people's lives by finding vaccines and treatments for diseases. They have been able to do so and defeat many infectious diseases, giving the gift of long life to mankind.
Nutrition plays an important role in living a healthy life. This requires consuming certain essential goods, including vegetables and fruits which provide vitamins and have a vital impact on people's health.
In recent years in Iran, skyrocketing prices have made it difficult and almost impossible for people to purchase essential goods. According to senior officials, 50 percent of people live below the poverty line, while 30 percent live below the absolute poverty line.
Due to the high level of unemployment, people with no income are experiencing hard times, while prices keep going up. This issue will impose more expenses on the government because malnutrition and diseases caused by it pose serious threats to people's lives. People expect immediate action in this regard, demanding that the government should take swift and decisive measures to counter high prices. Now that the coronavirus vaccination process is underway, it is absolutely necessary to find a solution to provide basic items for people.
How come the government and related entities cannot enforce their own plans to fight high prices? Drafting and implementing plans cannot prevent a rise in prices. Rather, they must be accompanied by overseeing prices and support for small and medium production units. Supporting farmers and stockbreeders who have suffered due to drought and natural disasters must also be on the government's agenda. Now that through importing COVID-19 vaccines, Iran has been able to lower the death toll due to coronavirus, there must be policies and measures to fight high prices.
It Is a Mistake to Test the Tried!
The editorial of Arman Melli argues that Ebrahim Raisi's pick for deputy foreign minister is not very promising for the upcoming nuclear talks between Iran and the Western countries. Appointing Ali Bagheri as political deputy to the Foreign Ministry and replacing Abbas Araghchi with him came to many as a surprise. As they say, it is a mistake to test the tried, but it seems that some people double down on doing the same thing again and again.
For almost six years, Bagheri and Saeed Jalili were in charge of the nuclear talks during former President Mahmoud Ahmadinejad. But there was no progress at all in the negotiations. Of course, they defended the goals and causes of the revolution as well as Islamic ideals, but the talks were held to resolve the nuclear issues and achieve the lifting of sanctions, and not preaching about Islam! More importantly, because of the policies of Bagheri, Jalili and his colleagues, several resolutions were issued against Iran, and the country was placed under Chapter VII of the UN Charter. This meant that the UN Security Council could automatically approve a military attack against Iran.
It is not clear why Bagheri, who has already been tested and failed in leading the nuclear talks, has been appointed to lead the serious issue of the nuclear talks, particularly now that Iran is facing much more critical circumstances. Today, even school children are aware of what US sanctions have done to Iran's economy, so it is only logical that the entire establishment must mobilize to lift the sanctions.
But it seems that this urgent issue is not of any significance for hardline "ultra-conservatives" in Iran. For them, lifting sanctions and achieving economic prosperity is not important and is not a part of their ideology, which is why we should not be very optimistic about seeing any economic improvements in the near future in the country. Alireza Zakani becoming Tehran's mayor and Bagheri being appointed to lead the nuclear talks indicate that Iran's national interests are once again being sacrificed.
100th Day Report Is Close
The editorial of Arman Melli emphasizes that people must see tangible results in the first 100 days of Iran's new President Ebrahim Raisi. The first 100 days of Raisi's government have already started. His cabinet, except for the education minister, has begun its work and the ministers are appointing new managers. People hope that this might bring new openings for the country's economic and political affairs.
Most experts who are familiar with the level of the economic crisis in Iran do not expect a miracle from the government, knowing that the first steps will be slow and difficult. The government, nonetheless, must keep the following points in mind. It has been said again and again that Raisi's government is the Iranian people's last hope. One third of the population lives below the absolute poverty line. Every day, many people fall below the poverty line, meaning that they live on a meager income – just enough to keep them alive. Iranians do not have access to fruits and other sources of vitamins while buying meat and chicken has become more like a dream for millions of households. Shortages of essential goods will cause many serious diseases, which in turn will result in huge costs for the country's health system.
The other issue is that the high price of housing has pushed many low-income families into the city's slums. These households are going to suffer social harm and are vulnerable to physical and mental disorders in the future.
Does the government have any plans for the many immigrants from the neighboring countries as well as those who come from villages and small cities to large cities and do not have any insurance coverage? Does it have any plans for child laborers, addicts and homeless people?
The Iranian people are fed up with unfulfilled promises and they look to the government to resolve their issues. They hope that the first 100-day report will present the government's solutions to address the existing problems.
It goes without saying that people do not expect a miracle and know that it takes time to resolve all issues. Experts and analysts know that one of the reasons why people are upset and estranged from the establishment is that big promises have been made to them, but they have not seen any tangible results yet.
Iran Admitted to Shanghai Corporation Organization
After 15 years of being a mere "observer," Iran finally joined the Shanghai Corporation Organization (SCO) as a full member. This membership highlights a full turn in Iran's foreign policy towards the East. Iran's new President Ebrahim Raisi, in his first foreign trip, went to Tajikistan to attend the SCO summit. For 15 years, Iran was present in this organization as an observer, but its request for permanent membership was denied. During the tenure of former President Hassan Rouhani this request was frequently submitted, but was rejected. It seems that Moscow and Beijing are now sure of Tehran's allegiance to them.
Now with the approval and willingness of Russia and China, Iran's membership has been approved. Russia's Vladimir Putin who was delivering his speech through video conference said that he considers Iran's membership as important, saying Russia backs Iran's full membership.
In his speech, Iranian President Ebrahim Raisi called for the development of trade relations between the member countries and considered Russia-Iran cooperation in the Syrian civil war a "successful model," urging that such "regional and extra-regional partnerships" can be duplicated.
The SCO was founded in 2001 by the leaderships of China, Russia, Kazakhstan, Tajikistan, Uzbekistan, and Kyrgyzstan, and later in 2016, Pakistan and India also joined it. Since 2005, Iran has been present in the SCO as an observer, and in 2016, its request for permanent membership was rejected.
In recent years, the Iranian government has promoted the policy of "looking towards the East" to develop its ties with China and Russia, signing a 25-year cooperation agreement with China. Critics have described the agreement as "selling Iran to China." Furthermore, Iran renewed a strategic cooperation agreement with Russia which includes projects that are dear to Iranian Supreme Leader Ali Khamenei.
Iran joins the SCO at a time when the fate of the nuclear deal is uncertain, and US sanctions are causing serious damage to Iran's economy.
Iran's Share in SCO $3,000 Billion Market Is Less Than 0.5 Percent
For Iran, full membership in the Shanghai Cooperation Organization (SCO) signifies a great political achievement in foreign policy which will create economic openings as well. But observers are not very optimistic about it.
A look at Iran's trade with SCO member countries shows that Iran's share in this market of more than $3,000 billion is less than 0.5 percent.
The total imports of China, India, Pakistan, Russia, Kazakhstan, Kyrgyzstan, and Tajikistan in 2020 were roughly $3.118 billion. But Iran's exports to these countries during last year were only $12.260 million[MG1] which is less than 0.5 percent.
Currently, the biggest energy producers and consumers in the world attend the SCO summit. An economic volume of $20 trillion, $6.6 trillion of foreign trade, and 35 percent of the world population make the SCO an important organization in the world giving it high maneuvering capability.
But the SCO's capability is just an unrealized potential. Member countries regulate their economic decisions separately and do not pay much attention to the SCO's requirements. Iran has openly celebrated joining the SCO, seeing it as an important achievement for Ebrahim Raisi's government and Iran's foreign policy.
While Iran sees joining the SCO as a strategic move to enjoy China and Russia's strategic support in confrontation with the United States, previous experiences show that these countries have never been reliable partners for Iran and it is too optimistic to think that they will take great risks to back Iran in its confrontation with the United States.
Nonetheless, Iran joining the SCO is a meaningful incident in Iran's politics and will strengthen and deepen Iran's strategic ties with Russia and China. But at least in the short run, it is hard to imagine that it will have any great benefit for Iran.
Khamenei Doubles Down on Banning Sports With Israeli Athletes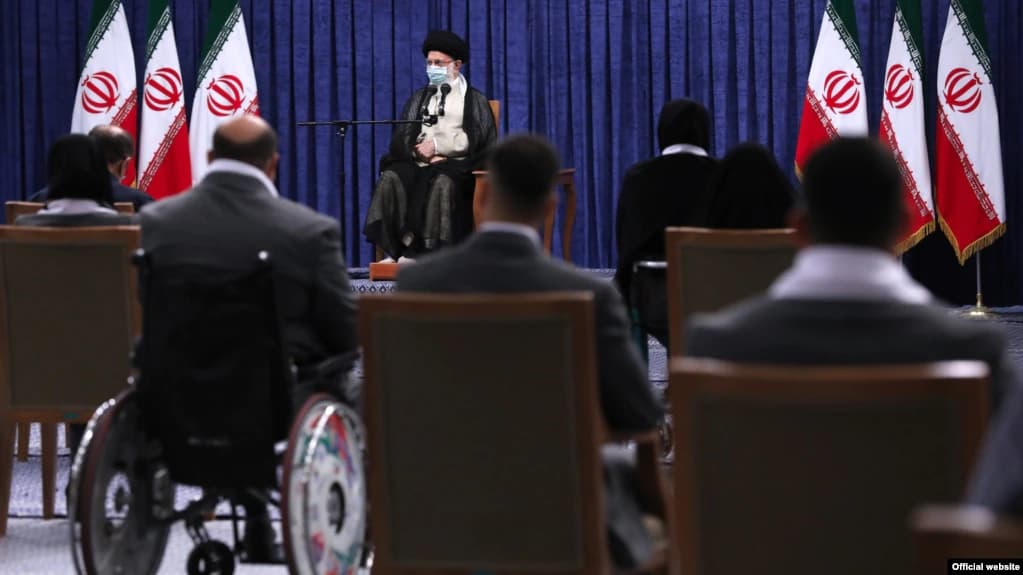 While the Iranian Judo Federation has been banned from any international competitions until 2023 because Iranian athletes refrained from taking part in matches with Israelis, the Iranian supreme leader doubled down on banning any sports with Israeli athletes.
Ali Khamenei, in his meeting with Iranian athletes who had taken part in the Tokyo Olympics and Paralympics, urged that Iranian athletes must not shake hands with "Israeli athletes."
He added, "Iranian athletes cannot shake hands with representatives of a criminal regime and recognize them. There is a precedent for this issue: in the past, the countries' athletes refrained from competing with representatives of the South African apartheid regime. After a while, that regime collapsed, and the Zionist regime too will be destroyed."
According to the rules of the International Olympic Committee and world sports federations, refraining from competing in a match because of political reasons is banned. But Iran's policies ban Iranian athletes from competing with Israeli athletes.
This is not the first time that Khamenei has called for not competing with Israeli athletes. In 2018, he told Iranian athletes not to be afraid of not competing with Israeli athletes, adding that if international organizations are upset about it, "the hell with them, they cannot do a damn thing!"
In recent years, many Iranian athletes have sought asylum in other countries. In the Tokyo Olympics, there were five Iranian athletes in the Refugee Olympics Team. Another Iranian athlete took part in this Olympics under the flag of Mongolia.
Most of the Iranian athletes who have left Iran and competed under the flags of other countries have cited discrimination in Iran's sports as a reason for leaving the country. They have added that political decisions of the Iranian establishment such as banning competition with Israeli athletes have impacted their professional careers. Ali Khamenei has accused such athletes of "selling" their countries and themselves.
Iran's Economy Dropped 57 Percent, a Serious Warning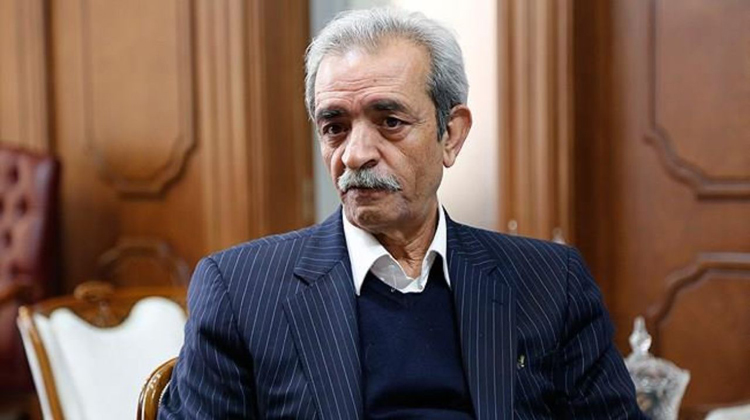 The head of Iran's Chamber of Commerce announced that the country's GDP that was $445 billion in 2017 has dropped by 57 percent, reaching $191 billion in 2020. Gholamhossein Shaffei urged that this is a serious warning for the future of Iran's economy, stressing the necessity of reviewing current policies.
According to Shaffei, along with the drop in GDP, Iran's ranking in the economy has also dropped from 26 in 2017 to 51 among the world countries.
Iran's GDP, which according to World Bank statistics was roughly $445 billion in 2017, declined to under $192 billion in 2021, showing a 57 percent drop in three years. In 2012, Iran's GDP was about $600 billion, which means that the size of Iran's economy has contracted to one third compared to 2012.
Last year, Iran's economy was half the size of the UAE's and one third of Turkey or Saudi Arabia's. The years mentioned by the head of Iran's Chamber of Commerce represented the peak of the widespread protests staged in Iran. In 2017 and 2019, people all over Iran took to the streets, but faced the bloodiest crackdown by the Iranian government.
In 2018, Trump pulled out of the nuclear deal and reinstated the toughest economic sanctions against Iran, and in 2019, there was the coronavirus outbreak in Iran. After the start of vaccination programs in many countries, Iranian Supreme Leader Ali Khamenei banned the import of vaccines from America and Britain. All these developments have adversely impacted Iran's economy in these years.
The head of Iran's Chamber of Commerce advised new President Ebrahim Raisi to lift the sanctions, make Iran's economy competitive, and pave the way for the genuine privatization of the economy. Shaffei added that the $254 billion drop in Iran's GDP in three years shows that the country's economy is not competitive enough and Iran's share in the global economy has declined.
---