Corruption; Main Cause of Steep Rise in Automobile Prices
The editorial of Setareh Sobh says that the high prices of Iranian automobiles are not because of their good quality, but rather due to widespread corruption in automobile companies.
The high prices of automobiles have nothing to do with inflation, and car dealers do not play a significant role in it either. Most car dealers have ties with two big auto-manufacturing companies in Iran, so one can imagine them as one big supply chain.
The price of Kia Pride recently reached 90 million tomans and there is even talk of a possible 50 percent increase. This shows that automakers are determined to increase prices and benefit from the situation. This represents the collective will of automakers and their interests necessitate increasing automobile prices.
The management departments of automobile companies – like other businesses that were confiscated after the revolution – have lacked expertise and experience. Most of the mangers appointed to big automobile companies have been young, inexperienced and chosen on the basis of kinship or factional affiliation. They often lack knowledge and expertise in this field.
These managers, as a result of their poor decisions, have destroyed the private sector. Later, these companies became semi-governmental and started to make losses adding more burden on the government's shoulders. These companies have received billions of dollars from the government, while adding nothing substantial to the country's GDP.
As a result of the performance of these companies, automobiles today have become capital goods used to obtain the public's money. Otherwise, there is no other reason for the prices of these low-quality products to go up. If this industry continues to be subject to corruption and poor management, the conditions will remain the same.
Workers' Tables Left Empty Because of Low Wages
The editorial of Tejarat online, penned by MP Mehdi Issazadeh, explains why this year's increase in workers' wages is not calculated according to the legal basis usually applied by Rouhani's government.
Ratifying workers' wages has always been a challenge. On the one hand, workers are worried about high prices and inflation which makes them concerned about earning a decent living for their families. On the other hand, employers are against any genuine increase in wages because their businesses must pay different costs including insurance, taxes, and daily expenses.
But this year, everything was totally different. In past years, workers' wages increased based on the inflation rate announced by the Central Bank. Even though workers believed that the inflation rate announced by the Central Bank was not accurate and did not reflect the true extent of inflation in the country, it was used as a basis anyway. But this year, the Supreme Council of Labor used a number which had no legal justification.
While an inflation rate of 41 percent was announced by the Central Bank, the Supreme Council of Labor voted for increasing wages by only 21 percent. As a result, labor representatives did not approve this ratification. This ratification – in which the government's representatives played the main role – was extensively covered by foreign media and even international labor organizations.
Eventually, the supreme leader got involved emphasizing workers' wages must be in line with inflation. Following his remarks, the judiciary entered the debate. Now if the judiciary calls the ratification illegal, it means that Rouhani's government has approved a ratification to increase worker's wages by only 21 percent despite an inflation rate of 41 percent – leaving workers' tables empty.
The Secret That Will not be Disclosed!
The editorial of Jahan Sanat focuses on the disappearance of the government's forex reserves which were allocated to certain people to import essential goods.
Once again, everything has been forgotten. Last month, after the report of the Supreme Audit Court of Iran was read in Parliament, the disappearance of $4.8 billion of the country's wealth made the headlines in domestic and foreign media. The scandal of the missing dollars had made the headlines before, prompting reaction from some senior officials. At that time, Hassan Rouhani and his colleagues stressed that no money was missing.
Not just Rouhani, but the government's spokesman and head of the Plan and Budget Organization too emphasized that it was clear who had received the money. The government's officials all reiterated that if any violations had been committed by those who had received the money, they would be handed over to the judiciary.
But on the other hand, the judiciary announced that it has received no information concerning the violators. This means that either there has not been any violation, or the government is not aware of it. The judiciary and the Supreme Audit Court still insist that there is no sign of the returned money or of imported goods worth $4.8 billion. This money is in limbo, and Rouhani's government has not made any clarifications in this regard.
Last fall, the same issue was raised – considerable amounts of money had been given to applicants but nothing was known of its whereabouts. When government officials were asked about it at that time, they answered in the same way which did not convince the public, the judiciary, or the Supreme Audit Court – not then and not now.
Rouhani promised last fall to announce the list of those who had received the money at the low price. When a partial list of those who had received the money was disclosed, names of some individuals related to government officials – including the father of Rouhani's son-in-law – were included in it.
What is more, in some cases, non-essential goods like pet food were imported. Seeing the list of imported goods, people asked if it was really necessary to allocate the government's money for importing such goods or are such goods just a ploy for appropriating forex reserves illegally.
Iran's Government Dominates the Economy
The editorial of Jahan Sanat explains why the Iranian Constitution must be reformed so that the private sector can engage in real economic activities.
One of the realities usually ignored by governments is to allow the private sector to lead economic growth. When there is a genuine private sector, people will have property rights – a critical factor to ensure economic progress.
The most important issue here is that since the private sector only takes its own interests into account, it is said that when the government owns companies, it will guarantee society's interests and will make decisions that benefit the people. But is it true to think that millions of people in Tehran cannot make the right decision about selling a barrel of oil, but the oil minister can decide about millions of barrels of oil?
Just as the private sector pursues its own interests, the government and officials too are after guaranteeing their own interests. When the government takes power, taking it back is exceedingly difficult. Therefore, laws must be designed in such a way to prevent the government from dominating the economy and the political system at the same time. This is because when the government grows big, it disrupts economic efficiency.
Since the share of Iran's active, independent private sector is less than 10 percent, the government is very powerful allowing it to discriminate in many ways. As a result, people with good political and social networks can access billions of dollars, while others cannot get even a simple loan.
In Iran, public institutes are not "public" in the real sense of the word, because their property rights are not individually recognized, and they are run by the government. For example, private banks are not run by the private sector; rather they are affiliated with military or law-enforcement forces or are formed by different ministries. Also, the Social Security Organization or the Civil Servants Pension Organization are apparently private institutions, but in fact they are run by the government.
It is the Constitution that has given the power to the government to intervene in all domains; so if the Constitution and the decision making system are not reformed, the government will continue to be in charge of all economic activities.
Iran is Seeking a Prisoner Swap With America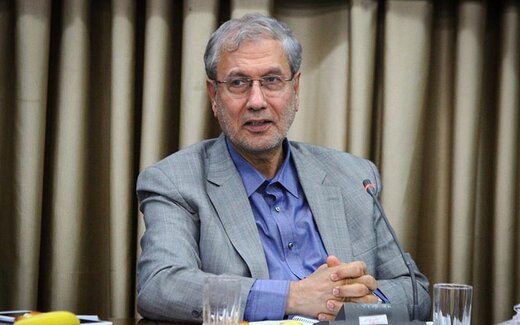 The coronavirus outbreak has clearly impacted the foreign policies of certain countries. It has been a while since rumors have circulated about a prisoner swap between Iran and America. Even though the exchange of prisoners between Iran and America is not unprecedented, COVID-19 has apparently raised the issue more seriously.
The Iranian government's spokesperson Ali Rabiei said that Iran has announced its readiness to negotiate an exchange of prisoners with America without any preconditions. He claimed to have intelligence showing that Iranian citizens who are imprisoned in America suffer poor conditions. Rabiei added that America seems to be more ready than before to exchange prisoners with Iran.
The Iranian Foreign Minister Mohammad Javad Zarif later stated that the United States has not yet responded to Iran's proposal to exchange prisoners.
In response to Zarif's claim, an American official said that instead of talking, Iran should send a chartered airplane to take illegal Iranian immigrants back. Acting Deputy Secretary of Homeland Security Ken Cuccinelli tweeted that the United States has wanted to return Sirous Asgari and other illegal Iranian immigrants to Iran for a long time, but Zarif does nothing but talk.
Sirous Asgari, a professor at the Sharif University of Technology, was acquitted of stealing trade secrets, and is now in the United States because of a problem with his visa. He has also contracted the coronavirus and is under treatment.
Previously, Xiyue Wang, an American researcher from Princeton University, was exchanged with Masoud Soleimani, an Iranian researcher who was jailed in America.
Earlier, there were reports of a possible exchange of Asgari with US navy veteran Michael White who was arrested in Iran two years ago and was sentenced to 10 years of imprisonment on charges of "insulting" the Iranian supreme leader and "publicizing a private photo." He has been released from prison due to the coronavirus outbreak and resides in the Swiss embassy in Tehran.
COVID-19 Infections on the Rise in Khuzestan
Khuzestan governor Golamreza Shariati announced that in order to stop the spread of the coronavirus in this province, a decision has been taken to close government offices, banks, and non-essential businesses in nine cities of Khuzestan until the end of the week.
According to Shariati, there has been a 200 percent increase in the number of COVID-19 patients in Khuzestan during the past month. He added that he does not have accurate statistics about the death toll because of COVID-19 in Khuzestan but said that the number of hospitalizations has risen by 60 percent. Khuzestan's governor also asserted that the slums in this province are experiencing more coronavirus cases.
Meanwhile, Abadan's special governor announced on Sunday that this city will be fully quarantined and its entrances towards other cities will be closed.
As the number of infections has started to increase in Iran once again, the number of infections in Khuzestan province has tripled. Nine cities including Ahvaz, Hamidiyeh, Dezful, Shushtar, and Masjed Soleiman are now in the red zone.
One of the reasons for COVID-19 spreading in Khuzestan is a rise in the temperature which has forced people to seek shelter indoors. Experts had warned earlier that the virus spreads faster indoors.
Besides, the resumption of ordinary activities in several cities has paved the way for COVID-19 to spread in this province. For example, the Headquarters for Combating Coronavirus had announced that the city of Masjed Soleiman was in the white zone. Therefore, people could go back to their everyday activities and the reopening of mosques and the holding of Friday mass prayers was authorized.
Mosques Reopen Amid Coronavirus in Iran After Khamenei's Speech
Iran's Ministry of Health and Medical Sciences issued a directive permitting certain mosques to reopen during the holy nights of Ramadan, called "Laylat al-Qadr."
The directive says the reason for reopening mosques is the importance of praying during these nights, as well as the National Coronavirus Combat and Prevention Headquarters receiving an order from the supreme leader.
Iran's Supreme Leader Ali Khamenei recently said that those who understand the importance of praying should be responsible for deciding whether to open or close mosques or other religious places due to the coronavirus outbreak.
In a video conference with the National Coronavirus Combat and Prevention Headquarters, Khamenei stated that decisions in this regard should be made by "those who understand the truth and necessity of praying and Tawassul [resorting to God]; then whatever they decide, I and all the people will do accordingly."
Meanwhile, the head of the Islamic Sciences Academy in the city of Qom said that it is the "enemy's conspiracy" to magnify the issue of coronavirus. Mohammad Mehdi Mir Bagheri called the coronavirus a "secular virus" which is against "religious institutions."
In an interview with Fars News Agency, Mir Bagheri – who is also a member of the Expediency Council – accused western countries of making this virus. He also said that "the enemy" might turn the coronavirus into "something against us."
The head of the Islamic Sciences Academy pointed out that the West "created the coronavirus" to put all the world's population in quarantine and to force people to live a "cyber life" so that the West can defeat its rival civilizations – including the Islamic civilization – by "cyber governance."
The House of Political Prisoners Confiscated
The house of Fatemeh Mosni and Hassan Sadeghi, a married couple who are jailed in Evin and Rajaee Shahr prisons for political reasons, was confiscated by the Executive Headquarters of Imam's Directive. These two prisoners had been sentenced to 30 years of imprisonment – 15 years each – and a ruling was issued to confiscate their business and residences. In 2018, their business was confiscated.
Their house was in eastern Tehran where their two children and Ms. Mosni's 89-year-old mother were living.
In 1981, 17-year-old Hassan Sadeghi was arrested for supporting the People's Mujahedin of Iran (MEK) and was jailed for six years.
In 2012, all four members of the family – mother, father and their 10-year-old and 18-year-old children – were arrested for holding a funeral ceremony for Mr. Sadeghi's father who was against Iran.
Their children were later released, but Tehran's Revolutionary Court sentenced this couple to 15 years of imprisonment and ordered the confiscation of their properties on the charge of "affiliation with MEK."
The Executive Headquarters of Imam's Directive is reportedly worth $95 billion and is under the Iranian supreme leader's supervision. Confiscated properties – as a part of the Islamic penal code – are handed over to this institute.
Rouhani Appoints new Minister of Industry, Mine and Trade
President Hassan Rouhani has appointed a new minister, named Hossein Modares Khiabani, to head the Ministry of Industry, Mine and Trade. Reza Rahmani previously oversaw this ministry.
Rouhani's new appointment means that Reza Rahmani has been discharged from his position.
This new appointment was so sudden that even Rahmani's deputies had not been informed of his dismissal and the appointment of a new minister by President Rouhani.
It is not clear yet why President Rouhani has replaced Rahmani.
Rouhani had been reportedly seeking to dismiss him for a while but was under pressure from one of the factions in the Parliament not to do so. Following Parliament's decision to impeach Rahmani after the price of vehicles skyrocketed in the country which led to other difficulties, Rouhani used this opportunity to do what he had planned to do a long time ago, namely, discharging Rahmani.
Another likely reason for Rahmani's dismissal is the recent report he submitted to the head of one of the country's branches before notifying Rouhani and gaining his approval.