Let Us Create Convergence Instead of Polarizing Society
The editorial of Shargh urges that the government should not have enforced the so-called laws of chastity and hijab – an act which has resulted in the further polarization of society.
Images and videos recently circulated on social media showing intolerance and public confrontation portray not just social chaos, but intolerable pain on an unprecedented level. These days, people from all walks of life in Iran are experiencing difficulties and inconsolable grief.
Inflation is the cruelest phenomenon that can tear to pieces livelihoods and destroy the nation. The majority of Iranians do not have a decent standard of living and are suffering from the ravages of inflation. There is no doubt that most Iranians are currently exhausted and miserable because of inflation. The mental and emotional toll of inflation must also be taken into account, making it hard to distinguish the poor from the rich.
Now that all Iranian citizens are facing international isolation, sanctions, depression, hopelessness and tens of other problems, is it fair to deliberately put more pressure on them? Was it not possible to enforce the chastity and hijab laws in a different manner and in a way that would not polarize people? Was it not possible to act more rationally so that a part of society would not feel like second-class citizens? Was it not possible to follow up on the demands of the government and a part of society in a way that would not hurt public morale and lead to the dissemination of these disturbing images? Was it not possible to think that these days all citizens are suffering and the authorities should not create problems that would cause further social disillusionment?
The public authorities should have considered these questions and should not have undermined society in a way that would pit neighbor against neighbor and citizens against citizens. People are already grappling with many serious questions. More than ever, people need to go beyond ideology and heal each other's pain.
It is important for all citizens to realize this issue. If we take a look around, there is enough sorrow to give us an excuse to hold each other's hand and heal each other's wounds. The current polarization is more like social madness.
A Glimmer of Hope
The editorial of Arman Melli underlines that if the government takes serious steps in lifting US sanctions and fighting corruption, there will be hope for positive change in the country's economic conditions.
These days, statistics are offered by "hardline" media outlets close to the government which raise serious questions in people's minds. People who experience inflation everyday are bewildered when they hear statistics regarding a 4 percent decrease in liquidity which would mean a drop in inflation.
The media's audience can be divided into two groups: firstly, those who are familiar with statistics and numbers like economic experts who get their information from multiple sources. But the second group consists of the majority of people who do not analyze the statistics and only look at their own lives and tables. They are the ones who feel upset when they hear such statistics that are in contradiction with the bleak reality of their daily lives. Their livelihoods have not changed, and their tables have shrunk.
Currently, 94 percent of retirees receive pensions under 10 million tomans. As the officially declared poverty line is 10 million tomans, this means that 94 percent of pensioners are living below the poverty line. Some renowned public figures who are sympathetic to people's plight have raised this issue with President Ebrahim Raisi and other government officials.
According to Iran's Statistical Center, one third of 27 million households in Iran live in rented houses and apartments and the number of tenants is on the rise in Tehran, which shows that a large number of people face the pressure of paying massive rents.
Moreover, like all previous governments in Iran after the 1979 revolution, Raisi's government is also contending with the issue of foreign currency. So, if the government takes decisive measures to lift the sanctions, prevent financial corruption and embezzlement and confront whoever does such things, there will be a glimmer of hope.
Mr. Rouhani, Why Do You Not Speak Up?
The editorial of Aftab Yazd urges that former President Hassan Rouhani must talk about the violations committed under his government which resulted in the plundering of people's money and their deaths.
For some time, former government ministers have been complaining, pointing to the issues they inherited from previous governments. Current government officials are either too busy to respond to these claims or have decided to remain silent on these issues so that they do not make people more confused.
Now, amid all the talk on Twitter, Facebook and other social media platforms, suddenly former President Hassan Rouhani has asked President Ebrahim Raisi to tell the Iranian people the truth and the facts, also claiming to have handed over to Raisi a treasury filled with billions of dollars.
Raisi probably does not have time to read the newspapers, given the problems that exist now like the drying up of Lake Urmia, air pollution threatening 14 million people, unemployment affecting thousands of people in Khuzestan Province, the shortage of water for agricultural lands in Isfahan Province, the brain drain, the overwhelming problems facing pensioners, etc.
Rouhani states that President Raisi must tell people the truth. What truth? That foreign currency was looted during Rouhani's government through the provision of subsidized currency at a very low price? Or forex was allocated during Rouhani's government for importing goods that never entered Iran? Violations that were made in the previous government in importing medicines which resulted in the deaths of thousands of Iranians?
Perhaps, the policy of Raisi and his team is to remain silent on these issues and the violations committed by former officials under Hassan Rouhani. But we hope that the former president will take the initiative in sharing facts about his own government and all the violations and looting committed under it!
Questions for Mr. Putin Upon His Presence in Tehran
The editorial of Aftab Yazd states that if Russian President Vladimir Putin claims to be Iran's strategic ally, he should explain why Russian companies left Iran when US sanctions were reimposed against Iran.
In recent years, the prevailing view in Iran has been to look towards the East and oppose the West, regardless of the fact that this is in contradiction with the slogan of "neither East nor West" which was chanted in the early years of the Iranian revolution. Simply put, to the Iranian government, the Russians and Chinese are good and the West is bad!
But the question remains: when Western companies do not cooperate with Iran and do not invest in the country because of US sanctions, how come Chinese and Russian companies are doing the same and do not work with Iran? When Trump pulled out of the nuclear deal, the French company Total withdrew from the South Pars project. But the Chinese also pulled out of the same project and the Russians withdrew from the Aban and Paydar oil fields. But no one objected to the Russians and the Chinese leaving, while everybody condemned Total.
Russian President Vladimir Putin must be asked about the reason why Russian companies, like Western ones, abandoned Iran after the sanctions were reinstated. One can point to two agreements and seven memoranda of understanding the Russians signed with Iran for developing oil and gas fields in Iran. These never translated into contracts because of Trump's withdrawal from the nuclear deal. If Russia is Iran's strategic partner and is going to sign a 20-year cooperation contract with Iran, the Russians should be useful for Iran now that it is under sanctions. Or else it is of no use at all.
These are agreements and understandings that were signed between Iran and Russia but never saw the light of day: a contract for developing the Aban and Paydar oil fields, a contract for developing the Cheshmeh Khoush and Dalperi oil fields, an understanding for developing the Changouleh oil field, an understanding for developing the Ab-e Teimour oil field in Khuzestan, an understanding for developing the Farzad gas field in the Gulf, an understanding for developing the Dehloran oil field in Ilam, an understanding for developing the Golshan gas field, an understanding for developing the Shadegan oil field and an understanding for developing the Azar oil field.
IRGC's Media Paving Ground for Iran's Intervention in War Against Ukraine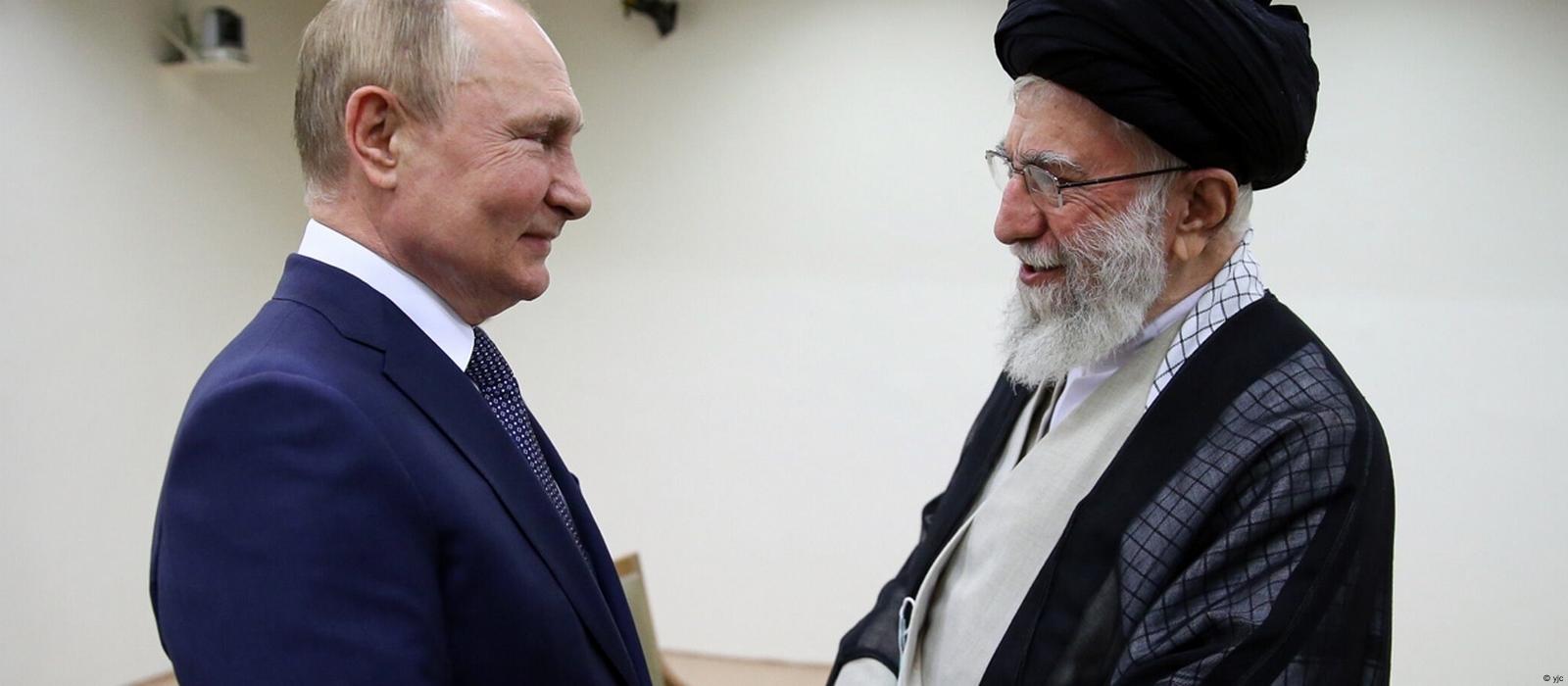 Some media outlets affiliated with the IRGC have written about the Russian war against Ukraine in a way that is considered by many as preparing the ground for Iran's intervention in this war. Prior to this, Iranian Supreme Leader Ali Khamenei in his meeting with Russian President Vladimir Putin in Tehran had praised this war as Putin's "initiative" to prevent a war that would be launched by NATO forces in the future.
Following Khamenei's remarks, some media outlets affiliated with the IRGC reiterated the supreme leader's words, trying to pave the way for Iran's possible involvement in the Russian war against Ukraine.
One of the main points in Khamenei's speech was the reinforcement of the Kremlin's claim that NATO is expanding its influence and any preemptive measures against this process is not only justifiable but necessary.
The Iranian supreme leader said in his meeting with Putin that "if NATO finds the door open, it knows of no limits, and if it was not stopped in Ukraine, it would later launch a war on the pretext of Crimea."
Javan daily, close to the IRGC, then claimed in its editorial that the goal of NATO expanding its influence is the "continuation of enemies' hegemony and their dominance for destroying Islam," which is why, "from the perspective of the sharia…legitimate and preventive defense" is permissible.
Furthermore, Hossein Shariatmadari, Khamenei's representative at Keyhan daily, also wrote an editorial with the same content which was reissued by Fars News Agency affiliated with IRGC.
He wrote that Khamenei's speech in his meeting with Putin shows that Iran is aware of the "realities behind the Ukraine war" and knows that "if America wins in Ukraine, Iran will be their next and most important target."
According to Shariatmadari, Iran "considers the confrontation of Russia with America and NATO in Ukraine as part of its own security and will reasonably and naturally support it."
Iran's support for the Russian invasion of Ukraine provoked widespread criticism in the domestic media and was also denounced by some political figures.
Salt Particles to Reach Tehran After Full Drying Up of Lake Urmia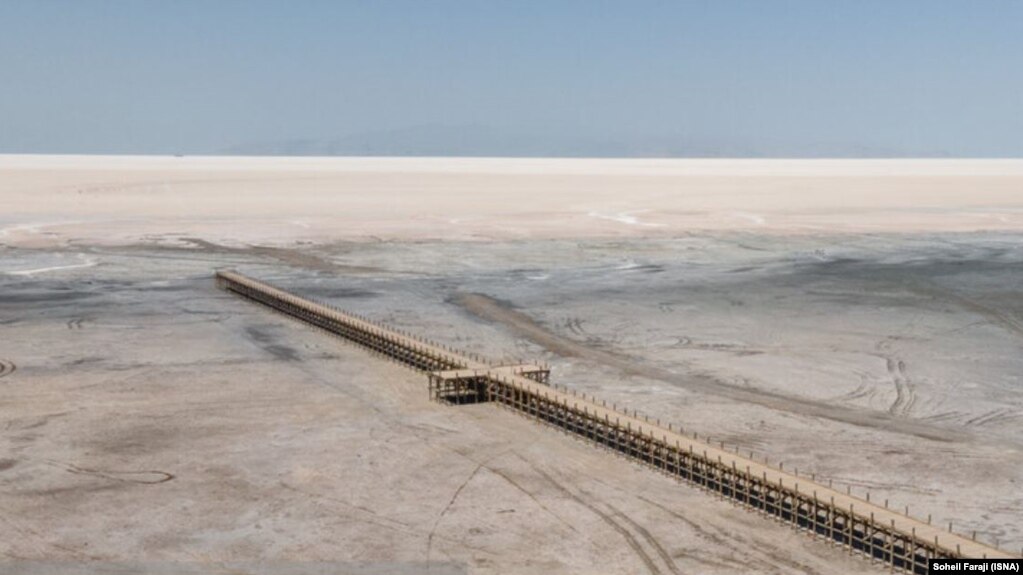 Recent reports on Lake Urmia reveal that despite setting up a special headquarters for dealing with this issue and spending at least 15,000 billion tomans for reviving this lake, more than 95 percent of it has fully dried up.
According to ISNA News Agency, after years of drought and not providing water from dams, more than 95 percent of the lake is now completely dry.
Recently, lawmakers warned again about the conditions of the second biggest salt lake in the world, and the city of Tabriz's MP warned that with the drying up of this lake, an area seven times larger than Tehran will turn into desert and salt marsh, adding that there will be salt storms covering an area of 600 kilometers which will put 14 million people in danger of skin diseases, cancer and asthma.
Another lawmaker from Tabriz talked of the impact of the drying up of Lake Urmia on the provinces and cities close to the lake, stating that more than 14 million people from Tabriz to Tehran will be affected by salt particles.
He asserted that in addition to mismanagement and drought, factional politics and partisanship, as well as not employing experts to revive the lake, have played a role in its drying up.
Concerns about Lake Urmia go back to the year 2000 when environmentalists and government officials sounded the alarm about the impact of drought on Lake Urmia.
Government plans for reviving Lake Urmia have either not been realized or have not come to fruition despite allocating budgets to it, which recently led environmental activists to protest against the government's inaction in reviving this dying lake.
Recently, human rights groups and civil rights organizations in Iran's Azeri Turks provinces called for street protests in reaction to the drying up of Lake Urmia, to which the Iranian government responded by implementing strict security measures in the cities of Urmia and Tabriz and arresting a number of civil activists.
Iran's Statistical Center: Inflation of Food Items Reached 90 Percent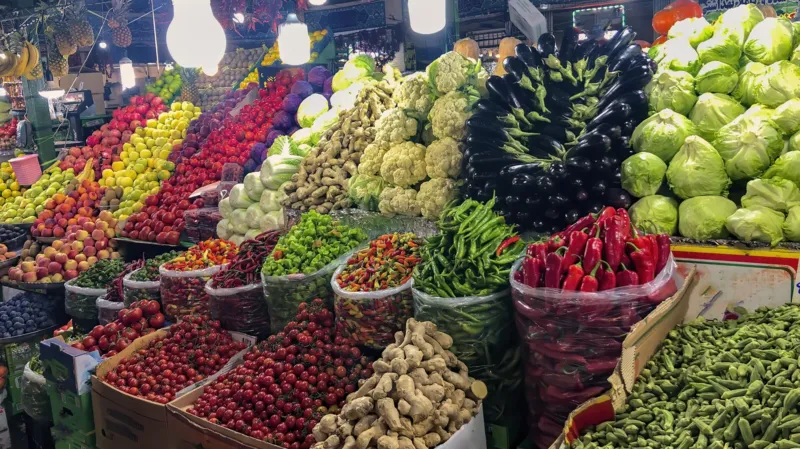 In its recent monthly report, Iran's Statistical Center announced that last month inflation of food items reached 90.2 percent compared to the same month last year.
Earlier this year, the Iranian government considerably increased the prices of certain food items like flour, cooking oil, chicken, eggs, milk and cheese, admitting that despite the provision of foreign currency at subsidized rates allocated for importing these goods, the government has not been able to control their prices.
Iran's Statistical Center report shows that the government's new policy has failed in controlling the prices of essential goods, so much so that last month these items' prices increased by 6 percent. Local media reports nonetheless indicate that the prices of food items are higher than the figures released by the Statistical Center.
After new inflation rates were announced by the Statistical Center, some officials even spoke out against the rise in inflation.
MP Hassan Lotfi stated that the increase in prices takes place "minute by minute," emphasizing that the tables of the poor, employees, workers, farmers, etc. have shrunk, while the tables of the rich have become bigger and bigger.
As people's purchasing power has decreased in recent years, prices of certain items like rice and meat have massively increased.
With the spike in inflation, the middle class in Iran is gradually disappearing, and more and more people are living below the poverty line.
Moreover, according to the Statistical Center, house prices and rents rose by 32 percent last month compared to the same month last year, while a member of the Union of Real Estate Consultants earlier stated that rents had witnessed a 300 percent increase.
ISNA News Agency previously released a report stating that rents in Tehran have risen so much that each household has to allocate 100 percent of its income to paying rent.
Baha'i International Community Warns Against "Systematic Pressure" of Iranian Government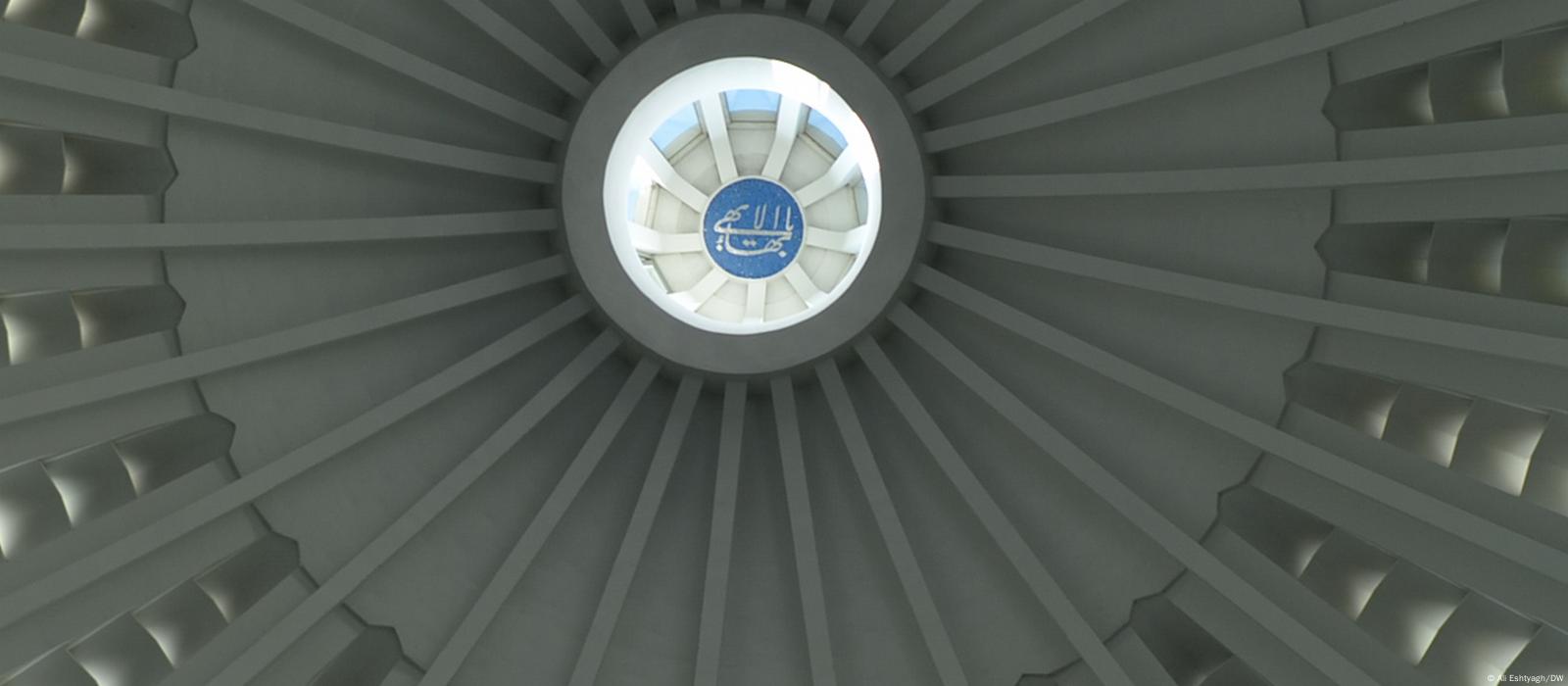 In a statement, the Baha'i International Community announced that over the past two months 64 Baha'is in Iran were unlawfully arrested, subjected to unfair trials, imprisonment and business closures.
20 Baha'is in July and 44 Baha'is in June were arrested and jailed in several cities, their houses were raided, or their businesses were shut down, reads the statement.
The extensive issuance of subpoenas, arrests and trials of Baha'is, the statement underlines, is indicative of the "systematic pressure" of the Iranian government against this non-Muslim religious minority in the country which has considerably increased in recent months.
Principal Representative of the Baha'i International Community to the United Nations Bani Dugal said regarding the recent intensification of pressure against Baha'is in Iran that "The Baha'is have experienced continuous persecution for their beliefs over the last 44 years. But the present acceleration is beyond troubling."
Dugal demanded that the Iranian government should "immediately honor its human rights obligations and their responsibilities to all Iranians, by ceasing this persecution without delay."
The Iranian government does not recognize Baha'ism and the Iranian judiciary and security officials have repeatedly called Baha'is "spies and enemies." Bahai's have been targeted through executions, arrests, imprisonment, confiscation of properties and exclusion from education and business activities.
Meanwhile, defenders of human rights and international bodies have always pointed to the extensive arrests and heavy sentences against Baha'i citizens, denouncing the Iranian government's behavior and measures as a "systematic violation of human rights."
There are reportedly more than 300,000 Baha'i citizens living in Iran.