The Ramifications of the Ukraine Crisis on Iran's Nuclear Deal
The editorial of Ebtekar focuses on how the Russian invasion of Ukraine is going to impact the nuclear deal in Iran, as well as the market for Iranian oil and natural gas.
The Russian invasion of Ukraine is a turning point in the world and in geopolitical rivalries between the West and the East. There is going to be a new arrangement in international relationships. Tensions will definitely escalate and a new cold war era will begin. The market for selling arms will thrive, while the East-West relationship will become more strained. Heavy sanctions will be levied against Russia and this will lead to an escalation of tensions between Russia and the West.
But what will be the impact of these developments on Iran's nuclear talks? In the short run, they will not have much of an impact on the talks, because the crisis in Ukraine is much bigger and more important than Iran's nuclear talks. But in the long run, it will create new possibilities in the West's relations with Iran.
With the crisis in Ukraine and the crisis in Taiwan, Iran will no longer be the focus of attention, leading to the dissipation of regional tensions. This will give Iran breathing space, and the West will be more eager to reach an agreement with Tehran. Iran will not be a priority in the West's security issues.
The second opportunity is going to be in the field of energy. Reaching a nuclear deal with Tehran and Iran's possible official return to the energy market were supposed to decrease the price of fuel. But with sanctions against Russia, this is not going to happen, and there will be more customers for Iran's oil and natural gas. In fact, sanctions against Russian energy supplies will make the West more dependent on Iran's energy resources.
Of course, dropping Russia's energy supplies from the market is not that easy and the Gulf countries cannot make up for this deficit in the short run. But if the crisis in Ukraine is not resolved, the West will have to search for alternative solutions to meet its energy requirements. The best option is to import natural gas from Iran. Iran's natural gas pipeline already goes to Turkey. So Iran can be the best alternative for replacing Russian energy supplies.
Iran and the Russian Invasion of Ukraine
The editorial of Arman Melli maintains that the Russian invasion of Ukraine provides a good opportunity for Iran to pursue its own interests and create a balanced relationship with both the East and the West, instead of just blindly following Russian and Chinese policies.
Months after Russia deployed its forces around Ukraine, the Russian army invaded Ukraine from all sides to gradually annex this country. Russia, being sure that America, the West, and NATO would not respond militarily to the occupation of Ukraine, crossed Ukraine's border with all its forces to get closer to Europe.
Iran is well aware of the meaning of the Russian invasion of another country: during the past 200 years, Russia separated the Caucasus region from Iran and during the Iran-Iraq War, Soviet Russia backed Saddam. Now, in the nuclear talks between Iran and the Western countries, Russia is after controlling the negotiations with America, while undermining Iran's authority in the nuclear case. Unfortunately, Russia has become the most important country with regard to the issue of the nuclear deal, which is the most important national security matter for Iran.
Russia also obstructs the export of Iran's natural gas to Europe, being a serious rival to Iran in the field of oil and natural gas. While the Russians are at loggerheads with the Americans and Europeans, they are trying to maintain natural gas exports to Germany and retain their market in Europe. As such, the Russians have benefitted the most from the differences which exist between Iran and the West.
The Russian invasion of Ukraine is a good opportunity for Iran to adopt the policy of relying on "neither the East, nor the West." While developing its relations with Russia and China, it should not wholly rely only on either of these countries and should try to have balanced economic relations with the Western countries and bolster its economic power.
Ignoring the Social Aspects of Legislation
The editorial of Aftab Yazd argues that lawmakers in Iran do not consider whether society has a favorable view of their ratifications or not – a fact that has backfired in most cases, pushing them to turn to extreme measures to circumvent the restrictions and restraints imposed on them by the Parliament's legislation.
The social dimension of legislation is usually ignored by lawmakers, while this is the most important issue when any legislation is passed by the Parliament. By social dimension of legislation, we mean the public response to any legislation that is ratified by the legislative body. Otherwise, no matter how preventive and prohibiting a law is going to be, society will find a way to circumvent it. And meanwhile, society might turn to experimenting with new ways which might prove very damaging.
Just to give an example, when Iranian officials reached the conclusion that the Telegram app was harmful, they decided to filter it overnight, without considering the fact that many people depend on this messenger app and do not want to migrate from it to other messenger services. This resulted in the extensive use of anti-filtering, and we then realized that anti-filtering can even be found on children's cellphones.
This affected the issue of protecting cyberspace even though legislation was enacted to filter immoral content on cyberspace. Now, there are no longer any restrictions preventing children and teenagers from accessing cyberspace!
We had experienced the same issue with satellite dishes and video players years ago. The truth is that it is impossible to fight technology, and society will not accept laws and restrictions in this regard.
Finally, officials must know that if the plan for protecting cyberspace is finalized and implemented in Iran, it will not only not protect people, but it will also harm families. As this law is not backed or welcomed by society, people will easily find ways to circumvent it – ways which might be more dangerous.
Plan to Protect Cyberspace Is Against Citizenship Rights
The editorial of Arman Melli stresses that with the ratification of the so-called plan to protect cyberspace, the Iranian Parliament will take a measure in defiance of Iranian citizens' rights. Many critics of the plan and civil rights activists see it as blatant censoring of the internet and depriving Iranians of their right to the free flow of information.
Public reaction to the Parliament's so-called plan for protecting cyberspace is very interesting. People are constantly worried about how long they will be able to use Instagram, and it is not clear if the lawmakers who represent these people even listen to people's voices or pay any attention to their concerns.
The plan for protecting cyberspace which has been ratified by only 18 lawmakers has rattled 80 million Iranians. Have not these MPs been elected to go to the Parliament to represent these people's interests and concerns in legislation? Now, how come that they have agreed to a plan which will disrupt people's lives and has generated widespread concern?
Interestingly, there is no transparency regarding the details of the plan to protect cyberspace, and most people only know that foreign platforms and websites are going to be filtered or even replaced with Russian and Chinese platforms. This means that people do not even know what the government and the Parliament are going to protect them against.
Even in the Parliament's Cyberspace Committee, it is not clear what issues have been brought up, and people only know that the generalities of the plan have been ratified. Blocking the communication of 30 million people, shutting down the businesses of 9 million Iranians, and depriving 50 million people of their only entertainment which happens to be online is solely the Parliament's decision.
What is for sure is that this plan is in defiance of citizens' rights and even the Iranian Constitution. As the ratification of this plan is in defiance of the Constitution, it is illegal.
No one has forgotten that in 2019, when the internet was blocked for a few days, the economic loss amounted to billions of dollars. Undoubtedly, citizens are entitled to use all means of telecommunication, and this plan is against citizens' rights.
Instead of creating trust and developing the necessary infrastructure in the country so that people do not turn to foreign platforms, the authorities seek to implement this plan and impose restrictions on people to make them turn to already failing domestic platforms.
Khamenei Did Not Mention Russia, Blamed America for Crisis in Ukraine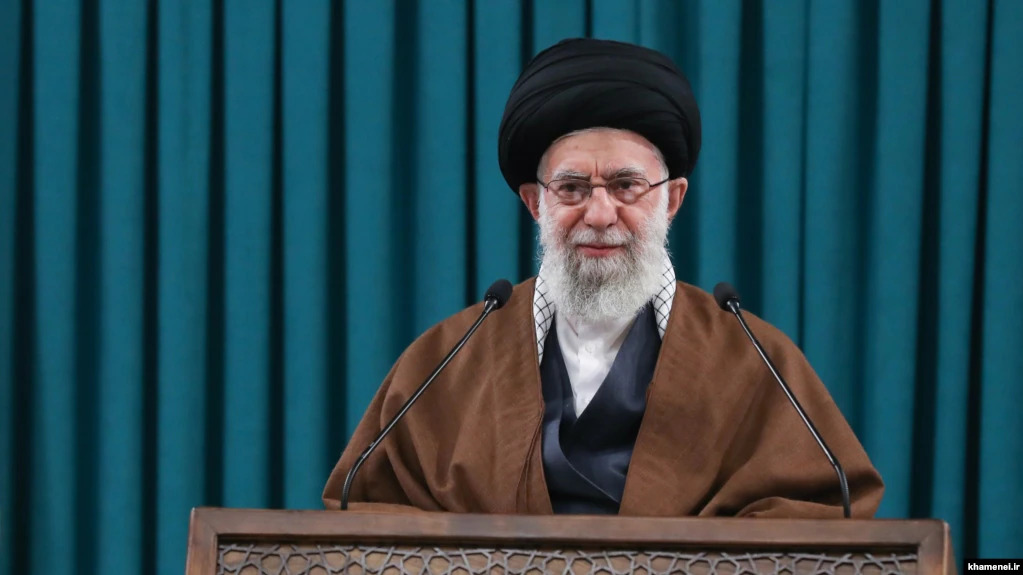 In his first remarks about the Russian invasion of Ukraine, Iranian Supreme Leader Ali Khamenei alleged that "Ukraine is the victim of American policies." He called the American administration a "mafia regime," urging that America feeds on creating crises in other countries.
The Iranian supreme leader did not condemn Russia for launching a full-scale war against Ukraine, but instead he accused the American government of pushing Ukraine toward this crisis by interfering in this country through the "Orange Revolution."
Iran is after bolstering its relationship with Russia and Ali Khamenei has strongly encouraged establishing a close relationship with Moscow in recent years.
In another part of his remarks, Ali Khamenei, without mentioning Ukrainian resistance against the Russian invasion, asserted that "if people in Ukraine had entered the scene, the situation of the government and people in Ukraine wouldn't be like this. People didn't enter the scene because they don't back the government."
While the Iranian supreme leader claims that Ukrainian President Volodymyr Zelenskyy is not backed by the Ukrainian people, the performance of the Ukrainian president who has not abandoned Ukraine's capital city of Kyiv has drawn a great deal of praise on Iranian social media with many Twitter users expressing admiration for his resistance against Russia.
According to official polls, Ukrainian public support for this country's young president was over 90 percent after the first week of the Russian invasion.
In recent days, other high ranking Iranian officials have also defended the Russian invasion of Ukraine, calling it a confrontation with "the West's unilateralism" and the expansion of NATO.
In this regard, Ali Shamkhani, secretary of Iran's Supreme National Security Council, tweeted that the Russian invasion of Ukraine is an example of a war to "stand up to the West's strategy," blaming the West for being directly responsible for it.
Khamenei's Representative in Kayhan, Lawmakers Back Russian Invasion of Ukraine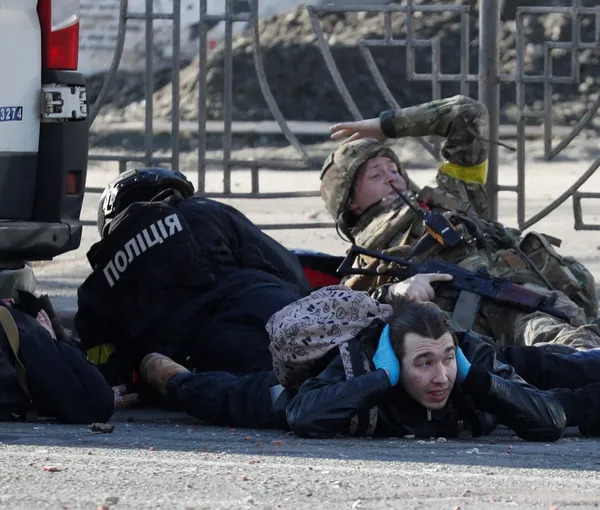 The representative of the Iranian supreme leader in Kayhan daily and a number of MPs have backed the Russian invasion of Ukraine, as well Russia's efforts to change the government in Ukraine, seeing it as the outcome of this country trusting the United States.
Kayhan daily's headline was "Ukraine Didn't Stand For Even 48 Hours" urging that "once again America abandoned its allies – a good lesson for those who are in love with the West."
Hossein Shariatmadari, the representative of the Iranian supreme leader in Kayhan, also backed the Iranian foreign minister's remarks who had attributed the invasion of Ukraine to the provocative measures of NATO and America, while saying that the situation in Russia is because of trusting America.
A number of lawmakers also asserted that the invasion of Ukraine was due to the country's trust in America.
Mohammad Taghi Naghdali, Khomeini Shahr's MP, said those who raise the issue of the second nuclear deal between Iran and the Western countries must note that America and the West have been after making Iran another Ukraine with the second nuclear deal.
In its official narrative of the crisis in Ukraine, Iran has identified the provocative measures of NATO and America as the main cause of the Russian invasion of Ukraine.
On the first day of the Russian invasion of Ukraine, Iranian President Ebrahim Raisi in a phone call with Russian President Vladimir Putin virtually backed the invasion, saying that "the expansion of NATO is a new threat against the stability and security of independent countries in different regions." He added, "I hope what is happening will be to the advantage of the nations and the region."
In remarks seen by many as a departure from his initial stance, Raisi emphasized the need to respect the sovereignty of all countries.
Iranian state-run television and some government-affiliated media outlets have called the Russian invasion a "special operation" conducted in response to the demands of the separatists in Donbas.
The position of Iranian officials and official media outlets have drawn widespread criticism from the Iranian public, while former lawmaker Ali Motahari condemned such reporting, saying that Iranian state television act as if Iran is one of "Russia's colonies."
Iran to Invest $50 Billion on Constructing Nuclear Power Plants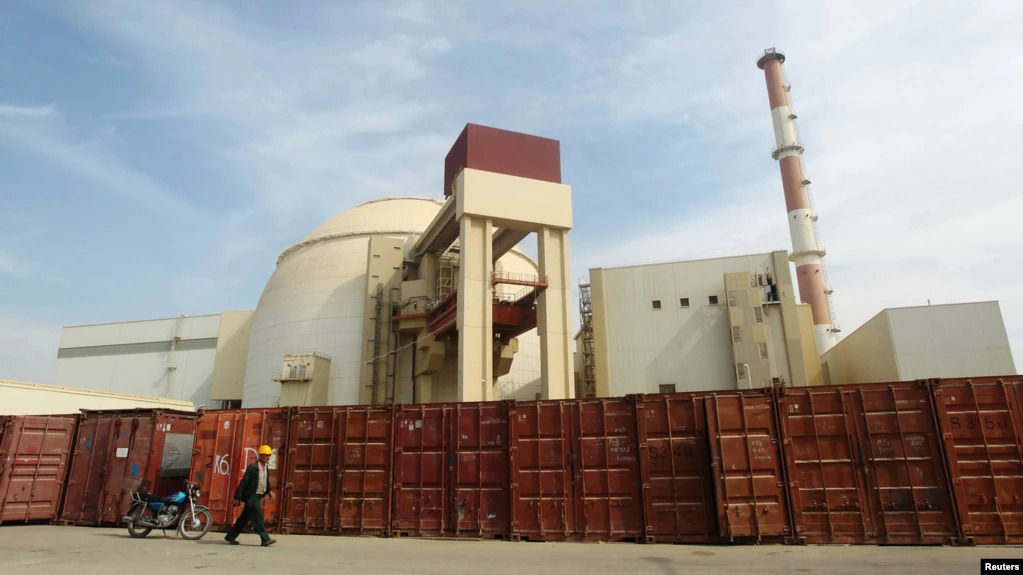 Mohammad Eslami, head of the Iranian Atomic Energy Organization, says Iran intends to invest $50 billion on constructing new nuclear power plants to produce 10,000 megawatts of nuclear power.
When Russia launched Iran's first nuclear power plant in Bushehr after almost two decades of delay, Eshaq Jahangiri, first vice president in Hassan Rouhani's government, said that the costs of constructing this 10,000 megawatt power plant reached $8.5 billion. According to statistics published by the Energy Ministry, this power plant's share in producing power in Iran reaches only 1.5 percent.
About a decade ago, Iran reached an agreement with Russia for constructing new nuclear power plants, but these projects are still on paper. While Iran is going to spend $50 billion on producing new power plants for 10,000 megawatts, a similar project for constructing a power plant with 6,500 megawatts in the UAE constructed by a South Korean company is worth $20 billion.
Poland too has a similar project for producing 9,000 megawatts of nuclear power estimated to cost $26 billion.
On a different note, despite reports as to Iran returning to enrichment under 5 percent if a nuclear deal is reached, Mohammad Eslami announced that Iran will continue to enrich uranium at 20 percent.
Eslami stated that if an agreement is reached, Iran will continue to enrich uranium at 20 percent and 5 percent.
It was earlier reported that the final draft of the agreement for reviving the nuclear deal includes Iran's return to enrichment under 5 percent, releasing dual national prisoners, unblocking $7 billion of Iran's money in South Korea.
A number of Friday prayer leaders have addressed the issue of the nuclear talks held in Vienna, and Ahmad Khatami, Tehran's Friday prayer leader, said that if banking and trade sanctions are not lifted, it will be as if there had been no negotiations at all.
Retirees' Assembly; Protesters Chanted Slogans Against Injustice and Oppression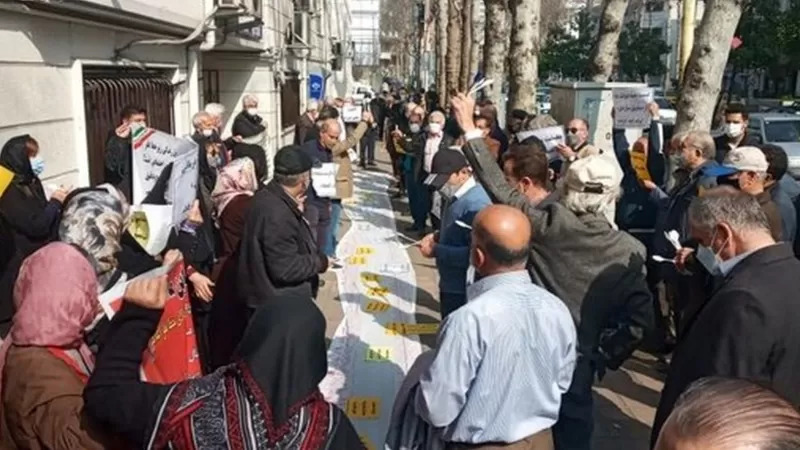 In protest against their livelihood conditions, retirees of the Iranian Social Security Organization held assemblies in different cities, calling for the implementation of the plan for the levelling of retirees' salaries and raising salaries enough to cover living expenses.
Retirees reportedly held assemblies in more than 15 cities including Tehran, Shush, Tabriz, Shiraz and Isfahan.
In these assemblies, retirees chanted slogans against the way the country is run, including "Enough of oppression and injustice, our tables are empty!" "Neither the Parliament nor the government is thinking of people!" "Political prisoners must be released!" and "Lying Raisi! What has happened to your promises?"
Ebrahim Raisi's government took office while criticizing the former government of Hassan Rouhani for its incompetence in addressing people's livelihood issues.
According to Iranian labor news agency, ILNA, the protesters issued a resolution at the end, underscoring that they are increasingly suffering from poverty and hardship.
Highlighting other social groups' protests against poverty and economic conditions, retirees of the Iranian Social Security Organization called for an increase in wages in accordance with real inflation, effective and free health insurance, and the government paying its debts to the Iranian Social Security Organization immediately, which is said to be more 400,000 billion tomans.
The protesters also objected to the "meager" amount of money paid to retirees as annual bonuses, urging that this amount is very unfair.
Given the increase in inflation and the disregard of employees' and workers' rights by private and public organizations, it has become increasingly prevalent for different groups of people, including health care workers, firemen, teachers, and retirees to hold assemblies, and even arresting protesters and the forceful suppression of gatherings by security forces have not been able to silence the protesters.