Tension Between Iran and Europe
The editorial of Arman Melli argues that because of tensions between Iran and the EU, Tehran has turned to Oman and Qatar to mediate in its talks with the United States.
As a result of the tension between Iran and the EU, bilateral relations have become strained and Tehran is not counting too much on Europe for returning to the nuclear deal (JCPOA). Moreover, no one in Europe is willing to make any comments about returning to the JCPOA.
So, Iran has moved toward Oman and Qatar to mediate in its talks with the United States. Of course, the Americans too are willing to do so because they also have negotiated with Iran through these countries and in recent days positive steps were taken for exchanging prisoners between Iran and the United States and Iran accessing its assets.
Reportedly, Qatar was after holding high-level talks between Iran and the United States so that Tehran and Washington would be able to hold indirect talks. Qatar was seeking to exchange messages between Iran and the United States on the sidelines of the UN General Assembly. Given the recent prisoner exchange success between Iran and the United States, Qatar is trying to play a role in settling some of the other issues between Iran and the West.
In the past, the EU too used its capacities for resolving Iran's nuclear case. The JCPOA was an agreement to help the cause of the nonproliferation of nuclear weapons which is directly related to European security. According to the European view, Iran's possession of missile capacity and the technology for building nuclear bombs will surely endanger Europe's security, which is why European countries tried to stop Iran's nuclear program.
For Tehran, the JCPOA could end the threats and sanctions against Iran, and, through this deal, Iran might eventually reach an agreement with the West.
The differences between Iran and Europe are over human rights issues as well as the allegation that Iran supplied drones to Russia. In so far as no negotiations are held in this regard, there is no hope for reviving the JCPOA through European channels.
Self-humiliation in Welcoming a Football Legend
The editorial of Setareh Sobh levels criticism against those who mocked Cristiano Ronaldo's Iranian fans for rushing to Tehran to see him.
Last week Ronaldo, the famous Portuguese footballer, entered Iran with Saudi Al-Nassr FC and received an unimaginable welcome by his Iranian fans. There were images of people following Al-Nassr's bus to see their favorite footballer Ronaldo and wave at him. Many fans moved toward the hotel where Ronaldo was staying and even entered the hotel forcefully.
These videos and images went viral in cyberspace and became controversial. Another group of Iranians not only did not go to welcome Ronaldo but started criticizing, mocking and humiliating those who had gone to welcome their favorite footballer – an issue that can be called self-humiliation.
Self-humiliation happens when a society lacks understanding because of the cultural inadequacies among people. The more political and economic conditions deteriorate, the more this self-humiliation increases among people. It can go so far to the extent that people will distance themselves from their own civilization, history and culture.
Some Iranians mock the fans of Ronaldo as if they have no understanding of their own society and its concerns and approaches. People adore celebrities; they travel long distances to see their own favorite players, actors or singers. They even spend a lot of money to go to other countries just to see these celebrities. Let alone for the most important footballer Ronaldo who had never come to Iran.
If international football club fixtures and national football matches were regularly held in the country like the rest of the world, then we would not be witnessing the abovementioned images and the ensuing self-humiliation.
Such a massive welcome for a footballer must be studied from different sociological and psychological viewpoints.
Non-developmental Governance
The editorial of Arman Melli mentions the recent unfreezing of Iran's assets by the United States, saying that it will not bring about any massive economic transformation as the Iranian government is not after genuine economic development in the country.
In recent days, in a deal between Tehran and Washington under the mediation of Qatar, roughly $6 billion of Iran's funds in South Korea were deposited in Iran's accounts in Qatar through a third country. Reportedly, if Tehran wants to withdraw money from these accounts, a Qatari agent must make purchases for Iran making it possible for Tehran to provide for its needs as such.
Given the fact that Iran is under sanctions, this is good news for the country, but as we could see, the news of unfreezing Iran's money in South Korea did not result in any significant changes in the price of the dollar in the Iranian currency market, though it was predicted that this incident would have a significant impact on this market.
It seems that Iran's economic problems are not going to be resolved with $6 billion, $60 billion, or even with $600 billion, because these problems are deeply rooted. During former President Mahmoud Ahmadinejad's tenure, Iran's revenue was more than $600 billion, but even that did not help Iran's economy.
Studies show that with even that amount of revenue during eight years of his presidency, Ahmadinejad could not deliver a stable economy to the next government, headed by former President Hassan Rouhani, and Iran's economic growth at that time was about -6% percent. That $600 billion was spent and no transformation was created in the economy.
Now that Iran can access $6 billion of its assets, it can be predicted that this money too will be swallowed by Iran's economy. These economic problems are rooted in the form of governance in Iran.
Iranian officials must first decide if they are after development or not. Are they after having relations with the rest of the world or not? If the answer to these questions is positive, then governance in Iran must be overhauled and all executive entities must commit their programs to the country's development. Then one can hope that dollars obtained through exporting oil will have a positive impact on Iran's economy.
Iranian officials must have a realistic and exact definition and perception of national interests and then act accordingly. Otherwise, the same mistakes as before will be reiterated and Iran will keep lagging behind most regional countries.
Where Is the Economic Mafia?
The editorial of Arman Emrooz explains that the economic mafia in Iran is rooted in the government's complete dominance over all economic sectors.
Every now and then the term "mafia" is used in Iran's economy: from the auto-industry mafia to the housing mafia, etc. But under the circumstances when the government has exclusive dominance over the economy and has complete power to implement laws, where is this mafia? What has made it so powerful that Iranian officials have been calling it as one of the main problems in Iran's economy? To answer these questions, one must review the country's economic statistics to understand the idea of the mafia.
In the 2023 Index of Economic Freedom published by the American Heritage Foundation, Iran stands at 169 in the world with respect to economic freedom. According to this report, Iran's economic freedom ranking has further dropped by 0.2, reaching 42.2. In 2022, Iran had gained 42.4 in this category.
Accordingly, with regard to the government's dominance over the economy, freedom of businesses, investment and other main indicators of economic freedom, Iran has the lowest rank. These statistics reveal the origins of the economic mafia in Iran.
In an economy where the government is dominant and an economic monopoly exists everywhere, it is not difficult to find the mafia. As a matter of fact, from pricing to any of the smallest economic processes, the economy in Iran is controlled by the government's executive order. In such an economy, the mafia is nothing but the laws and economic structure.
For example, one can think of the auto industry. For years, the auto industry in Iran has been monopolized and we can see its repercussions in the prices of vehicles going up and down day by day. This monopoly and tough restrictions have only impeded the import of vehicles. So the more economic freedom increases, the economic mafia will lose its power and grip and will disappear.
New Hijab Bill Authorizes Punishment for Minors
The hijab bill recently passed by the Iranian Parliament incorporates punishment for children and teenagers who refuse to wear the veil. "If children from 9 to 15 and teenagers from 15 to 18 violate this law, they will be confronted according to the Islamic penal code," said Head of the Parliament's Independent Fraction Gholam Reza Nouri.
The bill for the protection of the culture of chastity and the hijab (protection of social health according to Article 85 of the Constitution) was approved by the Parliament on September 20. With 152 positive votes, 34 negative votes and seven abstentions, MPs approved the tentative implementation of this bill for three years.
Nouri pointed out that the database of students at schools and universities is obliged to provide police with information about those who refuse to observe the hijab law. Furthermore, the Education Ministry is obliged to monitor the cultural institutions and centers whose authorization was issued by this ministry, revoking their authorization if they disobey the hijab law.
Moreover, the Sports Ministry has the same duty for the organizations and communities working under its supervision if they "advertise or promote, in any way, being without the veil, unchastity, nakedness or improper clothing," according to the new bill.
The number of articles in the new bill, entitled "The Bill for Protecting Families Through Promotion of the Culture of Chastity and Hijab" has increased from nine to 70, punishing veilless women through detention and fines.
Among the added articles is the one which authorizes the seizure of passports of "those who promote the culture of being without the veil." Not to mention that Article 36 says anyone who "promotes or advertises nakedness, unchastity, improper veiling in cooperation with foreign or hostile governments, networks, media, groups and organizations" would face imprisonment and fines.
The hijab and chastity bill has come under trenchant criticism from international institutions, including the United Nations which called it "gender apartheid."
570 Political and Civil Activists Call Continuation of House Arrest of Mousavi, Rahnavard, Karoubi "Gradual Murder"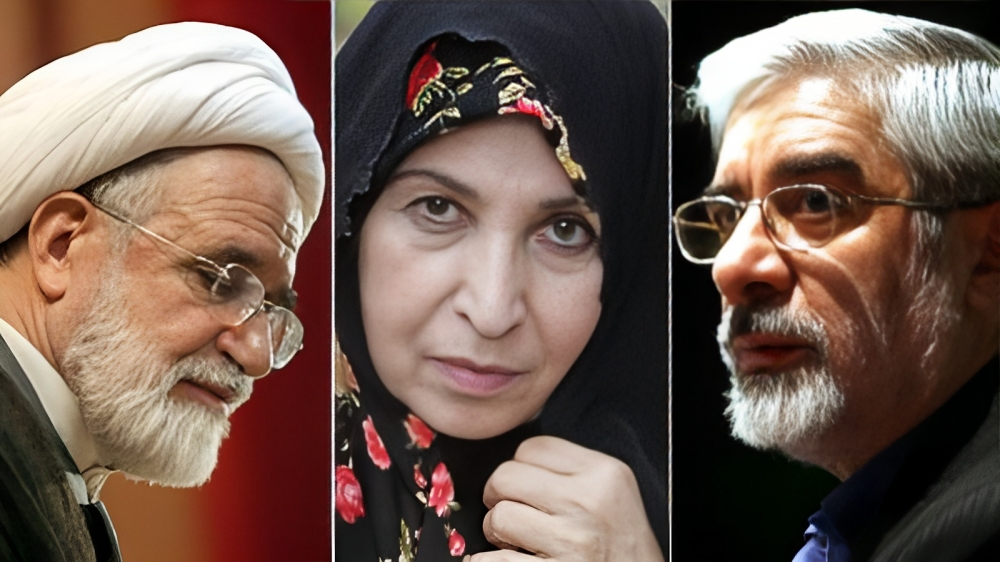 More than 570 political, social, cultural and civil activists, in an open letter, protested the 13 years of house arrest of Mehdi Karroubi, Mir-Hossein Mousavi and Zahra Rahnavard," condemning its continuation as "gradual murder," and demanded its end.
The open letter was published after Kalameh Website, close to Mir-Hossein Mousavi, recently warned about the health conditions of Mousavi and Rahnavard and reported of "obvious changes in their health conditions."
570 activists have also pointed to the recent anniversary of the Woman, Life, Freedom protests, saying that after one year, "we are still witnessing the continuation of imprisonments, sudden deaths, and the hunger strikes of political prisoners, while mismanagement of crises and the policy of crackdown of protests still continue by the regime."
The letter adds that under these circumstances, warnings and doubts about the health of Mousavi and Rahnavard under house arrest will pose questions to Iranian officials who have always evaded responsibility in this regard.
The signatories of the letter also underscored that the lack of accountability of Iranian officials will not diminish people's extensive protests and demands against officials' breach of the law in this regard.
These activists also point to the continuation of the house arrest of Mousavi, Karroubi and Rahnavard for 13 years, urging that the house arrest of these political leaders was unlawful and is perpetuated through inhumane methods.
The letter adds that 13 years after the house arrest and following the jailers' disappointment in their release from prison, now Mousavi, Rahnavard and Karroubi are being "gradually murdered" under house arrest.
According to these activists, the latest reports have exposed that the medical exams of those under house arrest pass through different security filters and are not consistent with the reported symptoms of Mousavi and Rahnavard who are obviously suffering from health problems.
The signatories of the letter emphasized that Rahnavard, Karroubi and Mousavi who have been unlawfully placed under house arrest without any trial must be immediately released and their health must be guaranteed.
Ministry of Science Website Hacked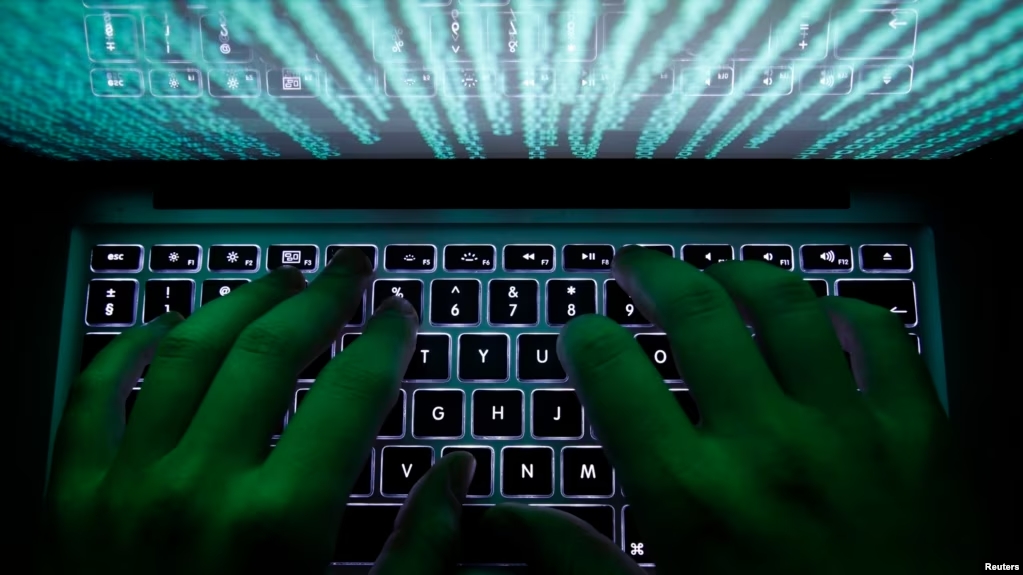 On the first day of the educational year in Iran, the website of the Ministry of Science, Research, and Technology could not be accessed.
At the same time, a hacker group called "Uprising till Overthrow" close to the MEK, announced that with hacking 500 servers, computers, sites and systems of this ministry, it has been able to obtain more 20,000 documents.
Hours later, the ministry issued a statement confirming the cyberattack, claiming to have repelled it.
After that, the Telegram channel of Uprising till Overthrow released numerous documents and internal correspondence belonging to the ministry.
The documents include names of 116 heads of disciplinary committees in Iranian universities, lists of Ashura and Al-Zahra squads in this ministry, the recruitment of 30 basijis to be deployed in universities, and the minister of science's call for shutting down university coffeeshops.
In the past month, cyberattacks against governmental and private entities in Iran have made the headlines.
From the beginning of the Woman, Life, Freedom protests in Iran last year, the websites of ministries and organizations under the Iranian government have repeatedly faced cyberattacks and their data have been released.
Earlier, the Uprising till Overthrow hacker group had alleged that it had penetrated the websites of many Iranian state organizations including the Foreign Ministry, Tehran Municipality, and the state-run news agency IRIB, and certain documents were released afterwards.
Cyberattacks against different organizations and applications in Iran are not unprecedented, but these attacks have been denied by Iranian officials in some cases.
Reactions to Unfiltered SIM Card for Tourists; "Return of Capitulation to Iran"
The filtering committee in Iran has ratified and declared the plan for providing unfiltered SIM cards to foreign tourists – an act that has provoked harsh and widespread criticism.
Nobel Laureate and lawyer Shirin Ebadi reacted to the ratification of the plan saying the Iranian government is attempting to give an unrealistic image of Iran to tourists. On her Telegram channel, she pointed to the suppression of free speech and restrictions on Iranian citizens' free access to the internet in Iran, adding that the Iranian republic tries to portray an image of Iran to the world which is totally in contradiction with people's lives.
Last winter and after nationwide protests which resulted in the blocking of WhatsApp and Instagram by Iranian officials, Iranian Minister of Tourism Ezatollah Zarghami announced the plan for giving SIM cards without filtering to foreign tourists, saying that one cannot expect them to cut off their relations with the world when they come to Iran.
A number of social media users have called the ratification of this plan as "capitulation" which means that Iranian citizens are considered as "second-class citizens" in their own country.
Capitulation refers to a treaty for excluding foreigners from the laws and regulations of the host country.
Another social network user called it rent seeking, talking about the possible formation of a black market in Iran for selling and buying these unfiltered SIM cards.
Proton VPN company recently reported that in October 2022, subscribers in Iran registering for using this company's VPN had a 6,000% increase.
Prior to the 2022 protests, the Iranian government had blocked the access of users to Facebook and X (formerly Twitter) and messenger platforms like Telegram and Viber, but with the outbreak of nationwide protests last year, users' access to Instagram and WhatsApp too was blocked.
Iranian Officials' Contradictory Remarks About "Thunderous Sound" in Khorramabad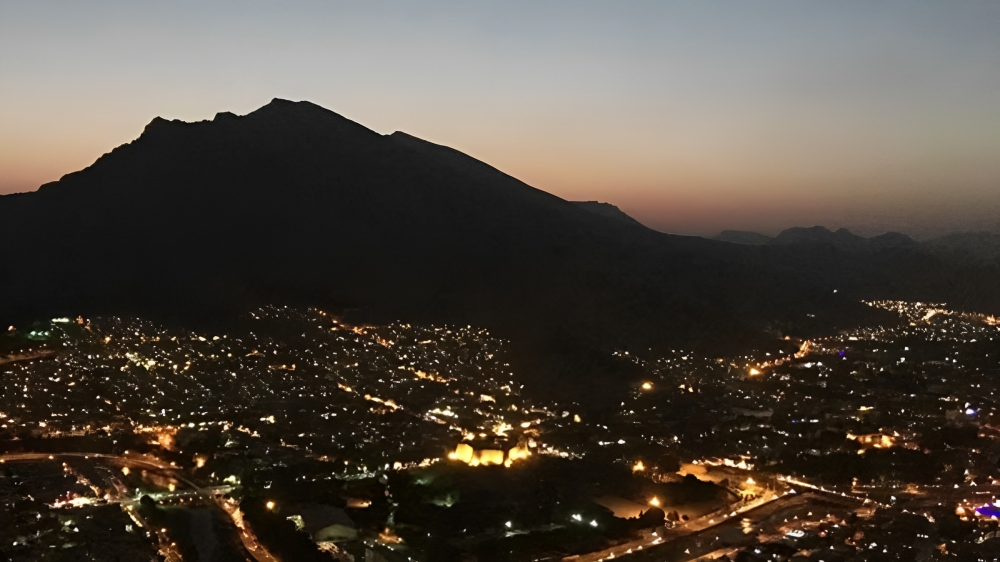 Following a thunderous sound and a powerful tremor in parts of the city of Khorramabad, Iranian officials have denied the occurrence of an explosion or earthquake in this city, saying that the cause of this sound has not yet been identified and it is still under investigation.
According to numerous reports, around 10 pm local time on Monday, a deafening sound was heard in the city of Khorramabad and people felt the earth shaking, and in the early hours Iran's official media called it an earthquake.
The sound and the convulsion were so strong that IRGC-affiliated Tasnim News Agency wrote that a strong tremor and booming sound in the city of Khorramabad frightened people and disrupted their night.
According to Tasnim, people at first thought that there had been an earthquake, but when it became clear that no earthquake was registered by the Tehran Geophysical Center, people believed the possibility of a strong explosion.
Nonetheless, hours after the sound was heard, officials rejected the possibility of an earthquake or explosion, saying that the source of this booming sound was still unclear.
This incident took place while deafening sounds were heard in the northern city of Gorgan a week earlier and parts of exploded weaponries fell in different parts of the city and damaged people's homes.
Iranian military and security officials made contradictory remarks about that incident as well.