Once Again, the Economy Will Not Thrive
The editorial of Jahan Sanat argues that Ebrahim Raisi's economic team lacks the experience and expertise for running the country's economy.
After Raisi's ministers were first introduced to the Parliament, Jahan Sanat daily reviewed the records of the candidates nominated for economic positions, urging that Iran's economy would not improve with these individuals. It was underscored that if Raisi and his team knew anyone more competent in the so-called "principlist" political faction, they would have nominated them. So, the individuals selected by Raisi were supposedly the most experienced ones in his faction. But, as stressed in the article, there were doubts about these individuals' ability in overcoming the country's economic problems.
What was predicted by Jahan Sanat in 2021 came true. Raisi had to replace two of the three members of his economic team while Economic Minister Ehsan Khandoozi too will likely be discarded.
Replacing the former governor of the Central Bank with someone who had no experience in monetary and forex policy worsened the situation in the forex market. Under the current circumstances when the government has not been able to deliver its seventh development plan and when the Budget and Planning Organization could not pay on time the salaries of teachers and the Education Ministry's staff, it is said that the head of the Budget and Planning Organization Massoud Mirkazemi is also going to be replaced. But what is concerning is that his possible replacement, Davood Manzoor, is from Imam Sadegh University – someone whose executive records reveal that he is unfamiliar with the principles of large-scale planning for the national economy.
The bitter truth is that Raisi's government does not have an experienced economic team and inexperienced individuals have been appointed to highly sensitive positions for the first time, while these positions require experience, expertise and knowledge. As a result of the lack of experience in the government, the economy will once again not thrive.
Duality in Foreign Policy
The editorial of Arman Melli argues that Iran must stop backing pro-Iranian regime groups in Azerbaijan if it is after easing tensions with this country.
After the mediation of China between Iran and Saudi Arabia and paving the way for the normalization of relations between Tehran and Riyadh after years of hostility, it seems that there has been a change in the foreign policy of the Islamic Republic of Iran which is now moving toward balance and de-escalation of tensions with its neighbors.
But now tensions between Tehran and Baku are on the rise. Of course, foreign relations are bilateral and Iran cannot demand de-escalation with another country unilaterally. The other country too must seek the same thing.
From this perspective, the question is: is Azerbaijan, like Saudi Arabia, the UAE and Bahrain, after easing tensions with Iran? It seems that Baku is not as willing as Iran to de-escalate tensions. So, now the question is: why is Azerbaijan not keen on easing tensions with Iran?
To answer this question, one must realize that Iran seeks to implement its longstanding policy in Azerbaijan of officially supporting a country while creating pro-Iran groups in it. This is clearly illustrated by Iran's policy in Lebanon, Iraq and Yemen.
The same policy was used in Azerbaijan and was somehow successful. But Azerbaijan is basically against having pro-Iran groups on its soil. In other words, Baku does not want to see pro-Iran groups active in Azerbaijan which has a secular political system. So, we can say that Azerbaijan is the biggest obstacle to de-escalating tensions between Tehran and Baku.
Of course, there are other issues as well. Azerbaijan has complaints against Iran, saying that in the Azerbaijan-Armenia confrontation, Iran sided with Armenia.
It seems that Iran must make a serious decision if it really wants to ease tensions and normalize relations with Azerbaijan. Iran must stop backing certain groups in Azerbaijan. In the meantime, Azerbaijan's officials too must stop taking a harsh stance and making provocative remarks against Iran, because escalating tensions will not be to the advantage of any side, particularly Azerbaijan.
Who Is Unhappy With Rapprochement Between Tehran and Riyadh?
The editorial of Mardomsalari argues that certain groups in Iran are unhappy with the recent positive developments in relations between Iran and Saudi Arabia.
Naturally, changes in foreign policy are very sensitive and complicated issues. So, any analysis or comments in this field must be realistic and accurate.
As for recent developments in relations between Iran and Saudi Arabia through the mediation of China, it seems that certain political and ideological groups in Iran are unhappy with it. Or at the very least, one can say that they do not want Raisi's Foreign Ministry to be responsible for ending the hostility between Tehran and Riyadh.
This might seem like pointing the finger at the "reformists," but that is not so. The very people who were against the nuclear deal and did everything to disrupt it are now against this positive development in the government's foreign policy.
This became clear when the coverage of this diplomatic breakthrough started. When it was announced that Iran and Saudi Arabia have signed an agreement in China to resolve their problems, the main focus of the media coverage was the fact that the main negotiator in these significant talks was Iran's National Security Council Secretary Ali Shamkhani.
This important breakthrough was naturally reflected in the media. And then a few days later, the foreign ministers of Iran and Saudi Arabia met in Beijing to reach an agreement over re-opening embassies.
But surprisingly, the state media, including Iran's state-run television, simply undermined this important event. This landmark event received minimal coverage, particularly in comparison to the initial signing of the agreement, which raises questions.
Furthermore, along with the news of the meeting between the foreign ministers of Iran and Saudi Arabia, there were some news reports against Saudi Arabia on Iran's state-run television! In one of the provisions of the agreement between Tehran and Riyadh, it is emphasized that media outlets must be careful about certain issues.
As stated earlier, foreign policy has its own complexities. But there is this suspicion that whenever there is a positive development in Iran's foreign policy, certain groups within the country cannot tolerate it, or, at least, they do not want the country's diplomatic apparatus to be at its center.
Let us hope this is not true!
We Were an Honest Generation, but May God Save Us From the Imposters!
The editorial of Atrak discusses how the ideals of a free and fair society where people can live a spiritual, democratic life have been betrayed by those in power in Iran.
Many are critical against the manner of governance of the Iranian republic: from monarchists to republicans overseas. But there is a generation that has lived and grown in Iran after the revolution. This generation believed in the revolution and its ideals and is not ashamed of its past, because they believed that this revolution would create a political model for ruling which would promote justice and spirituality.
If that generation of people went to the Friday mass prayers and participated in elections, it was because they believed that their participation would pave the way for the realization of sacred and sublime ideals: decreasing poverty, increasing social justice, meritocracy, a spiritual, religious and free society where people's different opinions would be respected and criticism would be heard. That generation aspired for a society where people's voices would be heard, and they would not need any guardians.
But since 2001, things started to change. Elections were engineered and held without paying attention to public turnout. Authorities were appointed to important positions. Universities lost their sensitivities toward social, economic and political issues.
The country's focus was no longer on humanity and development, but all officials were running to control the price of chicken and eggs, while trying to stop corruption and embezzlement.
That generation of honest people were after creating a society of real human beings. But that ideal is becoming more and more unreachable. Now, that generation realize that they have been deceived and betrayed!
New Round of Chemical Attacks on Schoolgirls Kicks Off in Iran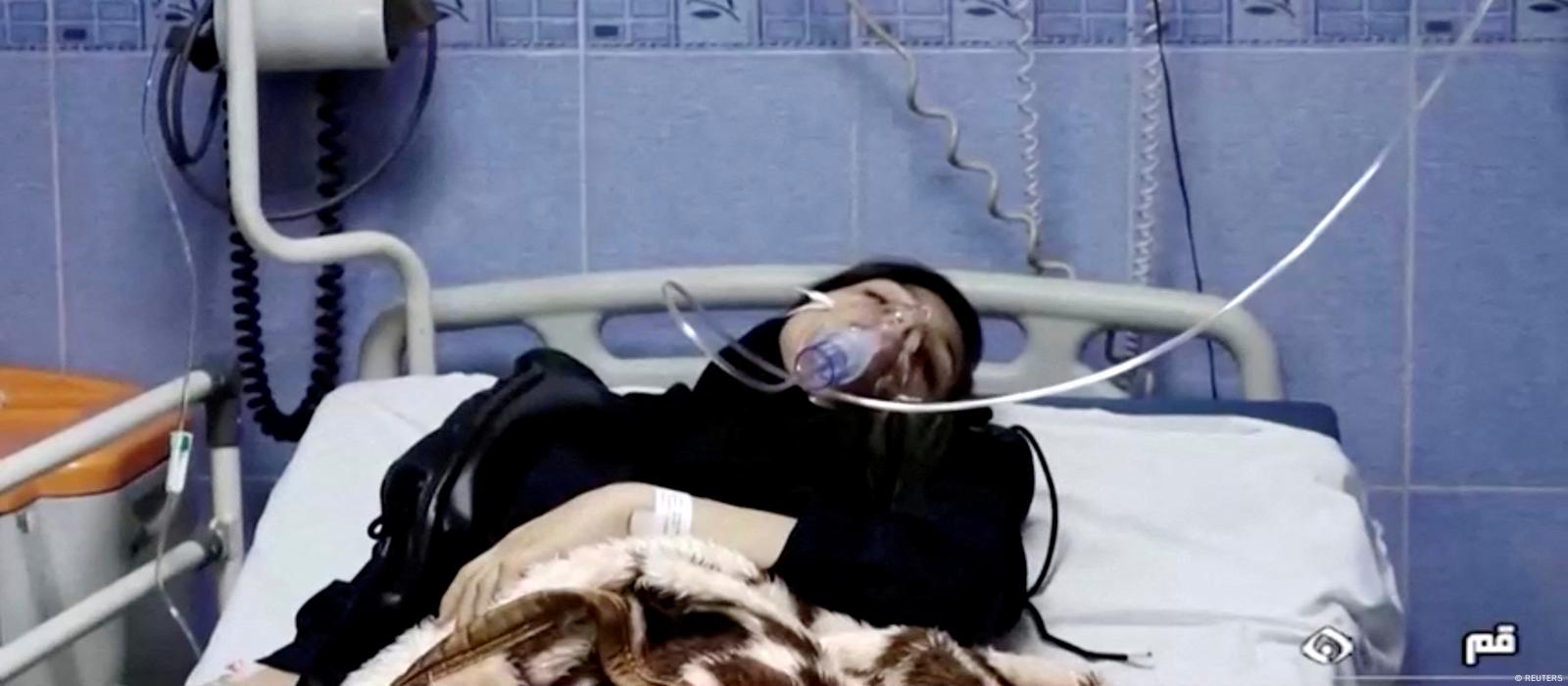 The Iranian regime knows no limit where brutal repression is concerned – its target this time is schoolgirls.
In the wake of reopening of schools after the new year holidays in Iran, the serial poisoning of students by chemical gas has resumed all over the country.
Videoclips published on social media are filled with images of ambulances in front of schools, students vomiting and unconscious and distressed parents carrying their children.
The authorities, however, and as usual, have neither taken responsibility nor been transparent about this catastrophe in the country.
Five months after the first chemical attack, the deputy interior minister recently blamed the students themselves, claiming they had "faked illness" to call off their classes "out of mischief." Majid Mir Ahmadi did not stop at that and even accused students of using "pepper spray" to cause such incidents.
He also said the number of recent poisoning cases were "very limited."
The cities whose primary schools came under attack in recent days include Tehran, Qom, Piran Shahr, Fars, Tabriz, Urmieh, Qazvin, Mashhad, Hamedan, Kermanshah, Ilam, Khoramabad, Esfahan, Yazd, Shiraz and Bandar Abbas. Before the holidays, more than 300 schools were attacked.
Iran's Health Ministry officials say they have not been able to identify the source of the attacks yet. In the same vein, a Parliament member denied the whole issue, asserting that there have been no poisonings at schools at all.
The newest cases belong to some schools in the city of Saqez in Kurdistan Province which provoked antiestablishment protests in front of schools with people chanting "death to Khamenei" while bringing down the Iranian flag on the school entrance and burning it. Meanwhile, special unit forces were deployed on the main streets of this city and gunshots were heard.
Kurdistan Teachers Union published a statement condemning such attacks as "killing children," adding that they have been "totally systematic and organized" as the establishment "with its extensive security institutions" has done nothing to curb them.
"If You Protest Against the Regime, You Will Be Ousted," Threatens Education Ministry Official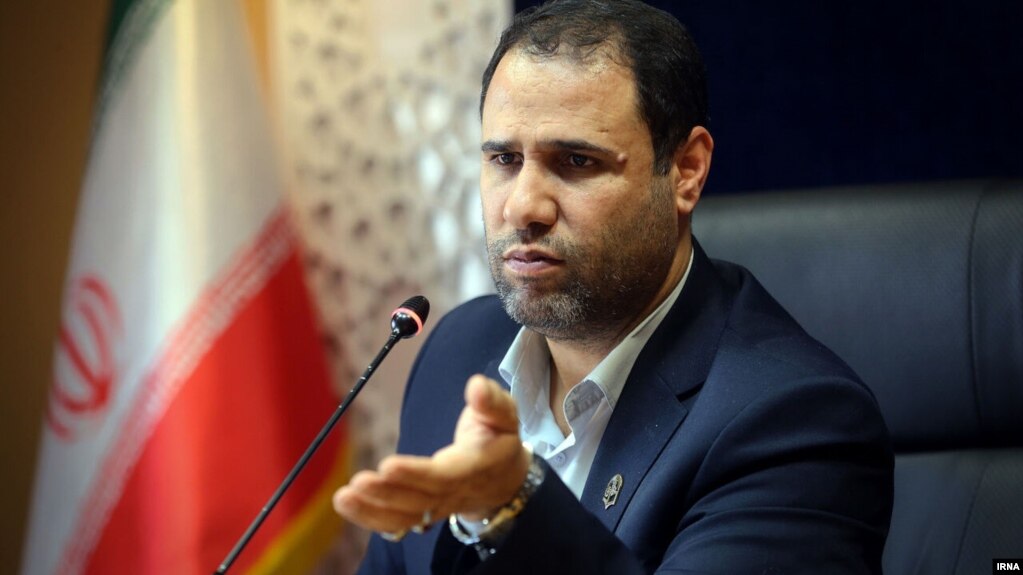 Following the arrest of more than 720 university students and the issuance of heavy sentences against them in recent months, an Education Ministry official has threatened all academics with "being identified and ousted" if they voice any protest against the regime.
The Acting Education Minister Reza Morad Sahrahei pointed out that "any university professor or student who is not in alignment with the establishment has no place in Farhangian University."
Adding that Farhangian University is more important than the "university which trains the IRGC forces," he said if its students think like the students at Tehran University or other universities, there is no room for them in this university.
"This university belongs to the establishment," noted Morad Sahrahei, "and no one can talk against the establishment in it."
Describing the Woman, Life, Freedom protests as "anarchy," he stated that "some students" who participated in it were "pardoned by the supreme leader, but that pardon was only for their release; to us, such students are expelled."
Recently appointed to his position in the Education Ministry, Reza Morad Saharaei was reportedly one of the "Harasat" [security service] of Allameh Tabatabei University in Tehran. His official resume also shows that he used to hold positions in the disciplinary committee of that university as well – not to mention that Sahraei was previously a "member of the student Basij" when he was 20.
In the past six months, 200 students of Allameh Tabatabei University have been suspended, nine have been denied access to education and 40 are banned from entering the university.
In the same vein, 37 students of Tabriz University were summoned to the disciplinary committee, facing suspension and denial of access to education after their participation in the protest movement.
Iran Army Commander Downplays Attack Threats by Israel: Their Collapse Is Imminent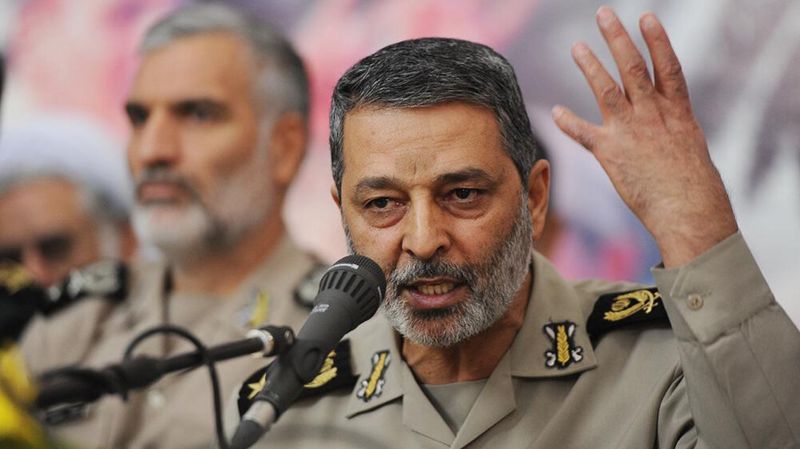 After IDF Chief of Staff Herzl Halevi threatened Iran with a military attack, Commander-in-Chief of the Iranian Army Abdolrahim Mousavi responded by questioning Israel's stability, saying its regime is on the verge of collapse.
"The Zionist regime is itself drowning and its signs of collapse have become evident more than ever," noted Mousavi, "This regime is too small to be a threat to the Islamic Republic of Iran."
Israel has repeatedly carried out operations against Iran in recent years, including assassinating its nuclear scientist as well as bombing and drone attacks in the country. Iran, however, has not reacted to such measures yet.
Halevi said last week that his country could carry out a preemptive attack on Iran without any help from the United States. "We are ready to act against Iran. The Israeli army has the ability to strike both in distant countries and near home." He added that such a strike would be "overwhelming."
Undermining Halevi's remarks, Iran's army commander stated, "Such remarks are uttered to boost the military's morale and resolve the country's domestic problems." Mousavi further stated that the unwise measures of Israeli leaders would "only expedite the process of its collapse."
Meanwhile, Iranian Supreme Leader Ali Khamenei recently pointed out, "the Zionist regime has never had such horrible problems in its 75 years of existence," pointing to its "political instability."
Khamenei predicted that the number of Jewish people leaving Israel would soon reach 2 million. He noted that the Israelis have confirmed this themselves, adding that their own officials warn repeatedly that their collapse is imminent.
"We said Israel would not survive the next 25 years," asserted Khamenei, "but they themselves are in a rush to leave earlier."
Leaked Documents Reveal Extensive Violations in Iran's Banking System Over Past Decade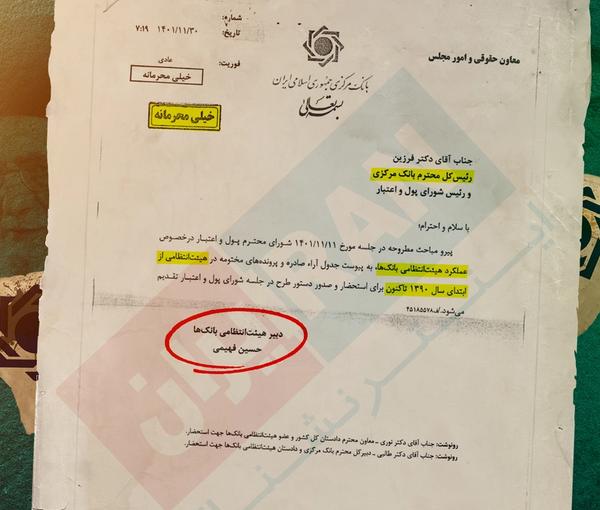 A highly classified letter from the Central Bank of Iran (CBI) to the Money and Credit Council (MCC) shows that 290 senior bank directors have committed financial violations based on a report by Iran International television channel.
The document discloses widespread violations in the banks which are under the supervision of the police, military and security institutions and includes a list of violations as of 2011, accusing 290 bank directors of extensive financial violations.
According to the document, judicial cases were filed for 24 banks and money and credit institutions in the course of 11 years. Moreover, the activities of a number of these money and credit institutions have stopped or they have merged with other banks.
The leaked document shows that the most common violations included "not complying with the MMC regulations and decisions concerning the interest rate of deposits and other banking facilities." Another violation was "not complying with the regulations and by-laws approved by the MMC with regard to payment of loans and creating obligations."
All in all, not observing the rules and regulations of investment in subsidiaries, granting loans to certain individuals, interest rates, opaque shareholding structures and refusal to provide reports to regulatory bodies constitute such violations.
The interference of military institutions in Iran's banking system has led to major economic issues for the country in the recent decade.
Kosar Credit Institution was one of those institutions founded with the support of the Ministry of Defense and Armed Forces Logistics in 2009 which was later merged with Sepah Bank. The leaked document shows that the bank's disciplinary board only issued warnings in response to these violations.
Another IRGC-affiliated institution is Noor Credit Institute, set up in 2012, whose major violation was not submitting its annual statistics to the CBI as well as its opaque financial activities.