An Infant in a Trash Can, Why?
The editorial of Arman Melli addresses the issue of an infant who was recently found in a trash can in Tehran, the capital of Iran.
Finding a newborn infant in a trash can in a neighborhood in Tehran is so poignant and tragic that it cannot be easily ignored or forgotten. It is hard to understand.
It is a warning to all those who are active in the field of social pathology and an admonition to all those involved in social activism, to the labor and welfare ministries, to the State Welfare Organization of Iran which is responsible for protecting children and teenagers, to municipalities, and others. All those who are responsible for people's livelihood and health and are engaged in legislating must investigate and analyze this incident, their own performance, and the consequences of their decisions.
This incident could be due to different reasons, including the lack of access to adequate and inexpensive contraceptives, the inability to pay for living expenses exacerbated by a newborn infant, etc. An official from the State Welfare Organization announced that while 17,000 couples are in line for adopting children, only 1,500 children have been adopted.
The law stipulates that when parents are not able to protect their own children, the court can take away their custody and give it to those who want to adopt children. But the laws are rigid in this regard. If the rules and regulations in this regard were more relaxed, expedient, and realistic, then the courts could more easily declare the disqualification of parents which will solve the main part of this problem.
As such, incompetent parents who are not capable of providing for their children will find a way out and these innocent children will be given to more capable families.
Oil, Victim of Mismanagement, Yet Still Treated as Suspect!
The editorial of Mardomsalari argues that although the oil industry is suffering greatly from mismanagement, it is wrongfully viewed as the cause of the current economic afflictions.
114 years after the discovery of oil in Iran, mismanagement still plagues decision-making in this field, and issues related to oil are still mishandled.
Iran has major resources of oil and natural gas which can push the country's economy forward, but after four decades of oil production, except for two short periods, the country's oil production capacity has not reached 4 million bpd, and as the second largest producer of natural gas, our production is not enough for domestic needs.
Since its discovery in Iran, the issue of oil has been problematic: intellectuals view it negatively and see it as a curse rather than a blessing. The second problem which has been created in the past four decades is that of the sanctions imposed on Iran.
As an outcome of the first problem, we have heard strange slogans like closing oil wells so that the country can become independent of oil and its revenues. But in the meantime, oil-rich countries have increased oil production to turn their oil into sustainable capital, given the fact that the world is moving fast toward renewable energies.
It is as if all the country's problems are rooted in having oil resources, while oil itself is neither a blessing nor a gift; rather it is the way we look at it that determines its status in our policies. Norway took advantage of its oil, but Venezuela which has the most oil reserves in the world is struggling with poverty. Perhaps, if Iran did not have oil, Iranians would be even poorer today.
When we do not have the art of managing the gift of oil, we will not have the art of managing our other resources. For example, Iran is one of the top 10 countries of the world in terms of historical and natural heritage for tourism, but its revenues from the tourism industry are much less than other smaller countries.
So the problem is not oil. It is the way oil is managed: it is not clear how much should be produced, exported, or used in producing other oil products.
The second problem is US sanctions. As a result of sanctions, oil production is stalled, because Iran cannot attract capital and technology, develop oil and gas fields, or export oil.
In all branches of government, mismanagement can be seen, and the oil industry has suffered significantly because of mismanagement. But interestingly, oil which has been the victim of mismanagement is treated as the cause of the country's economic difficulties! It is not clear when Iranian authorities and policymakers will start to realize the value of this precious resource and prioritize this God-given gift to benefit the people.
The Fate of Abdolbaghi and the Decline in Social Capital
The editorial of Payam-e Ma argues that the recent building collapse in the city of Abadan offers an opportunity for Iranian officials to regain people's trust by being transparent.
Is Hossein Abdolbaghi, owner of the Metropol Building in Abadan, still alive? Or, as Iranian state television reports, is he dead under the rubble? Discussions on social media show that people believe the answer to this question is negative. They think he is still alive.
Whether this news is true or not, what has happened after the collapse of this building in Abadan shows the increasing decline in social capital in Iran. Trust – as a significant feature of social capital – has been seriously damaged. In response to widespread public skepticism, a television reporter took his camera to the morgue trying to prove to his audience that one of the corpses found under the rubble belonged to the owner of the Metropol Building.
But this report was also criticized by people and no one took it seriously. Even those who still trust state television viewed this with suspicion.
This indicates that Iranian society is heading toward a dangerous path. Public trust in official bodies is eroding further which means that under these circumstances, accurate information may go unheard.
Recently, a famous Iranian sociologist expressed concern about the decline in social capital and trust in institutions. He pointed to a poll which showed the decline in trust in official institutions from 2015 to 2018.
Society will not forget that at certain significant junctures, a number of social institutions did not impart accurate information. Under these circumstances, how can society's trust be restored? It is not easy to offer solutions to this complicated situation, but the first step is transparency. We must be certain that without transparency, distrust will deepen. When we talk about transparency, we mean being transparent about all aspects of an incident.
For instance, regarding the collapse of the Metropol Building in Abadan, it is expected that a detailed, professional report about the rescue and relief process will be given to people. Obviously, the judiciary is expected to confront those involved in this case of corruption.
The Metropol Building case, after all, can be a good start for transparency and holding officials accountable.
People's Economic Protests
The editorial of Servat explains why in recent years the sense of injustice and discrimination has increasingly made Iranian people discontent.
Sociologists maintain that if societies have class structures, then these classes interact with each other necessarily. People from different classes interact with each other and under natural circumstances they work together. But in anomalous conditions, the middle classes start to fall into the lower classes, meaning that as their incomes are not proportionate with other classes, they have to change their lifestyles and habits.
The problem starts when a large part of the middle class collapses, which results in dissatisfaction and confusion in society.
We must not forget that Iran is facing harsh economic conditions which has put a lot of pressure on different groups in society and has become a main factor in fueling social dissatisfaction. Moreover, official statistics show that a considerable part of the unemployed are university graduates, which means that after about two decades of education, these people are ready to enter the workforce, but are disappointed as they cannot find jobs.
So today we are facing a large number of unemployed individuals with higher education who thought they would enter the workforce upon graduation. It means that unlike the past, the unemployed are not without higher education, and they have higher expectations. On the other hand, there is a sense of discrimination and inequality which has increased significantly over the past two years.
One of the factors driving the rising sense of inequality in recent years has been the increase in the number of economic corruption cases which have provoked widespread outrage in society. These corruption cases are mostly related to the public sector, particularly in government companies, banks and institutes which people deal with regularly.
Consequently, people think that corruption exists in all sectors and is the main factor in rendering all the government's policies ineffective. People think that there is not a part in the body of the government which is not corrupt.
Factors like unemployment, inflation, lack of access to banking facilities, the sense of discrimination and inequality have led to increasing levels of public dissatisfaction in recent years. With the amplification of these issues over the past two years, people have become increasingly discontent.
Protests in Abadan Continue Under Teargas, Beatings, Arrests 100 Filmmakers Call for Military to Put Guns Down
More than a week after the collapse of the Metropol Building in the city of Abadan, southern Iran, in which several people were killed and are still missing, popular protests have continued in this city. Protesters faced a brutal crackdown by security forces.
In videos released on social media, security forces are shown using teargas against protesters. The sound of gunshots can be heard, but the details are not clear yet.
Protests have spread to other cities in Iran, in which people have taken to the streets to show sympathy with the people of Abadan, chanting slogans against the Iranian government and the authorities. People chant slogans like "Death to the dictator!" and "Reza Shah, rest in peace!"
In the meantime, about 100 Iranian filmmakers have issued a statement called "Put your guns down!" which points to the protests in Abadan and other protests in Iran, calling for the armed forces who are in charge of the crackdown to put their guns down.
In their statement, the filmmakers have emphasized "now that public anger at corruption, theft, incompetence, oppression and crackdown has triggered waves of popular protests, we call for all those in military units who have become agents of oppression to put down their arms and join the nation."
Earlier, the Iranian Writers Center had released a statement criticizing the crackdown on popular protests in Khuzestan Province, saying that "the truth can be heard from people who have suffered greatly. People who have been under bullets, batons, and teargas have started to sift through the rubble and are protesting at the same time."
Following the issuance of the statement, the filmmakers are reportedly under pressure and are facing threats to withdraw their signatures.
After the collapse of the Metropol Building in Abadan, even Iranian officials have admitted wrongdoing and corruption involving the owner of the building and some officials.
IAEA: Iran's Enriched Uranium Stockpile 18 Times More Than Allowed Limit Under JCPOA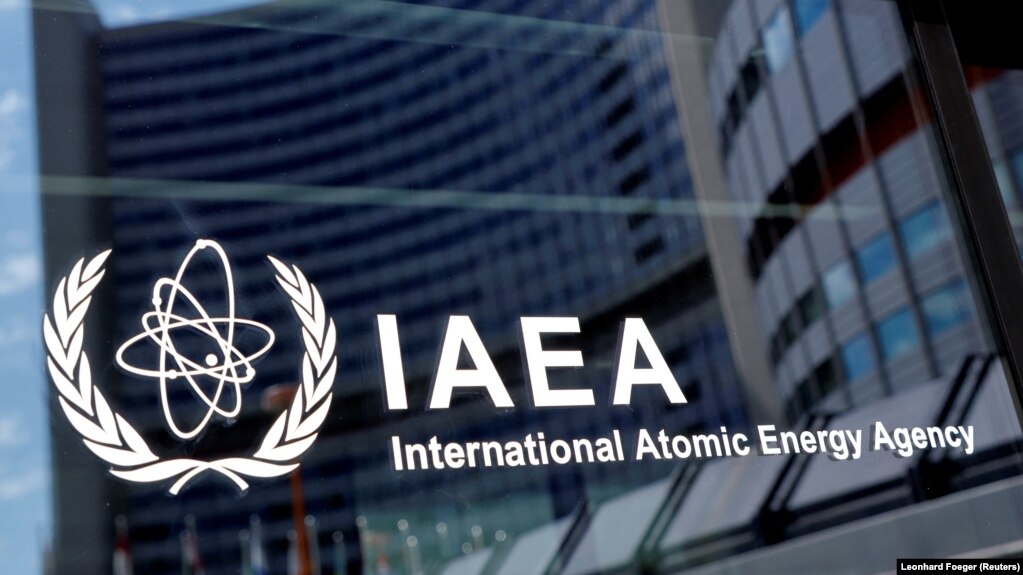 The International Atomic Energy Agency (IAEA), in its new report to its Board of Governors, announced that Iran's enriched uranium stockpile is now 18 times more than the limit set under the nuclear deal (JCPOA).
According to the IAEA assessment, Iran's enriched uranium stockpile had reached 3,809 kilograms by May 5, 2022.
The agency emphasized that according to the JCPOA, Iran can only have 202 kilograms of enriched uranium in its possession.
In 2015, Iran and the P5+1 reached an agreement for resolving Tehran's ambitious nuclear program, based on which international sanctions against Iran were rescinded or suspended in exchange for Iran restricting its nuclear activities.
With Donald Trump's administration pulling out of the JCPOA in 2018, sanctions were reimposed on Iran, and Tehran gradually breached the nuclear deal to the extent that in addition to stopping the implementation of the Additional Protocol, the level of enrichment was first raised to 20 percent and then to 60 percent.
According to the IAEA's report, Iran's stockpile of 60 percent enriched uranium has increased from 9.9 kilograms to 43.1 kilograms.
Western powers are concerned that with Iran getting closer to enriched uranium at 90 percent, it might have the capability for building an atomic bomb. Iran has denied any efforts in this regard.
After the Biden administration took office in January 2021, Iran and the JCPOA members resumed talks to restore the JCPOA, but in recent months the talks have stalled due to new demands raised by Tehran.
The day after the IAEA report was released, the Iranian Foreign Ministry responded by calling the report unfair, while accusing Israel of interfering in this international agency's affairs.
Iran has reiterated this accusation on a continuous basis, but has never provided any evidence to prove it.
Amid Tensions With Israel, Iran Releases Images of "Fully Secret" Drone Base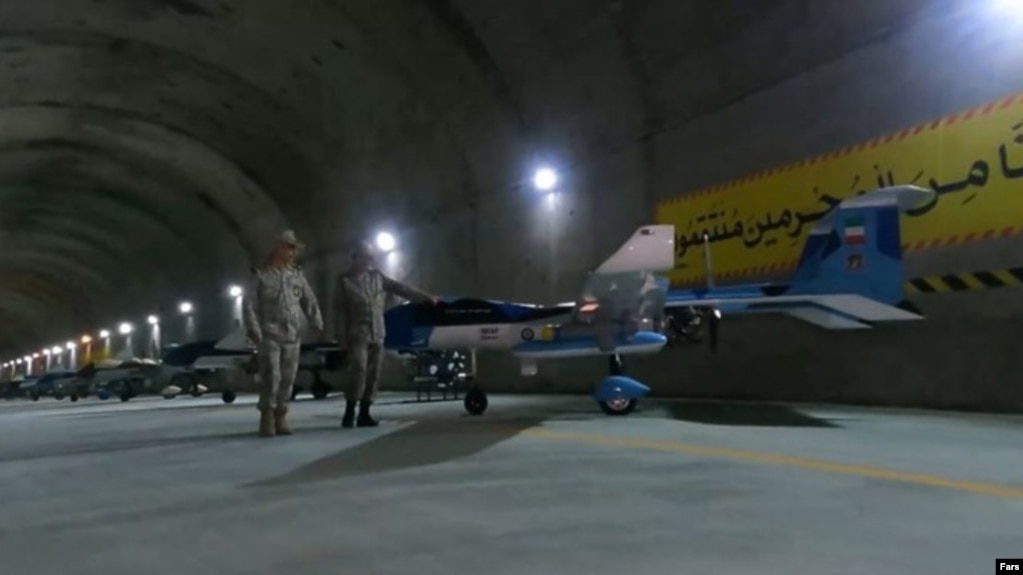 A day after the release of the report regarding Israel's drone attack against a military center in a suburb of Tehran, Iran unveiled "Strategic Drone Base 313."
Fars News Agency, close to the Islamic Revolutionary Guard Corps (IRGC), released images of this base, saying that it is "fully confidential."
According to this report, Strategic Drone Base 313 which has different kinds of combat, reconnaissance, suicide drones, missile systems, indigenous bombs and electronic warfare systems was visited by the Chief of Staff of the Iranian Armed Forces Major General Mohammad Bagheri.
The public relations department of the Iranian military reported that in this underground "fully secret" base, there are more than 100 drones including the Kaman 22, Kaman 12, Ababil 5, Mohajer 6 and Karar, equipped with different kinds of bombs, missiles, and rockets.
According to Reuters, Iranian media have not reported the exact location of this base, but an IRIB reporter said that his helicopter had flown 45 minutes from the city of Kermanshah, located in western Iran.
Last year, Israel targeted an IRGC drone base in Kermanshah Province.
Images of this underground drone base were released while the American newspaper The New York Times recently reported that the incident which took place in a military center close to Tehran was a drone attack against the missile, nuclear and drone facilities of Iran's Defense Ministry.
The New York Times, citing three Iranian sources, wrote that quadcopter suicide drones hit a military complex in southern Tehran and were destroyed.
Although no one has claimed responsibility, the attack fit a pattern of past strikes by Israel against Iran.
A few days prior to that, an IRGC colonel was assassinated in Tehran, which was attributed to Israel as well.
Roughly 5,000 Infants Abandoned in 10 Days in the Streets of Iran, Says Social Pathology Researcher
While the news of an infant found in a trash can in a neighborhood of Tehran had already provoked anger on social media, the Social Welfare Organization of Iran announced that another infant was found in another neighborhood of Tehran.
Mohammad Reza Mahboobfar, a researcher in social pathologies and a member of the Iranian Health Education and Promotion Association, asserted that the ratification of the law "the Youthful Population and Protection of the Family law as well as the severe economic crisis are the main factors for the increase in the rate of abortions and the abandonment of infants in recent years."
In reaction to this news, Mahboobfar told Rouydad 24 news website that "only in the past 10 days roughly 5,000 infants were abandoned all over the country."
Citing the statistics given to him by treatment and social welfare centers, he urged that "between 2,000 to 2,500 infants are either aborted or abandoned after birth daily."
The increase in the rate of abortions and the abandonment of infants in the streets, according to Mahboobfar, is the outcome of the "Youthful Population and Protection of the Family" law.
According to Article 51 of this controversial legislation, the subsidized distribution of contraceptive equipment is banned, and citizens who are willing to purchase such products must buy them at very high prices.
Meanwhile, according to Mahboobfar, 40 million Iranians cannot purchase contraceptive care due to the severe economic crises.
Expressing concern about the risks of secret abortions, he added that according to the Iranian Health Ministry, 1,000 infants are aborted legally and illegally daily, and to this official statistic, one must add the unofficial and unregistered statistics of abortion and abandoned infants.
In recent days, social media users reacted to the discovery of an infant in a trash can in Tehran, underscoring that dire economic conditions, inflation, and the ratification of the family protection law are the main factors contributing to the rise in abandoned infants in the country.