Ebrahim Raisi: It Is Possible to Eliminate Absolute Poverty in Iran in New Year
With the advent of the Iranian new year (starting March 21), Iranian President Ebrahim Raisi who had earlier made remarks about rapidly eliminating absolute poverty has once again pointed to absolute poverty in Iran, stating that "certain measures can be taken so that there is no more absolute poverty in the country this year."
Raisi took part in the meeting of a task force for "eliminating absolute poverty" and it was announced that a committee has been formed for identifying and supporting those who are living below the absolute poverty line.
In the final days of the last Iranian year, Raisi had made similar remarks about eliminating poverty before the end of the year which provoked criticism on social media.
Entrusting the task of eliminating poverty to charity foundations like the Imam Khomeini Relief Foundation has already drawn severe criticisms.
Javadi Amoli, one of Qom's grand ayatollahs, had said before that it is incumbent upon officials to take managerial principles into account; it is not right to run society through charity foundations.
Poverty in Iran has been on the rise in recent years, and last year it was officially announced that the number of people living below the absolute poverty line has doubled, reaching 30 percent of the population.
As a result of Iran's severe poverty, people are now compelled to sleep in graves and rent roofs.
Furthermore, recently Iranian media reported that due to widespread poverty and the dire financial situation in the country, girls and women have been forced to sell their hair.
Iranian Ambassador: Moscow and Tehran Start Cooperation to Circumvent SWIFT Network
The Iranian ambassador to Russia announced cooperation between Iran and Russia for connecting Iranian and Russian banks through a network other than SWIFT in order to sidestep this financial transaction network.
Iranian Ambassador Kazem Jalali stated that many steps have been taken in this regard, without mentioning the details of the cooperation between Iran and Russia.
Following the Russian invasion of Ukraine last month and the levying of international sanctions against Russia, at least seven Russian banks have been disconnected from SWIFT and it has become impossible for them to access international markets.
Russian Foreign Minister Sergei Lavrov had previously asked America to give written guarantees that Western sanctions against his country for the invasion of Ukraine would not have any impact on economic and military cooperation between Moscow and Tehran.
In recent days, some Western sources told The Daily Telegraph newspaper about Iran's secret commitment to Russia for circumventing Western sanctions in lieu of Moscow's support for reviving the nuclear deal.
There have been attempts in Russia to create a similar network like SWIFT so that one day it can replace this global network. This Russian system called SPFS, however, can currently work in Russia but it seems unlikely that it will be able to grant Iran and Russia independence from SWIFT in the near future.
IRGC Chief Commander Threatens Israel With Missile Attack Again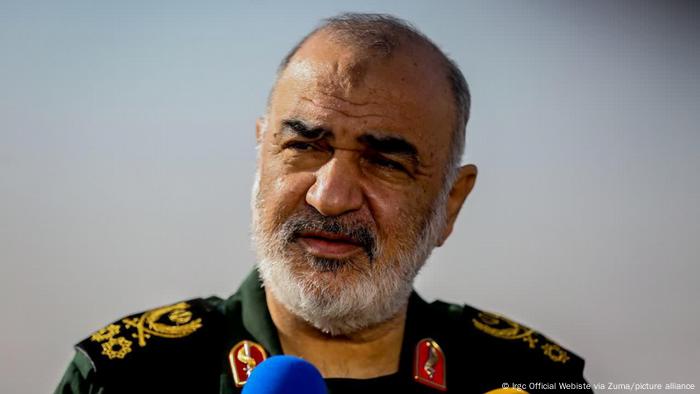 During the funeral service of IRGC Commander Mohammad Hassan Koussehchi, the IRGC chief commander warned Israel that if its measures against Iran continue, this country must expect "missile strikes" once again. Hossein Salami did not give any explanation about the details of how this commander was killed and what Israeli measures he was referring to.
Salami called Koussehchi who was killed in 2021 a "martyr," adding, "We will not just hold burial and mourning ceremonies for our martyrs, but we will avenge their deaths immediately and this is a serious, genuine message."
Salami stated that "Sardar Koussehchi was a man of the battlefield like Sardar Soleimani," implicitly confirming that this IRGC commander was probably killed in Syria due to Israel's attacks.
Underscoring the "seriousness" of his message to Israel, Salami said Israelis must stop their "malicious measures" and "if repeated, they will have to suffer IRGC missile attacks once again."
On March 13, 2022, the IRGC targeted Erbil, the capital of Iraqi Kurdistan, with a number of ballistic missiles. On the same day, the IRGC took credit for this attack, officially announcing that it had targeted the "strategic center for Israel's mischief and conspiracy" in Erbil.
Following this attack, Israel's Haaretz newspaper reported that the IRGC's attack against Erbil was a reaction to an Israeli attack which had taken place almost a month ago. According to Haaretz, Israel had targeted an Iranian military base in Kermanshah Province in which hundreds of Iranian drones were demolished. Iran's missile attack against Erbil seems to have been a response to this Israeli attack.
Denouncing the Persecution of Baha'is in Iran; More Than 1,000 Baha'is Await Sentencing
The Bahai International Community, in a statement addressed to the UN Human Rights Council in Geneva, reported of "additional pressures" on Bahais in Iran, expressing concerns about their "systematic persecution" by the Iranian republic.
The statement says that currently more than 1,000 Bahais have had legal cases brought against them in Iran and are waiting for their sentences to be issued.
According to the Bahai International Community, in some cases, Bahai citizens, after their initial arrests, were left in limbo for years until the courts finally issued their sentences.
The Bahai International Community states that imposing heavy bails and issuing discretionary sentences have put Bahai citizens in Iran under a lot of pressure.
Confiscating the property of Bahais is another issue condemned by the Bahai International Community.
Earlier, the Bahai International Community had issued a statement expressing concern regarding the increasing confiscation of property owned by Bahais in Iran.
Over the past 43 years, the Iranian government has arrested, imprisoned and executed thousands of Bahais.
Most of these Bahais have faced charges like "espionage," "undermining national security," "propaganda against the regime," and have been handed heavy sentences accordingly.
The Bahai International Community has repeatedly dismissed these charges as "baseless," urging that Bahais in Iran are arrested and imprisoned only for their religious beliefs.
Furthermore, Bahais are banned from studying in Iranian universities, while in recent years a number of their businesses have been closed.
The United Nations and defenders of human rights have repeatedly condemned the violation of religious minorities' rights in Iran, calling for Iranian officials to honor their international obligations regarding the right to religious freedom and freedom of expression.
Recently, Javaid Rahman, UN special rapporteur on the human rights situation in Iran, in his speech during the session of the UN Human Rights Council, strongly criticized the continued persecution of Bahais and the discrimination they face.
Workers Became Poorer Last Year, Says Labor Activist
How was the last Iranian year for workers? Akbar Shokat, head of the Center for Construction Workers, said in response to this question that not just last year, but over the last three years, all vulnerable groups in society, particularly workers, have suffered immensely.
Shokat continued that soaring inflation and exponential price increases have worsened workers' conditions day by day, so much so that the minimum monthly wage set for last year quickly lost its value and was merely enough to pay expenses for a few days.
He also pointed to high inflation ranging from 500 percent to 700 percent during the last three years in the construction sector. In 2018, constructing a building cost 1 million tomans per square meter, while in 2021-2022, it reached 7 million tomans to 8 million tomans per square meter. The high rate of inflation also applies to other goods; for example, the price of red meat was about 30,000 tomans per kilogram in 2018, but reached 160,000 per kilograms in 2021-2022. Workers' wages have not been sufficiently increased to take account of this unbridled inflation.
According to Shokat, the skyrocketing inflation rate and soaring prices have put unimaginable pressure on workers, leaving them in dire straits. He added that when inflation keeps skyrocketing, those who have assets and property become richer while the middle and lower classes become poorer.
The labor activist stated that US sanctions are partly to blame for this situation, while managerial incompetence has played a part in this situation as well, adding that poverty causes social damage and under these circumstances, there is no hope for fundamental change.
Shokat asserted that in the last Iranian year, people, particularly workers, became poorer and expressed hope that the government and the Parliament would not make the situation worse in the coming year through implementing flawed decisions.
15 Percent Drop in Water Reservoirs; Possible Widespread Protests Over Shortage of Water
Statistics reveal that water reservoirs in the country's dams have reached 24.78 billion cubic meters which represents a 14.8 percent decrease compared to the same period last year. Meanwhile, water shortages and the mismanagement of water resources in Iran have amplified the likelihood of the resumption of widespread protests across the country over acute water shortages.
According to the Energy Ministry's report, the water entering the reservoirs has reached 17.39 billion cubic meters, showing a 6.9 percent decrease compared to the same period last year. Precipitation has been partly in the form of snow at higher altitudes which will enter the reservoirs in the coming months after melting.
Earlier, Mohammad Taghi Naghdali, a lawmaker from Isfahan Province, had said that 90 percent of dams' reservoirs in Isfahan Province are empty, adding that there are only 3 million cubic meters of water available in dams and Isfahani farmers do not have water for farming.
Naghdali pointed to water scarcity in Isfahan, adding that given the farmers' protests and drinking water problems, the government has made some arrangements, but this year Isfahan is going to face water shortages again.
In recent years, Isfahani farmers held multiple assemblies and protests over water shortages and poor farming conditions.
Last year, water shortages in Isfahan and neighboring regions triggered widespread protests in which multiple protesters were killed following brutal security crackdowns.
Meanwhile, other regions in Iran have faced water shortages including the provinces of Khuzestan, Bushehr and Sistan and Balochistan.
74 Percent Drop in Gasoline Exports Last Year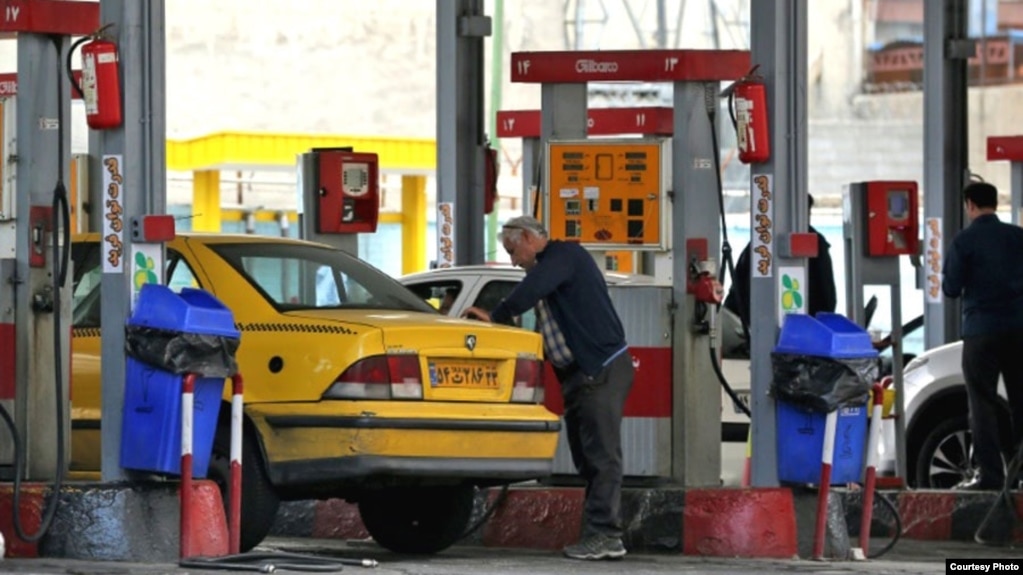 According to a report published by Iran's Customs Administration, Iran's gasoline exports showed a 74 percent drop during the last Iranian year (ending in March 20).
Last year, Iran exported less than 1.9 million tons of gasoline worth $715 million, while the year before that it had exported 7.8 million tons of gasoline worth $3 billion.
Accordingly, Iran's gasoline exports have dropped to one fourth both in terms of amount and value.
The price of oil and oil products almost doubled last year compared to the year before, but Iranian officials have not offered any explanation regarding why the amount and value of Iran's gasoline exports have dropped so sharply even though prices have doubled.
So far, there have been multiple reports about Iran giving significant discounts to oil buyers to circumvent US sanctions, but exporting Iran's gasoline and other oil products are not subject to US sanctions.
In 2020-2021, the average use of gasoline in Iran considerably declined due to quarantines imposed on cities because of the COVID-19 pandemic, and gasoline exports reached their peak.
Mehr News Agency had reported that after seven years, Iran has resumed importing gasoline, signaling a new era in which gasoline is imported into the country.