From Minneapolis to Mashhad!
The editorial of Mardomsalari focuses on a recent incident in the city of Mashhad where a man was brutally killed by the police while people just stood by, laughing and mocking the victim.
In recent days, footage has gone viral on social media showing a man being beaten and tortured to death by the police in the city of Mashhad over a family dispute. Apparently, as this man was a drug addict, the police forces allowed themselves to treat him however they wanted to. In the street and right in front of people, they handcuffed, beat, and pepper sprayed him.
The victim couldn't have escaped, nor was he a threat to anybody, as he was handcuffed from the beginning. The way he was treated is a reminder of how American police treated George Floyd in Minneapolis. But there are some notable differences.
When George Floyd was being taken into custody by the police, no one surrounded them to laugh at the scene. But when that man was arrested in Mashhad, a group of people gathered around them, mocked the victim, and filmed him.
The police who did that to the victim were people like us, so were the people who gathered to enjoy the incident. Just take a look at the violent scenes we have witnessed in recent days: the violent treatment of street peddlers to the beating of a young girl in the city of Abadan! From street violence to scuffles after car accidents!
These are ordinary people who are acting this way. What has happened to the Iranian people who can only express themselves violently? Is it because of economic problems? Is it because our human dignity has been crushed? Is it because our officials have become unaccountable for their violent measures, as in the case of last November's protests? Is it because the Iranian government has become indifferent towards human values? What has happened to the Iranian people who seem like a boiling pot ready to erupt?
This cycle of violence heralds tougher days ahead, if not taken more seriously…
70 Percent of People's Income Goes to Paying Rent
The editorial of Tejarat Online, penned by lawmaker Mohammad Reza Rezaee Ghoochi, asserts that most of the people's income is spent on paying rent, as the prices in the housing market have skyrocketed recently.
The housing market is in the hands of some dealers and profiteers. As the government is not capable of controlling prices and has not paid any attention to construction in this field, we are witnessing the unfettered increase of prices in this market.
But the high cost of housing has had a severe impact on tenants' lives. During the summer, prices in the housing market witnessed a 40 percent increase. Day by day, the rate of rent is going up, and that has extensively impacted livelihoods.
As a result of low incomes, 50 percent to 70 percent of household income is spent on paying rent. This means that households face a dire economic threat. In recent years, people have faced enormous problems in paying rent. The housing market is in crisis because as it is becoming more and more difficult to buy a house, many people have turned to renting accommodation. As a result, there is high demand for renting, making the prices go up.
A solution must be found to this crisis. Under these circumstances, the best way for cutting rental rates is to increase the construction of houses. If the level of construction goes up, we can hope for a more balanced housing market as well.
The Impact of the US Election on the Foreign Currency Market
The editorial of Eskenas focuses on how the US election is impacting the foreign currency market in Iran, as Iranians are waiting to see who is elected as the next US president.
The measures of the Central Bank of Iran (CBI) in containing the market cannot be overlooked, but the main reason for the recent decrease in rates in the foreign currency market is the possible outcome of the upcoming US election, which has also impacted other markets in Iran like the stock market, the automobile sector, gold prices, etc.
On the other hand, the risk of investment in the asset market has spiked. That is because if Trump is elected, one thing will happen; if Biden is elected, something else will. As a result, people have decided not to buy properties, waiting to see what will happen in the US election. The reason why these people do not want to invest in the market is because buying properties is now very risky. Due to the US election, these people might gain or lose a lot, which is why they won't make any move for now.
In the next couple weeks, there will not be any increase in the asset market. Also, there will not be any demand witnessed in this market. Under these circumstances when there is no demand in the foreign currency market, the CBI can have more impact on lowering the forex rate, but there is the risk that once the US election outcome becomes clear, it will have a reverse impact on the market.
The CBI must give priority to bringing stability to the foreign currency market. All depends on the US election. If Biden is elected, the price of forex may continue to plummet. But if Trump is re-elected, the forex market will resume its upward trajectory.
There Should Be No Discrimination Between Human Resources
The editorial of Arman Melli sheds light on the issue of brain drain in Iran and how certain discriminatory measures encourage valuable members of the workforce to leave the country.
Iran should have had plans for managing the workforce and human resources from the beginning. But instead, certain behaviors and negligence compelled educated people to leave the country. We should note that foreign companies are seeking to recruit specialized and intelligent workers from Iran.
Most of those who have ranked first in Iran's entrance exams during the past four decades have been admitted into top universities, industrial and manufacturing centers in foreign countries. Why? Mainly because these individuals are very valuable and are considered as drivers of the engines of industry in any country.
It is said that in developed countries like America, they don't usually train a large group so that they can select from them later. Rather, they discern the elites from among thousands of individuals and train them for important jobs. That is significant because these elite groups can guarantee the prosperity of an industry.
That is why these people are attracted, offered job opportunities, and are admitted to these places. But Iranian officials have overlooked this issue and are not concerned about it. As they have nothing to offer these individuals, these talented individuals are attracted to other countries' industries, universities, and job markets.
This has been a significant issue in Iran for years. What is more, when Iran is unable to provide employment opportunities to its skilled workforce, these people seek employment in other countries. Therefore, it is only natural that these individuals will leave the country.
Right now, the conditions in Iran's job market have worsened due to US sanctions and the coronavirus pandemic, while there is no plan for employing talented and skillful individuals in the country.
When these people see this dire situation, they will go to a place where they can live with security and welfare. Certain extreme and biased behaviors in the Iranian job market also force people to leave the country. There shouldn't be any discrimination across Iran's workforce.
Khamenei Defends Rouhani Against Harsh Criticism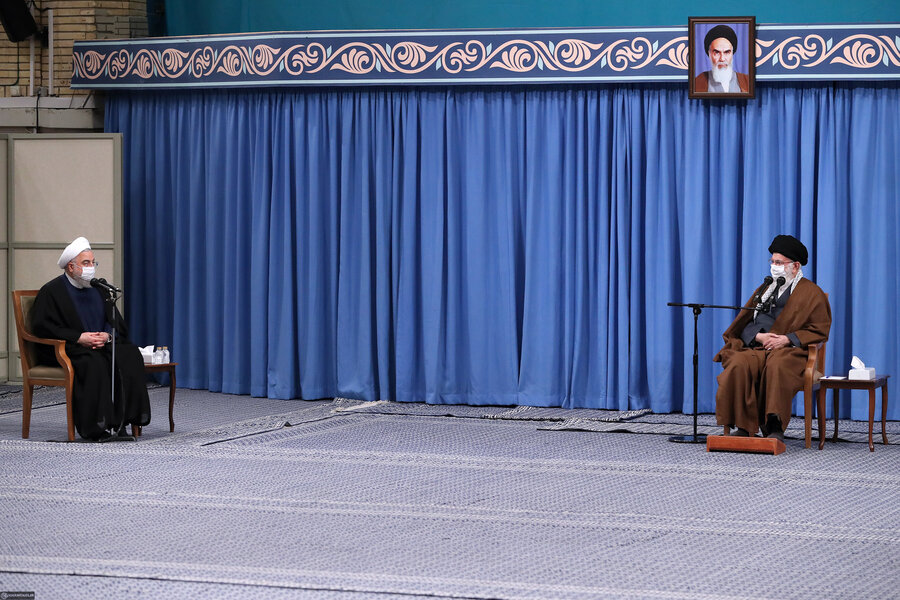 Iranian Supreme Leader Ali Khamenei called recent criticism against Iranian President Hassan Rouhani "wrong," saying that "defamation," especially defamation of high-ranking officials, is "haram."
Following the escalation of tensions between Iranian President Hassan Rouhani and hardline "conservatives" in Iran, Khamenei criticized some measures against the government and the president himself, calling it "wrong," an "insult" and "defamation."
Khamenei urged that "defamation is haram" and "this is an American method in their debates and their media to defame [each other]."
The Iranian supreme leader was referring to the recent remarks made by lawmaker Mojtaba Zolnoori, head of the Parliament's National Security and Foreign Policy Commission, who had said Khamenei must issue an order for Rouhani to "be executed a thousand times," in light of the fact that the overwhelming majority of people are fed up with Rouhani.
Zolnoori's harsh criticism against the president came after Rouhani's speech in which he had asserted that as the overwhelming majority of people wanted peace, the second Shia Imam Hassan made peace with his enemy.
Describing Rouhani's remarks as paving the way for negotiating with America, Zolnoori had said that if decisions are to be made based on people's demands, then the overwhelming majority of people demand for Rouhani to be executed.
Khamenei considered these remarks as an insult, calling for officials to preserve "unity and solidarity" under the current circumstances. He also asked the critics to be respectful towards the heads of government branches and public officials.
During the past three months, this is the second time that Khamenei has warned the opponents of Rouhani's government to tone down their criticism and to stop talking about impeaching him. This time, Khamenei's used a harsher tone and words to defend Rouhani.
Although during his leadership, Khamenei has always supported the incumbent presidents to the last day of their tenures, even those who acted against his wishes, this time it seems that preserving the unity of the establishment is more important for him.
US sanctions, economic problems, the inability to manage the coronavirus pandemic and public discontent have put Iran's establishment in a very shaky position.
"Reformist" Activists Warn About the Possible Eruption of Protests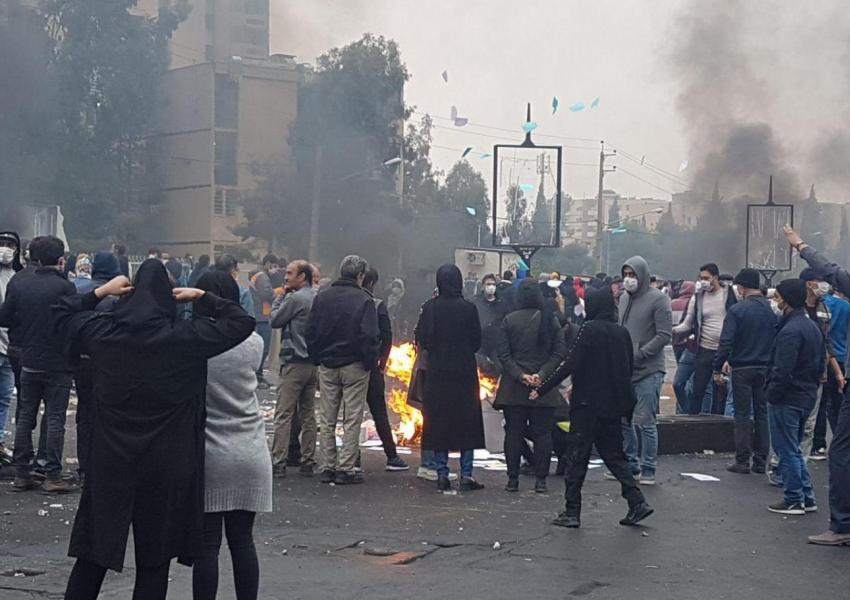 After "reformist" activist Mohammad Reza Bahonar stated that the protests in November 2019 could have turned into a revolution if more people had joined the protesters, Javad Emam, another "reformist" activist, recently warned about the possible eruption of protests in Iran, adding that "today discontents are much more than November last year and we are on red alert."
While these "reformist" figures have warned about widespread discontent and the possible eruption of protests in Iran, the security and law enforcement agencies of Iran are already ruthlessly confronting any protests. In a recent case, on Monday, the security forces confronted retirees from the oil ministry who had gathered in front of the ministry's building asking for their demands to be met. Some protesters were wounded by the security forces.
Javad Emam, close to the former "reformist" President Mohammad Khatami, warned about the current conditions and the possible recurrence of last November's protests, saying "compared to last year and before coronavirus, people are under much more pressure, as a result of which popular discontent has increased."
Some people have lost their jobs, some people's incomes have dropped significantly, unchecked inflation has increased people's difficulties, and the government has not been able to do much to help with people's livelihoods, stated Emam.
As a result, this "reformist" activist warned that the possibility of widespread popular unrest has increased and the government must take measures to ease the pressures faced by the people.
Before Emam's warning, Mohammad Reza Bahonar had also asserted that during last year's protests in November, if 1 million people in Tehran had joined the protests, Iran would have moved towards "a revolution or a velvet revolution."
According to this "reformist", three parameters have resulted in the augmentation of popular discontent: incompetence, corruption, and unaccountability.
After the Explosion in Natanz, Iran to Move New Nuclear Facilities Underground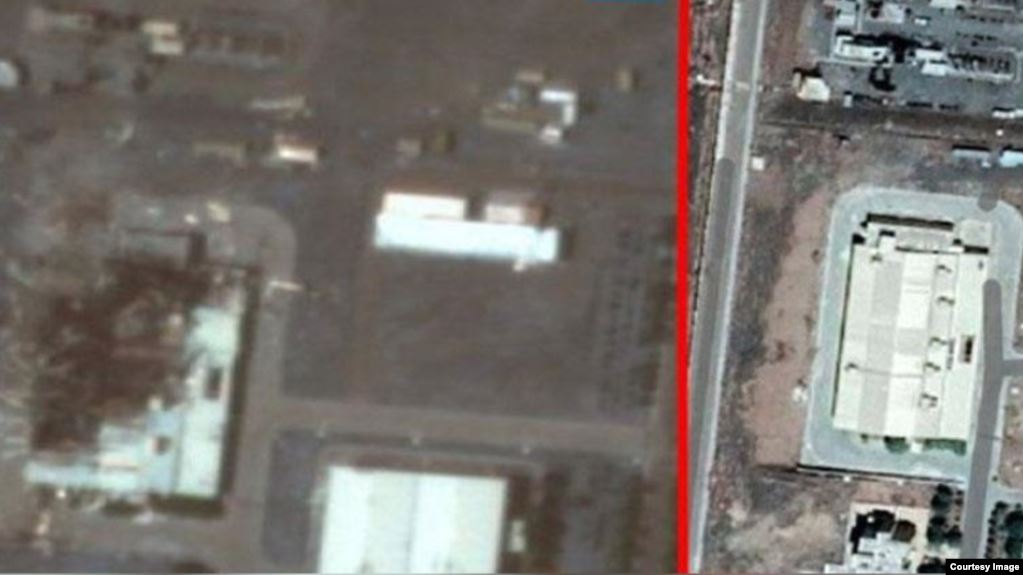 Iran's ambassador and permanent representative to the Vienna-based International Atomic Energy Agency (IAEA) has said that after the explosion at the Natanz nuclear site, "all new machines will be moved to under the ground."
Kazem Ghariababadi has pointed to the remarks of the head of the Atomic Energy Organization of Iran, Ali Akbar Salehi, who had said that Iran will "construct more advanced facilities in the mountains, instead of Natanz's damaged facilities."
According to this Iranian diplomat, the IAEA has been informed of the construction of new nuclear centers, but Iran has not found it necessary to allow the agency's inspectors to visit the damaged location.
On July 2, there was an explosion at the Natanz nuclear facilities, causing serious damage to Iran's center for assembling centrifuges.
The explosion has slowed down the process of producing centrifuges, and it was reported that this incident would delay Iran's nuclear program by two years.
Iranian officials have described this incident as "sabotage" but have not given any further details in this regard.
Nevertheless, Javad Karimi Ghodoosi, member of the Iranian Parliament's National Security Commission, later said that the incident at the Natanz nuclear site was due to a "security breach."
There have been reports of possible air raids or cyberattacks against this center, but Iranian officials have not confirmed or denied this.
With regard to producing heavy water over the limits set by the nuclear deal, Gharibabadi stated that Iran has no considerations about producing and selling heavy water, adding that in recent months a considerable amount of heavy water has been exported to different countries.
According to Gharibabadi, Iran's production and heavy water stockpile is "much more than the nuclear deal limit."
Iranian Law Enforcement Launches Special Patrols for Warning Citizens not Wearing Masks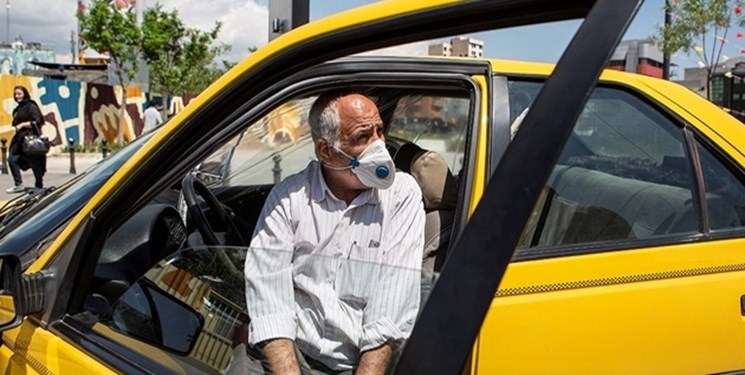 Iranian law enforcement agencies announced that special patrol units have been launched to warn people who are not wearing masks. In addition to law enforcement forces, members of the Health Ministry will also take part in these patrols.
The plan is said to aim at preventing and combating coronavirus and improving health standards in society. It is to be enforced in Tehran, and it is not clear whether it will be implemented in other parts of the country as well. According to Iranian officials, many cities in Iran are in the red zone.
The Iranian health minister has announced that only 58 percent of people are following the health protocols in the country. Most complaints regarding violation of the protocols involve bakeries, gyms, clubs, hair salons, barbershops, and restaurants.
With the outbreak of coronavirus in Iran, the government recently announced that individuals and businesses not following health protocols will have to pay fines. It is not clear if these special patrol units will fine the citizens or not for not following the protocols.
In Iran, low-quality masks, citizens' inability to buy masks, mismanagement and not following scientific practices have caused the number of infections to go up.
In the Middle East, Iran has the highest rate of infections and deaths due to coronavirus. In recent days and weeks, the number of infections and deaths has spiked.
Research shows that the real number of infections and deaths is much higher than the official statistics, and even health officials admit that the real number is two or three times more than what is officially announced.
Meanwhile, in recent days, a religious public ceremony was held in a stadium in the city of Mashhad. The images released show that a large number of people gathered in one place without following the health protocols. Such religious ceremonies have been considered as super-spreader events in Iran.