The Achilles heel of next year's budget bill
The editorial of Tejarat focuses on the weakness of the 2020 draft budget bill, emphasizing that it relies too much on increasing tax revenues.
Although the government has predicted a 27% increase in tax revenues in the draft budget bill compared to this year's budget, this goal is not achievable. Under the current conditions when all doors are closed to the country's private sector, the country's economy cannot afford to pay this amount of tax.
The Achilles' heel of the next year's budget bill is that it is drafted unrealistically. If this bill is ratified by the parliament, it will cause many issues and problems for the country's economy. It seems that next year, those who have nothing to lose will be under more pressure.
The 2020-2021 draft budget bill creates tension since it has no sound foundation, and is not consistent with the country's economic reality. Such revenue resources don't exist in the country's economy. Many small or medium-sized enterprises are either not active or working well below their optimal levels.
The government's ability to raise tax revenues by 27% depends on the mechanism it creates for this goal. The reality of Iran's economy is reflected in the country's declining economic indicators. This makes it impossible to reach the potential tax revenue target set by the government.
Iran is under US sanctions that have increased the cost of foreign trade which is hard to calculate and keep a record. Due to these abnormal and unnatural conditions, economic actors have to resort to special methods to circumvent US sanctions.
Of course, the government has announced repeatedly that currency returns to the country, but it is not right or logical to keep a record of these transactions.
On the one hand, the country's economy is under sanctions, and on the other hand, it has become less and less transparent. But what is more important is that the government doesn't talk to people about these conditions. If so, perhaps the government could better manage the economy.
Monopoly; killer of people's happiness
The editorial of Jahan Sanat focuses on the correlation between monopoly and happiness in Iran, explaining that Iranians haven't been able to enjoy a proper level of happiness and wealth due to monopolies in the country.
Iranians are no different from the people in England, Brazil, Cambodia, and Angola in that they also want more material success. Iranians also want to reach an acceptable level of wealth by working for a certain number of hours or by making investments.
A majority of Iranians who live in cities and villages want to own proper houses, automobiles, and home appliances that will make their lives easier. There is no doubt that monopoly and lack of competition is one of the most significant impediments to economic vibrancy in Iran.
Since monopoly prevents businesses from growing, it can be called the killer of economic progress. A monopoly can be found in politics, culture, thought, and business, as well as in the strategies organizing a society.
Foreign policy and economic policies in Iran during the past decades — along with ideas that have impacted Iranian businesses — have created a monopoly in economic activities.
Iran's industry and big financial and monetary institutes are monopolized and have made competition – particularly for foreigners – impossible. As a result, economic gains and happiness in Iran have never been proportion with the country's wealth and dignity.
Monopolies in Iran have blocked the path to happiness, and Iranians hardly feel happy.
Take a look at the issue of gasoline. If big producers of gasoline could compete in Iran, could National Iranian Oil Refining and Distributing Company sell any gasoline with any quality to Iranians? If foreign internet providers were allowed to work in Iran, then would internet quality be the same as now?
If we want Iranian citizens to reach a high level of economic dignity, then we must remove all these monopolies. There is no other way to make people happy.
If you don't announce the death toll, you are cutting the branch you are sitting on!
The editorial of Jahan Sanat, written by "reformist" academic Sadegh Zibakalam, emphasizes that the Iranian establishment must immediately and accurately announce the death toll stemming from the recent protests in Iran. According to Reuters, about 1500 people were killed in the November protests. 
Even if the Reuters' report concerning the death toll during the November protests was denied by related institutions, accurate statistics in this regard must be announced as soon as possible.
More than a month and a half after the November protests, an accurate report detailing the death toll has turned into a public demand. Moreover, announcing accurate data is not so complicated, and it was expected to have happened quickly.
After announcing the death toll, the way protesters were killed must be explained. It must become clear who ordered the security forces to open fire on the protesters. Were security personnel in danger when they opened fire on the protesters? All these questions must be answered, and before that, people cannot be told not to believe the reports that have been issued by Reuters, Iran International, and other foreign media outlets concerning the death toll.
If the Iranian establishment doesn't announce any statistics, there will be a big question. But so far there have been no efforts to answer this question; what we have seen is merely the Iranian establishment confronting foreign media reports, which is certainly wrong and results in giving credibility to those reports. When instead of giving accurate data, the establishment only tries to rebut the data given by foreign media outlets. This will lead to doubts increasing, as the public will continue to wonder who is telling the truth.
Data on the death toll is perhaps bitter, but it should be honestly announced. People must know how these people were killed. Unfortunately, there has been nothing but silence along with protesters being identified as rioters and mercenaries. Further delay in announcing this data will only give more credibility to foreign media outlets. This silence will only create more distrust in society, as if we are cutting the branch we are sitting on.
Bread and the recent protests
The editorial of Arman Melli focuses on the recent protests triggered by the price of gasoline tripling, explaining that they were rooted in the economic crisis in Iranian society. In these protests, 1500 were killed.
The recent economic crisis did not take place overnight; for years the problems accumulated and then turned into an economic crisis.
In the past, people somehow managed to live. But the problem started when wages increased by 10%, but the inflation rate was 20%. As a result, the gap between wages and costs widened and Iranians had to suffer more and more economic hardships.
Iranians have become poorer by 30% each year. Sometimes, their incomes aren't enough even to pay rent. Raising the price of gasoline was the straw that broke the camel's back. Those who could rent houses in downtown areas are now pushed to the outskirts of Iranian cities. The gasoline price should have increased in proportion to the rise in wages. What happened was the government's fault, and it resulted in other prices to go up as well.
Society reacted to these pressures. The outer parts of Iranian cities and poorer areas saw significant protests and demonstrations in November 2019.
When we add unemployment to the current problems, we can see that bad incidents are looming over the future. Only 15% of university graduates are annually employed, and the universities' top students are working as peddlers in metros.
These are the incidents that sparked the recent protests, and we are witnessing that a percentage of the people are not even capable of providing for their own daily bread.
Rouhani: Sanctions cost Iran $200bn; Hook: US maximum pressure campaign to continue in 2020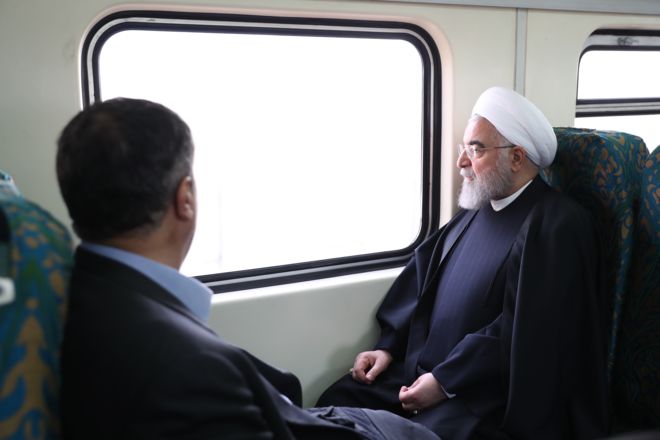 Iranian President Hassan Rouhani admits that Iran has lost $200bn in revenues due to the US unilateral sanctions in the last two years. "If there was not an economic war, $200bn would have been added to the country's revenue," said Rouhani.
According to the tanker tracking company, Kepler, Iran's oil exports in November were 213,000 bpd; while in April 2018 and before the US pulling out of the nuclear deal, Iran's oil exports reached 2.5 million bpd.
According to the Statistical Center of Iran, the annual rate of inflation was 40% during November-December, and while point-by-point inflation had started to go down, it has increased after the tripling of the gasoline price.
Earlier Hassan Rouhani had said that his government couldn't fulfill the promises he made during his campaign election because those promises were made under peace conditions, "then we entered a war".
US officials argue that maximum pressure on Iran has been effective, as a result of which the groups that are financially backed by Iran including Hezbollah, Hamas, and other paramilitary groups in Syria and Iraq are under economic pressure as well.
Meanwhile, Brian Hook, US special representative for Iran, announced that the United States will continue its maximum pressure economic campaign against the Iranian regime in 2020.
According to Hook, the Iranian regime doesn't have much money to spend on its expansionist foreign policy any longer. The Islamic Republic is facing the biggest economic crisis in its history and this will get worse in 2020. Hook added, 2019 was very bad for the Iranian regime, and the next year will be worse.
The US administration has underlined that the sanctions on Iran are aimed at returning Tehran to the negotiation table, in order to achieve a comprehensive agreement to stop Iran's military nuclear program, the development of ballistic missiles, and Tehran's destructive measures in the region and the world.
Iran, Russia, and China hold a joint military drill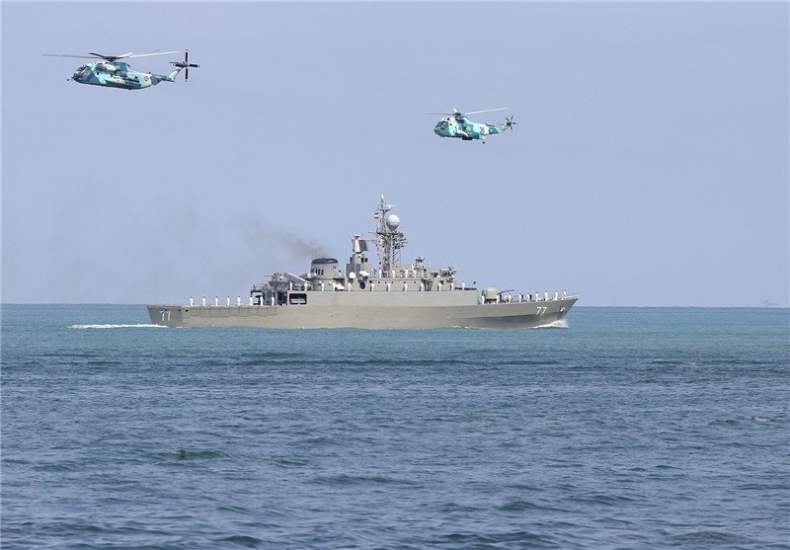 Amidst tensions between the Islamic Republic and the United States and its allies in the Middle East, a four-day joint military drill was held by Iran, Russia, and China in the Indian Ocean and the Sea of Oman.
Military and political officials of the Islamic Republic called it the first time since the Islamic revolution that Iran had participated in a joint military exercise with two military world powers, Russia and China. They considered the drill as a political and regional turning point.
The objectives of this joint drill were to bolster the security of international maritime trade routes, counter-piracy and maritime terrorism, exchange intelligence in search and rescue operations, and exchange operational and tactical experiences.
The Iranian regime is after exiting its current isolation in the international domain by relying on China and Russia. The spokesperson of Iran's Naval forces said that holding the joint drill means that the relationship of Iran, Russia, and China has reached a meaningful level, and this will continue in the future, adding that one of the most important points coming from the drill is that the Islamic Republic cannot be isolated.
The joint exercise was held amidst an escalation of tensions between Iran and America, while Israel has confirmed attacking Iranian positions and those of its allies in Syria. Also, a continuation of the conflict in Yemen and Iran being accused of having a hand in the attacks on Saudi Arabia's oil facilities have heightened the tensions in the region.
The joint drill coincided with the international condemnation of the Islamic Republic for suppressing the November protests.
The United Nations, the European Union, Britain, France, and many international human rights organizations have asked Iranian officials to respect the right to protests. Meanwhile, both Russian and Chinese media have remained silent concerning the brute force used by Iran's security forces against the protesters in Iran.
Is Qom turning from a city of clerics to a center of secular monarchists?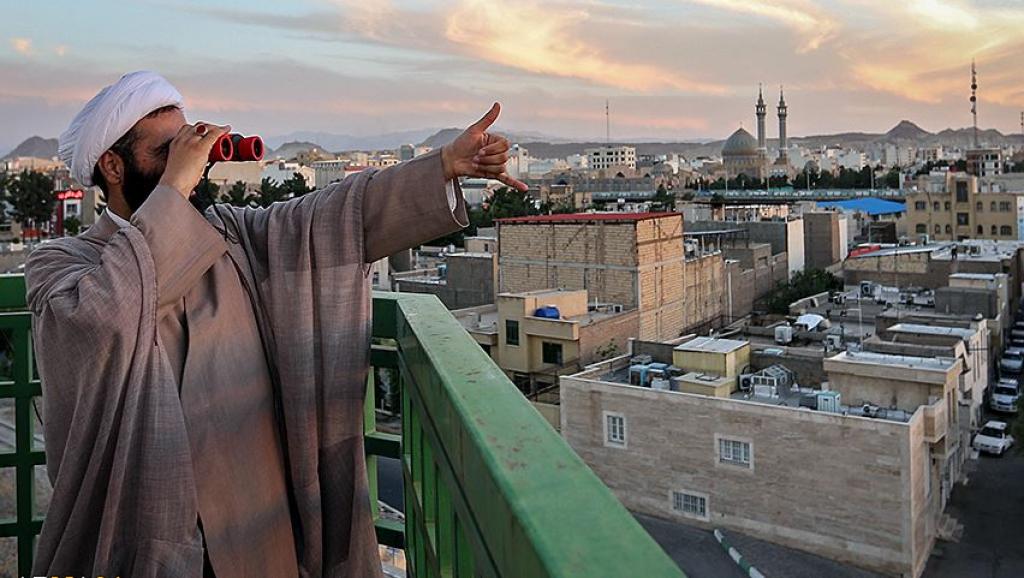 Qom's Police Chief Abdelreza Aghkhani announced that two propaganda networks affiliated with monarchists in the City of Qom were destroyed and 14 prominent members of these networks were arrested. According to Aghkhani, they were in direct contact with monarchist leaders abroad
Qom's police chief accused these two networks of being extensively involved in providing training for countering the Iranian establishment, leading riots, and inviting others to launch strikes, and civil disobedience. Aghakhani said that the detainees aimed to overthrow the Islamic Republic and openly announced their intentions.
According to Aghakhani, both networks belonged to the Phoenix Project of Iran — a research and science project launched by Reza Pahlavi. The project's aim is to resolve Iran's problems and reconstruct Iran with the help of Iranian experts after the collapse of the Islamic Republic.
This is not the first time that officials of the city of Qom have announced the arrest of individuals on the charge of relations with monarchists. Protesters in the city of Qom chanted slogans in favor of the Pahlavi dynasty and against Iranian clerics during the protests in November as well as in 2017.
The Iranian supreme leader Ali Khamenei, who took his stance against Prince Reza Pahlavi immediately after the November protests, had in 2018 warned against those who were after changing the revolutionary atmosphere in the city of Qom.
Iranian youth are ruined in the land of prohibitions
The Identity crisis of Iranian youth partly goes back to them living in a society that has turned into the land of prohibitions which gives them no prospect of a bright future. Child labor, forcing girls to marry at childhood, and educational injustice are some of the issues that Iranian youth have to deal with.
Child labor or modern slavery: Today one out of four teenagers would either never go to school or drop out of the educational system before intermediate education comes to an end. Quitting school is one of the major forms of educational discrimination against the youth in Iranian society. A part of these teenagers have to go to work in Iranian markets at an early age, and because they don't have any skills, they have to work under inhumane conditions. About 1.5 million teenage boys and girls have to work in farms, and workshops for little wages, as well as on Iranian streets.
Child marriage or sexual slavery: Iran's latest census in 2016 shows that annually 35,000 girl children under 15 and 160,000 teenage girls between 15 to 18 are forced to marry. This sexual slavery of children and teenagers which can be mostly seen in poor families and in undeveloped regions is done in the name of religion.
The educational system is full of discrimination: Those who study within Iran's educational system have to read boring books that have nothing to do with the world today. Imposing a state religion on the educational system and allocating 25% of the educational time to political and religious propaganda is blatant discrimination against religious minorities and those who are not in favor of the state religion. All groups have to deal with such compulsory educational activities without ever being asked if they agree with such religious brainwashing.
Educational injustice: With the development of private schools in Iran covering 15% of the students, boys and girls who go to public schools, particularly in rural and undeveloped areas, have a very low level of education. Those who go to public schools and children of low-income families have a small share in higher education. Students attending private schools are the ones who are mostly accepted in university entrance exams.
Ideological education: A major part of the identity crisis is because of state ideology and propaganda in Iran's educational system, the main concern is to impose a particular kind of religion favored by the state on students.