Trip to Saudi Arabia for De-escalation
The editorial of Arman Melli focuses on Iranian Foreign Minister Hossein Amir-Abdollahian's trip to Saudi Arabia, underscoring that Saudi Arabia-Iran relations can positively affect regional affairs.
Abdollahian's trip to Saudi Arabia and his meetings with Saudi Crown Prince Mohammad bin Salman and Saudi Foreign Minister Prince Faisal bin Farhan must be seen within the framework of the rapprochement agreement between Iran and Saudi Arabia. After the agreement and the opening of the embassies of Saudi Arabia and Iran, both countries are on the path toward more agreeable interactions. Both countries' efforts for de-escalating tensions and reaching a reliable level of regional cooperation have impacted many regional events.
One of the outcomes of the interaction between Iran and Saudi Arabia is an increase in the level of their relations and the isolation of Israel. Given the fact that Israel has tried for years to expand its influence in the south of the Gulf through the Abraham Accords, the Iran-Saudi Arabia agreement and the increasing level of bilateral relations will undermine the impact of the Abraham Accords.
Furthermore, because of the circumstances in the region, Iran has gained a higher political status as many Arab countries, including Egypt and Jordan, are seeking to upgrade their relations with Tehran to an acceptable level after the de-escalation between Iran and Saudi Arabia. Abdollahian's trip and the warm reception by Saudi officials show that Saudi Arabia is seriously after de-escalation of tensions and a new phase is underway in Iran's relationship with Saudi Arabia.
If these two countries achieve a sustainable agreement, it can create better conditions for economic cooperation and commercial trade between the countries on both sides of the Gulf. The issues of ensuring Gulf security and easing regional tensions are also a part of the resolve of Iranian and Saudi officials, which can have an impact on the future of the region and stability in the Middle East. Therefore, Abdollahian's trip is fully strategic and can result in concrete achievements for increasing the level of relations and expanding security and political cooperation between Tehran and Riyadh.
Being Happy About Putting Up Iran's Oil for Sale?
The editorial of Jahan Sanat states that Iranians are not happy with the fact the government is selling oil at a huge discount.
Iranian citizens are informed by state media that senior members of Ebrahim Raisi's government are proud of selling Iran's smuggled oil to China's Communist Party at a cheaper price than the previous government. Undoubtedly, Iranians who follow news regarding Iran's oil exports are shocked that Raisi's government and its supporters are celebrating the sale of oil at steeply discounted rates.
While Saudi Arabia is resisting US pressure to lower oil prices and while Russia is not in a hurry to sell its oil cheap, should Iranians be happy about selling their oil with a great discount on each barrel of oil? Exporting Iran's smuggled oil to China is done with US consent. If in the past two years, Iran's oil minister found a new customer for Iran's oil and sold oil at the global price like other members of OPEC, then he would have simply fulfilled his duty and could have announced this with pride.
Undoubtedly, Iranians are not happy with the oil minister's actions and are upset that Iranian government officials have paved the way for unconventional ways of exporting crude oil and are happy about it. Apparently, it is Chinese citizens and companies that must be very happy about buying Iran's oil on sale and paying for it partly through a bartering system, not the Iranian people who see that their national wealth and the future generations' wealth are sold at the lowest prices and with the highest risk.
What is more important is to ask: how much longer this will go on? Should Iranians go on to accept that the Chinese, for a long time, will buy Iran's national wealth at the lowest price in the global market? Selling Iran's oil at a steep discount is not something to be proud of; rather Iranians should be worried about it.
How Did Iran's Economy Shrink?
The editorial of Jahan Sanat explains how because of using the real price of the dollar in calculating Iran's economic position at the global level, Iran's GDP dropped to 51st place on the global index.
The latest statistics of the World Bank indicate that Iran's economy with a real GDP of $192 billion represents half of the UAE's economy or one fourth of Turkey's economy, while Iran is listed among the countries with the lowest income per capita.
The World Bank's report shocked Iran. Just a few months ago, officials used would boastfully claim that Iran's economy ranked 18th in the world. But it now ranks 51st in the world. In 2021, the Head of Iran's Budget and Planning Organization Mohammad Bagher Nobakh stated, "Although there are problems and no one can deny people's economic suffering, we are among the 18 big economies in the world in terms of GDP."
Well, he was not lying. But his calculations were outdated and not based on the real rate of forex. According to the IMF, Iran's GDP was about $610 billion in 2020, it was about $583 billion in 2019, and in 2017, it was $430 billion. Based on these statistics, Iran was really the 18th biggest economy in the world.
But how come Iran dropped from 18 to 51? GDP is calculated by each country's domestic bodies. For example, the Central Bank and the Statistical Center in Iran annually calculate these figures which are sent to global organizations like the IMF and the World Bank for comparing countries at the global level. These organizations then publish an index ranking countries on the basis of GDP.
Each country's GDP is first calculated based on its national currency, which means that Iran's Central Bank reports GDP based on the rial. But in global reports and for making comparisons between countries, GDP is calculated based on the dollar rate. The problem was that Iran's revenues were previously calculated based on the dollar priced at 4,200 tomans. As a result, Iran's GDP was overestimated.
But now the World Bank has calculated this statistic based on the real price of the dollar. This number is unfavorable: only $192 billion. This means that the size of Iran's economy with nearly 85 million people is half the size of the UAE, one fourth of Turkey, and one hundredth of the United States! The World Bank's data are very reliable and are used in academic articles and studies.
This time, GDP was calculated based on the real price of the dollar in Iran which is used in transactions, foreign investment and imports. Now Iran is considered among those countries with the lowest income per capita.
Depriving Girls of Their Constitutional Rights
The editorial of Etemad argues that Iranian lawmakers cannot ratify legislation that denies girls under the age of 18 of their constitutional rights.
Can lawmakers ratify legislation that would damage or hinder citizens' lawful rights? This question has been raised in society and on social networks ever since a lawmaker spoke of putting restrictions on girls under 18 years of age if they do not comply with the hijab rules.
Such remarks show that instead of dealing with society's real issues like inflation, unemployment, livelihood issues, etc., lawmakers are addressing issues that are not real problems nor accepted by society.
Based on different principles of Iran's Constitution, all Iranian people, including girls below and over the age of 18, have equal rights and no authority can deny the Iranian people, including girls, of these rights. Before girls reach the age of maturity, their custodians are in charge of observing and providing these rights, and after reaching the age of maturity, girls themselves can exercise these rights.
The Parliament cannot deprive people of their legal rights, as there are no such restrictions in the Constitution and the legal system. Undoubtedly, if such efforts for denying girls their rights come to fruition, the members of the Guardian Council who must protect the Constitution will not ratify it.
It is sad to hear that instead of ratifying practical, efficient laws that will distinguish the Iranian government from the Taliban, the Parliament is after measures and decisions that are in line with this radical group.
Saudi Crown Prince Mohammed bin Salman Accepts Iran's Invitation to Visit Tehran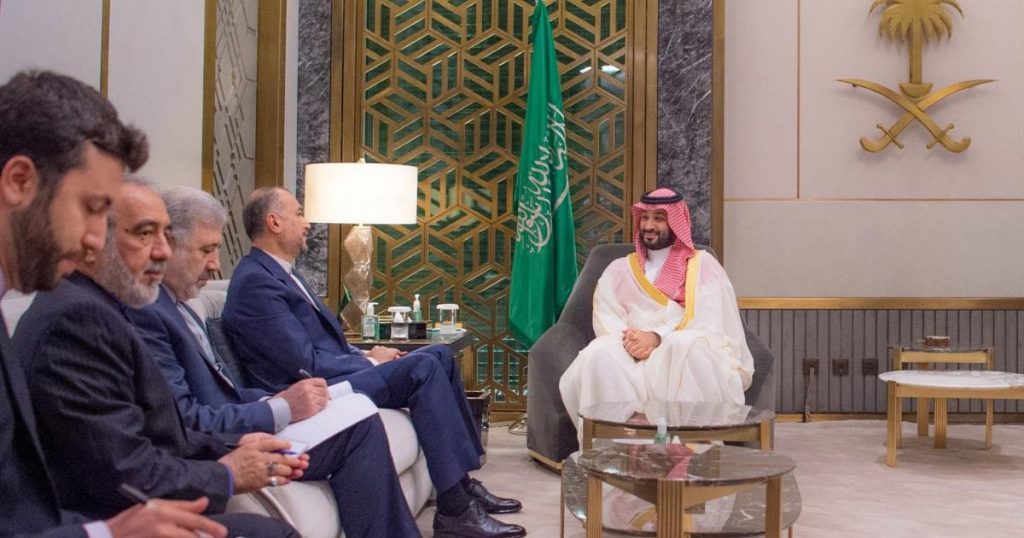 Iran's foreign minister announced that Tehran has invited Saudi Crown Prince Mohammed bin Salman to visit Tehran.
Upon his return to Tehran after a two-day visit to Saudi Arabia, Iranian Foreign Minister Hossein Amir-Abdollahian told Iranian reporters that Crown Prince Mohammed bin Salman had invited Iranian President Ebrahim Raisi to visit Saudi Arabia, clarifying that Raisi accepted the invitation and said this visit will take place at the appropriate time.
The Iranian foreign minister further stated that Iran extended an invitation to Crown Prince Mohammed bin Salman which he accepted and would plan to visit Iran at the appropriate time.
On Friday, August 18, Abdollahian met and spoke with the Saudi crown prince in the city of Jeddah. No further details were given regarding the meeting between the Saudi crown prince and Abdollahian, but according to a reporter from Press TV, which is closely linked to the Iranian ruling establishment, these two countries' officials met behind closed doors.
Releasing a photo of this meeting on X (formerly known as Twitter), the Iranian foreign minister described the talks as "open, profitable and fruitful."
Abdollahian visited Riyadh in his first diplomatic visit to Saudi Arabia after the recent rapprochement agreement between Iran and Saudi Arabia. In a press conference with his Saudi counterpart Prince Faisal bin Farhan, he described their negotiations as "successful."
During this trip to Saudi Arabia, Iran's newly appointed Ambassador to Riyadh Alireza Enayati accompanied Abdollahian to officially launch Iran's embassy in Riyadh. Prior to this, Mohammad Javad Zarif was the last foreign minister of Iran who officially visited Saudi Arabia.
Earlier this year, Tehran and Riyadh signed an agreement under China's mediation to revive their diplomatic relations. The relationship between Iran and Saudi Arabia was cut off following an organized attack on Saudi Arabia's embassy in Tehran.
Top Sunni Leader: Unlike in Iran, No Protester Was Killed in Israel
Molavi Abdol-Hamid Esmaeelzahi, Friday imam of Zahedan, once again openly criticized the Iranian government for its use of violence against people.
This time, he compared the peaceful protests in Iran and Israel noting, "what was surprising in the Israelis' recent protests against their government was that none of the people were killed." He also highlighted that Israeli forces kill Palestinians but do not shoot their own people, obliquely referencing the shooting of several protesters by security forces during the demonstrations in Iran.
Esmaeelzahi also drew attention to the fact that these days people from different walks of life, including women, journalists, academics and clerics, have been detained in Iranian prisons.
A vocal critic of the ruling establishment, this prominent Sunni cleric stressed that the country's crises continue to mount on a daily basis and that people are grappling with endless hurdles. He then pointed to Iran's upcoming parliamentary election and its absurdity, asking rhetorically, "Will these hurdles be overcome if a new Parliament or government comes to office?"
Ismaeelzahi, questioning the nonaccountability of the leadership in Iran, urged that MPs should oversee the performance of ministries, governments and decision-makers regardless of their rank. He called the Assembly of Experts "useless" if its members refuse to oversee the performance of the influential institutions related to the supreme leader, concluding, "The supreme leader, too, needs advice."
Following his Friday prayers, people took to the streets and chanted slogans in support of political prisoners, calling for their release.
Last October, security forces killed dozens of people who had participated in the Friday prayers in Zahedan. Since then, this city has become a major scene of anti-establishment demonstrations each Friday.
Intelligence Minister: We Have Arrested Spies From France, Sweden, Britain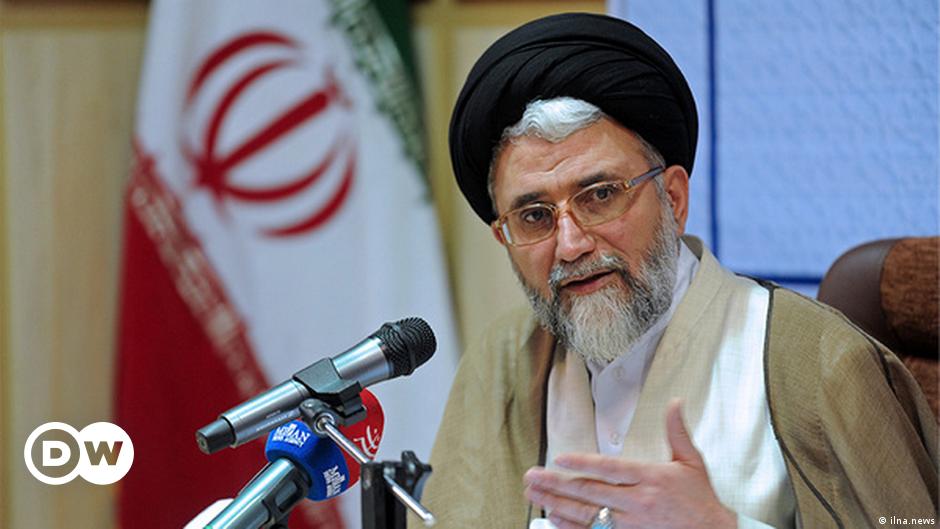 Iran's Intelligence Minister Esmail Khatib claims that the country's intelligence services have in their possession "spies" from France, Sweden and Britain, adding that some of them have been executed. Iran reportedly arrested and imprisoned these individuals for getting concessions from the West.
According to Khatib, Iran's intelligence services are so powerful that "they have in their possession numerous spies from France, Sweden, Britain and many other countries." He went on to say that despite pressures, "they have been sentenced to death" and some of these sentences have been carried out.
Khatib did not specify how many individuals are under arrest or when the alleged executions were carried out. But in recent months, the Iranian government has executed at least two dual nationals on charges of "espionage" for foreign governments.
According to Western officials and human rights organizations, Iran has taken Western citizens as hostages to use them to obtain concessions by swapping them — a practice which has become common in Iran.
Currently, following a prisoner swap deal between Iran and the United States, five Iranian-American citizens are supposed to be released from Iran's prisons in lieu of several Iranians in the United States and unfreezing $6 billion of Iran's assets in South Korea.
In addition to five American citizens who are going to be released following the deal, several citizens from Western countries including Germany are still in the Iranian republic's prisons.
In late May 2023, under a prisoner exchange treaty with Iran which took place through Omani mediation, Assadollah Assadi, an Iranian diplomat convicted in Belgium, was swapped with Belgian aid worker Olivier Vandecasteele who was arrested on a visit to Iran and then sentenced to 40 years of imprisonment and 74 lashes on charges including espionage.
Human rights groups confirm that at least 14 Western citizens are incarcerated in Iran who are considered as innocent victims of Iran's hostage-taking policy.
Iran's Senior Military Officials Went to Russia on Official Visit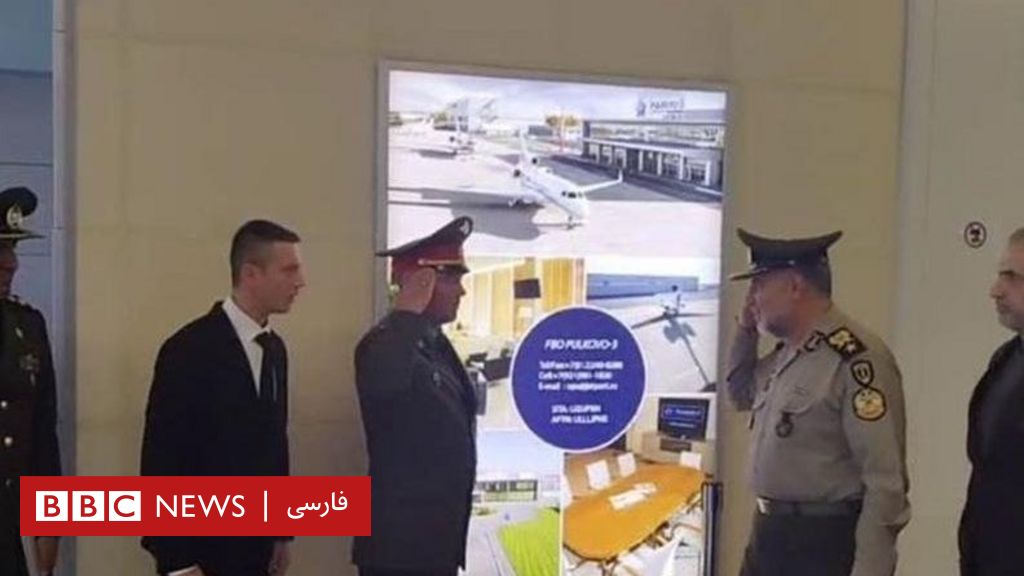 The Commander of the Iranian Army's Ground Forces Brigadier-General Kioumars Heydari visited Moscow at an official invitation by Russian military officials.
According to Iranian state media, he went to Moscow at the invitation of the Commander-in-chief of the Russian Ground Forces Oleg Salyukov.
Heydari reportedly met with Salyukov and visited training, technological and operational centers in Russia.
The visit took place against the backdrop of the ongoing Russia-Ukraine war, representing just one of many visits by Iranian political and military officials to Moscow in recent times.
The Iranian government claims to be "neutral" in the Russia-Ukraine war and has called for ending the war. Iranian Supreme Leader Ali Khamenei, however, in official remarks during his meeting with Russian President Vladimir Putin, stated that "in the case of Ukraine, if you hadn't taken the initiative, the other side would have taken the measure and war would have been waged [against Russia]."
Heydari's trip to Moscow took place while Iran's recent presence at Russia's Army Military-Technical Forum has made the headlines. Russian media reported that the Iranian representative at the forum announced that his country was ready for "military cooperation" with Russia.
In recent years, political and military cooperation between Iran and Russia has been expanding, but after the outbreak of the Russia-Ukraine war, this has become a controversial issue.
Kyiv has repeatedly denounced Iran for giving military drones to Russia which are used by Moscow in the war against Ukraine.
The Iranian government refutes these allegations, with Iran's officials saying that these drones were sold to Russia before the war in Ukraine. But Ukrainian officials insist that these drones are still being sold to Russia.
The EU, the UK and the United States have put sanctions on a number of Iranian individuals and organizations for selling drones to Russia.
40% Increase in Suicide Rate in 10 years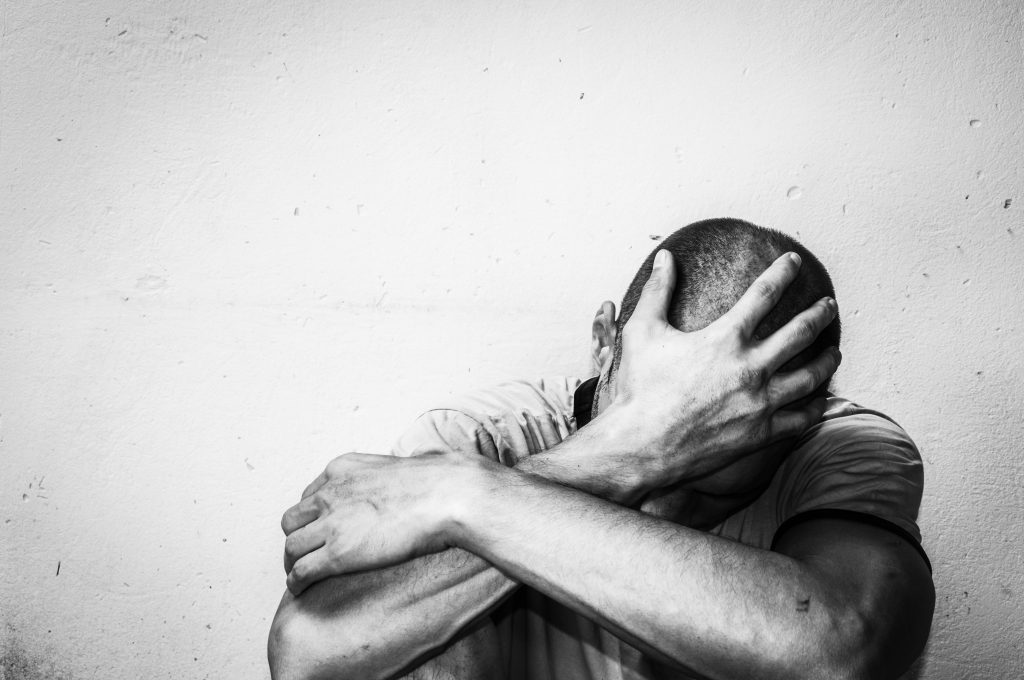 On average, out of every 100,000 Iranians, 125 individuals commit suicide, according to a report on suicide published by Etemad daily.
Official statistics show that during the past decade, the rate of suicide has increased by 40%, rising from 3,500 cases to 5,000 cases per year.
According to statistics, every day more than 13 individuals commit suicide in Iran and most of the victims are within the ages of 15 years to 35 years.
This increase in the number of suicides corresponds with the unprecedented economic, political and social crises endured by the Iranian people over the last decade.
Regional data studies indicate a higher rate of suicide in the western provinces in comparison to other provinces.
The poverty rate in Iran has increased from 19% to 30% which means that 30 million Iranians are now below the poverty line.
As for living standards, after the continuous rise in prices and the elimination of basic goods from people's livelihood baskets, people, according to Eqtessad100 website, have now turned to buying bread on credit or buying half of a loaf of bread, while some cannot even do that.