What Will Be the Benefits of Normalization of Relations Between Iran and Saudi Arabia?
Following the trip of Saudi Arabia's Foreign Minister Faisal bin Farhan, the editorial of Akhbar Sanat underscores that mending the relationship with Saudi Arabia can be very beneficial for Iran.
More than three months ago, the normalization of relations between Iran and Saudi Arabia under China's mediation started. This is a significant issue because the improvement in relations between the two Muslim countries of Iran and Saudi Arabia can be beneficial for both countries; it can also result in boosting regional ties from many aspects and bring about many achievements for the region.
Certainly, the visit of Saudi Arabia's Foreign Minister Faisal bin Farhan to Tehran must be considered an important issue which can have many benefits for Iran. In the light of the fact that Saudi Arabia is one the most significant countries in the region and other Gulf states and Middle Eastern countries follow Saudi Arabia's decisions and given the fact that Saudi Arabia is one of the top economies in the world, having a good relationship with Saudi Arabia can be very beneficial to Iran.
If a good relationship with Saudi Arabia continues, Iran can use Saudi Arabia's economic conditions to its own advantage and export Iran's low-cost goods to this country, because Saudi Arabia is the number one country in the region regarding oil and energy, with a top place in religious tourism.
As for relations with neighboring countries politically, socially and economically, Saudi Arabia has a special position, so good relations with this country can bring about numerous political achievements for Iran and improve its economic situation.
Roots of Economic Hardship
The editorial of Eskenas penned by economist Hossein Raghfar urges that the Iranian authorities must immediately take measures to ease the sanctions on Iran and engage with the rest of the world in order to overcome the economic difficulties people are suffering from.
The Iranian people have experienced high prices at different periods of time. But what we are seeing now in Iran is beyond crisis point. In fact, it is not accurate to describe the current circumstances in terms of simply a case of prices going up. What people are facing now is nothing short of a real crisis.
The increase in prices has several causes, and it always results in economic problems. The Iranian government must do its best to overcome these problems and pave the way for creating economic stability. But under the current circumstances, the officials and authorities do not seem to have any clear plans for any economic reforms. It is as if they do not recognize the fact that Iran's economy is on the brink of bankruptcy with people facing thousands of problems in providing for their basic needs.
Sanctions are the most significant factor in the economic deadlock which exists in Iran, which is why the least expectation from Iranian policymakers is to adopt a more reasonable policy and pave the way for lifting the international restrictions on the country.
The first step is to opt for the policy of engaging with the world. Basically, there will be no economic growth without transactions with strong economies in the global market. The Iranian people face problems in providing for their basic needs; the Iranian authorities, however, see confrontation with the West as their main concern, which makes it seem impossible to have stability in Iran's economy.
Diplomatic issues are so badly managed that even if the sanctions on Iran are lifted, the country cannot trade with the world because of not ratifying the FATF bills. There is a group of "hardliners" within Iran that sees signing the FATF bills as "treason" against the country's independence. It must be noted that only Iran and North Korea have not joined the FATF.
One of the issues to be considered by political systems is that without public trust, no goal can be achieved, and accordingly development becomes a tall order. The Iranian people who are suffering from high prices know that this problem is rooted in the policies made by Iranian policymakers. So it is only natural that they will lose their trust in the establishment and reach the conclusion that the officials and authorities do not care about their problems.
Therefore, policymakers must immediately find solutions so that people suffer less; perhaps, they might stop the widening the gap between society and the rulers.
Social Pathologies
The editorial of Aftab Yazd explains how widespread poverty in Iran has resulted in an increase in social problems, while officials do not seem to care.
Amid high prices, inflation, injustice, discrimination, etc., Iranian officials seem to have forgotten about social pathologies – issues that are becoming more severe and palpable.
What is for certain is that poverty is the root of all these issues. Poverty pushes people to a place where nothing else matters to them. Currently the number of petty thefts, suicides, murder, violence, child labor, divorce, etc., is on the rise. In other words, whatever endangers security in society is increasingly taking place. People do not have the minimum for living a decent life.
When people are in a dire economic situation, they will suffer from both physical and mental problems. Currently, people are suffering from different kinds of diseases while they do not have access to proper medication. This situation is worse for those patients who need special medication and drugs.
The number of patients who suffer from depression is on the rise, while people do not communicate with each other, and everyone spends his or her time checking their cellphones. Above all, people no longer feel happy. As a matter of fact, under the current circumstances, the idea of happiness has become meaningless for them. Violence has replaced happiness. Statistics show that the level of satisfaction from life in Iran is the lowest in the world.
Putting all these issues side by side, one can see that people and families are not optimistic about their own and their children's future. The other issue is the rise in child labor, which means that families do not pay adequate attention to their own children.
The root of all these social pathologies is poverty, and, under these circumstances, all that the officials have to say is, "It is what it is!"
Releasing Frozen Assets Paves the Way for Improving Relations
The editorial of Arman Melli argues that despite the recent openings in Iran's foreign policy, which are very promising for the country's economic sector, Iranian President Ebrahim Raisi's recent South American tour might send a different signal to the world, indicating that Iran persists with its old rhetoric of fighting the West.
Releasing Iran's frozen assets in other countries can be very promising news for the country and it seems to indicate the normalization of relations with other countries. So, there is hope that this might be a prelude to resolving all the issues between Iran and the West.
The Iranian government might have reached the conclusion that resolving the problems in Iran depends on economic growth and development through bolstering relations with other countries. Insofar as Iran does not create any significant openings in its foreign policy, we cannot assume any significant successes in resolving the country's issues. And if the country's economic issues are not resolved, nothing can be expected but the worsening of the current situation and an increase in people's dissatisfaction.
On the other hand, with an improvement in relations with the Europeans and Americans, Iran can achieve more openings in its international relations and economy.
The recent developments regarding reaching an agreement, as well as secret negotiations between Iran and the United States, seem to indicate that there are openings on the way. And if both sides are resolved to reach an agreement, we can hope for moving forward based on pursuing national interests.
President Raisi's trip to South America too can be seen in line with these openings. But since these South American countries have leftist political tendencies and are enemies of the United States, no such improvement in foreign policy can be expected there.
But as was mentioned before, any foreign transaction which is indicative of expanding mutual understanding and improvement in Iran's relationship with other countries is good and desirable. We must hope that Raisi's recent trips are not just aiming at enmity with a foreign power, but are rather in pursuit of national interests. If so, then we can hope that Iran's economic problems will be overcome.
MPs Are Having Fun!
The editorial of Arman Emrooz accuses members of the Iranian Parliament of having fun instead of doing their job properly, while the Iranian people are struggling hard to overcome the problems they have to face day to day.
It is a truth universally acknowledged that life has become tougher for all groups of people in Iran and people are facing a multitude of problems in different fields like livelihood, wages, housing, automobile, education, health, water, electricity, etc. But they keep trying to save face while living in extreme poverty.
On the other hand, there is the Iranian Parliament which has not performed well over the past three years. It has not been able to regulate prices, nor has it been able to properly fulfill its role in overseeing the government.
In this regard, some media outlets have slammed MPs' behavior, ironically questioning in their reports whether it is "a park or a parliament!" Tasnim News Agency reported that more than 100 million tomans per minute is spent in the Parliament. The point is, Tasnim continues to write, whether this money is spent properly or not and if MPs do the job they are supposed to do.
In this regard, some media outlets have taken the opportunity to publish images of members of Parliament joking and laughing loudly, pointing to the differences between what is happening inside and outside the Parliament: these images show that while people are struggling with problems to stay alive, MPs are having fun in the Parliament!
Saudi Foreign Minister Goes to Tehran
After seven years of severed relations with Iran, Saudi Foreign Minister Faisal bin Farhan went to Tehran on Saturday, June 17, and underlined "the significance of security cooperation between the two countries to guarantee a region free from weapons of mass destruction."
The Saudi Foreign Minister was welcomed by his Iranian counterpart Hossein Amir-Abdollahian and then stated in a press conference that "transparent and straightforward negotiations" were held.
Prince Faisal bin Farhan's trip to Tehran is the first visit of a Saudi Foreign Minister to Iran in 17 years.
After meeting with Abdollahian, the Saudi foreign minister met with Iranian President Ebrahim Raisi who will visit Saudi Arabia upon the invitation of Saudi Arabia's King Salman.
Prince Faisal Bin Farhan asserted in the press conference that he had talked with his Iranian counterpart about "the necessity of mutual respect and non-interference in each other's domestic affairs."
The Saudi foreign minister pointed to guaranteeing a region free from weapons of mass destruction while Saudi Arabia has expressed its concerns about Iran's nuclear program repeatedly, calling for Tehran's full cooperation with the IAEA.
In his speech in Tehran, Prince Faisal bin Farhan also emphasized the significance of "maritime security and navigation." The Iranian government has been repeatedly accused of attacking commercial ships in the region in recent years.
The Saudi foreign minister also stated that resuming diplomatic and consulate activities in both countries is underway and Saudi Arabia's embassy will soon reopen in Tehran.
Tehran and Riyadh recently signed an agreement under the mediation of China to restore their relations and reopen their embassies within two months.
Iran's embassy recently reopened in Riyadh and now there are reports of housing Saudi diplomats in Espinas Palace Hotel in northern Tehran.
Tehran-Riyadh relations were severed in 2016 following an organized attack against the Saudi embassy in Tehran.
In recent months, Iran has taken measures to boost its relationship with the UAE and intends to resume diplomatic ties with Egypt and Bahrain.
Poverty Line at 30 Million Tomans; Households With Two Employed Members Are Living Below the Poverty Line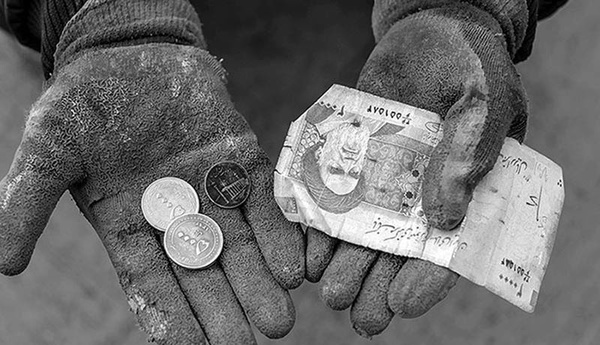 Following the rejection of any revision in the ratification of workers' minimum wages by the Iranian labor minister, Iranian Labor News Agency (ILNA) reported that under the current circumstances, households with two employed members are living below the poverty line.
According to the Labor Council, the minimum wage for unmarried workers is set at 7.3 million tomans and for workers with two children at 8.5 million tomans, which is only 21% more than last year.
ILNA reported that this amount is enough to cover only one third of a household's expenses.
Last year, the Labor Ministry announced that one third of the country's population lives below the poverty line. Recently, the Iranian Parliament's Research Center too announced that 30% of the Iranian population live below the poverty line.
Workers' wages have increased by 21% while the official rate of point-by-point inflation in Iran was announced as 63%. Mohammad Bagheri Banaee, member of the Parliament's Economic Commission, too, has said that the poverty line in the capital city of Tehran has now reached 30 million tomans.
ILNA has pointed to the poverty line in Tehran, saying that in some cities this number, with 20% difference, reaches 24 million tomans.
Recently, a member of the Supreme Labor Council strongly criticized Ebrahim Raisi's government saying that the "palpable inflation" rate for Iranian workers and their families in the spring of 2023 was between 70% to 100%.
Meanwhile, official and international statistics show the worsening of poverty in Iran in the past two years, given the skyrocketing inflation rate and the severe drop in the value of the national currency, unemployment and insignificant wage increases.
Iran Claims Taliban Issued Permit for Iranian Experts to Visit Kajaki Dam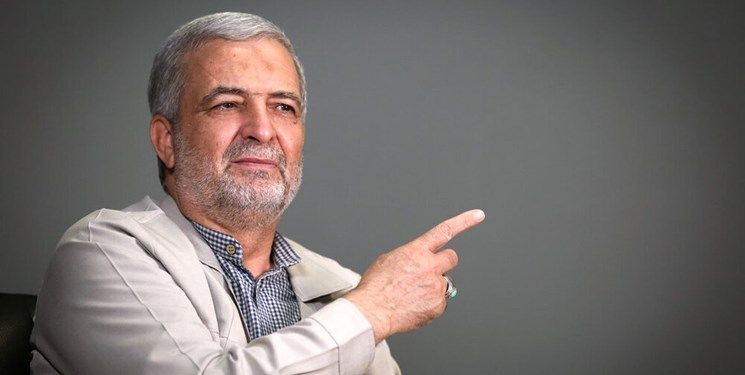 Amid escalating tensions over water between Iran and the Taliban, the Iranian president's special representative in Afghanistan affairs Hassan Kazemi Qomi has alleged that the Taliban has issued a permit for Iranian experts to visit Kajaki Dam. The Taliban has not officially responded to this claim. Meanwhile, Afghanistan's media outlets report that Iran has increased the deportation of Afghan immigrants.
On Iranian state-run television, Kazemi Qomi stated that the Taliban admits that Iran's water share from the Helmand River must be granted in accordance with the existing water treaty between Iran and Afghanistan.
Last month, Zabihullah Mujahid, the Taliban's spokesman, in an interview with the BBC denied the possibility of Iranian experts visiting Afghanistan's dams, stating that there is no such thing in the water treaty between the two countries. He added, "We expect Iranian officials to hold their expectations in compliance with the 1973 treaty."
Taliban officials have underscored their commitment to the water treaty between the two countries, citing the scarcity of water as the reason for not providing Iran's water share. Earlier, the Iranian Foreign Ministry issued a statement calling for verifying the Taliban's claims regarding the scarcity of water by allowing Iranian experts to visit Afghanistan's dams.
Qomi said regarding the eastern Province of Sistan and Balochistan, which suffers the most from water shortages, that it was once a very fertile region but has now turned into dust.
Last month, Iranian President Ebrahim Raisi during his visit to Sistan and Balochistan issued a warning to the Taliban about Iran's water rights which triggered altercations between the two countries' officials, followed by a deadly clash on the Iran-Afghanistan border.
Earlier, the Taliban's foreign minister stated that the level of water in the Kajaki Dam is so low that it dries up before reaching Sistan and Balochistan Province.
Meanwhile, Afghan media outlets reported that according to a Taliban's local official, Iran deports up to 3,000 Afghan immigrants to Afghanistan. This number was previously between 1,500 to 2,000 Afghan citizens.