Medicine Crisis
The editorial of Mamlekat analyzes the current medicine crisis in Iran, explaining that it is not because of US sanctions that there is a shortage of drugs and medical supplies, but because of those who financially benefit from sanctions and smuggling drugs to neighboring countries.
The crisis in providing essential drugs as well as delayed access to IVs and antibiotics has created more problems for people amid the surge in coronavirus. But what makes people more upset these days is that the shipments of drugs have entered customs offices but have not been cleared yet so people cannot access them.
But how come these drug shipments have not been cleared from the customs office yet? Currently, Iran has resumed exporting medicines to five countries, while poverty and deprivation have escalated in Iran and the Iranian people do not have access to any effective medical insurance.
Previously, there were many cases of exporting medicines and basic goods to neighboring countries. Iran has exported medicines to Afghanistan, Iraq, Uzbekistan, Yemen and Lebanon, but given the sanctions imposed on Iran, these exports were in the form of smuggling.
Along with the coronavirus crisis and the shortage of oxygen tanks in different provinces of the country, there were reports of smuggling and exporting oxygen tanks to neighboring countries.
Undoubtedly, sanctions have not impeded the import of medicines and medical equipment and supplies to Iran. Rather, it is because there are businesses that thrive on sanctions, and that has resulted in the shortage of drugs and medical supplies in Iran.
Now, the Iranian president and health minister must look for the culprits of this shortage of drugs and prosecute them so that people's health is no longer at risk.
A Statement and a Few Points
The editorial of Arman Melli criticizes the recent statement made by Iranian lawmakers in which they demanded the judiciary to carry out execution sentences against protestors in Iran.
Recently, a statement by 227 lawmakers was read in the Parliament calling for severe confrontation with "rioters" (the Iranian government's label for the protesters). 227 representatives demanded that the judiciary must decisively confront with those who provoke the "riots."
The statement reads that the lawmakers ask all officials including those in the judiciary to immediately carry out qisas (execution sentences) against "insurrectionists" who are accused by lawmakers of assaulting people and destroying property.
A few points must be made about this statement:
It seems that playing politics has cast a shadow over society, and apparently the Iranian Parliament is no exception in this regard.
In the statement, they call themselves representatives of the people, while they know that in the recent parliamentary election, many candidates were disqualified and the turnout was low.
Lawmakers have two duties: legislating to bring welfare and comfort to their constituency and overseeing the administration of the country, as well as investigating the executive branch to ensure government transparency.
Although lawmakers can express their opinions about the current issues in the country and society, this does not mean that they should collectively issue a statement about the ongoing events. Even if the lawmakers had not issued their statement, the judiciary would have fulfilled its duty.
Instead, lawmakers should focus on people's welfare and economic conditions. Have they been able to pass any legislation for resolving the country's economic problems?
President or Miracle Worker?
The editorial of Mostaghel argues that under the current US sanctions against Iran and the deteriorating economic conditions, neither Ebrahim Raisi nor any other president can save Iran's economy, predicting that inflation and prices will continue to skyrocket.
In recent days, we have been witnessing a new wave of inflation and skyrocketing prices while there has been an unprecedented leap in prices of consumer goods and food items.
In the meantime, famous "reformist" figures keep tweeting prices of the dollar, gold, chicken, rice, etc., not even trying to conceal their happiness that Iranian President Ebrahim Raisi has not been able to keep his promises. "Conservatives" who back Raisi criticize his cabinet members, while trying to put all the blame on the previous government and praise Raisi's government for its minor achievement regarding coronavirus vaccines.
But whoever is in charge of the executive branch in Iran, be it Raisi or Hassan Rouhani, there is almost no chance that he can achieve economic success under the current circumstances in Iran. Running the country under US sanctions requires a miracle worker rather than a president or a minister. If anyone makes any claim other than this, it is a sign of his ignorance regarding the country's catastrophic circumstances.
For a century, Iran has survived on selling oil and using its revenues to run the country. Accordingly, whenever the price of oil goes up, governments become more prosperous, and when it declines, governments and people face hard economic conditions.
Now, any suggestions as to running the country and resisting inflation by expanding relations with Tajikistan, Turkmenistan and Iraq and exporting a few tons of bell peppers, potatoes, eggplant and chickpeas to these countries reveal a lack of understanding of how a country of 80 million people is run.
Given the extensive corruption in Iran's economy, the inefficient taxation system, the government's interference in all economic fields, etc. either the issue of sanctions must be resolved, or inflation will increase and poverty will keep spreading throughout the country.
Those who still expect Raisi to contain inflation and save Iran's economy under US sanctions do not expect him to run the country as a president but want him to perform miracles.
Iran's Insignificant Role in the US Elections
The editorial of Arman Melli explains why Iran did not play a significant role in the recent US midterm elections, stating that the Iranian government's move toward Russia in its war against Ukraine was a bad political move which resulted in the United States distancing itself from Iran.
The American people and those who take part in the US midterm elections pay no attention to news related to Iran, unless it is about issues like prisoner swaps and building nuclear bombs. An agreement with Iran can be used as leverage by the Democrats if US citizens feel Iran's nuclear program poses a threat to them, and the US administration can attract the American public's attention by taking measures to release American prisoners in Iran.
As for building a nuclear bomb, if the Biden administration can convince the American public that the revival of the nuclear deal will prevent Iran from building nuclear weapons, it can gain the upper hand against the Republicans.
Now that the midterm elections have been concluded in the United States, we must acknowledge that Iran did not play any role in advancing the goals of either the Democrats or the Republicans in these elections. If the Biden administration can leverage the nuclear deal to its advantage as mentioned above, then Iran plays a role in the US elections. Otherwise, US citizens show no interest in Iranian affairs at all.
If in the Russian war against Ukraine, Iran had followed diplomatic protocols and adopted a neutral stance, we could say that the nuclear deal would have been in its final stages of being revived and Iran could have gained more concessions from the US side.
When the Iranian authorities took the Russian side in this war, the global community took a negative view toward Iran, because when civilians are killed in a war, it is condemned under all circumstances.
Iran could have acted in a more balanced manner to gain concessions from both the United States and Russia. When the Iranian government moves toward Russia, it is only natural for the United States to distance itself from Iran.
Strikes, Protests in Tens of Cities on the Anniversary of November 2019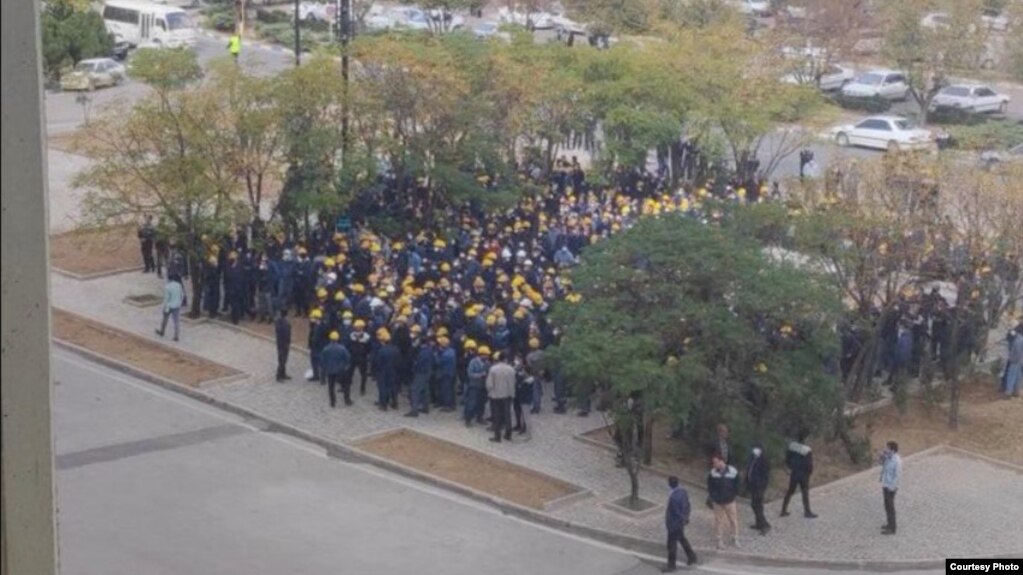 Following calls by many activists and groups for continuing the strikes and protests to mark the anniversary of the November 2019 protests, owners of businesses and shops in many locations in Tehran and tens of other cities went on strike and protests were held in different places on Tuesday.
Images and footage released on social networks show that people in markets and trade centers took part in strikes in Tehran and tens of other cities including Karaj, Kerman, Rasht, Tabriz, Isfahan, Shiraz, Ardebil, Kish, and many cities in Kurdistan Province.
The 59th day of nationwide protests under the slogan "Woman, Life, Freedom" in Iran triggered by the death of Mahsa Amini in "morality police" custody in Tehran coincided with the anniversary of the November 2019 protests in which 1,500 people were reportedly killed by Iranian security and armed forces.
Video footage showed different protests held in Tehran, while workers of Isfahan's Steel Company, as well as the city's businesspeople and shopkeepers, joined the strikes.
According to reports released on social media, a number of businesspeople in Tehran's market closed their shops to participate in the protests and chanted, "All these years of crimes, death to Wilayat al- Faqih."
Furthermore, there were reports of protests or sit-ins in universities in Tehran and other cities, with students chanting slogans against the Iranian government.
In the meantime, Iranian human rights activist Narges Mohammadi, in a letter to Javaid Rahman, the UN Special rapporteur on the human rights situation in Iran, demanded that he should use all the UN's capacities and powers to stop the arrest, torture and heavy sentences against protesters.
In her letter, Mohammadi warns that the Iranian government seeks to issue heavy sentences against protesters including execution sentences known as qisas under the Islamic penal code and for spreading "corruption on earth," adding that a number of detained protesters are in solitary confinement and are being coerced into making confessions.
Iran Human Rights Organization: At Least 326 Individuals Killed in Nationwide Protests
According to the latest report of Iran Human Rights Organization, since the beginning of the nationwide protests in Iran, at least 326 people including 43 children and 25 women have been killed by the Iranian government's oppressive forces in different regions of Iran.
Those killed by the Iranian government's forces come from 22 provinces, mainly from the provinces of Sistan and Balochistan, Tehran, Mazandaran, Kurdistan, and Gilan.
Sistan and Balochistan, one of the most deprived provinces in Iran, is on top of the list with 123 dead.
The high death toll in the peaceful protests in Sistan and Balochistan is a confirmation of Amnesty International's report about Iranian government forces' use of weapons and ammunition in this province against protesters.
After Sistan and Balochistan stands Tehran with 37 dead. Then there is Mazandaran with 33 dead, Kurdistan 27, Gilan 22, Western Azerbaijan 22, Kermanshah 13, Alborz 12, Khuzestan five, Khorasan Razavi four, Isfahan four, Zanjan four, Lorestan three, Ardebil two, Hamedan two, Semnan one and Bushehr one.
Iran Human Rights Organization has urged that the real number of casualties is much higher, emphasizing the need to continue investigations in this regard.
This organization has also warned about the danger of issuing heavy sentences and death sentences against protesters in the nationwide uprising. So far, many detained protesters have been charged with "insurrection" and spreading "corruption on earth" which can result in the issuance of death sentences.
Iran Human Rights Organization has also cited the Iranian government's record of carrying out execution sentences to intimidate society, warning about possible summary "executions" of protesters and without prior announcement.
This organization has underscored the need to create an international mechanism for holding the Iranian government accountable for killing people, calling for timely and decisive confrontation by the global community to stop the further massacre of people by the Iranian government.
Iranian Activist at Risk of Death in Prison After Hunger Strike
Imprisoned Iranian filmmakers Jafar Panahi and Mohammad Rasoulof issued a statement expressing worries about the rapidly deteriorating condition of blogger and human rights activist Hossein Ronaghi. Citing the prison's physicians, they have warned that any minute Ronaghi might have a cardiac arrest.
The statement reads that after going on a hunger strike for 50 days, Ronaghi's physical health has severely deteriorated, and he has vomited blood and has an irregular heartbeat, with his condition getting worse by the minute.
Panahi and Rasoulof expressed concern that what happened to Behnam Mahjoubi and Baktash Abtin might happen to Ronaghi any minute. Both Mahjoubi and Abtin died in an Iranian government prison.
Earlier, imprisoned political activist Mostafa Tajzadeh also warned about Ronaghi's health condition in prison, urging that given his physical weakness, something must be done before it is too late.
Ronaghi's family has expressed concerns about his critical condition, calling for his immediate release and hospitalization and treatment.
Ronaghi's father, who was holding a sit-in in front of Evin Prison, had a heart attack last week and was taken to hospital.
Ronaghi is an Iranian government opponent and an activist for free access to the internet. Having been arrested many times, he has spent many years in prison and lost one of his kidneys while in incarceration.
Since the beginning of the nationwide protests in Iran triggered by the death of Mahsa Amini in the custody of the so-called morality police, many political and civil activists and journalists have been arrested including Bahareh Hedayat, Arash Sadeghi, Nilofar Hamedi, Mohammad Reza Jalaipour, Majid Tavakoli, Yalda Moayeri, Elaheh Mohammadi, Zeinab Mousavi, along with thousands of protesters, schoolchildren and university students. There are no accurate statistics regarding the detainees and their whereabouts.
Malnutrition Causing Stunting, Underweight Children in Four Provinces
In addition to the medicine crisis and the disarray in Iran's health system, children in the provinces of Sistan and Balochistan, Hormozgan, Ilam, and Kohgiluyeh and Boyer Ahmad are reportedly suffering from stunting and being underweight.
According to Mohammad Taghi Hosseini Tabatabi, secretary of the Conference on Children's Emergencies and Common Diseases, stunting in children and being underweight are due to malnutrition.
Tabatabi expressed concern about the increase in malnutrition in deprived provinces in Iran, stating that currently children and pregnant women suffer from iron and vitamin A deficiencies.
In recent years, malnutrition has become a public crisis in Iran following the increase in prices of basic goods and people's inability to purchase essential food items. The head of the Health Ministry's nutrition improvement department had warned earlier this year against the drop in the consumption of dairy in Iran. Meanwhile, another official recently warned about food insecurity in eight provinces of Sistan and Balochistan, Hormozgan, Ilam, and Kohgiluyeh and Boyer Ahmad, Khuzestan, Kerman, Southern Khorasan, and Bushehr.
The Labor Ministry's studies indicate that there has been a 50 percent drop in meat consumption in low-income families, while people are consuming less rice, meat and dairy compared to 2011.
This situation is not confined to low-income and vulnerable groups in Iranian society, and in the past years, all people in Iran have been impacted by inflation and the rise in prices.
With people's tables shrinking rapidly in recent years, people have not been able to consume the required calories. According to the Iranian Health Ministry, each individual needs 2,367 calories per day, but based on a report by the Parliament's Research Center, in 2018, only 30 percent of people received this amount.
Children are considered the most vulnerable group with malnutrition impacting their mental and physical growth. Children living in deprived regions of Iran are now facing malnutrition due to poverty.