Improving Conditions by Solving Structural Problems
The editorial of Tejarat, penned by a member of the Iranian Chamber of Commerce, underlines that any improvement in Iran's economy must be achieved through structural changes.
In previous years and during different governments, economic management was always undertaken after resolving the issues at hand or finding a solution to a crisis. Yet Iran's economy is facing structural problems that must be solved if conditions are to improve.
It must be accepted that fluctuations in prices, irregularities in the markets, and many other challenges in Iran's economy will not be resolved unless laws are improved and structural changes are implemented.
What is more, there are laws in Iran that disrupt production. Furthermore, there are organizations that are not capable of implementing their legal duties fully. For example, the Consumer Protection Organization is responsible for monitoring prices, but when it comes to overseeing the market, this organization fails in fulfilling its duties.
One question has never been answered: are we going to follow the rules of the free market or not? As this question remains unanswered, producers make losses because they have to follow the prices set by the government. They also have to unfairly compete with government and semi-governmental companies. Meanwhile, these producers have no exact assessment of the future of their own investments.
Even in a country like China which did not have a free market economy, the government realized that it should give free reign to – and even support – the private sector. As a result, this country's economy is one of the most progressive today. This country's government is now benefitting hugely from the taxes it obtains from the economic activities of the private sector.
One of the issues raised by many is the change of government, but structures are more important than individuals replacing each other. There is no doubt that many officials intend to serve and decrease the problems, but they cannot do much within a defective structure.
When we are just trying to manage the crisis at hand, then suddenly a market is disrupted and the government has to contain it, after a while, the same thing happens to another market. To overcome this situation, the macro view towards the economy must change.
It Is Inevitable That the Next Government Will Interact With the West to Lift Sanctions
The editorial of Setareh Sobh argues that it is absolutely necessary for Iran's next government to establish relations with the global community, particularly the West, so that US sanctions are lifted and people's economic conditions improve.
Negotiating with the West is a decision made by the Iranian establishment and the head of the government just implements this decision. Under the current circumstances, neither President Hassan Rouhani has a significant role in this regard, nor will his successor, Ebrahim Raisi, play much of a role in it.
So, if the establishment decides to continue the negotiations with Western countries and de-escalate tensions, this approach will be included in the agenda of the next government as well. Or else, if escalation, isolation, and unwillingness to have relations With western countries are part of the establishment's agenda, the next president cannot make any changes to it and must move in that direction.
Iran will not be internationally isolated like North Korea, but it must also be kept in mind that it will not have trade relations with the world and experience development like South Korea. Iran's approach on the international level has in fact resulted in poor economic conditions for the people. Many positions adopted with regard to the country's foreign policy in the past have been influential in this regard.
As a result, there is a meaningful relationship between the international domain and people's economic situation. When there is no trade between Iran and other countries and banking relations with the countries of the world face serious challenges, one cannot be optimistic about people's economic conditions. We must wait and see what approach the new Iranian government will adopt with regard to the country's foreign policy, particularly in the context of America.
If Iran wants US sanctions to be lifted, it must accept that this will be impossible without preconditions, and the other side has its own conditions in this regard. If Iran is not after negotiations, it actually means the continuation of sanctions and more pressure on the Iranian people.
Some Iranian "hardliners" hold that people are used to sanctions, and it is not a problem if the sanctions continue. This view is not correct, and it will have damaging consequences for the country. So, there must be a resolve for lifting US sanctions.
Restricting Foreign Messenger Apps
The editorial of Servat explains that the new bill included in the agenda of the Iranian Parliament is for restricting cyberspace and will result in more filtering of the internet.
The Parliament has a plan in its agenda which is said to be for protecting users' rights in cyberspace and organizing social media. If the bill passes, users' activities on blocked messenger apps will be punishable by cash fine and imprisonment. Moreover, the Ministry of Information and Communications Technology will reduce the bandwidth of foreign messenger apps to half of the bandwidth of domestic messenger apps. All foreign messenger apps must be registered in Iran, or else they will be blocked. On the other hand, cyberspace users must use their real identity, which means all media, propaganda, financial and commercial activities will be subject to certain laws.
According to the new bill, those who break the law regarding the filtering of illegal messenger apps can be imprisoned from six months to two years. The bill stipulates that the Ministry of Information and Communications Technology must block access to illegal messenger apps. As such, social media like Instagram will be made illegal and probably filtered, if this bill is ratified. Restrictions on other social media platforms are likely to follow.
To put it simply, Instagram, for example, must introduce a legal Iranian company as its representative, which given the US sanctions and other issues, seems very unlikely. This issue will end in blocking all social media in Iran. As a result, many people who make their living through social media will soon lose their incomes.
To put it in a nutshell, this bill, according to ICT activists, is not for protecting cyberspace users; it is rather to restrict them.
Using VPNs will be punishable by cash fine and imprisonment, if the bill is ratified. What is more, messenger apps must follow the protocols of the Cyber Defense Command. It is not clear why this newly-founded organization has been put in charge of protocols and rules and regulations, instead of the Ministry of Information and Communication Technology.
Analysis of Low Turnout in Presidential Election
The editorial of Aftab Yazd reviews the reasons for people's low turnout in the recent presidential election – which was the lowest in Iran since the 1979 revolution. Along with the presidential election, the city council elections and other midterm elections were held and they too witnessed record low levels of public participation.
With the presidential election concluding and the result being announced, it is time to study and analyze the election results. Political observers, analysts and experts have expressed their opinions in this regard. Above all, there were 4 million spoiled ballots which require a realistic and logical explanation.
The main reasons for people's low turnout in the election can be divided into two groups:
1) Economic reasons: along with people's grievances about discrimination and rent-seeking, the level of widespread corruption in Iran's economy and trade sector is flabbergasting. In addition, high prices, inflation, unemployment, and above all widespread coronavirus cases, as well as lack of resolve to import vaccines, has made life really unbearable for people.
2) Some officials including President Hassan Rouhani blame the low turnout in the election on the widespread disqualification of candidates by the Guardian Council, and some analysts too have interpreted the low turnout as people refusing to vote because of the Guardian Council's measures. But the disqualification of candidates by the Guardian Council was not as significant a factor for people's low turnout as was discrimination, high prices, and unfulfilled promises which have made people frustrated.
The reason why people in deprived regions like eastern Iran had a higher turnout in the election was due to their religious beliefs, tribalism, and ethnic and religious prejudices. Otherwise, in these regions, too, the people are suffering from very serious problems and issues.
So, the low turnout in the election and the lack of participation of some citizens must be carefully studied so that these issues are not misinterpreted.
Waves of Labor Strikes in Iran: Workers in the Oil, Gas, Petrochemical Industry Launch Strike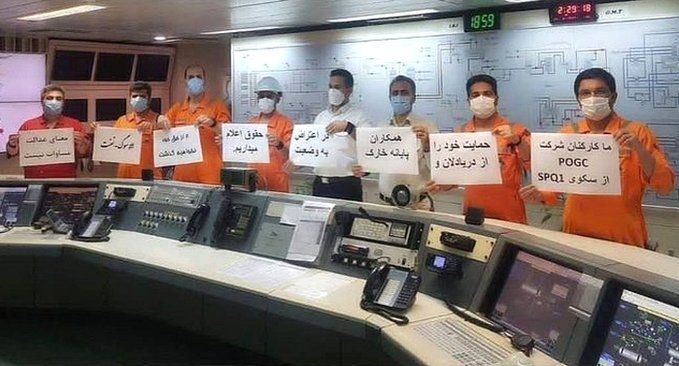 Workers of Iran's oil, gas and petrochemical industries have joined forces in an unprecedented, extensive strike in many provinces. Teachers, retirees and university students have supported the strike.
Refineries and power plants in eight provinces, including Khuzestan, Bushehr, Tehran, Esfahan, West Azerbaijan, Kerman, Ilam and Hormozgan are among the strikers. Official staff of Abadan Refinery, workers at Kayhan Pars Co at Esfahan Refinery and workers at Tehran's Mobin Sanat Rasin Co are some of the 60 companies on strike at present.
Strikers' demands include increasing salaries and on-time payment, increasing the number of off days, putting an end to workers' dismissal from their jobs, and annulling "slavery-like laws in free economic zones," among other demands.
Workers also request the authorities to observe health, environment and safety standards at their workplace as well as to recognize their right to having unions and holding protest assemblies.
Contract and project workers have repeatedly staged strikes in the past two years to no avail. This time, however, the official staff of the country's oil, gas and petrochemical industries have joined the strikers, forming a widespread protest for the first time since the 1979 revolution.
Meanwhile, the Parliament's Energy Committee has set up a meeting with the oil minister and IRGC representatives to address the issue. Last week, 700 workers who were on strike at Tehran Refinery were sacked.
Workers have published video clips from their strikes on social media. "All my co-workers and I who are in the same conditions are tired, hopeless and hungry. We are working under the most difficult conditions – from heat to being far from our families and most importantly, being exposed to death all the time. And yet in exchange, we have the least human and professional rights," said a labor protester working in the oil industry.
IRGC Unveils Anti-Coronavirus Vaccine After Its So-Called 'Coronavirus Detector'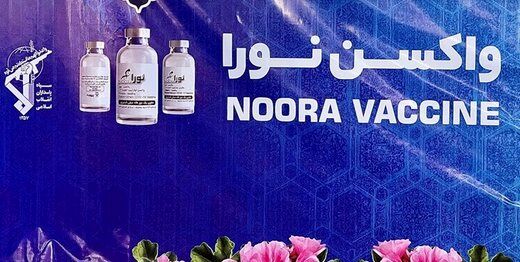 In the midst of the mounting death toll and the vaccine shortage in Iran, the IRGC has unveiled an anti-coronavirus vaccine called "Noura" as an "entirely domestic and national" product.
IRGC Chief Commander Hossein Salami at a ceremony attended by Health Minister Saeed Namaki noted the "recombined" vaccine was produced through the collaboration of Baghiatollah Medical University and Imam Hossein University.
This military institution had previously introduced a "virus detector," claiming it could identify coronavirus at a distance of 100 meters. Explaining its performance, Salami had said "the virus is placed inside the magazine of the detector, and the magnetic field it produces causes its antenna to identify any similar virus at a distance of 100 meters and moves towards it."
In reaction, Iran's Physics Society issued a statement, calling the commander's claims "unbelievable and comparable to science fiction."
Meanwhile, Iran is on the verge of the fifth wave of coronavirus with the Delta variant claiming lives in southern provinces. According to the country's secretary of the scientific committee on COVID-19, new cases are on the rise in southern Iran, spreading to other provinces.
At the same time, the vaccination process is extremely slow with fewer than 2 million people receiving the two doses so far. The elderly stand in line for hours to get their vaccines, and some have to hire individuals to stand in line instead of them by paying at least 100,000 tomans per hour.
IRGC officials, however, declare they are ready to export Iranian vaccines to poor countries. The IRGC commander even went so far as to say that Iran can now export its vaccines to the United States.
Based on official statistics, more than 84,000 people have died of coronavirus and more than 3 million have contracted it up to now.
Civil Activists Gathered to Protest "White Torture" in Iran; Civil Activist Refuses to End Strike in Prison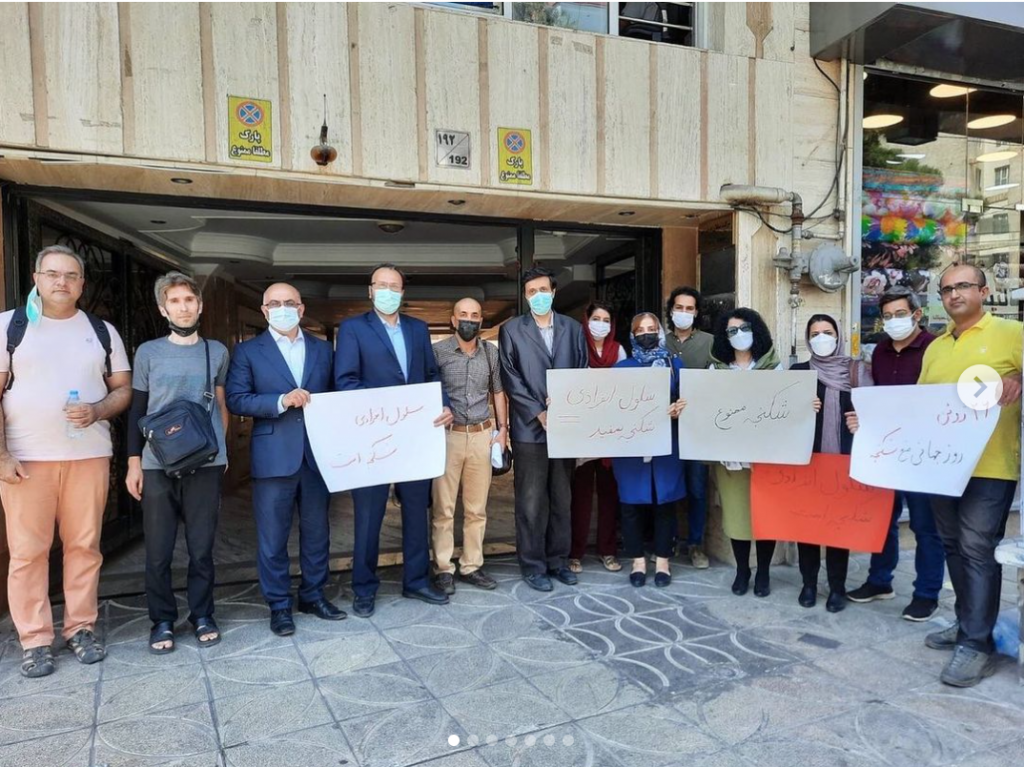 On International Day in Support of Victims of Torture, several renowned political and civil activists in Iran gathered to protest the use of solitary confinement as "white torture."
On June 26, human rights activist Narges Mohammadi, along with other human rights activists and movie director Jafar Panahi, Parvin Mohammadi, and Arash Sadeghi gathered in front of Tehran's judiciary complex.
Mohammadi posted a note on her Instagram page saying that for the fourth time, the protesters have filed a complaint against those who order and enforce solitary confinement – known as "white torture" – for prisoners in Iran.
In 1997, the United Nations termed any cruel, inhumane, humiliating measures as "crimes against humanity." As such, June 26 too was named as International Day in Support of Victims of Torture.
Amnesty International, in its latest report, cites numerous cases of torture in Iranian prisons including "beating, electric shocks, hanging from the roof, forcing prisoners to stand or sit in painful positions, sexual harassment, deliberate deprivation of medical care" calling them "systematic and continuous" violations of human rights.
In the meantime, according to Mohammad Nourizad's lawyer, his client will not end his strike until his demands are met. Nourizad's health has deteriorated due to several months of hunger strike.
Mohammad Hossein Aghasi, Nourizad's lawyer, has told HRANA human rights website that this prisoner of conscience has lost 25 kilograms, suffered from hearing loss, and lost consciousness 37 times due to more than 100 days of hunger strike and not taking his medications.
Mohammad Nourizad is one of 14 civil activists who signed a statement in 2019 calling for "Khamenei's resignation." His harsh criticism against Iranian Supreme Leader Ali Khamenei has resulted in his repeated arrest and conviction.
Nourizad is sentenced to 15 years of imprisonment, two years of exile, and two years of being banned from leaving the country.
Ghalibaf: We Will Never Provide the IAEA With Our Nuclear Recorded Data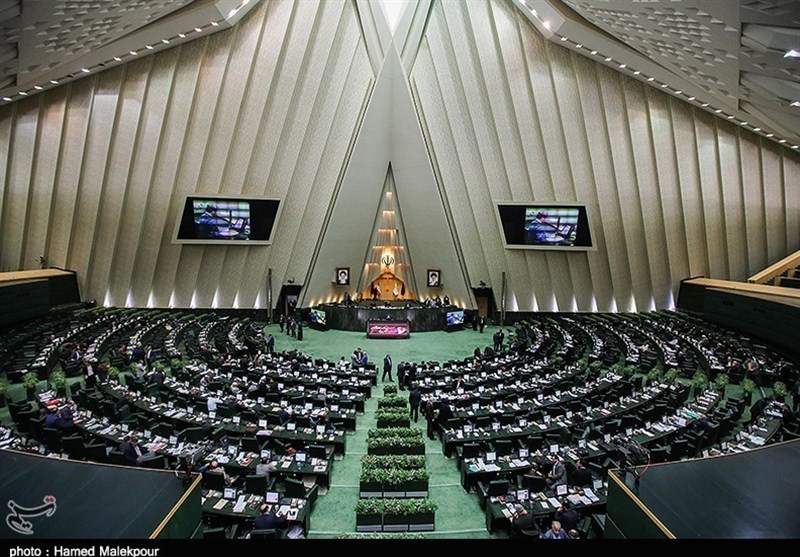 Discord is deepening between Iran and the International Atomic Energy Agency (IAEA) over the country's nuclear program.
In a recent comment, Parliament Speaker Mohammad Bagher Ghalibaf said the data related to Iran's nuclear program which was recorded after the agreement reached between Iran and the IAEA "would never be given to this agency."
"After the three-month period which has passed, nothing was extended and after that the data recorded inside [the country] is at the Islamic Republic of Iran's disposal and would never be given to the agency; the law is definitely being implemented," said Ghalibaf.
Iran and the IAEA reached an agreement in March based on which the agency's surveillance cameras would continue operating in nuclear facilities for three months but accessing the recorded data would be possible only if US sanctions on Iran were lifted.
Meanwhile, Iran's permanent representative at the IAEA noted that his country has no obligation to extend its agreement with the agency. Kazem Gharibabadi said: "The agency was not obliged to present a report regarding the expired joint agreement and recorded data."
He added that although the agreement was made between Iran and the agency, its basis was to facilitate political negotiations and its success, "not to oblige Iran to comply with the agency's demands."
The agreement was renewed amid nuclear negotiations, when all partners expressed their satisfaction at a "considerable improvement in negotiations." Recently, however, disagreements between the partners are on the rise.