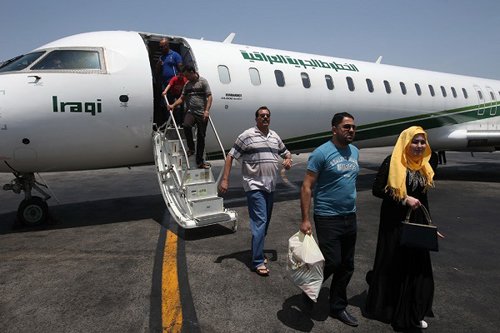 Previously, everybody kept quiet and denied it, but now we can talk about it: going and coming of Iraqi single men to houses for passengers in Mashhad has increased. Since they realize that they aren't allowed to enter hotels with Iranian women who accompany them, they go to 6,000 illegal houses for passengers in this pilgrimage city.
According to ISNA, Shahrvand said that since January, Europeans have been travelling less to Iran, but given the decrease in value of rial, Iraqis' trips to the country show 90% increase. Even though these trips have created economic prosperity in Khuzestan and Khorasan Razavi, they have created controversial sidelines as well. There are no statistics about the number of temporary marriages of Iraqi tourists with Iranian women, and we cannot put all these tourists in the same category. But actors in the field of tourism say even though this is not a major issue, it cannot be denied, and we must find some solutions here.
Earlier, Mohammad Moheb-Khodaee, deputy to tourism in the country, had pointed out to the growth of recent trips to Iran due to a decrease in value of rial, saying, "there has been 90% increase in tourists from Iraq, and Azerbaijanis' trips to Iran also show 70% increase. Afghans too have tripped to Iran 40% more. These growths have been in the field of pilgrimage, health and business". But these are not all the only things that attract Iraqi passengers to Iran. Even though Iranian tourism has always been important due to rich cultural heritage and existence of pilgrimage locations, it has now found new dimensions, which has made this industry controversial.
From the beginning, one of the promises of the government was taking steps in developing tourism, which is why Cultural Heritage Organization, handicraft, and tourism industry focused on attracting tourists more than anything else, to the extent that they distanced themselves from the cultural heritage. Removal of previous sanctions paved the path to tourism from Europe to Iran, but changes to the economic conditions of the country and new sanctions have blocked this path once again. The decrease in value of rial has created problems for the tourism industry, and controversial issues have created obstacles for this industry. Until recently, there was the issue of buying real estate in Mashhad and Khuzestan in the social media, but now the old story is brought up again.
Even though this includes a small percentage of tourists, it has become controversial in Abadan and Khorramshahr too. Arvand Free Zone, which has hosted Iraqi passengers since November last year after revoking visa requirement, has been involved in these controversies. Amidst rumors, one can trace illegal temporary houses that are now and then set up for taking sexual advantage of women.
We cannot deny it!
Mohammad Ghanei, head of the hotel-owners union in Khorasan Razavi, confirmed the presence of Iraqi single men with Iranian women in houses for passengers, saying, "in cities like Mashhad and Qom which accept pilgrims, one can more see non-Iranians – especially Iraqi Arabs – going to hotels. And now with raising the issue of temporary marriage, we have to be more careful."
But Ghanei confirmed that not only in Mashhad, but all over the country, men and women who are not legally married will not be accepted; "under our law, the marriage of Iranian women and foreigners is possible only under certain rules and conditions, and if these rules are not met, there will not be any marriages. Now here there is the issue of temporary marriage, which is illegal. Therefore, those who are not legal spouses will not be accepted in hotels. As long as this issue is not resolved, the marriage is considered illegal, and this kind of marriages has its own problems. It is not possible to accept in hotels non-Iranian men with Iranian women who are not legally married."
In April this year, in a meeting of headquarter for trip services in Khorasan Razavi Province, it was said that there are more than 7300 houses for passengers, 600 of which have been able to obtain permits. Head of hotel-owners union in Khorasan Razavi would not deny that these people are accepted in houses of passengers "due to a great number of different residential places, there is no need for houses for passengers. However, Iraqi single men enter these places illegally. That is why we are against the activities of such houses. The outcome of this process is very important for the honor of our country."
When talking about statistics of Iraqi tourists in Mashhad, he is not certain about using the word "fortunately" or "unfortunately"; "in the past month, foreign tourists – particularly Iraqis – have had considerable presence in Mashhad, which has made the hotels thriving. Before this, our colleagues were making losses, but this process has stopped their losses."
With the value of national currency going down, trips to Iran and making purchases in the markets will be very cheap for Iraqi passengers. According to Ghanei, while the rates in Iran have not increased, trips to Iran will be very profitable for tourists, given the threefold decrease in the value of national currency. With ease of mind they make their purchases, and with the price they pay for a sandwich in their own countries, they stay in Iranian hotels for one night. Nevertheless, one cannot ignore the economic profits one makes because of the presence of tourists in different cities.
Mentioning Iran's name with certain attitude!
Three years ago, the Guardian published a report, claiming the existence of sex tourism in the city of Mashhad. This report which was about the presence of Iraqi pilgrims in Mashhad talked about prostitution in this city, and there were some reactions to it. But now, it is the head of hotel-owners union in Khorasan Razavi who says,"Iran's name is mentioned among Iraqis with a certain attitude –the same attitude that many Iranians have towards Thailand. This issue was repeatedly denied, and no one talked about it, but now we think that there must be a sensitivity towards it, and we must talk about it. We have raised this issue in official meetings. But unfortunately, it cannot be confronted openly, because we have to keep investments in the field of tourism alive. Under the current circumstances and problems in our country, such sidelines can be expected. In this regard, we need to make collective decisions which will take all aspects into accounts. There are special circumstances, and we should see which one is to the advantage of the country."
Not all tourists are cut from the same cloth!
Despite the atmosphere against Iraqi tourism, Ebrahim Pourfaraj, Head of Iranian Tour Operators Association, believes that not all should be treated in the same way, because controversy will drive tourists away from the country. He brings the example of Iraqi tourists to west Azerbaijan, in which "useless arguments" made them change their destinations and go to other countries such as Turkey for health tourism.
Pourfaraj further says, "among Iraqi tourists, there are people who come with their families to Iran for medical issues, and some go to cities in northern Iran for tourism. It is also said that some of them come to Iran for having certain relations, and names of Mashhad and Abadan are mentioned in this regard. But the question is: do all these tourists, who come to Iran, have something like that in mind? Can one say that all Iranians who go abroad do so for having free relationships? Such a judgment can be extended to Iraqis who come to Iran. Many of these tourists come to Iran for shopping, travelling, using Iranian goods and enjoying the good weather, although probably there are some people among them who come with other intentions. We cannot, however, consider them all from the same cloth."
He confirms that a solution must be found for this issue immediately, and gives an example to clarify his point saying, "statistics show driving violations among Tehrani citizens. And the statistics show that many accidents are due to these violations. However, can we say that all drivers in Tehran break the law? The truth is that in all social issues, violations are more conspicuous than other issues, but one cannot rely on them to ignore all issues. These are the violators who are seen and talked about. Without a doubt, there are violations among tourists that have been seen. And certain preventive measures can be taken to reduce the small amount. But it shouldn't be an excuse for preventing all Iraqi tourists from entering Iran."
Clashes in Abadan
The presence of Iraqis in Abadan and Khorramshahr has been with economic prosperity, but some citizens are not happy about it. As many tourists visisted the country, the economic profits rose, but that made the prices of goods and some foods go up for citizens in Abadan and Khorramshahr. Moreover, there has been other issues as well: rumors of clash among Iranians and Iraqi men. As a result, there has been a wave of dissatisfactions among citizens.
Previously, Morteza Nematzadeh, deputy of Social Culture and Tourism of High Council of Free Zones in the country, had said with regard to cultural differences between the tourists and citizens, the conflicts, and collective dissatisfaction of people, "we have been paying attention to this issue [conflicts] in the field of tourism and economy, and certain studies and reports have been prepared in this regard. We want the issue of tourism and economy to continue. So it is expected that all social and security organizations that are involved in these issues have focused on this. This is an important issue that has social impacts, and we must be careful and make an effort to develop tourism and resolve the issues. On the other hand, part of the issues is because of people's concerns. As a result of these concerns, rumors of clashes between citizens of these two countries are spread every day."
Translated material: Radio Zamaneh site