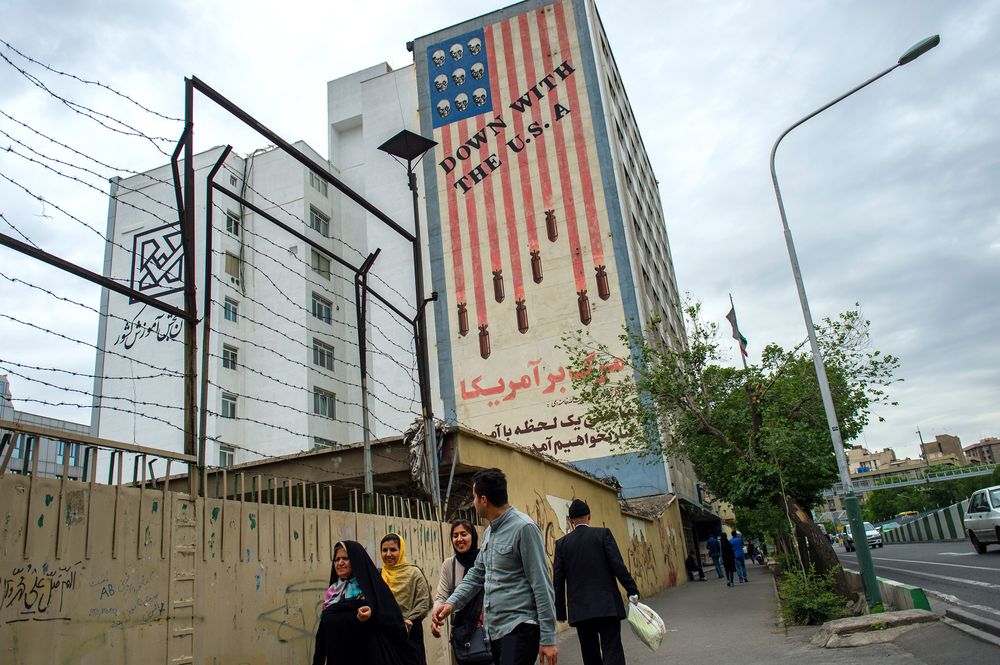 Signs of a power struggle between the United States and Iran have added to the Iranian state's dysfunctional fight against Covid-19. In March, US sanctions against Iran expanded. With no sanction relief expected, Tehran is adopting high-risk policies to prevent economic meltdown in the country.
On March 18, the United States introduced fresh sanctions against entities and individuals providing revenue sources to the government in Iran. The new sanctions will isolate Iran diplomatically, and blacklist companies in the United Arab Emirates (UAE), China, Hong Kong, and South Africa for trading petrochemicals with Tehran.
Iran is the epicenter of the coronavirus outbreak in the Middle East, and blames US sanctions rather than its lax policies for the spread of the virus in the country. Washington says that the virus will not save Tehran from its sanctions.
Experts in Iran hope that at least some humanitarian relief will help Tehran bypass US sanctions. The European Union says it will use the Instrument in Support of Trade Exchanges (INSTEX), a European special-purpose vehicle established in January 2019, to send Iran 20 million euros in humanitarian aid to fight the virus.
Switzerland will operate a new payment mechanism to allow humanitarian aid to be sent to Iran, but the channel is subject to strict measures to prevent its misuse by Tehran. However, it is not clear how fast this mechanism can provide aid to Iran. Also, Iran has asked the International Monetary Fund (IMF) for a $5 billion emergency loan.
Meanwhile, the United Nations (UN) said sanctions on Iran should be suspended to prevent the country's medical system from collapsing, and the UN High Commissioner for Human Rights Michelle Bachelet called on G-20 countries to waive sanctions on hard hit Covid-19 countries like Iran.
Iran is also adopting high-risk policies of its own in order to save its battered economy. On April 5, President Hassan Rouhani said low-risk businesses will reopen in the country, over two-thirds of employees will return to work, and schools will resume, ignoring the fact that Iran is in a red Covid-19 zone. This means new waves of virus infections are to be expected in the next several weeks.
According to reports, Iran's economy cannot afford to shut down even for a month despite a proposed parliamentary bill to halt economic activities while the country fights the virus. Government sources say some 70 million Iranians are potential carriers of the virus, but Iran's economic wheel must keep moving while it fights the virus.
Iran's bourse has dropped to a record breaking low, signaling a major recession, after a slight recovery of 25 percent last week due to higher oil prices. Though investors are eager to buy shares, investment risk is alarmingly high given the low level of liquidity, higher inflation rates that the stock market cannot regulate, and uncertain oil markets.
Interest rates in Iran are dropping as well, and more bank loans are unlikely to be repaid as businesses struggle even further due to the economic meltdown caused by Covid-19. According to the head of Iran's Central Bank Abdolnaser Hemmati, overcoming the economic damage caused by Covid-19 and US sanctions is going to be extremely difficult. As a result, fears of regime stability in Iran have grown among elite circles.
President Rouhani has asked to use $1 billion from Iran's National Development Fund to fill budget deficits. This could help save the government from a new wave of anti-government protests.
In late March, in a letter to Iran's president, 50 Iranian economists and academics proposed several steps to him to cushion the economy from a hard crash. The steps included direct cash payments worth 1 million tomans to each Iranian, and for credit lines to be expanded. In addition, they suggested offering compensation and loans to small businesses and deferring tax collection as well as extending social assistance to lower-income groups, as many experts have warned that 2 million daily laborers have lost their jobs since the outbreak of the virus. However, the government released a bigger package worth 75,000 billion tomans to sustain production and employment in the country.
Despite this vast economic package, further oil price cuts are likely to lead to Iran's business sector collapsing and foreign exchange rates hiking. The current dollar exchange rate is at 15,900 tomans, which is several times higher than before the sanctions. The future of Iran's economy is unclear, but it is unlikely to recover quickly from this additional blow caused by Covid-19.