On Sunday, May 10, 2020, local journalists and activists on social media announced that an Iranian naval support vessel was struck by a missile from an Iranian Navy frigate, killing at least 19 and injuring 15 of its passengers and crew members.
The incident, which took place about 790 miles southeast of Tehran near the port of Jask during a military exercise, was confirmed later by the Iranian Navy.
According to local social media, the support vessel Konarak sank after it was accidently targeted by the new anti-ship cruise missile Noor which was being tested by the Iranian frigate Jamaran. The Iranian authorities' silence on the incident extended to the following day when the Iranian Navy issued an official statement.
I-Technical Error or Electronic Warfare?
Iranian official statements and media, including the IRGC-linked hardline news agency Tasnim, stated that the vessel Konarak was hit by a missile fired by the Jamaran frigate during a military exercise in the waters of Jask and Chabahar.
The statement of Iran's Navy has not confirmed whether electronic warfare by the "enemy" or a technical error was to blame for the incident. In either case, such catastrophic failure negatively affects the assessment of the size and capabilities of Iran's missile force. A technical defect in the missile leading to the incident, would most certainly question its precision, if it were the case, especially after Iran has recently boasted about manufacturing high-precision missiles.
Equally detrimental would be, if the United States, whom Iran believes to be an enemy, was responsible for such an act in response to Iranian navy vessels harassing US navy vessels. This would mean that Iran's missiles can be easily manipulated and even turned into weapons against its own forces.
II-Over Forty Years in Service
Both Jamaran and Konarak were manufactured prior to Iran's 1979 revolution. Despite continuous maintenance over the past 40 years, these naval vessels endanger passengers onboard rather than protect them. Iran's navigational errors are nothing new. In January 2018, an Iranian navy frigate called Damavand crashed into a jetty in the Caspian Sea in northern Iran, killing two sailors of the Iranian Navy and injuring several crew members.
Although Damavand was claimed to be an advanced indigenous destroyer in Iran's arsenal, the vessel was not ideal for operations in the shallow waters of the Caspian Sea. Iran's military announcements, therefore, are a mere display of power rather than a mark of progress.
1- Jamaran
Jamaran, launched in early 2010 in Bandar-e-Abbas, is the lead ship of Iran's Moudge-class frigate. It belongs to the Iranian Army. According to Iran's naval forces, the home-built frigate was made with the help of Marine Industries Group and marked a major technological leap for Iran's naval industries.
The frigate, with Iran overestimating its strength by calling it a "destroyer," was built before the I979 revolution when the government of Mohammad Reza Shah acquired four 1960s-era British-built Vosper MK 5 class corvettes. The four frigates were named Sabalan, Sahand, Alborz and Alvand. They underwent some modifications and maintenance after the Iranian revolution in 1979 along with Jamaran.
Technical Specifications of Jamaran:
| | | | | |
| --- | --- | --- | --- | --- |
| Crew | Displacement | Speed | Beam | Length |
| 140 | 1500 tons | 30 kn | 10 m | 94.5 m |
Jamaran is equipped with light torpedoes, anti-ship cruise missiles, known as Noor, medium-range ballistic missiles, known as Fajr and a 20 mm Oerlikon cannon. The frigate is also fitted with two navigation radars and one fire control radar. It is claimed to be the first Iranian frigate to have a heliport for heavy helicopters.
The Jamaran frigate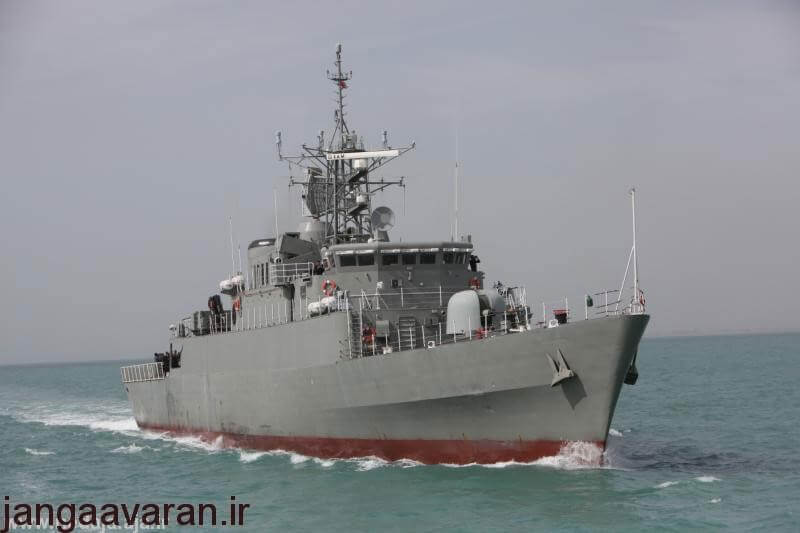 2- Konarak
Konarak is a Hendijan-class support and logistics ship that belongs to the Iranian army and it was manufactured by Damen Shipyard in the Netherlands. The ship, acquired by Iran more than 40 years ago, entered service in the Iranian Navy on October 8, 2018 after it was overhauled.
Technical Specifications of Konarak:
| | | | | |
| --- | --- | --- | --- | --- |
| Crew | Displacement | Draft | Beam | Length |
| 100 | 460 tons | 2.9 m | 8.5 m | 47 m |
Konarak, which was struck by a Noor missile fired from Jamaran, is equipped with the Noor missiles and a 20 mm Oerlikon cannon. It is also capable of laying sea mines.
The Konarak ship
III-Noor
Even though Jamaran and Konarak are old and poorly maintained, the Iranian Navy's statement only attributed the missile firing incident to a technical error. The Noor missiles are believed to be a variant of the Chinese C801 and C802[1] and among the very first Iranian-made cruise missiles as they entered service in the Iranian armed forces in 1991.
Technical Specifications of Noor:
| | | | | | |
| --- | --- | --- | --- | --- | --- |
| Warhead | Weight | Speed | Diameter | Length | Operational range |
| 165 kg | 715 kg | 0.9 mc | 36 cm | 6.38 m | 40 – 170 km |
Noor is solid-fuelled and designed to attack boats or coastal targets. The missile is used on several launch pads such as the BH 7 hovercrafts, Mil-17 helicopters, and F-4 Phantom fighter jets. Iran's Noor has been among the missiles transferred to pro-Iran groups such as Hezbollah in Lebanon and the Houthis in Yemen. In 2016, the Arab coalition in Yemen announced that the Houthis fired Iran-supplied anti-ship missiles at UAE ships. The missile was later identified as a Noor anti-ship missile.
A Noor missile fired from a frigate

A Noor missile launched from a mobile coastal platform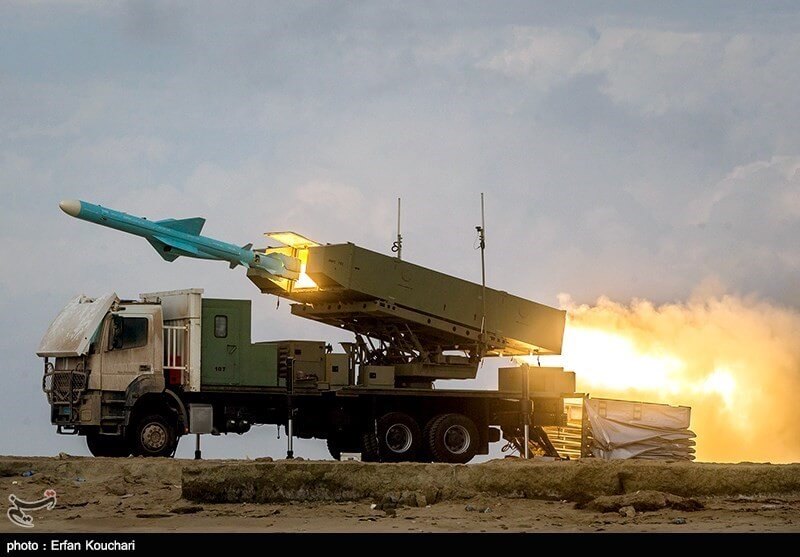 VI-Iran Hides Shortcomings by Overestimating Capabilities
Iranian military commanders and media outlets with close ties to Iran's Revolutionary Guards often vastly overestimate their country's military capabilities. The Iranian Navy, for example, insists on calling the Jamaran frigate a "destroyer" although its core mission is far from that of a destroyer. The Navy also calls Konarak a "frigate" even though it is a support vessel.
Despite its periodical announcements of major advances in weapons, the Iranian Navy is not among the most capable navies in the world. Moreover, most of the country's indigenously developed weapons are reverse-engineered variants of other nations. For a long period of time, Iran has been banned from importing weapons and spare parts. This has hindered Iran's manufacture of advanced weapons.
To demonstrate its ability to resist US sanctions, Iran implemented the strategy of inflating and exaggerating its military achievements as a firm principle in its military doctrine. The country also claims it seeks to achieve self-sufficiency in building military equipment despite its continued black-market activity.
V– Analysis and Conclusion
After the downing of a Ukrainian passenger plane, the friendly fire incident confirms that the Iranian military establishment is suffering from shortcomings.
These repeated blunders lead to the following conclusions:
1-The command and control process in the Iranian military suffers from an apparent weakness in controlling weapons. This assertion is based on Iran's official statement that suggests the firing of the missile was a mistake.
2- Iran's regular navy is unprofessional despite efforts to restore its power. Since the 1979 revolution, Iran has neglected its regular army's land, sea, and air forces and has focused its attention on the IRGC Navy and its armed speedboats.
3- The capabilities of Iran's ships are overestimated and therefore incompatible with their actual capabilities.
4- Rules of military exercises were not followed. Live-firing exercises, for example, should only be conducted against derelict equipment.