Wrong policies have resulted in more poverty and inequality
The editorial of Tejarat emphasizes that the slogan of social justice has been abused by Iranian politicians when dealing with the issue of poverty and inequality, while the gap between the social classes in Iran has widened.
During the past decades, Iranian politicians have spoken of the need to reduce poverty and inequality. Their mantra has been social justice. But all the policies introduced to support the less-privileged in society have had damaging outcomes resulting in more poverty and inequality.
In all these years, the government has adopted wrong policies such as stabilizing the price of gasoline and currency as well as suppressing economic freedoms to alleviate poverty.
The main problem is that Iranian politicians have always used the slogan of social justice to cover for inefficient economic policymaking. When they want to keep people happy, they keep the price of fuel low in the name of social justice; then decades later, they raise the price of fuel in the name of social justice!
History has proven that politicians in the parliament and the government have imposed a heavy price on the country in the name of social justice. Different policies — such as the nationalization of industries and banks, the formation of construction Jihad, paying cash subsidies, the Mehr Housing project — were implemented. Yet there are millions of poor people in the country, many graduates are unemployed, and the gap between social classes has widened.
On paper, there are many ideas and dreams, yet economic solutions are very few. Replacing economic logic with populist rhetoric has resulted in the country paying a high price. More than once, Iran's economy has been sacrificed for the sake of populism. It can no longer be shocked by populist policymaking.
Rouhani's security approach
The editorial of Jahan Sanat focuses on the Iranian President Hassan Rouhani's security approach to the popular protests. He views the protesters as rioters and does not recognize their right to protest against poor social, cultural, social, and economic conditions.
It is not for the first time that Hassan Rouhani is not capable of correctly analyzing and assessing the conditions in the country. That has two reasons: first, Rouhani's security mindset. More than being a political figure, he has a security background and sees issues and events from a security perspective. Second, as always, Rouhani lacks a good advisory team.
Almost two weeks after the protests against gasoline prices tripling began, Rouhani has shown regret over the remarks he made on the first day of the protests, labeling all protesters as rioters.
Of course, it must be emphasized that Rouhani's regret is of no use. The president sees issues from a security perspective, and so do his advisors such as Hesamodin Ashena who said strange things in regard to the protests against gasoline prices tripling. In the midst of the protests, Ashena compared them to MEK's military operations against the Islamic Republic. Such a security approach exists among cabinet members and is not unprecedented.
Rouhani makes flagrant mistakes in his analysis of the situation. His recent remarks regarding the protests — which are in contrast with his campaign promises and slogans — betray his true nature. With regard to the recent protests – as well as the unrests of 2017 – he talked and acted as a full-out security figure.
Rouhani doesn't want to believe that the protests were against social, cultural, social, and economic conditions in Iran.
What are the sources of the budget if there is no oil revenue?
The editorial of Setareh Sobh explains the main challenge facing Iran's budget bill for next year, as there is a severe drop in oil revenues.
The Iranian president submitted thebudget bill for next year to the parliament so that lawmakers can start reviewing it. It is said that given the drop in oil revenues, there will be changes in banking resources and tax revenues.
It must be noted that banking resources cannot replace oil revenues, while tax revenues cannot be increased under the current recession. If the economic sectors are pressured to pay more taxes, the recession will increase.
It is not clear if officials have the necessary permission or power to make certain institutes to pay their taxes – institutes that have been exempted from paying taxes so far. All individuals and legal entities must pay taxes. But there are powerful economic institutes in Iran that do not announce their incomes, nor do they pay any taxes to the government. These institutes can play an important role in the government's tax revenues.
With a decrease in oil revenues, banking resources cannot compensate for not selling oil, unless the government decides to borrow money from the central bank. And that means printing money which will cause inflation. Given the fact that the inflation rate has been rather high in past two years, there has been a lot of pressure on the lower classes, which has resulted in their purchasing power declining and poverty increasing.
Under the current conditions when economic sanctions have been imposed on Iran and the country is involved in a real economic war, certain economic institutes and foundations that possess billions of dollars must spend their assets to help the country and cover the government's budget deficit.
Currently, the government has announced that it needs 74,000 billion tomans in order to pay cash subsidies next year. If the necessary financial resources are not raised to pay for these subsidies , the government will face difficulties in providing for the budget next year. Otherwise, the government has no other choice but to print money, which will result in a very high inflation rate.
Holding an early presidential election in Iran
The editorial of Etemad, written by "reformist" Abbas Abdi, proposes that the only way for exiting the current deteriorating situation in Iran is to hold an early presidential election.
No government, even under normal conditions, cannot and should not continue its management under so much tensions. Under most political systems, there are methods in place to deal with such realities. A government gaining a vote of confidence again to continue its managment of the country is one of such methods.
Dissolving the parliament and holding elections again, as well as the prime minister resigning or the head of the government are all methods for passing through unstable situations. In Iran too we should stop looking for any culprit and we must look for a way to pass through the current conditions.
To overcome the existing problems in economy, as well as foreign and domestic policies, we need a minimum level of unity between the government and other parts of the establishment. But no such unity exists in Iran. The rift within the power structure is getting deeper and deeper. Listening to or watching some speeches against the government makes anyone worried about the future of the country.
The status quo, therefore, must be seriously reconsidered, particularly after the recent protests. So what are the possible options?
First off, the government might be after gaining the parliament's vote of confidence. But that would be to no avail, as the parliament's agreement or disagreement is not the main issue. So even if lawmakers give vote of confidence to the government, it will be of no use.
The second option is changing the entire cabinet and bringing in new motivated people. But that too is not helpful. It might take a long time to find the right people and, above all, they might not accept such positions.
The third option is holding an early presidential election. Nothing less than this will make people believe that there is a real will to make changes within the establishment.
We are facing bad options, but continuation of the current situation is the worst. Politicians and officials can honestly clarify the current situation, preparing the way for holding an early election to deal with deteriorating conditions.
Many protesters were killed in Mahshahr, admits a lawmaker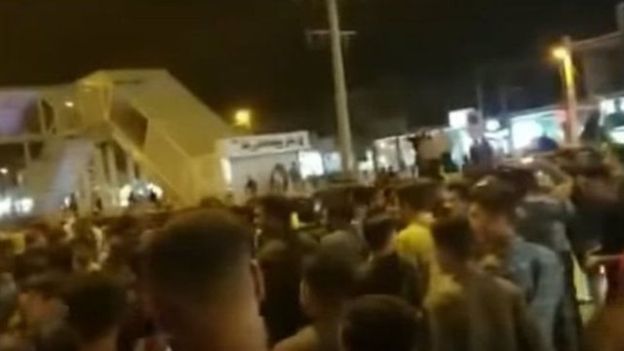 MP Amir Hossein Ghazizadeh, member of parliament's board of directors, admitted that many people were killed during the recent protests in the city of Mahshahr, located in Khuzestan province. Ghazizadeh claimed that the protesters wanted to damage the main gas and oil pipelines in this city.
As a result of a severe crackdown on protests that were staged against gasoline prices tripling in Iran, at least 208 people were killed.
Like many other cities in Iran, Mahshahr's residents staged protests against gasoline prices tripling. According to reports, the security forces engaged in a severe confrontation with protesters in this city, as a result of which between 40 to 100 people were killed.
Several weeks after the protests in Iran, the exact number of people who were either killed or arrested is not clear.
Mahshahr is one of the most important oil and petrochemical centers in Iran.
According to eyewitnesses' reports, during the unrests in Mahshahr, the security forces extensively fired at people and many were killed or injured.
The United States puts sanctions on several Iranian transportation companies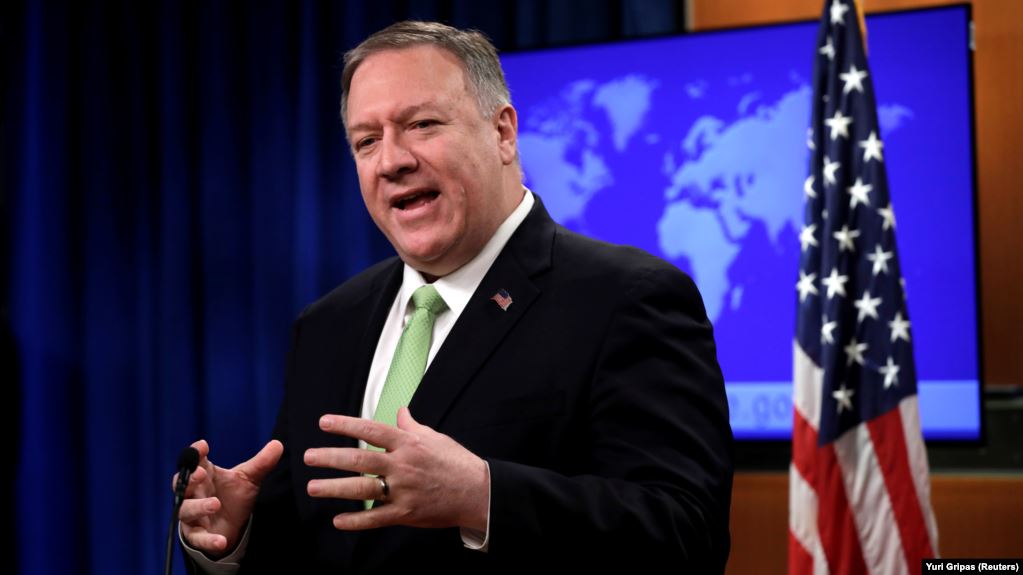 The US Secretary of State Mike Pompeo, in continuation of the US maximum pressure policy, announced new sanctions against the Islamic Republic.
Pompeo said several transportation companies that are involved in transporting weapons of mass destruction (WMD) will be sanctioned. The US also included Abdulhossein Khedr, CEO of Khedri Jahan Darya Company, in its sanctions list, on charge of having ties with Iran's Islamic Revolutionary Guard Corps (IRGC).
The US Treasury Department also put sanctions on the following companies: Maritime Silk Road Company Ltd located in Oman, Gatewick Aviation Services located in Dubai, Gomei Aviation Services located in Hong Kong, and Jahan Destinations Travel and Tourism. The US Treasury announced that the IRGC Quds Forces uses these companies for sending weapons to Houthi rebels.
The US new sanctions also target three Mahan airline sales agents in UAE and Hong Kong.
Pompeo urged that Washington has put additional sanctions on Mahan Airlines due to its role in transporting WMD.
The US Secretary of State said he has talked to his Chinese counterpart regarding more sanctions on Iran, asking him not buy oil from Iran. Pompeo urged that these sanctions are not against China or the Iranian people, but against the regional policies of the Islamic Republic.
Increasing the budget of religious institutions
In the 2020-2021 budget bill, Rouhani's government has increased the budget of religious institutions that are under the control of Iran's supreme leader. Just a few weeks ago, those protesting in cities right across Iran against gasoline prices tripling were killed, and, to justify gasoline prices tripling, the government talked of a budget deficit. But now the Iranian people see that huge amounts of money have been allocated to religious institutions in the budget bill next year.
The allocated budget to these institutions is more than 1322 billion tomans. Part of the budget is for promoting the ruling ideology of the regime, and part of it is to create revenue streams and social safety nets for clerics. Also, a special budget is allocated for unemployed clerics in the 2020-2021 budget bill.
Just as an example, the budget for the Shiite propaganda center, Al Mustafa International University, will be 309 billion tomans. This university is in charge of recruiting religious students from different counties, training them in Iran, and then sending them back to their countries in order for them to promote Shiite propaganda. The budget of the propaganda institutions of the Islamic Republic that are involved in promoting Shiism abroad amounts to more than 640 billion tomans.
While the establishment gives away money to these ideological and religious institutions so generously even under economic sanctions and pressures, it is sad to say that there is little effort to fight poverty and to reconstruct the country's deteriorating economic environment. It is hard to believe that the total budget of seminaries is ten times more than that of fighting air pollution.
It must be noted that these institutions are acting directly or indirectly under the supreme leader and are not accountable in regards to how they spend their allocations to anyone.
Purchase power decreases, theft increases
Studies show that along with purchasing power declining in Iran, the rate of theft in Tehran and other cities has increased.
The manager of a chain store in Alborz province said that during the past year, along with the deteriorating socio-economic conditions, information from the stores under his supervision indicate an increase in theft. He added that despite increasing the number of security guards and CCTVs in the stores that he manages, it is not possible to control the situation and small items are stolen. The store manager emphasized that it is mostly ordinary people who are stealing – those who are not capable of providing for their own needs.
In this regard, a woman told Hamshahri newspaper that she was one of those who shoplifted from a chain store, adding "I say my prayers. But that day, I entered the store and took a 10kg bag of rice. May God forgive me! It was for two months that we hadn't had any rice at home. May God forgive me!"
A look at the statistics provided by law enforcement agencies and the judiciary prove that theft in Tehran and other provinces in Iran has increased. In addition to shoplifting from stores, there is an increase in vehicle theft, burglary, and theft from banks and internet banking accounts
For instance, in Khorasan Razavi province, the police have announced a 30% increase in car theft. Police reports show a similar increase in other provinces in Iran.
Iran's Center of Statistics recently announced a decrease in purchasing power. This center confirms that inflation has increased by 41%, with hikes in the price of edibles, beverages, and tobacco. There is also an increase in the price of vehicles, housing, gold, and currency.