Signs of inflationary recession
The editorial of Kasbokar news predicts a gloomy future for Iran's economy in the new year [starting on March 21], as signs of inflationary recession can already be seen in the market.
In the current year, there were indicators in the country's economy, which created fluctuations in the market, currency, and prices. A strong correlation between the rate of currency and inflation has been created. This year we faced a phenomenon in which an increase in prices meant a loss of value in the national currency and an increase in inflation.
Since this inflation was due to domestic factors and a lack of a proper market, the conditions will worsen. It can be predicted that the rate of inflation will increase. As there is no prediction for positive economic growth next year and some indicators even predict negative growth, a severe inflationary recession can be expected for the market, and its signs can be seen.
Gradually, these signs will become stronger, and unemployment too will turn into a more serious problem. As such, it seems that the Iranian government has a tough road ahead: to create demand, it has to create trust in investment and financing, as well as to provide the necessary security for investment. Creating trust in foreign relations seems inevitable as well.
The Government of Hope is hopeless!
The editorial of Sedaye Eslahat focuses on the failure of Hassan Rouhani's government in solving the people's problems and gaining their trust during the last year.
Rouhani's so-called 'government of hope and measure' ended the Iranian year without any hopes for the future. Last year didn't go as promised; people lost hope in the government and distanced themselves from the establishment.
If we take a comprehensive look at the performance of Rouhani's government, the editorial continues, we will find nothing but words and empty promises. The country's economy was exhausted, and none of the government's economic policies and decisions were implemented as well as they should have been.
Rouhani and his cabinet were expected either to find a solution to the problems the country was facing or to resign when they couldn't do so. However, they didn't resign and instead destroyed the interests of the people and the country. Looking at the past, one can see that no government has ever eclipsed the hopes and wishes of the people as much as Rouhani's government has done.
Rouhani will start the coming Iranian year [starting on March 21] with unfortunate facts: an economy in crisis in which there is no place for the people, and a culture in which none of the President's promises have come true and the people have been neglected.
In the New Year, Rouhani will no longer be popular, as people have lost hope in him and his government. This is the result of Rouhani distancing himself from the people and having high hopes for Europe's and Britain's policies, the editorialist holds. When a President cannot recognize the needs of his country and its people, how can he be successful in foreign policy?
The people will no longer trust Rouhani or any other faction that will come after him, as the 12th government has shown that it doesn't care about the people's votes.
Nowruz with no joy!
The editorial of Aftab Eghtesadi focuses on the issue of high prices before Nowruz [beginning of the Iranian New Year] and the lack of purchasing power which has made it impossible to enjoy this traditional festival, as the people used to.
Not a long time ago, when we walked in the streets before Nowruz, we could feel the spring and the coming of the new year. We could see people enjoying their shopping for the New Year. Nevertheless, today there is no sign of Nowruz, and the people have lost their purchasing power to the extent that they won't even enter shops to make a purchase.
Nuts and dried fruits are on top of the most expensive items for Nowruz this year. According to statistics, the price of pistachios has seen a 306% increase and almonds has seen a 64% increase compared to the same period last year. The statistics show that the sales of nuts and dried fruits have dropped to one fourth compared to last year.
During the past 6 months in which the United States pulled out of the nuclear deal, socio-economic conditions have worsened day by day. Nevertheless, people tried to pretend they were happy as Nowruz approached. They launched different campaigns to not buy nuts or dried fruits so that prices would fall allowing purchases to be made in the market.
It must not be forgotten that it is not just nuts and dried fruits that have become expensive during such a short period; the prices of other items such as clothes and essential goods have largely increased. Government officials haven't been able to do much about
these increasing prices.
Meanwhile, some people think that the people launching such campaigns not to buy goods is subversive, however people launched them to draw the attention of officials to such issues to force them to do something about them.
Systematic corruption; chronic disease in Iran
The editorial of Sedaye Eslahat addresses the issue of widespread systematic corruption in Iran and a lack of resolve to fight it.
Systematic corruption resulted in certain irregularities, it was impossible to confront it legally. As it is rooted in organizations, systematic corruption cannot be confronted.
The editorial adds that arbitrary power, monopoly and a lack of transparency are three important factors in the emergence of systematic corruption, implying the fact that despite the existence of law, there are ways to circumvent it. When those in charge of fighting corruption are corrupt themselves, one cannot expect the fight to be led as best as possible. This will damage public trust.
When an organization struggles with systematic corruption, it cannot save itself, and it will gradually sink the entire society with itself. This defective cycle can be seen in certain organizations these days, and there isn't much chance of getting rid of it completely.
The editorial asserts that the first step in fighting systematic corruption is transparency, which has been blocked for a while. However, officials must know that the lack of transparency and systematic corruption have found their way to shape public opinion, as well as endangering the country's interests.
The main question is despite the existence of systematic corruption, why isn't there any oversight on violations? Systematic corruption has turned into a chronic disease in Iran, and Iranian officials are not taking any serious measures against it.

Brian Hook to Rouhani: Iranians need jobs, not a curse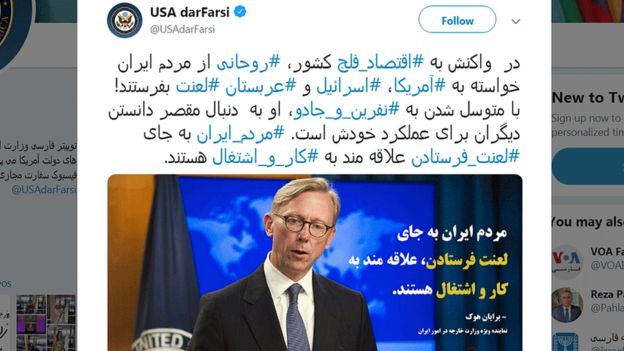 The US Special Representative for Iran Brian Hook said that the Islamic Republic's President has resorted to cursing and magic for resolving the issues that exist in Iran. This was in response to Hassan Rouhani's remarks, saying that Iranians must put a curse on America for the conditions that exist in Iran.
Hours later Brian Hook reacted to these remarks and said, 'In reaction to the country's paralyzed economy, Rouhani has asked Iranian people to put a curse on America, Israel, and Saudi Arabia! By resorting to putting a curse and magic, he is looking for blaming others for his own performance. Iranian people are interested in jobs and employment, not cursing.'
The Iranian President, in his last cabinet meeting before the beginning of the Iranian New Year, had said that America, Israel, and their regional allies have created problems for Iran with regard to foreign currency and prices. Rouhani considers foreign countries as responsible for the current conditions in Iran while slamming those who criticize his government.
Rouhani had earlier asked the Iranian judiciary to prosecute American authorities and those helping America in sanctioning Iran on the charge of 'crime against humanity' domestically and internationally.
Iran's economic conditions such as inflation, unemployment, inadequate growth, and corruption during the past decades – have deteriorated in recent months, and an accelerating inflation rate has created concerns about the future.
Even though officials blame the return of US sanctions for the deteriorating conditions, many believe that these problems are due to inadequacy and mismanagement.
The US sanctions have mostly targeted oil exports and the Islamic Republic's banking and financial relations with other countries. America has announced that the sanctions aim at putting pressure on the Islamic Republic's authorities, not the Iranian people, which is why food, drugs, agricultural items, and other humanitarian goods are not included in the sanctions.
Quarrel over transporting Iran's oil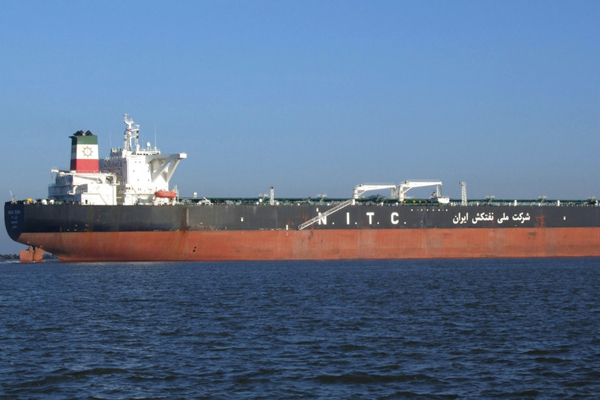 A senior US official announced that Washington monitors all oil tankers that transport Iran's oil, and will hold accountable those countries that help Iran in circumventing the oil sanctions. Israel had threatened to stop oil tankers carrying Iran's oil. Iran's Representative in the United Nations has reacted to Israel's threat by sending a letter to the United Nations.
David Peyman, Deputy Assistant Secretary of State for Counter Threat Finance and Sanctions, said in an interview with VOA Persian: 'We are closely tracking ship-to-ship transfers of [Iranian] oil to evade our sanctions. And we are working closely with foreign governments to ensure they are monitoring ship-to-ship transfers off their coasts'.
TankerTrackers.com one of the few companies monitoring oil transport throughout the world recently announced two cases of clandestine ship-to-ship transfers of Iranian oil.
David Peyman continued that American officials will confront ship owners, managers, and insurance companies that clandestinely transfer Iran's oil in the sea. He added, 'If you are engaged in evasive action, which is really the worst kind of violation when it comes to US sanctions, we will hold you accountable.'
The Israeli Prime Minister Benjamin Netanyahu had implicitly announced that a new mission was being considered for Israel's navy: stopping oil tankers carrying oil.
Brian Hook, US Special Representative in Iran's affairs, had announced that US sanctions have cut $10 billion off Iran's oil revenues since 2017, and 1.5 million barrels of Iranian oil have been sidelined from the global market every day.
Four decades of brain drain from Iran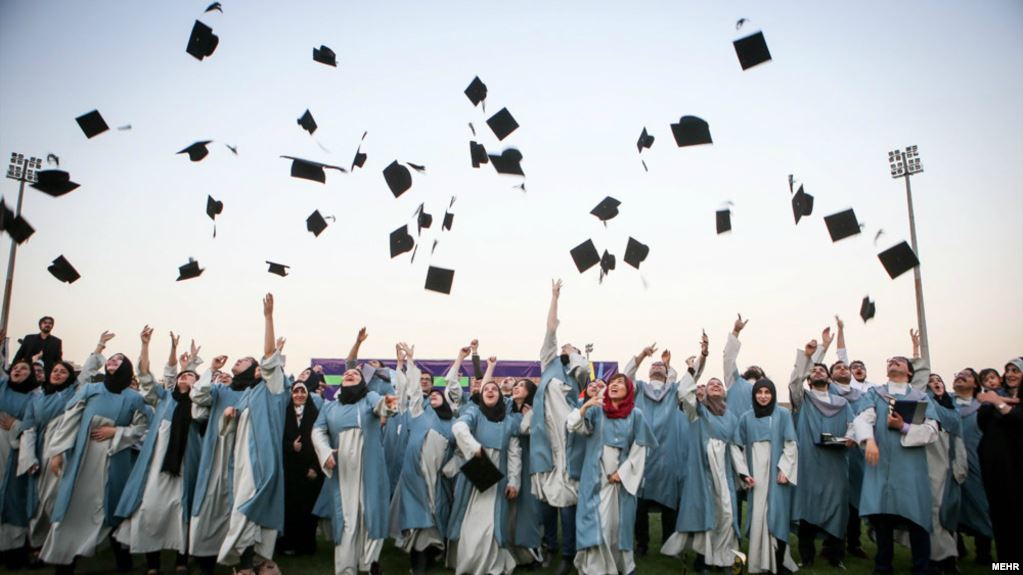 Since the 1979 revolution, Iranians have decided not to return to Iran once they have finished their studies. Graduate students still leave the country and do not ever go back.
There is evidently no prospect to stop or reverse this brain drain, which has impoverished Iran's human resources and prevented development in the country. Despite all the slogans and policies during the last years to control different forms of immigration from Iran, the international statistics show that this process continues.
The unprecedented remarks by Abu-Muhammad Mortazavi, the Supreme Leader's representative in overseas students' affairs, attest to this bitter reality. Pointing out to the difficulties of absorbing graduates in the employment market, he said, 'Overseas Iranian graduate students had better not come back to the country.' In his opinion, these students' return would result in their frustration. Mortazavi's frustrating remarks are more like an official announcement of failure.
For 40 years Iranian officials have chanted beautiful slogans, but have been unable to understand the significance of human resources in the development of the country. That is why immigration has never been a serious concern for them, and the economic and cultural damage of this national disaster has never forced them to revise their policies.
Sometimes, certain difficult economic and employment conditions are mentioned as the main causes of immigration. Such a view is reductive and cannot solve the issue of immigration. The question is: will the urge to immigrate decline and will graduates decide to go back to the country without any fundamental changes in political, social, economic relations? Can we hope for a more dynamic relationship between the Iranian diaspora and the country, without any changes in the image of Iran and its relationship with the world?
It has been 40 years that the emphasis in Iran has been on 'commitment' and 'being revolutionary', instead of an emphasis on expertise and competence. The elite circle has been reduced to a certain limited group of obedient people with ties to the establishment. Their policies have culminated in marginalizing, eliminating, humiliating, and frustrating expert forces as well as scientific, and cultural elites.
The IRGC Chief boasts of forces in Iraq and Syria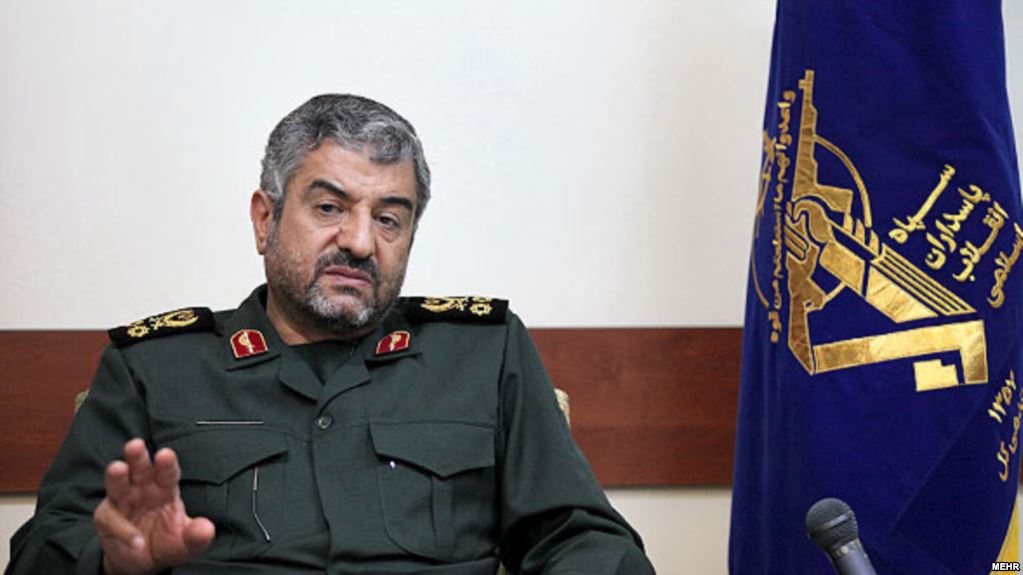 Major General Mohammad Ali Jafari, IRGC Chief, pointed out to the Islamic Republic's role in organizing 100,000 forces in Iraq and the same number of forces in Syria, as well as Lebanese Hezbollah's missile capability, calling it one of the "unique successes of the Islamic Revolution".
Apart from deploying its own military forces to Syria, the Islamic Republic has been able to organize Shia paramilitary forces from Syrian, Afghan, and Pakistani citizens under titles such as Zaynabioun and Fatemiyoun Divisions.
Jafari urged that it was the Islamic Republic's duty to provide experience to these groups and to empower them.
America has repeatedly called the Islamic Republic's measures in Iraq, Syria, and Lebanon "destructive", calling it the reason why the U.S. pulled out of the nuclear deal.
Brian Hook, US Special Representative in Iran's affairs, recently said that during the past 40 years, the Islamic Republic's foreign policy has always sought to undermine regional governments through violating their sovereignty and independence.
The European Union, despite differences with the US about staying in or leaving the nuclear deal, has announced a complete agreement with Washington over Iran's destabilizing measures in the region.
With regard to the Iranian President Hassan Rouhani's recent trip to Iraq, Hook asserted that this trip was not in alignment with Iraq's interests as the Islamic Republic is eventually after turning Iraq into one of its provinces. He stressed that for the Islamic Republic, Iraq is a tool for destabilizing the Middle East and creating a 'Shia corridor' in the region that would allow the IRGC to move around missile, arms and combat forces.
This US official also urged that while all Iraqi people are proud of their own national identity, Iran seeks to replace it with its Shia identity.