When Things Get Really Tough!
The editorial of Entekhab discusses how the crisis of water in Iran has assumed security and political dimensions, urging that unless there is a drastic change in how Iranian officials look at this issue, there will not be a sustainable solution to it.
So far, issues regarding the huge challenges facing Iran have been raised again and again — challenges that exhaust the country and destroy its resources. The water crisis is one of these huge challenges which has become really tough.
For years, because of drought and improper management of water resources, Iran has faced serious challenges in this regard.
The clamor of protests over the lack of water has been resonating in different parts of the country for some time. First, it was from people in Khuzestan Province, then from Isfahan Province, and recently from Hamedan Province. Even the city of Shahrekord, which is located in a region representing the biggest source of fresh drinking water in Iran, is now suffering from a lack of water and people are protesting there.
All cities are suffering from diminishing water supplies, and every day we must expect the sounds of protests from different regions across the country. This shows that Iranian officials have not been able to resolve the issue of drinking water. Moreover, no measures have been taken toward sustainable, clean development. Iranian officials only want to come up with temporary solutions for managing this crisis and have no comprehensive, accurate, long-term plan to deal with the lack of water except looking at the sky and praying for some rain!
Iranian authorities have not planned any paradigm change and effective solutions for this huge challenge which has assumed security and political dimensions. These huge challenges require comprehensive solutions, and cannot be resolved through temporary measures, unless the way the country is run is changed.
There must be a revolution in water management. And this will not happen unless there is a change in the way the issue of development is perceived.
Complicated Issue of IAEA
The editorial of Arman Melli argues that there are now two sides to the nuclear talks: political and technical. While Iran is happy with the progress made in political issues, technical issues are still unresolved, while Iran is asked to allow the IAEA's inspectors to prepare a full report on the country's nuclear activities and sites.
What has happened to the nuclear talks is the outcome of Israel's extensive interference in the negotiations, and Israel's security advisor went to the United States and directly talked with those members of the US Congress who are pro-Israel to put more pressure on the White House.
The issue of the nuclear deal (JCPOA) now has two sides: one is political and to a great extent, what Iran has wanted has been provided including selling oil, not restricting trade with foreign countries, and releasing Iran's blocked money in foreign countries. But the other issue which has complicated the talks is that of the IAEA and other measures taken by IAEA Director General Rafael Grossi.
Israel is urging that Iran's nuclear activities must be verified by the IAEA. Grossi too has stated that IAEA inspectors must submit a full report about Iran's nuclear sites. The visits of Israel's security advisor as well as its foreign minister to the United States intended to put more pressure on Iran so that it would allow IAEA inspectors to visit Iran's nuclear sites. In fact, as long as the IAEA does not give a satisfactory report on Iran's nuclear activities, no agreement will be reached.
So, by dividing the issues that matter in the nuclear talks into political and technical aspects, we can say that Iran is fully satisfied with in the political part, but as for the technical part there is a lot of pressure on Iran to open the door to IAEA inspectors, allowing the IAEA to give a full report on Iran's activities to the Board of Governors, which will determine what the Board of Governors will decide about Iran in September.
In fact, pro-Israel Americans have escalated pressures, asking the White House to make Iran comply with the IAEA's demands.
People Not Interested in Coronavirus Vaccine
The editorial of Arman Emrooz highlights the fact that the Iranian people show no interest in receiving COVID-19 vaccines and booster shots, urging that the government must take immediate measures to fight new variants of COVID-19 and put this issue on its agenda.
Omicron variants are still claiming lives, while Health Ministry officials hold that the only way to confront this variant is receiving booster shots. Recently, the Iranian health minister announced that there are 50 million doses of vaccines and six manufacturing centers for producing coronavirus vaccines within the country. There are so many vaccines available but people are not interested in receiving them, which is why the health minister has asked vaccine manufacturers to halt production.
But everybody knows that health protocols are no longer followed closely, and the government and the people are acting as if the situation has become normal. Meanwhile, high prices, poverty, unemployment, sanctions, and the high inflation rate are people's main concerns, and they do not care much about coronavirus.
To preserve the country's social capital and avoid falling into the trap of the so-called "long COVID" and its symptoms, emergency vaccinations must be on the government's agenda.
According to official statistics, only 77 percent of Iranian people have received their first doses of vaccines and 69 percent the second doses, while less than 50 percent have received the third doses and only 4 percent have had the fourth.
People are not interested in receiving booster shots, and in some cities, less than 1 percent have received their fourth doses. Meanwhile, the Iranian people have a lot of questions about the quality and efficacy of vaccines.
But health officials must take decisive measures to control coronavirus in society, or else people will think that Ebrahim Raisi's government has basically no plan for coronavirus. It seems as if certain individuals do not want coronavirus to come to an end in the country.
Symptoms of long COVID in those who have recovered from the virus must be taken into account. These symptoms can last up to four months. Studies on those who have had coronavirus show that serious side effects of the virus have continued for months. New studies show that on average patients have to deal with symptoms for four months, while revealing that most of them have not been able to recover their former physical capabilities.
The Government and Its Promises
The editorial of Arman Melli demonstrates how Ebrahim Raisi's government has not been able to keep any of its promises to the Iranian people in its first year in office.
Since taking office, the government has made many promises to people in different fields, and it seems that extensive efforts have been made to fulfill the promises made by the government. But the government has not been able to fulfill its promises.
For example, the government had pledged to build 1 million housing units per year. Now that it has been a year since it took office, it has not been able to keep that promise.
Furthermore, the government made pledges to immediately bring order back to the stock market. But in the past year, the stock market has faced multiple challenges just as before, while the stock market's indicators have continued to plummet.
With respect to foreign policy, the government has taken steps in the nuclear talks and in bolstering relations with neighboring countries. But it has not been able to reach an agreement over the nuclear issue; while in relation to neighboring countries, there are no palpable results yet.
As for stability in the price of the dollar in the currency market, the government has not been very successful either, and despite the government's efforts in decreasing forex prices, it has not been able to keep its promises in this regard. Despite the increase in oil revenues, we are not witnessing stability in the forex market.
The government's main promise was that it would not tie people's livelihoods to the sanctions and would improve living standards. But due to high inflation reaching 40 percent in the past year, and despite the government's promises, the Iranian people are experiencing very hard times due to the sanctions and high prices.
Khamenei Fully Backs Policies of Raisi's Government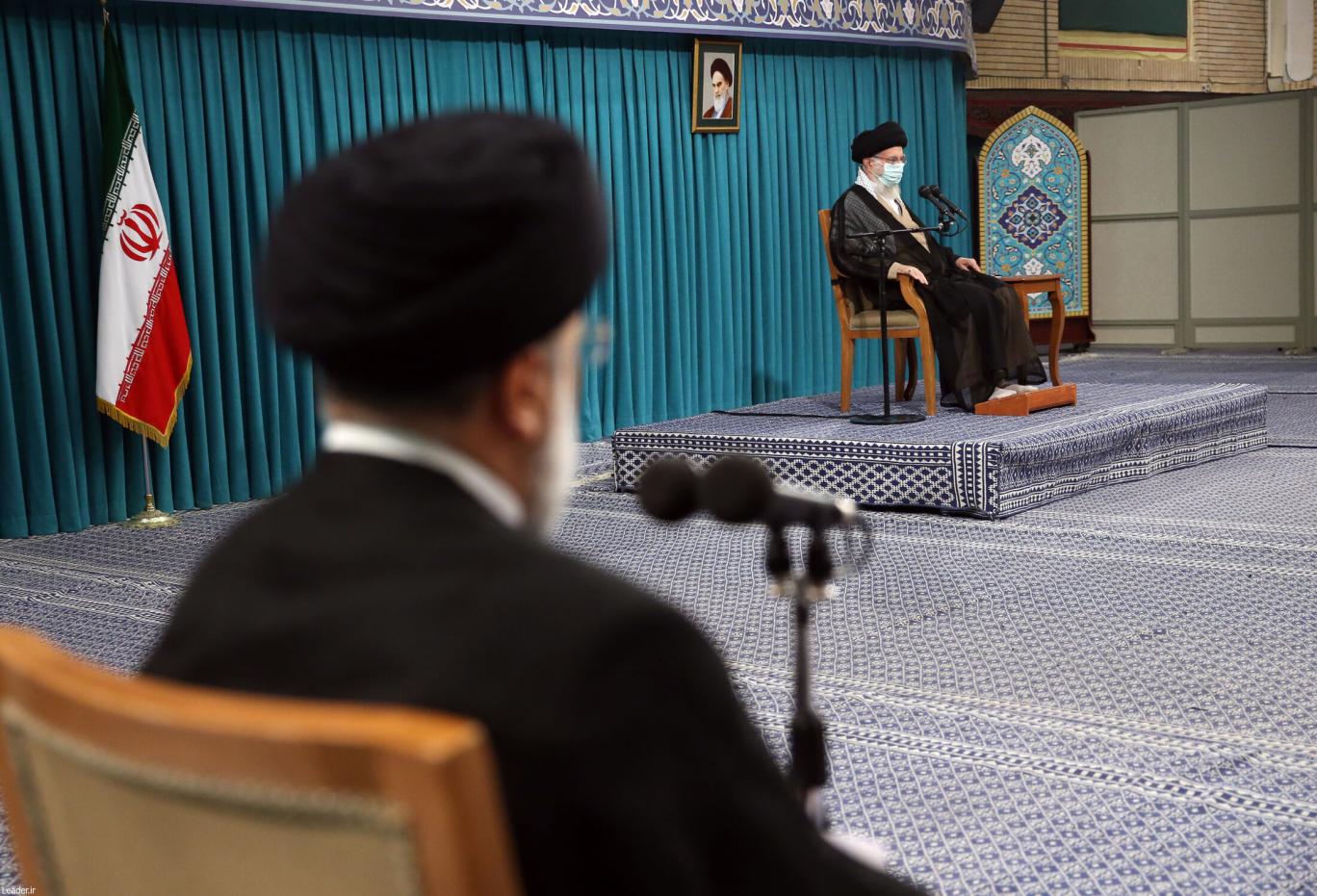 Iranian Supreme Leader Ali Khamenei, in an unprecedented move, supported all the measures and plans of Ebrahim Raisi's government in the past year, while not mentioning the dire consequences of the government's economic policies.
In a meeting with the cabinet members, Khamenei profusely praised them, claiming that this government has revived "hope and trust" among people in the past year. He claimed that the government's performance created the feeling among people that the government is trying to be at their service.
Khamenei makes this claim while more than 60 percent of people are critical of Raisi's most important economic decision which was eliminating subsidies on forex for importing essential goods, and more than 80 percent of people have complained that the cash subsidy paid to them to compensate for this economic decision is not enough to meet their daily expenses.
The increase in the wave of emigration of elites from Iran and the desire of 50 percent of Iranian youths to migrate from the country have been the outcomes of Raisi's "ultra-conservative" government taking office in Iran. The skyrocketing rate of inflation and high prices and people getting poorer are other outcomes of the performance of Raisi's government which were not mentioned by Khamenei.
The Iranian people, compared to last year, have problems in providing for their own daily needs, mostly because of the government's economic policies.
Ebrahim Raisi, who was previously head of Iran's Judicial Branch, was elected as president in 2021 in an election with the lowest turnout in the past four decades and with almost 4 million void votes.
The Iranian supreme leader, however, has repeatedly praised Raisi and his government, while Iranian state-run media outlets have extensively backed the 13th government, particularly regarding economic issues, since it took office last year.
Critics of Raisi, nevertheless, say that his economic policies have led to unbridled inflation, the depreciation of Iran's national currency, and many more people getting poorer.
Wave of Emigration of IT Experts From Iran to UAE
With increasing restrictions on the internet in Iran, many Iranian IT experts opt for working in Arab countries including the UAE by obtaining the so-called "golden visa" or through "virtual immigration."
In recent months, social network users in Iran have faced increasing restrictions on the internet and unprecedented problems in using social networks. Restrictions on using Google, the disruption to Instagram, and blocking Telegram and other social networks by Iranian operators have been some of the problems that internet users have struggled with.
IT experts consider these restrictions as signs of the "silent implementation of smart filtering" of the internet by the government which is enforced to create more limitations on internet users.
While enforced policies in Iran, as well as low wages and high costs, have exacerbated the situation for businesses dependent on the internet and those involved in the field of IT, the UAE – which is extensively investing in the digital economy, renewable energy, and AI – seeks to attract IT experts from Iran and other countries.
The UAE has turned the restrictions and shortcomings in Iran in the field of IT into an opportunity for itself to attract Iranian experts in this field. Granting golden visas to IT experts is an example of the incentives given for emigration from Iran to the UAE.
The other measure taken by the UAE to attract IT experts is offering the possibility of virtual immigration, which is facilitated through a new type of work visa given by the UAE and other countries. Professionals who hold this type of visa can work for international companies wherever they are in the world, regardless of their physical locations.
Oil and gas dependent countries are decreasing their energy reliance by diversifying their revenue sources. Iranian IT experts are frustrated and concerned about the government's restrictions and policies in this field, and it seems that they are left with no choice but to flee the country.
"Good News" Campaign or More Censorship?
Following the recent exposure of the corruption case regarding Mobarakeh Steel Company in Iran, which has provoked extensive reactions among the Iranian people, Iranian officials have accused media outlets of covering only "bad news," calling for the launch of a "good news" campaign which must cover only what is deemed as positive stories by the government.
After the investigative report on the corruption in Mobarakeh Steel Company was published, the Parliament Public Relations Office announced that the report was not supposed to be publicly released, while some lawmakers warned that releasing any reports without obtaining permission is a "crime."
According to the Parliament's report, in only 3 years there were about 90 cases of violations worth 91,000 billion tomans in Mobarakeh Steel Company, which is the biggest financial corruption case in Iran so far.
In reaction to this report, Iranian President Ebrahim Raisi attempted to exonerate his government of these corruption allegations, urging that "the establishment of the Islamic Republic is clear."
A few years ago, Iranian Supreme Leader Ali Khamenei made threats against Iranian news outlets regarding an embezzlement case in Iranian banks, urging them to "let go of the issue" because "some want to use such issues against Iranian officials."
While the Iranian leadership insists on being "clean," Transparency International has ranked Iran at 150 among 180 countries regarding corruption in business and trade.
Earlier, Khamenei had wanted Iranian news outlets to give "good, promising news" to people. Later, Fars News Agency launched a page on its website called "good news" which, for example, covered the story of a cleric with many children in a village as good news.
Now, with increasing outrage against corruption in Iran, once again Iranian officials have emphasized on publishing good news, while putting all the blame on the media.
Experts hold that the so-called bad news has become an integral part of the fabric of society and news outlets cannot refrain from covering news just because it is deemed "bad."
Iran First Vice President: We Are After a Leap in Relations With Russia
Iranian First Vice President Mohammad Mokhber, in his meeting with a senior Russian official, stated that Tehran is seriously resolved to develop relations with Moscow and create a leap in relations between the two countries.
Mokhber has described relations between Iran and Russia as "strategic," calling for the serious participation of Russia in the Rasht-Astara railway project. Earlier, an Iranian official announced that the IRGC's Khatam al-Anbiya Construction Headquarters has entered this project and the government is seeking to finance this project through "bartering oil."
In his meeting with Russian presidential aide Igor Levitin in Tehran, Mokhber considered the level of "political cooperation" between Iran and Russia as good, but added that the level of economic relations is "not enough or proportionate with the level of political relations" calling for an increase in economic cooperation. He asserted that it is necessary to implement memorandums of understanding and contracts to enhance the level of bilateral trade.
The Iranian first vice president underscored that Iran and Russia have extensive capacities to develop bilateral relations, adding that the two countries can raise the level of bilateral cooperation in the fields of energy, transit, transportation, industry, and food security.
On the other hand, Levitin underscored that Iran might become a "transit hub" for Russia, underlining its suitability as an alternative transport route for Russia.
Levitin also considered the Rasht-Astara railway project as important in developing Iran-Russia transit cooperation, adding that with the implementation of this project, a large part of Russia's transit and transportation can be done through this route.
In the past decade, the strategy of "looking toward the East" has been favored by Iranian Supreme Leader Ali Khamenei for building economic, political, and security relations with the countries of the world. Khamenei's distrust toward Western countries and his lack of interest in resolving the problems with the United States has been one of the main reasons for Iran turning toward this strategy.