A Few Points About Lifting Sanctions
The Biden administration has restored a sanctions waiver that will allow countries to cooperate with Iran on civil nuclear projects. The editorial of Aftab Yazd underscores that this does not mean that economic sanctions are going to be lifted.
The news regarding the lifting of some nuclear sanctions against Iran requires explanation. There are many sanctions targeting Iran's economy, including sanctions against banking transactions, selling oil, and a long list of other sanctions. But Iran has not reached an agreement about these yet.
Currently, the negotiations are at a sensitive point, and it is said that an agreement might be reached. A part of the agreement will include the lifting of sanctions against Iran, and the other part will be about Iran fulfilling its nuclear obligations.
What the final form of the agreement will be is not clear because the negotiations are confidential and we are not aware of the details. But lifting nuclear sanctions refers to the fact that nuclear cooperation with Iran was banned by Donald Trump. Now if the nuclear deal (JCPOA) is going to be implemented, it requires that in some cases Iran should be able to, for example, take out nuclear waste from the country. If Iran does not take out its nuclear waste, it has not fulfilled its obligations. So, lifting these sanctions are requirements for the nuclear deal.
Trump put sanctions on any nuclear cooperation with Iran. Now, the United States has given an exemption from these sanctions so that other countries can cooperate with Iran within the framework of the nuclear program. Obviously, this waiver is within the framework of the nuclear deal and will not be extended to activities that contradict the deal. As such, although what has happened is a positive step, it is not an essential step.
However, this does not necessarily presage the lifting of economic sanctions against Iran. Sanctions that have targeted Iran's economy will stay put until the negotiations completely come to fruition.
Factories Shutting Down Like Dominos
The editorial of Eghtesad Pooya explains how factories are closing one after another due to the poor economic policies of the government.
In general, real estate with an average profit of 60 percent and usury with more than a 20 percent annual profit are constituting the main economic activities at the expense of production, with no money being diverted from other economic sectors to industry. This means that Iran's economy has unproductive sectors which are highly profitable and obstruct activity in the agricultural and production sectors.
Ironically, countries with low levels of production are usually those countries that are rich in extractive resources, particularly oil, but since they have been colonized by industrial countries for years, they have not been allowed to grow. Now, we can see that global powers will do anything in their power to prevent these countries from building their capabilities. Therefore, world powers promote dreams of wealth made overnight to the younger generation in developing countries while reinforcing the necessity of increasing production among the youth in their own countries.
In developing countries, the issue of capital flight is very serious, because these countries always have to deal with a shortage of investment. Social welfare, which is one the essential objectives of any economic policy, is about people's access to goods and services. The greater the access to goods and services in a society, the greater the level of social welfare.
Iranian government officials greatly desire to import goods; meanwhile, they create numerous obstacles for producers, which shows that they do not care about domestic production.
We are witnessing factories getting closed within the county due to economic problems. But, on the other hand, we are witnessing that authorities chant slogans in support of domestic production. As a result of this contradiction, today some producers have to import goods themselves.
Poor packaging of goods and even poorer advertising on television and billboards have made people turn away from domestic products. And yet, because of the extensive advertising of foreign goods, people prefer to use foreign products. Today, many Iranians are ready to purchase smuggled goods without any guarantees, but would not even consider buying domestic products that have full guarantees.
These are serious problems. When Iranian celebrities and officials openly endorse foreign brands and advertisements for foreign products can be seen all over the city, we cannot expect people to use domestic products. When China tests different kinds of its low-quality automobiles in Iranian markets, we cannot have high hopes for the domestic auto industry.
Advice to the "Reformists"
The editorial of Aftab Yazd argues that if the Iranian "reformists" plan to return to power, they must first provide some explanations to the people about their former decisions and actions.
Evidence shows that the "reformists" along with the so-called "moderates" are planning to return to power in some way. It is only natural as political parties and currents try to gain power so that they can implement their own ideas. Although we should not have much hope for different political currents, we cannot criticize their political activities and aspirations.
But if the "reformists" plan to return to power, they must first clarify a few points. For example, one of the issues that needs clarification is the performance of Hassan Rouhani's government – the self-styled government of prudence and hope. The "reformists'" share in the poor outcomes of the Rouhani government has not become clear yet. And should we not expect an apology and an explanation in this regard?
The other important issue is the relationship of the "reformists" with vetting organizations like the Guardian Council. The Guardian Council is definitely not going to act differently when it comes to disqualifying the "reformists." So, the question is: do the "reformists" have any plan for this important issue? Are they going to get disqualified as always and keep moaning until the next round of elections?
Another issue that requires clarification is the kind of cooperation between the "reformists" and the "moderates." The question is: is there going to be a coalition between these two political currents or not?
There are many ambiguous issues like this that require explanation. But one issue is more significant than all and that is public disillusionment with political currents and activists. Society has listened to so much nonsense from these political currents and will no longer pay any attention to their ideas and plans. Low public turnout in the last election is proof of this claim.
So, given all these ambiguities and the glaring lack of public confidence, it is not clear how the "reformists" are going to mobilize the people.
Taxi Drivers' Economy
The editorial of Ebtekar explains that the rise in the number of taxi drivers who work for online ridesharing companies – counterparts of Uber in Iran – indicates serious economic problems.
It was in the news headlines that the number of drivers has reached 3.9 million all over the world. In Iran, there are 3.4 million drivers working for Snapp and 1.4 million in TAPSI – both Iranian versions of Uber. This means that the number of those who work for online taxi services in Iran is more than Uber which is the biggest company in this field in the world.
This is disappointing because Iran's economy has now turned into a "taxi drivers' economy" in which people must have a second or even a third job to provide for themselves and their families, with driving for online taxi services being one of the most popular jobs.
Over the past 10 years, Iran's economy has experienced negative growth which has resulted in a sharp decline in people's purchase power. Iran's GDP dropped from $590 billion in 2010 to $191 billion. Describing Iran's economy as a taxi drivers' economy implies that in the coming years more people will be compelled to take on second and third jobs because of the drop in incomes and the increase in the inflation rate. This number will spike in the future.
The increase in the number of taxi drivers does not signal job creation; rather, it indicates increasing levels of poverty as a result of a stagnating economy.
But what can be done? To escape taxi drivers' economy, we must get rid of taxi "Chauffeur knowledge", which is a metaphor used by Rolf Dobelli in his book Art of Thinking Clearly for beautiful words from those who have no knowledge in the field they are talking about! For example, government officials talk about economic growth and offer models in which restricting imports can result in the growth of the domestic economy. But what has been the outcomes of these models? An increase in the price of domestic products!
The data generated as a result of the increase in taxi drivers in Iran might mislead policymakers. To reverse the trend of the increasing number of taxi drivers in Iran, it is necessary to fully understand the issue and distance ourselves from those who talk just to please us and consult the real experts.
Khamenei: We Cannot Remain in a Defensive Position Forever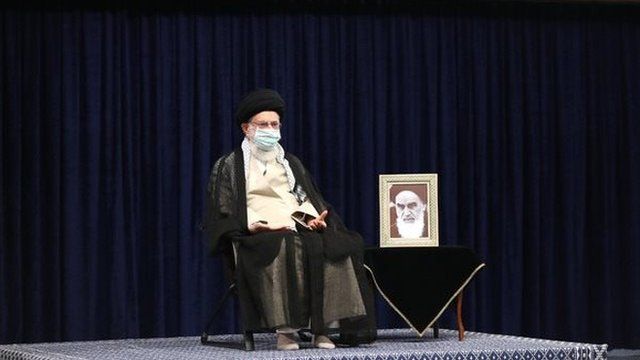 In his speech to senior military commanders, Iranian Supreme Leader Ali Khamenei alleged that the Islamic Republic of Iran has been the target of a "combination of attacks by the enemy," adding that "we cannot remain in a defensive position forever."
Khamenei urged, "We too must be active in using a combination of forces in various areas including the media, security and economic areas," adding that in this regard, "the officials, in particular, must put in efforts."
These remarks were made by the Iranian supreme leader against the backdrop of regional accusations that the Iranian government takes a confrontational approach and meddles in other countries' affairs. The remarks made by the Iranian authorities with regard to "wiping out" countries or governments from the "map of the world" or chanting "death to" slogans against other countries are considered as an offensive stance.
While Khamenei claims that the Iranian government is in a "defensive" position, the Iranian establishment has reportedly killed or kidnapped "at least 540 Iranians" overseas and continues to persecute Iranian journalists abroad and threatens to abduct them.
In his speech, Ali Khamenei also directly criticized US President Joe Biden, stating that "former and current presidents of America have worked hand in hand to disgrace America." These words coincided with the resumption of the talks in Vienna to revive the nuclear deal.
The Iranian supreme leader also attacked the "antagonistic" media, strongly criticizing media outlets for publishing material about the former Pahlavi regime which was not negative enough.
Earlier, IRGC spokesperson Ramazan Sharif had also said that 50 million Iranians are not aware of clerics' activities against the former Pahlavi regime, which is why they believe the images that some films about the Pahlavi era try to convey.
He called these films "edited and manipulated," alleging that they are released to "convey to the people that the Iranian popular revolution was a mistake."
The Iranian authorities are increasingly concerned about this issue following the popular protests in 2017 and 2019 when protesters chanted slogans in support of the Pahlavi era.
If Sanctions Are Lifted, Iran Will Be One of the Biggest Exporters of Arms, Says Senior Military Official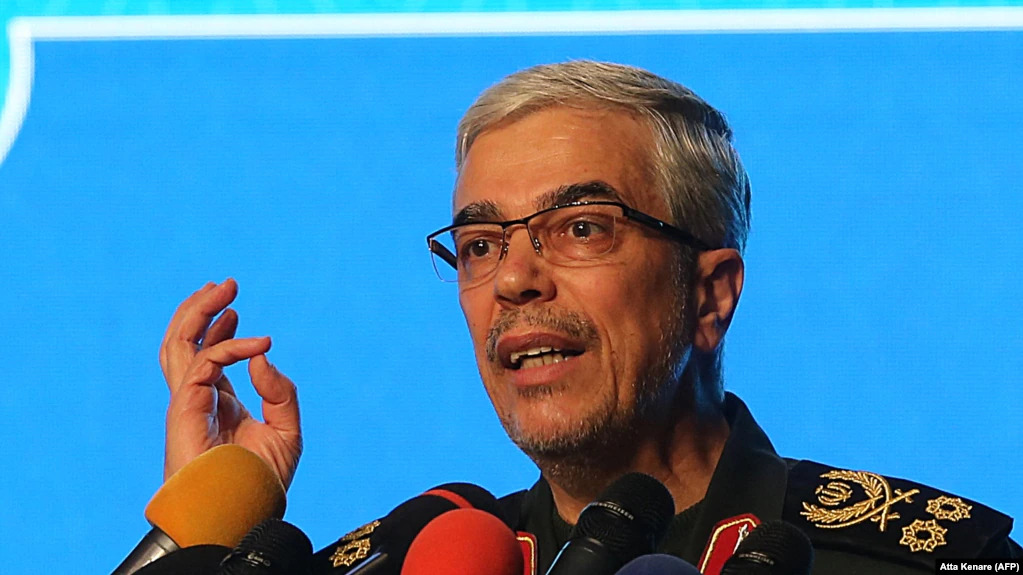 Chief of Staff of the Armed Forces of Iran Mohammad Bagheri stated that "if sanctions are lifted, we will be one of the biggest exporters of arms."
In this regard, Mohammad Bagheri asserted that Iran does not need others when it comes to military equipment, and if America lifts the sanctions, Iran will be one of the biggest exporters of arms in the world.
He declared that Iran has reached a good point in the field of exporting arms to some countries and some contracts have been signed in this regard. As for buying arms, he said that negotiations were underway with different countries.
In recent months, numerous reports have been released about Iran sending weapons to governments that are accused of crimes against humanity.
Recently, there was a report regarding the Islamic Revolutionary Guard Corps (IRGC) sending arms to the military forces in Myanmar that seized power and suspended democracy in a coup in February 2021.
Iran has asked America to lift all the sanctions imposed during the Trump era, along with arms sanctions, but America's refusal to lift all sanctions is one of the reasons why the nuclear talks in Vienna have not resulted in any tangible outcomes.
The United States accuses Iran of giving arms to militias in Iraq, Lebanon, Syria, and Yemen. A report by UN Security Council experts states that in addition to sending arms to Yemen's Houthis, Iran is sending weapons to militant groups in Somalia.
The United States said that in recent weeks, it had seized Iranian ships carrying arms to Yemen in violation of the UN Security Council ban on sending arms to Yemen.
Eight Iranian Human Rights Organizations: Canada Should Not Become Haven for Violators of Human Rights in Iran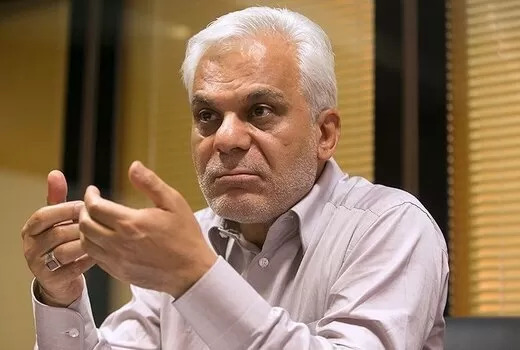 Following the visit of Morteza Talaee, Tehran's former police chief, to Canada, eight Iranian human rights organizations in a joint statement expressed concerns, asking Canada's Prime Minister Justin Trudeau to deny former IRGC commanders and all those who have violated human rights in Iran entry into Canada.
The Abdorrahman Boroumand Center, Iran Human Rights, Human Rights Activists in Iran, Siamak Pourzand Foundation, Kurdistan Human Rights, the Association for the Human Rights of the Azerbaijani People in Iran, Impact Iran, and Together Against Execution are organizations that have signed the statement.
The statement urges that Canada should not become a haven for violators of human rights.
"We, the human rights organizations that have signed the statement have serious common concerns about the recent trip of Morteza Talaee, notorious violator of human rights, to Canada, calling for the Canadian government to take immediate measures in this regard to maintain its commitments to human rights and ensure that those who have impunity in Iran are not exempt from punishment outside the country," reads the statement.
Canada's Ministry of Immigration has given no explanation in this regard.
Talaee's trip to Canada became controversial when pictures and videoclips went viral showing him in a gym in Canada.
Eight Iranian human rights organizations have urged that the free entrance of someone like Morteza Talaee into Canada sends a "dangerous message" and is "an insult to Iranians who have immigrated to Canada on justified grounds."
The statement points to "collective arrests, persecutions, and torture" during Talaee's tenure in Tehran's police force, including the killing of Zahra Kazemi, an Iranian-Canadian citizen who was subject to severe torture, underlining that human rights organizations have documented Talaee's brutal and intolerable violations of human rights.
From 2001 to 2005, Talaee was the chief of Tehran's police force and had a significant role in crackdowns and suppressing public gatherings.
Iranian Consumers Hope for Return of LG, Samsung to Market
Following the order of Iranian Supreme Leader Ali Khamenei regarding the ban on the import of foreign home appliances, the prices of domestically manufactured appliances skyrocketed. Furthermore, because of the drop in quality of domestic products, consumers increasingly turned to buying more foreign products than ever before. Under these circumstances, news of reaching a possible agreement in the Vienna talks has created hope for resuming the import of foreign home appliances.
In this regard, Mohammad Hossein Barkhordar, former head of Sam Electronic and former representative of Samsung in Iran, said that today the return of foreign brands of home appliances to Iran depends on the Iranian people's purchasing power more than anything else. He added that if foreigners feel that Iranians can buy their products, LG and Samsung will return to Iran.
According to the former representative of Samsung in Iran, the drop in people's purchasing power in recent years has had a negative impact on foreign companies' interest in the Iranian market.
The ban on the import of foreign home appliances to Iran was implemented in accordance with Ali Khamenei's order. Last summer, in a letter to former President Hassan Rouhani, Khamenei said that a number of domestic producers had asked him to ban the import of home appliances from South Korea to support domestic production.
The quality of Iranian home appliances is not comparable with their European, American, or even South Korean counterparts at all.
South Korean brands LG and Samsung are not only popular in Iran but across the world. These companies severed ties with Iran following the imposition of US sanctions against Iran in 2019, but their products are still available to a limited extent in Iran.
It seems that despite the supreme leader's view, banning foreign home appliances from the Iranian market has not improved domestic production, rather, it has decreased the quality of domestic production and has eliminated competition from the market.