Confusion in Foreign Policy
The editorial of Jahan Sanat focuses on Iran's foreign policy which has been very confusing, while Iranian officials keep changing their statements and demands every day.
Currently, Iran's foreign policy suffers from confusion and a lack of strategy, meaning that Iranian officials alter their positions on a daily basis. This has perplexed Europe and America. As a result, new challenges emerge every day, while Western countries cannot make a clear decision about Iran.
Ali Bagheri Kani, political deputy at the Iranian Foreign Ministry, visited a number of European countries. He described every meeting held with various European officials as satisfactory. But eventually he said that Iran does not need to recommence nuclear negotiations, and America must lift its sanctions. Such divergent viewpoints expressed by Iranian officials regarding the nuclear talks have confused Western countries.
On the other hand, the current situation is unsustainable for Iran. Because of the mounting economic problems within the country, Iran cannot continue on this foreign policy trajectory. One of the problems is that Iran says it does not accept the previous negotiations, while Western countries insist on taking up the negotiations where they left off.
But more importantly, in two weeks the Board of Governors of the International Atomic Energy Agency (IAEA) will meet, and IAEA Director General Rafael Grossi has said that Iran refuses to give access to its nuclear sites, which might be very costly for the country. If the Board of Governors issues a resolution against Iran, it prepares the ground for taking Iran's case to the UN Security Council.
It is not clear why Iran has adopted this baffling foreign policy position. But the main problem is that the people who are now in charge of Iran's foreign policy had earlier called any negotiations with America treason.
Given the dire economic situation in Iran, it has no option but to lower its expectations and resume the negotiations. It would have been even better to hold direct talks with America.
Prospects for New Negotiations Over the JCPOA
The editorial of Arman Melli is optimistic that the new round of negotiations between Iran and the Western countries over the nuclear deal might come to fruition by the end of the year.
Negotiations between Iran and the P4+1 will soon be resumed, and Iran's negotiation team will also be appointed soon. The visit of the Iranian Foreign Ministry's deputy to various European countries, Russia, and China shows that Iran is ready to restart talks under acceptable conditions and based on respectful interaction with the global community. The negotiations will be totally different from the previous ones which were useless.
First off, Ali Bagheri Kani told the European signatories to the JCPOA that if America is to return to the negotiating table, there must be guarantees that it will not pull out of the deal as it did before. Furthermore, the European countries (Britain, France and Germany) must guarantee that they will start their economic and trade cooperation with Iran, disregarding US pressure, because it seems that these European countries are still following America and have adopted US policies.
This should not happen in future negotiations and the European countries must be committed to Iran, reach an acceptable outcome, and recommence their economic and trade cooperation with Iran.
In 2018, Donald Trump pulled out of the JCPOA unilaterally which had a negative impact on world public opinion towards this country, because the JCPOA is an international deal and pulling out of it means that the United States is not committed to its obligations. And when Britain, France and Germany followed American polices, it negatively impacted public opinion in Europe.
As such, Bagheri Kani's talks with the European side were totally reasonable, and the negotiations are going to start under certain circumstances and with a definite timetable. If these negotiations reach an acceptable outcome, these will successfully conclude by the end of 2021, providing for all sides' interests.
Meanwhile, America has expressed its willingness to return to the JCPOA negotiations. But given the United States' previous withdrawal from the JCPOA and ignoring its obligations, Iran naturally wants very definite guarantees that in case the United States returns to the deal, it should fulfill its obligations, lift all sanctions against Iran, and unfreeze Iran's blocked assets. And naturally America must compensate for the damage inflicted on Iran due to the unjust sanctions against Iran. In addition, America and other countries must give guarantees to Iran that they will not withdraw from the JCPOA as before.
Is Raisi Another Rouhani?
The editorial of Aftab Yazd says if Ebrahim Raisi's government fails, its failure will frustrate his "hardline principlist" supporters just as the failure of former President Hassan Rouhani had devastating results for "reformism" in Iran.
As a result of the hopelessness caused by former President Hassan Rouhani's government, a major part of society that backed the "reformist" movement has given up on politics. What happened was that with the failure of Rouhani's government, "reformism" – and not the "reformists" – was sacrificed and buried in Iran.
Consequently, the minority of "hardline principlists" (ultra-conservatives) could easily win both the parliamentary and presidential elections and take control of both the legislative and executive branches.
Incompetent management of Rouhani's government and its weaknesses were highlighted by "ultra-conservatives" who were constantly claiming that more than 70 percent of the country's problems, especially with regard to the economy, were the outcomes of the mismanagement and incompetence of the former government. They promised that if their government took office, there would be so many new opportunities for economic reform and progress that the nuclear deal would not have any impact on the economy or people's livelihood.
Now, it has been more than three months since Ebrahim Raisi, the representative of the "ultra-conservatives" and the "hardliners," took office. He and his supporters have made many promises about a bright future.
In the light of the abovementioned points, the question is: will Raisi's government be able to fulfill the promises it has made to people? Or at the end of its term, will its performance be considered disappointing by its supporters just as Rouhani's government was? Will Raisi do to the "hardline principlist" movement what Rouhani did to the "reformist" movement?
Public Expectations in Overcoming Problems
The editorial of Tejarat stresses that the Iranian government must take immediate measures to support both producers and workers as they are grappling with a lot of pressing problems.
Iranian industry is facing many problems these days: shortages and high prices of raw materials, price speculation, fluctuations in forex prices, the lack of banking support for producers and the lack of stable markets. All these issues have frustrated both producers and workers.
Workers unions and producers agree that under these circumstances, it is impossible for them to continue their work. The problems have accumulated over the years and producers certainly do not expect the problems to be resolved overnight. But at least they must feel that some efforts are being made to resolve these issues.
Iran is currently facing terrible economic conditions. However, if Iran's economic issues are resolved, producers can double or even triple their production levels.
Currently, producers are unhappy about the government not backing them. And workers are dismayed at the current situation because there their incomes do not match their expenses. It has become impossible to live on the minimum wage set by the Labor Ministry, especially when their insufficient incomes push them well below the poverty line.
As such, many producers pay more than the minimum wage to workers so that they can make ends meet. But still something is not right. It is not that difficult to properly and transparently back producers and workers, stop speculative practices, directly supply raw materials to producers, etc. This can help in resolving many problems for producers.
Certainly, support from the Social Security Organization and the Tax Organization too can be helpful for producers. During the COVID-19 pandemic, producers were hit hard and kept moving forward with great difficulty. Most producers think that they can no longer take any more of these problems, and undoubtedly the government must find more working solutions to back producers and workers.
The first solution is breaking the monopoly over raw materials. Second, the Social Security Organization and the Tax Organization must pay special attention to producers. As the country is not facing ordinary conditions and is suffering from US sanctions and the coronavirus pandemic, government organizations must accommodate the needs of producers and workers.
Lawmaker Reacts to Iran Atrocities Tribunal: "We Killed People, Who Wants to Put us on Trial?"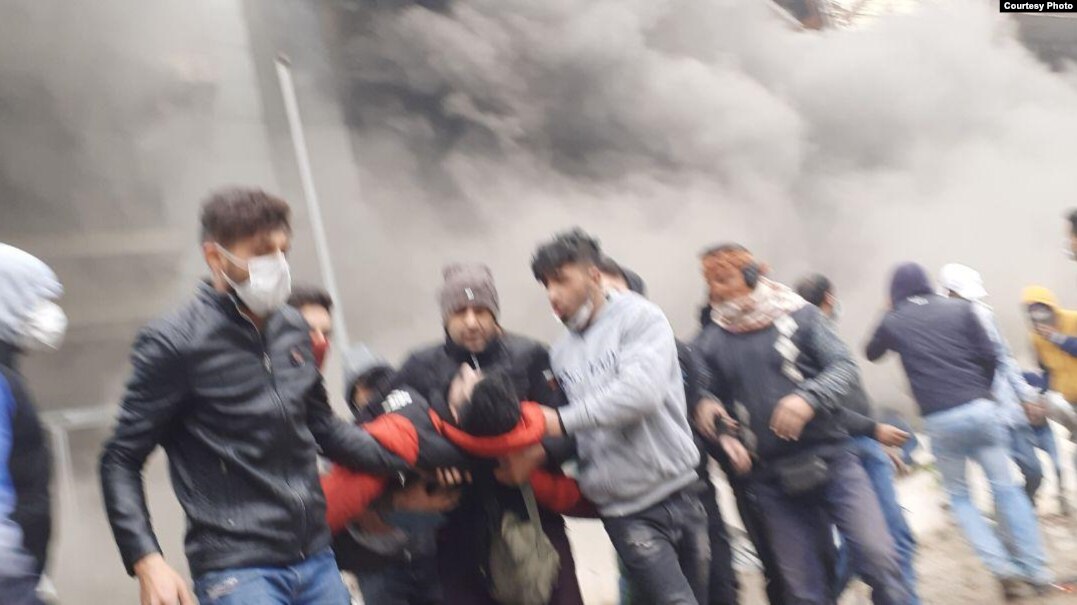 While the Iran Atrocities Tribunal was held in London to investigate crimes committed by Iranian authorities during the popular protests in November 2019, Hassan Norouzi, deputy chairman of the Parliament's Judicial Commission, pointed to the incidents that took place at that time saying, "I was one of those who shot people, we killed them. Now, who wants to put us on trial?"
In his interview with Didehban website and in response to the Iran Atrocities Tribunal, Norouzi, without mentioning anyone in particular, alleged that a protester in November 2019 "had set fire to a bank and we killed him."
The Iran Atrocities Tribunal was established to investigate crimes committed by the Iranian government during the November 2019 protests. This tribunal was led by three organizations: Justice for Iran, Iran Human Rights, and Together Against the Death Penalty. During the hearing, 45 witnesses testified and 120 testimonies were submitted in written from.
The tribunal was set up to investigate "if crimes perpetrated by Iran's authorities including Iranian Supreme Leader Ali Khamenei and President Ebrahim Raisi, who was then head of the judicial system, in relation to the November 2019 protests were crimes against humanity."
It was earlier reported that Iran's political deputy to the Foreign Ministry, Ali Bagheri, had threatened that if the tribunal was not stopped, Iran would halt parts of the nuclear talks for reviving the nuclear deal.
The November 2019 protests broke out in reaction to the sudden rise in fuel prices, but they immediately went beyond this issue and targeted Iran's political system and Ali Khamenei. These protests were brutally and mercilessly suppressed.
Iranian officials allege that in these protests, 200 to 225 people were killed, but Amnesty International has so far confirmed 323 deaths while Reuters has reported that at least 1,500 people were killed in those protests.
Raisi Authorized Controversial "Young Population" Law for Implementation
Despite harsh criticism against the "young population" law, Iranian President Ebrahim Raisi approved this law and referred it to the Health Ministry and to the deputy for women and family affairs for implementation.
The law of "Protection for Family and Young Population" was passed in the Iranian Parliament on October 16 this year and approved by the Guardian Council for pilot implementation for seven years. This law grants certain concessions to individuals with children along with giving financial incentives and restricts birth control and abortion.
According to this law, pharmacies are not allowed to offer hormonal drugs for birth control, and any distribution of contraceptives and encouragement to use them is prohibited. Furthermore, the Health Ministry is not allowed to use phrases like "risky pregnancy."
Massoud Mardani, member of the National Committee for Combatting AIDS, has condemned this law, warning that the imposed restrictions on birth control in Iran aiming at increasing the population can result in a rise in "unwanted pregnancies and sexually transmitted diseases, as well as HIV infections in the country."
Human Rights Watch is also against the new population law in Iran, calling it a violation of women's rights regarding health and pregnancy. This organization has called for the immediate repeal of the law which violates human rights and has stated that this law puts Iranian women's lives in danger.
A decline in population growth has always been of great concern to Iranian Supreme Leader Ali Khamenei, and in his speech earlier this year, he emphasized "timely marriage and having children" and described this as "vital for the country's today and tomorrow."
Following his speech, the Iranian establishment became more serious about increasing restrictions on abortion.
Iran's population is about 84 million (60 million in 1996), and annual population growth has witnessed a continuous decline in the past three decades, not exceeding 1.15 percent. Currently, the country is grappling with an environmental crisis, water shortages, widespread poverty, unemployment, and other economic problems.
Iran, Turkey Agree on Roadmap for Long-Term Comprehensive Cooperation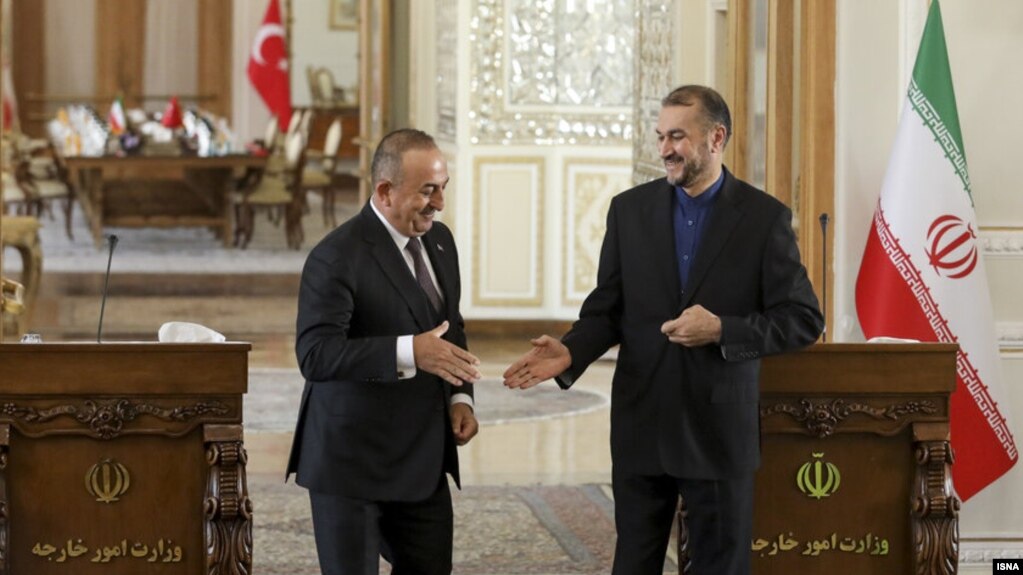 Turkish Foreign Minister Mevlut Cavusoglu, in a joint press conference with his Iranian counterpart in Tehran, announced that Iran has proposed drafting a roadmap for long-term comprehensive cooperation with Turkey.
Iranian Foreign Minister Hossein Amir-Abdollahian also pointed to an agreement with his Turkish counterpart for drafting a roadmap for long-term bilateral cooperation, expressing hope that this document would be signed during the upcoming visit of the Turkish president to Iran.
The Iranian and Turkish foreign ministers did not say anything about the details of the roadmap, but last year Iran signed a controversial 25-year cooperation agreement with China and is currently holding talks with Russia regarding the signing of a similar document.
Turkish President Recep Tayyip Erdogan is scheduled to visit Iran by the end of this year to take part in the Summit of the Supreme Council of Cooperation between the two countries.
Mevlut Cavusoglu also pointed to the necessity of developing preferential trade agreements between Iran and Turkey, adding that in the past six years, there have been many talks in this regard and expressed hope that these talks would come to fruition.
He also announced a 71 percent growth in bilateral trade this year, but stated that this was far below the set goal.
According to the Turkish Statistical Center, Turkey's exports to Iran witnessed a 25 percent growth in the first nine months of this year, reaching $2 billion and its imports from Iran had witnessed a 140 percent growth, reaching $1.9 billion.
Growth in Iran's exports to Turkey was because of the twofold increase in the prices of oil, gas, and petrochemical products this year, with a twofold increase in Iran's gas exports to Turkey.
Last spring, because of the gas pipeline explosion on the Iranian border, Turkey stopped receiving gas from Iran and reduced Iranian gas imports in the following months.
Dollar Price Is Still Soaring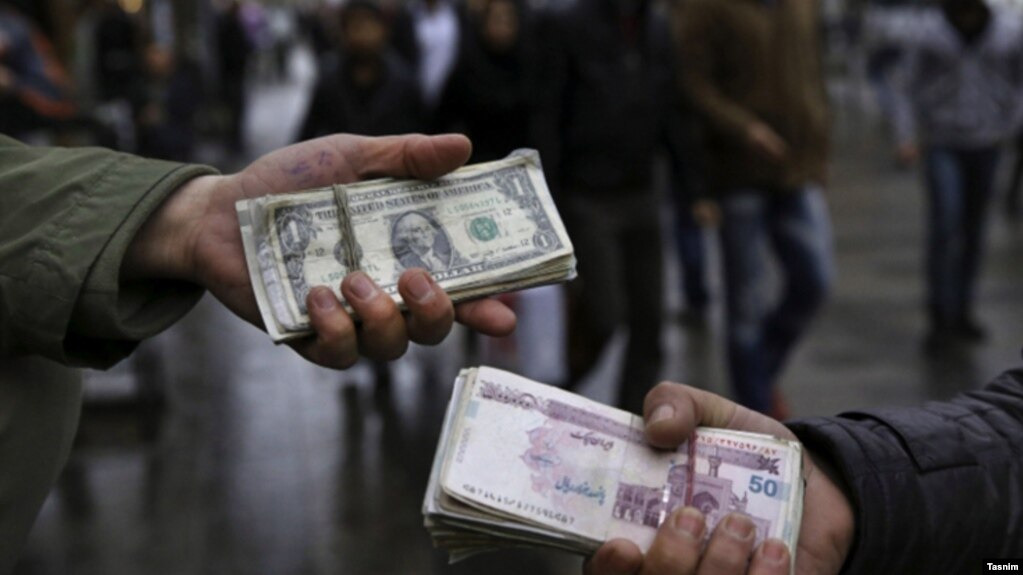 The price of the dollar in the Iranian free market has once again exceeded 28,000 tomans per dollar, rising to 28,700 tomans.
The price of the dollar is soaring while Iranian President Ebrahim Raisi recently asked the Central Bank of Iran and the Ministry of Economic Affairs and Finance to halt the rise in the forex rate and the decline in the national currency value – something that, according to experts, cannot be done by simply issuing orders and has its own particular mechanism.
Iranian officials have not announced the reason for the continuous rise in the price of the dollar, but Iran's finance department reported a few months ago that in the spring, only 3 percent of oil revenues were realized.
Before the sanctions, oil was Iran's main source of income and brought $60 billion to the country each year.
The price of the dollar has continuously risen, and Iran's national currency continues to significantly lose its value, while the rate of inflation is over 50 percent and people's purchasing power is shrinking day by day.
According to official statistics, the Central Bank of Iran allocated $11 billion for importing essential goods last year, but the rate of inflation has continued soaring.
Ebrahim Raisi has declared again and again that his government's priorities are people's livelihood, controlling inflation, and high prices.
Experts say that in addition to incompetence and corruption within the country, US sanctions against Iran are important factors in Iran's economic crisis, and Ebrahim Raisi has said that his government is serious about the nuclear talks with world powers which might result in the lifting of sanctions.
Nevertheless, the new round of talks for reviving the nuclear deal has not started yet, and given Iran's preconditions for reviving the deal, there is little prospect for the success of these talks.
According to an estimate by the Budget and Plan Organization, during Hassan Rouhani's presidency, if sanctions against Iran continue until 2026, the price of the dollar will soar up to 284,000 tomans and the average annual inflation rate will be 54 percent in Iran.