Possible Step-by-step Return to JCPOA by Iran and America
The editorial of Setareh Sobh, written by former lawmaker Heshmatollah Falahatpisheh, argues that if big strategic steps are taken by all sides in the nuclear deal (JCPOA), there is a good chance for returning to the deal.
These days we are witnessing new developments with regard to the JCPOA. When Joe Biden went to the White House, his agenda was killing time, and contrary to his election promises, he was after getting concessions from Iran, which is why he continued Donald Trump's policies of maximum pressure. But then Biden's administration saw that Iran adopted more radical policies compared to Trump's era.
During Trump's term, Iran embraced a controlled policy in order to preserve the JCPOA. But when Iran lost hope in Biden's administration, Iran took a harsher stance. After signing the comprehensive document of cooperation between Iran and China, Iran had the upper hand to a slight degree. After Iran signed the cooperation agreement with China, a new position was formed in the United States, and for the first time, Biden's administration was criticized for its policy which has resulted in shaping centers of opposition against America in the world.
Furthermore, European countries changed the policies they had adopted during the Trump administration and tried to add new issues to the JCPOA. But now we are witnessing that they are modifying that policy.
Under these circumstances, the upcoming meetings of the JCPOA commission can be considered as a chance for reviving the deal. Some experts have talked of a "step-by-step return by both sides" to the JCPOA.
If these steps are strategic and are meant to alleviate the sanctions, Iran will probably accept them. But if these steps are small, Iran will probably not accept them. So, there is hope that all sides in the JCPOA may reach a common language to negotiate with each other.
Destroying Natural Resources With Parliament's Permission
The editorial of Setareh Sobh, penned by renowned Iranian environmentalist Esmail Kahrum, urges that the new bill ratified by the Parliament will cause environmental damage in cities and citizens and destroy natural resources.
The 11th Parliament passed a bill called "Leap in Production and Providing Housing," which can also be considered as permission for destroying natural resources. According to this bill, the Forests, Range, and Watershed Management Organization must hand over the possession of national lands within the range of cities to the Ministry of Roads and Urban Development for housing projects within two months.
It doesn't seem that there has been a careful study with regard to this bill. As a matter of fact, organizations usually grab the lands in a region and then start developing housing projects there. That these lands are in the possession of the Forest, Range, and Watershed Management Organization seems like a logical thing. The reason is that a city like Tehran – with a population of 12 million and with so many houses, cars and factories which create different kinds of pollution – has a buffer zone. In urban areas, there are protected zones for sheltering wildlife where cities cannot be developed.
Now if these buffer zones are put in the possession of the Ministry of Roads and Urban Development and housing projects are developed within them, these zones will increase the level of pollution in cities. As a matter of fact, these zones are designed around the cities so that the cities can have clear air, clean water, and fertile soil.
But ratifying the bill in Parliament is going to add to pollution in the cities. No wise person would agree with such a decision which will put citizens' health in danger. That is because when the government is in need of money, the permit for selling these lands will be issued, and these zones will be plundered. As such, cities and citizens will suffer more environmental damage.
Military President and a Few Questions
The editorial of Aftab Yazd focuses on the presence of military candidates in the next presidential election, underscoring the downsides of having a president with a military background.
As we approach the next presidential election in Iran, the plans of different political parties and groups for this election unfold. Although it is too early to comment on the candidates for the upcoming presidential election, what seems to be quite different is the more significant presence of military candidates in this election.
A presidential election involves people's direct participation in how the country is run, which explains why it is so important. A look at other countries' political systems reveals that in democratic systems military forces are banned from participating in political affairs. In Iran's political structure, the place of military institutions is clear, and according to the Constitution, it is the duty of the armed forces to defend and protect national borders, while providing security against any invasion. They are banned from any political and factional partisanship.
These days, many political and military figures are after realizing their dreams of becoming the head of the executive branch in Iran. Apparently, the Guardian Council which is in charge of qualifying the candidates thinks that there is no legal prohibition against candidates with military records. But what causes worry is the entrance of militarism into the country's management, which is incompatible with the president's duties and responsibilities in a democratic society. It is naïve to think that military figures will be stripped of their military interests by simply giving up their military uniforms.
Even though the president's powers are defined within the Constitution, a military president, in the absence of a strong civil society, might use his powers to eliminate rival political groups which imposes more restrictions on political, civil, and social freedoms.
Undoubtedly, in a truly fair and free election, it is the people's votes that will decide who is competent enough to run the country. In past presidential elections, it became clear that with maximum public turnout, military candidates would have no chance of winning the presidential election.
The question, nonetheless, remains: will electing a military president, as well as more interference of military institutions in centers of power and decision-making, help in resolving the economic, political and social disarray which exists in Iran?
New Iranian Year and People's Problems
With the beginning of the new Iranian year (March 21), Iranian people are facing many problems and calamities. According to Iran's Statistical Center, inflation exceeded 36 percent last year. Officials had promised to control the prices of red meat, chicken meat, and fruit until the beginning of the new year, but they couldn't do so, and people were left to contend with skyrocketing prices and unbridled inflation. That was people's new year's gift.
Heads of branches, as well as other officials, compare Iran with advanced countries, saying that even though the country has been under US sanctions, economic growth has had a 2 percent increase, while European countries and America have had negative economic growth. But the price of this economic growth was the poverty of more than 60 million people and the bankruptcy of small businesses.
As for the Parliament's performance, we must ask if any bills have been ratified to help people who are struggling to earn a living. The only bill passed by the Parliament was to reduce nuclear commitments. With ratifying this bill, Iran's nuclear case might be referred to the UN Security Council and new sanctions might be imposed against Iran.
Rouhani's government had promised to increase economic growth to 8 percent and decrease inflation to 8 percent. The governor of the Central Bank was ordered to reduce inflation to 22 percent. But they couldn't do that either.
Like other countries, Iran too is dealing with coronavirus. While other countries have vaccinated millions of their citizens, so far only 60,000 people have been vaccinated in Iran. How can Iranian officials compare Iran with advanced countries?
Last year, Iran's capital market had a lot of ups and downs – of course, mostly downs. Many people followed official recommendations and invested their capital in this market. But they lost their money, and the government didn't support them. Now this issue too has spilled over to the new year.
Iranian Officials Optimistic About JCPOA Revival in Vienna Negotiations
As the meeting of the JCPOA partners kicks off in Vienna, the Iranian government's spokesman has expressed optimism about an impending revival of the 2015 nuclear deal. "In the very imminent future, the US administration will have no choice but to end its unilateral sanctions," said Ali Rabiei, adding that America has finally "admitted the failure of the maximum pressure."
Rabiei stated that such negotiations would begin the process of the "JCPOA revival" and the Iranian government has stepped on the right path. "If the resolution, seriousness and honesty of the United States is proven, it can be a good sign of a better future for this agreement and down the road, its complete implementation in upcoming weeks," noted Ali Rabiei.
Rabiei also underscored: "As it has been repeatedly stated, there will be no negotiations between the representatives from Iran and the United States." Nonetheless, US Special Envoy for Iran Robert Malley will be attending the meeting. Not to mention that the United States and the EU have both announced that they would conduct bilateral negotiations.
Meanwhile, the Head of the Atomic Energy Organization of Iran Ali Akbar Salehi pointed out last week that it seemed that nuclear negotiations had "passed the cul-de-sac" and entered into the "technical stages." Salehi added that the parties no longer talk about who should take the first step with regard to the nuclear deal.
In the same vein, Robert Malley stated that the United States is ready "to come into compliance if Iran does." Malley continued that his country first of all pursues "a longer agreement" with Iran. Another US official, State Department spokesman Ned Price noted: "There's no denying that we are approaching this with urgency."
Iran Tests New Centrifuge
While Iran holds indirect talks with the United States about the nuclear deal in Vienna, it has started the mechanical test of IR-9 centrifuges, according to Behrooz Kamalvandi, spokesperson of the Atomic Energy Organization of Iran (AEOI). He said this centrifuge can enrich uranium by 50 SWU.
In 2019, Ali Akbar Salehi, head of the AEOI, had announced building three new generations of centrifuges IRS, IR-7, and IR-9, saying that the IR-9, with 50 SWU, is the most advanced generation of Iran's centrifuges.
Kamalvandi also said that Iran is going to unveil 133 achievements on April 9, adding that 40 of them are in relation to enrichment and centrifuges.
Since 2006, April 9 is named in Iran as the "National Day of Nuclear Technology." Since then, the AEOI has held ceremonies and exhibitions to unveil Iran's latest achievements in this field.
According to Kamalvandi, in this year's National Day of Nuclear Technology, new achievements in the field of enrichment, parts and equipment in relation to Arak's heavy water reactor, and diagnostic and therapeutic radiopharmaceuticals will be presented.
In 2018, Iranian Supreme Leader Ali Khamenei had asked the AEOI to "rapidly" prepare the ground for Iran reaching 190,000 SWU uranium enrichment.
Since the beginning of 2021, Iran has increased uranium enrichment to 20 percent, which has caused serious concern in the global community. Enriched uranium can be used to make reactor fuel but also nuclear bombs. Weapon-grade uranium is 90 percent purity.
Earlier, France, Germany and Britain had issued a joint statement expressing deep concern about the production of uranium metal by Iran which was confirmed by the IAEA, calling it in defiance of the nuclear deal.
Iran's Health Minister: We Cannot Control Coronavirus Anymore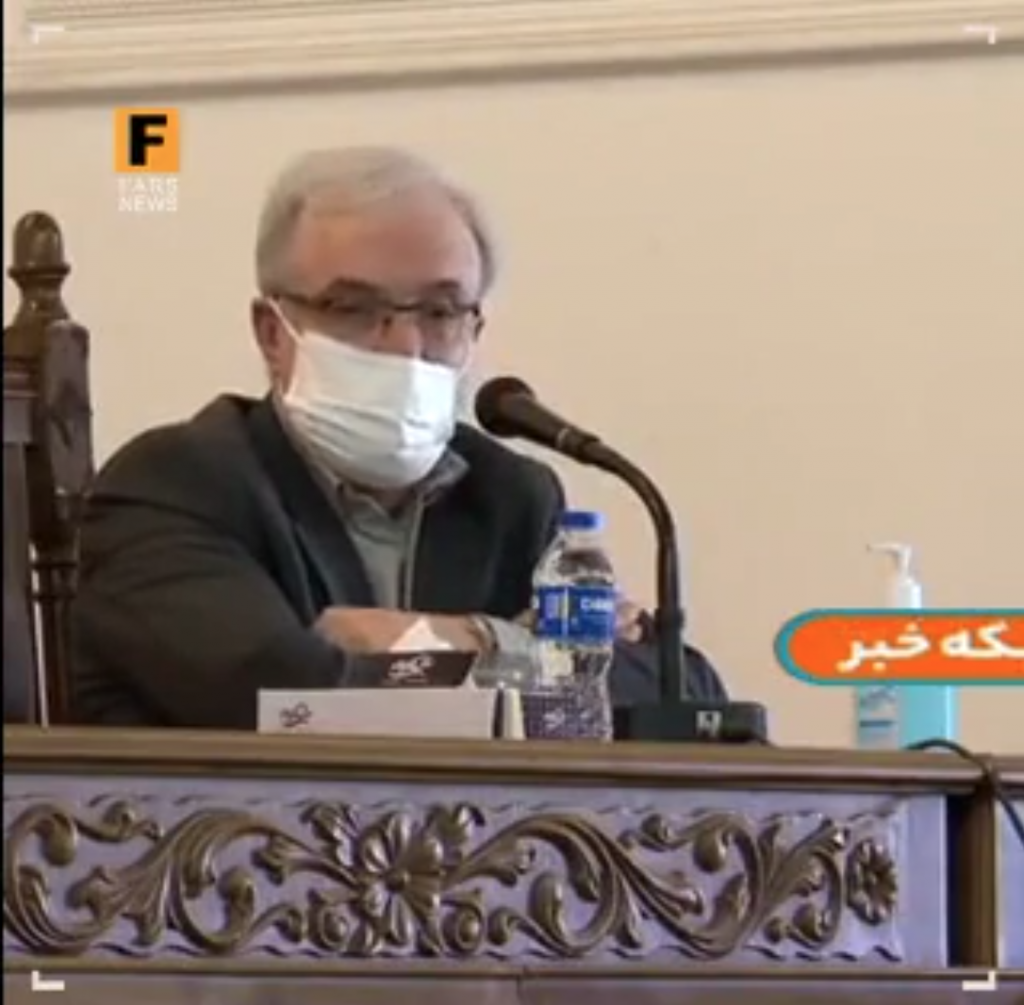 In the midst of a rapid surge in coronavirus cases in Iran, officials now openly express their desperation as well as lack of planning to combat this disease. The country's Health Ministry announced that a large number of cities are in the red zone in terms of coronavirus outbreak, including Tehran, Shiraz, Esfahan, Zanjan, Shahr Kord and Karaj. This new announcement came only a day after Health Ministry spokeswoman Sima Lari said 47 provinces were in the red zone.
Health Minister Saeed Namaki raised the alarm in this regard, saying we are currently facing one of the most violent waves of coronavirus, while adding it could have been prevented: "We have totally lost control of coronavirus." Namaki pointed out that it is not clear when the daily death toll can be reduced to two-digit figures.
Besides, a member of the National Coronavirus Headquarters stated that the number of hospitalized patients has doubled, namely, it has increased from 300 to 600 a day. Moreover, the director of Tehran's Behesht Zahra Cemetery noted that the coronavirus death toll in this city has risen from 20 to 60 on a daily basis.
In the meantime, Head of Tehran City Council Mohsen Hashemi criticized the vaccination process in the country, saying that so far not even 1 percent of people have been vaccinated. In the same vein, Ali Reza Zali, a member of the National Coronavirus Headquarters, said the vaccination of healthcare workers in Tehran has not even reached 30 percent yet. Zali urged using the country's full capabilities for importing coronavirus vaccines, specifically pointing to the government, the Foreign Ministry and the Central Bank of Iran.
According to the official tally, more than 1.9 million people have contracted COVID-19 and 63,160 have lost their lives from it in Iran up to now.
Retirees Stage Protests All Over Iran: "Our Salaries Are in Rials, Expenses Are in Dollars"
A significant number of retirees held assemblies in front of social security offices in different Iranian provinces on April 3 in protest against their low salaries and the authorities' disregard of their demands. This is their third major protest in the last three months. The retirees' previous assemblies – held in February and early March – turned violent following the security forces' interference.
Their recent protest was staged in Tehran, Alborz, Markazi, Lorestan, Kerman, Khuzestan, East Azerbaijan, Mazandaran, Esfahan and Kermanshah. A number of protesters beat on empty pots to draw attention to their poor economic conditions.
According to a participant, a considerable number of retirees assembled while security forces and plainclothes agents were present, filming them. Criticizing the security police, retirees chanted "threats and imprisonment do not work," "our salaries are in rials, expenses are in dollars," "Parliament! Government! Enough is enough! Stop cheating people!"
The assembled retirees also referred to Iran's upcoming presidential election in their slogans: "We were treated unjustly, we do not vote anymore," "we did not get any support, we do not vote anymore," "we were told a lot of lies, we do not vote anymore."
It should also be noted that a day before this protest assembly, a retired worker named Esameil Gerami was arrested at his home. Security forces had reportedly asked him to cancel the assembly. They inspected his home, confiscating his own and his family's personal belongings including their cell phones.
ILNA reported that the retirees demanded a 39 percent increase in their pensions as well as the elimination of discrimination among retirees of different organizations. "A pension of 4 million tomans is not enough at a time when the poverty line is 10 million tomans," according to ILNA.