Crisis of Trust in Society
The editorial of Aftab Yazd ponders the crisis of lack of trust between people and officials in Iranian society.
These days Iranian society suffers from a crisis of trust, meaning that people have lost their trust in officials so much so that whatever the government does, the trust cannot be regained. As a matter of fact, the government has burned all its bridges by being incompetent and making false promises.
People have become insensitive and indifferent towards what is going on around them or in society. And they don't trust the officials' remarks and promises. Building trust is a long process; trust is not created overnight, as it is not lost in one day.
Officials have been saying for years that they will stop embezzlement and corruption and that they will provide the necessary welfare for the people. But these promises remain unfulfilled which is why people have lost trust in officials.
It has been said that the poverty line has reached ten million tomans. What does that mean? It means the government cannot earn people's trust. How can people trust the government with all these barefaced lies that officials tell?
As mentioned above, the distrust wasn't created overnight. It is obvious to all that Iran's economy is diseased. The lawmakers have forgotten the people and are looking for special privileges for themselves.
Things can change, but it will take time. This lack of trust has caused the worst economic damage in society – creating a political, cultural, and psychological crisis. The greatest asset in every society is trust between people and officials. If a society enjoys the latest technology, a good economy and income, and natural resources, it cannot be successful with without trust.
Mr. Rouhani, why You?
Iranian President Hassan Rouhani has recently asked Iranian people to curse the White House for all their problems. The editorial of Hamdeli urges that it is Rouhani and his government that are to be blamed for what is happening in the country; he and his government are the ones to be held accountable for the country's deteriorating conditions.
When an official or manager talks, his staff come forward and elaborate on his words as a matter of routine. Now when a country's president talks, his words must be interpreted as each word might have a substantial impact on the country's cultural, social, political and economic domains.
However, it has been a while since Rouhani's words have had a detrimental impact on society. Rather, in recent months, his words have largely been ridiculed on social media. And of course, sometimes these words worry the politicians and intellectuals in the country.
Rouhani's recent remarks represented a turning point in the decades of his political activities in Iran. If an ordinary person had said these words, he would have been criticized. But now that Rouhani has made such remarks, we can only feel sorry for a country whose president has such an inadequate, narrow understanding of the situation; instead of being accountable for his government's measures, he says curse America!
Isn't it sad that the head of the government with 24 million popular votes recommends that people should curse America? Mr. Rouhani, you are expected to present effective solutions to the Iranian people for solving their problems. You and your friends are in charge and are responsible to resolve the country's issues.
Mr. Rouhani, instead of apologizing to people for the collapse of the national currency and having no income, you mislead the public.
Spike in Coronavirus!
The editorial of Mostaghel deals with the issue of the new wave of coronavirus in Iran and how Iranian citizens, along with officials, have stopped taking the health protocols seriously.
All numbers and statistics show that in recent weeks Iranian citizens have ignored following health protocols and social distancing measures to contain the coronavirus, not showing any sensitivity towards the issue. The repercussions of this irresponsibility towards each other are quite evident in the number of deaths and infections in recent weeks.
While health officials had warned against the new wave of coronavirus in the autumn when it becomes more difficult to distinguish flu from coronavirus due to cold weather, these warnings were not effective.
The truth is that warnings and putting restrictions without punishing those who violate the laws are useless. In European countries, along with imposing restrictions and quarantines on cities, it was announced that there would be fines for those who do not obey the rules. Nevertheless, in Iran there was no quarantine and no fines.
The decisions that are made in Iran are not consistent; opening schools and restaurants has added to the coronavirus crisis. People are not the only ones to blame for the new state of emergency in the country; some authorities too have cooperated with those who haven't followed the health protocols. Government organizations were not serious in following these protocols.
Even using Remdesivir has not reduced the rate of mortality, which shows there has been a spike in coronavirus cases these days. It must be admitted that we have failed in empathy, compassion and accountability with regard to coronavirus in Iran.
Ironically, we are not even unanimously wearing masks any longer. Masks are very effective in preventing the spread of the disease. Now that masks are mass produced and their prices are fixed in the market and they are easily accessible to all, many citizens are not willing to wear them.
Coronavirus has become like other issues in Iran such as the instability in the currency market, the increase in sanctions, discrimination, etc. – and that means it is a hopeless situation!
The Market in Economic Anarchy
The editorial of Tejarat Online, penned by Shiraz lawmaker Jafar Ghaderi, explains why Iran's economy is suffering from mismanagement and a lack of transparency, just as much as it suffers from US sanctions.
Recent economic conditions and developments are so appalling and must be criticized. If anarchy is interpreted as mismanagement and a lack of planning, then we will reach the conclusion that important parts of the country's economy are suffering more from economic anarchy than the impact of US sanctions.
Undoubtedly, as a result of the country's dire economic conditions, important economic sectors are suffering. And today the most urgent demand of Iranian society is to fix the economic issue and create stability in the market.
The most important issue is that of huge economic problems and economic obstacles. Unfair US sanctions, the lack of forex revenues, the unregulated increase in liquidity, inflation, the weakness of the banking system, the dependence on oil revenues, the problems facing the production sector, etc. are the most important economic issues that the country is grappling with.
Nevertheless, what is neglected is structural weaknesses and mismanagement – or economic anarchy in different parts of the government's economic management. Amidst all the serious problems that the country is facing, this anarchy has escaped criticism.
For example, in the agricultural sector, for years we have been witnessing chaos and mismanagement in the distribution and sales departments. And those in charge of this sector haven't been able to create a transparent, well-defined structure to create a balanced, healthy relationship between producers and consumers.
Under these circumstances, we witness the costs and difficulties that are suffered by the producers and consumers; while the dealers are making huge profits.
All these cases are examples of the lack of planning, mismanagement, and the lack of transparency in the country's economy.
Reza Pahlavi Calls for Strikes, Protests, Civil Disobedience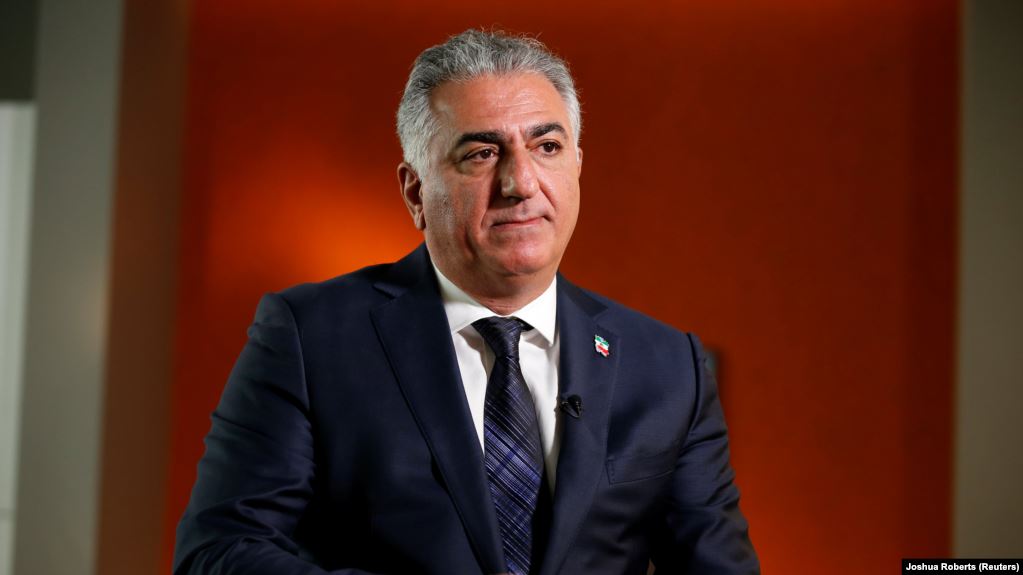 Former Crown Prince of Iran Reza Pahlavi urged that all opposition groups in Iran must aim at "saving Iran," calling for widespread protests and popular strikes in Iran.
In a video message called the "New Covenant" released on Monday, Reza Pahlavi stated that the only achievements of Iran during the past 41 years have been isolation, social collapse, frustration, and hopelessness, stressing that "this regime is not reformable."
He described the "New Covenant" as a covenant among all people, saying that "my motive is not to gain political power; it is rather an effort to establish a system in which power is not monopolized by one individual or group."
Pahlavi emphasized that his efforts and planning only aim at rectifying the country's path, and for that "the first step is transition from Iran." He went on to call Iran a "symbol of power and accrued wealth in one single group."
The former crown prince called for civil disobedience in the workplace, so that a "large network of protest" is organized within the country.
In another part of his message, he addressed the Iranian army, stating that at the time when the Iranian government is selling the country's resources and is opening fire on innocent citizens, their duty is to defend the people.
Pahlavi went on to address the IRGC and Basij organizations, describing the IRGC commanders as "thieves" who are only thinking of making money for themselves and have paralyzed the country with their own interventions.
He reiterated again and again in his speech that no single individual or group can save the country, urging that people and different political groups must ask themselves at this "sensitive period of time" which side they are taking: the Islamic Republic or Iran?
Pointing to the deteriorating conditions of minorities and workers in Iran, Pahlavi asserted that "we are stronger than the oppressors."
Senior Military Figure Threatens the UAE and Bahrain
The Chief of General Staff of the Armed Forces of Iran Mohammad Bagheri once again issued warnings and threats against the UAE and Bahrain over normalizing relations with Israel. He said that "our view towards the UAE and Bahrain has changed."
Bagheri threatened that if "Israel enters the region and something happens to harm our national security, we will treat the UAE, Bahrain and any other country – that gives bases to the enemy – we will deal with these countries as enemies."
These threats were made when the UAE's foreign minister said that Iran's aggressive policies have caused concern among Arab countries, making them reconsider their own relations with Israel.
Recently, in a ceremony held in the White House and with the mediation of US President Donald Trump, Bahrain and the UAE signed a peace deal with Israel.
Meanwhile, the IRGC's Aerospace Force unveiled a new ballistic missile. According to the IRGC, the new naval missile's range is more than 700 kilometers. Prior to this, the range of the IRGC's naval missile was only up to 300 kilometers.
The missile, dubbed "Zolfaghar Basir," was unveiled in a ceremony in the presence of Parliament Speaker Mohammad Bagher Ghalibaf and the IRGC's Chief Commander Hossein Salami.
The unveiling of Zolfaghar Basir took place a few days after a US aircraft carrier passed over the Strait of Hormuz and the IRGC opened a naval base in this waterway.
One fifth of the world's crude oil passes through the Strait of Hormuz, and this waterway has witnessed escalations in tensions between Iran and the United States since late 2019. At that time, several cargo ships were attacked, several drones were downed, and several tankers were seized.
Since June 2019, Iran and America have twice reached the brink of military confrontation.
Coronavirus and Favoritism of Iranian Officials
While officials from the Iranian Health Ministry talk of the third wave of coronavirus being more severe, the death of an Iranian citizen "every seven minutes," and worrying conditions in Tehran, former MP Mahmoud Sadeghi disclosed that pills imported from China have been "secretly" allocated to Iran's officials.
According to Sadeghi, during the final days of the 10th Parliament, "20,000 Favipiravir pills were secretly imported from China and were used in treating officials." He added that these pills were supposed to be given to the hospitals and permits for producing them were to be issued, but "unfortunately it is not clear what happened to them."
The former lawmaker also pointed to the delivery of 1,500 doses of flu vaccines to the 11th Parliament, adding that officials should not be given special priority. Sadeghi remarked that it is surprising that hardline lawmakers who used to chant slogans about seeking justice and fair treatment are now distancing themselves and are treated differently.
Recently, the Deputy Health Minister Iraj Harirchi announced that the third wave of coronavirus has started and the number of infections and hospitalizations is much more than the first and second waves, with significant increase in the provinces of Tehran and Qom.
In an interview on state TV, Harirchi stated that the number of deaths in some provinces has been unprecedented and based on weekly statistics, "every seven minutes, there is one death due to coronavirus, which is not becoming for our country."
Harirchi asserted that a one-week shutdown of schools and universities might be extended, and with the permission of the National Committee on Combating Coronavirus, some stores and offices might be closed as well.
The deputy health minister described the conditions in Tehran as "worrying." Meanwhile, Nahid Khodakarami, head of the Health Council of Tehran, announced that 12,000 people have died in Tehran due to coronavirus.
"Electronic Coupons" on the Way
The bill for allocating electronic coupons for essential goods to Iranian households was finalized in the Parliament's Budget and Plan Commission and will soon be put on the Parliament's agenda for ratification.
According to this plan, the government will have to issue monthly purchase credits to Iranian households.
The plan dubbed "electronic coupon" is a reminder of the Iran-Iraq war era, when for years food items like meat, rice, and sugar were distributed among people only by coupons.
In the past two years since the US pulled out of the nuclear deal and the value of the national currency collapsed, the Iranian government and Parliament have proposed different plans for providing essential goods to the people. This recent plan is the Parliament's latest move in this regard.
Meanwhile, recently the inspector of the Supreme Assembly of Workers' Representatives pointed to the poverty line at 10 million tomans for a family of four, highlighting that "half of the country's population live under the absolute poverty line."
The absolute poverty line means a lack of access to a minimum livelihood in society, and it can vary in different parts of the country.
For example, in Tehran and in accordance with studies conducted by Parliament's Research Center, the poverty line for a family of four has witnessed an 80 percent increase during the past two years.
The Parliament's Research Center had reported earlier that about 23 percent to 40 percent of the Iranian population were under the poverty line in 2018.
In reaction to the current situation, Shiva Ghassemipour, Marivan's MP, admitted that high inflation doesn't allow people to live an "honorable" life. Addressing Hassan Rouhani, she said: "Stop talking about people's resistance. If this situation continues, people will not have even bread to eat in the upcoming months."
Experts hold that in addition to US sanctions, "systematic financial corruption" in Iran, as well as huge costs related to nuclear and military activities, play a role in the current situation.