Necessity of Negotiations
The editorial of Jahan Sanat argues that with Iran's deteriorating economic conditions, Tehran has no choice but to negotiate with the Europeans and Americans, even if it requires Iran to change its regional policies.

The Iranian President Hassan Rouhani recently announced openly that Iran is facing emergency conditions. Taxes and tariffs are the country's only source of income comprising one-third of the public budget.

The government which had earlier announced that it would not consider oil revenues when drafting the budget has now concluded that the country's domestic sources of income are not enough to meet national requirements.
The other issue recently raised by Rouhani is that of negotiations.

Rouhani has argued for Iran to with the world, as there some main points of agreement between Iran and the rest of the world. Iran shouldn't close its doors to negotiations, as a global coalition against Iran and the ending of the JCPOA will make conditions abnormal for Iran.

Meanwhile, the European Union has announced that if Iran continues to cut back on its nuclear commitments, it will pull out of the nuclear deal.
Tehran has taken the fourth step in reducing its nuclear commitments, hoping that this step will make the West and America return to their nuclear commitments. But the truth is Iran's steps have not yielded results: Europe hasn't fulfilled its nuclear commitments, and it has become more likely that the Europeans will pull out of the deal.

The US sanctions have been so effective that Rouhani has admitted to numerous economic problems in Iran, proving that the Americans have been successful in their policies against Iran. The only solution, therefore, is negotiating. But this time, Iran's regional policies must change to meet the demands of the European Union and America.

The conditions get worse every day. There is no way but to negotiate, even though negotiations are not possible without Iran making changes to its regional policies.
Jahan Sanat
Discovering oil; good news, bad news
Iran announced discovering a big oil field in Khuzestan Province this week. The editorial of Etemad explains the difficulties which exist for Iran to develop and use this oil field, due to the US sanctions.

When we talk about one of the biggest discoveries in Iran's oil industry, there is good news and there is bad news.

The good news is that with discovering the Namavaran oil field, 22 billion barrels of oil have been added to Iran's registered oil, and the country's oil reserves reach 178 billion barrels now. With a 10% extraction, Iran can extract 2.2 billion barrels of oil from this field. With oil at $60 dollar, it means $132 billion has been added to Iran's wealth.

But the bad news is that under the current conditions, Iran cannot develop its oil and gas reserves at a reasonable cost and within a specific time frame. This means that Iran cannot develop a plan for this oil field at this moment in time.

The Iranian oil Minister in regard to the Namavaran oil field said that there are currently many difficulties present for it to be developed. Development needs investment, and good development requires advanced technology and efficient management.

Geopolitically, oil and gas reserves are very important for a country.

However, oil will not benefit the people when it is still under the ground. What is the use of having oil if it doesn't create wealth? And what is the use of it, if the welfare of the country is not provided for?

Azadegan oil field was discovered with 33 billion barrels of oil in 1997. In 2001, Japanese INPEX inked a contract to develop it. After the sanctions, INPEX left Iran and the development of the field was suspended. 13 years after the discovery of the field, a Chinese company signed a contract to develop it in 2010.

But 4 years later, this company was removed, and Iranians were put in charge of developing the Azadegan oil field. The truth is that the field's productivity level is currently far below the targeted level.
Etemad
Regarding Rouhani's recent speech
During Iranian President Hassan Rouhani's recent trip to the city of Yazd, in his speech, he accused the judiciary of not dealing with big corruption cases. At the outset of his speech, some people chanted slogans against him and his government. The editorial of Arman Melli focuses on why Rouhani made such accusations against the judiciary.

Economic corruption cases have spiked during the past decades in Iran. Under such circumstances, it is the duty of the judiciary to deal with corruption cases, regardless of how small or big they are. The truth is that some people are trying to prove that the source of corruption is in Rouhani's government.

Therefore, Rouhani's recent remarks regarding the necessity of dealing with billion-dollar corruption cases can be considered as his response to those blaming his government for corruption in Iran. The president wants to say that corruption cannot be pinned only on government managers; there is corruption in other branches as well.

As we all know, there is as much – if not more – corruption outside the government. That is why the president who is in charge of enforcing the constitution has made recommendations to the judiciary in this regard.
Some people also claim that this corruption blame game partly goes back to the presidential election campaign in 2017, when Rouhani and Ebrahim Raisi – current head of the judiciary – were both running for the presidency and made accusations against each other.

Rouhani's recent remarks can also be viewed in light of the slogans chanted against him and his government during his speech. During the public speeches of other high-ranking clerics and officials, no one is allowed to protests or chant slogans against them. Yet, this is not the case for the president as anyone can easily insult him.

The question is: how come the president is not treated the same as others and why is there is no action taken against those who insult and sabotage him.
Arman Melli
FATF, a never-ending story for which no one takes responsibility
The editorial of Akhbar Sanat focuses on the FATF bills and their ratification in Iran. The bills have been ratified by the Iranian government and parliament but were rejected by the Guardian Council. Now it is up to Iran's Expediency Council to announce its final decision in this regard.

If FATF is bad and will create problems for Iran, it is not clear why the Expediency Council doesn't announce its official view in this regard. FATF bills have become a never-ending story: the government and the parliament ratified the bills; the Guardian Council rejected them; and now the Expediency Council, that is lawfully in charge of resolving this issue, has remained silent in this regard.

Friday Prayer imams, on the other hand, have attacked the FATF bills. Tehran's Friday Prayer imam, Sadighi, said in this regard: "It is unfortunate that some are still after ratifying FATF's bills. And they even tell lies about it."

If FATF is bad, then why isn't the Expediency Council announcing its view officially in this regard? Mesbahi Moghadam, a member of the Expediency Council, has said, "It will be costly if we even announce we want to reject the bill, so we prefer to keep it as it is". These words indicate that members of the Expediency Council know very well that rejecting the FATF bills will be costly for the country. Then why do they want to reject them?
Whether they agree or disagree with the bills, they should announce it openly and accept the responsibility. The Iranian people should know who is to be held accountable if there are any problems in this regard in the future.

The issue is simple: the government and the parliament should take responsibility for ratifying the bills, while the Expediency Council and Guardian Council should take responsibility for rejecting them. We cannot call the bills bad and not accept responsibility.
Akhbar Sanat
Rouhani: Iran faces the hardest times since the Revolution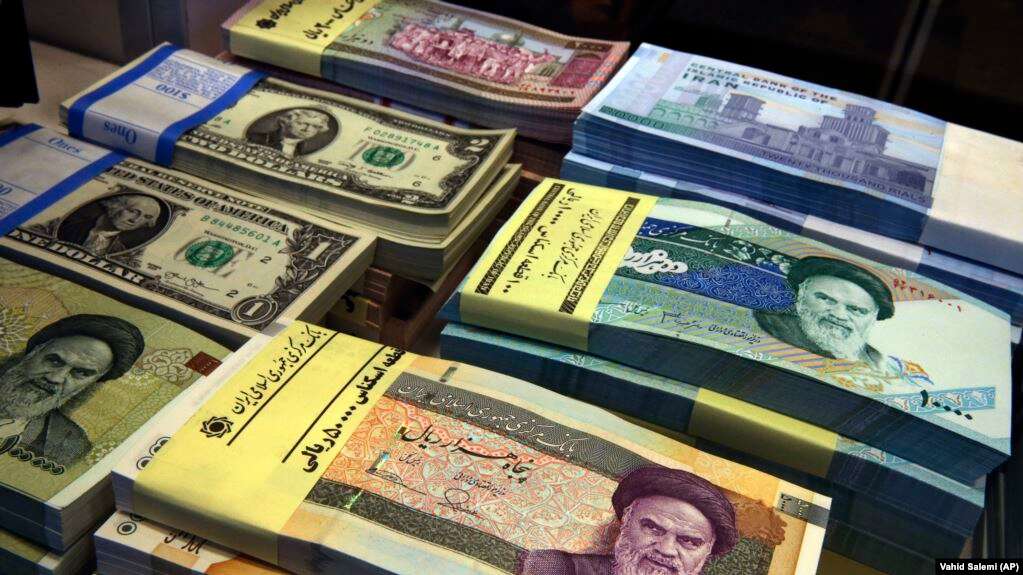 President Hassan Rouhani says the Islamic Republic has never been in such "hard and complicated conditions", adding if another U.S. President was in office, we would negotiate with him. Rouhani admitted the pressures of U.S. sanctions on his government but said trusting Donald Trump is very hard.
Rouhani added he was offered "good proposals regarding the lifting of U.S. sanctions" during his recent trip to New York but did not accept them. "The conditions were in a way that we needed to trust the U.S. President – and that was very hard; perhaps, if another U.S. President was in office, this could have been done and finalized before October."

In a speech in the city of Kerman, Hassan Rouhani said Iran's conditions are not "normal" and "these recent days and months have been the hardest ones since the advent of the Islamic Revolution so far."

Referring to Iran's difficulties in selling oil, Rouhani said we have never had such problems in oil sales since the beginning of the Revolution. "How should we manage the country when the country is grappling with oil sale issues?" He also pointed out that despite some miscellaneous income, Iran can only be managed by its oil revenues.

Iran's president stressed that paying taxes is necessary, given the country's "unusual conditions". He added the highest tax revenue predicted for next year is 150 thousand billion tomans – one-third of "450 thousand billion tomansneeded to run the country." Addressing those who slam his administration, Hassan Rouhani said: "One cannot do anything without money; we need a financial source after all."

Meanwhile, Iran's economy has been severely damaged by US sanctions.
Oil exports have dropped from 2 million bpd to 300,000 bpd, after the return of the US sanctions. In 2019, no country in the European Union imported oil from Iran, and Iran's exports to the European Union had a 94% decrease.

This shows that despite the efforts of European governments – particularly Germany, Britain, and France – in establishing INSTEX to sidestep US sanctions, European companies are still committed to the US sanctions.
In the first half of 2019, foreign investment was 0% of GDP. Not only did foreign investors leave Iran, but Iranians also invested their money in neighboring countries, particularly in Turkey. Meanwhile, manufacturing units were shut down, and many employees lost their wages and were made redundant. Inflation which had reached a single digit in the first years of Rouhani's presidency skyrocketed again and reached 40%.
Radio Zamaneh
Radio Farda
Will Iran pull out of the NPT?

In Iran, there is talk of pulling out of the Non-Proliferation Treaty (NPT) once again, seeing it as a possible option against the West's lack of commitment to the nuclear deal (JCPOA).

The Spokesman of the Atomic Energy Organization of Iran, Behrooz Kamalvandi, said in a press conference at Iran's Fordow nuclear facilities that the Europeans must respond properly to Iran's steps in reducing its commitments in the JCPOA, threatening that one of the possible steps Iran can take is to pull out of the NPT. Kamalvandi also said that Iran can enrich uranium up to 5%, 20% or 60%, adding that level of enrichment has gotten closer to the pre-JCPOA era.

Meanwhile, Iranian Ambassador to London, Hamid Baidinejad, pointed out to domestic pressures for pulling out of the NPT, arguing that the entire JCPOA is at risk now. He asserted some groups in Iran say that the Islamic Republic is not benefiting from the NPT. Later, Baidinejad retracted what he had said in a tweet.

Abulfazl Hassan Beigi, member of Iran's Parliamentary National Security Commission, too, said that if US officials or Europe are after pressuring the members of the UN National Security Council to re-impose UN sanctions on Iran, Tehran may pull out of additional protocol and even the NPT.

It is not hard to imagine that in the upcoming months, the pressure against the Islamic Republic will mount, so much so that the Islamic Republic's nuclear case will be referred to the UN Security Council once again. Under these circumstances, UN sanctions on Iran might be re-imposed.
Kayhan London
Euronews


Rouhani-Raisi confrontation; deception vis-à-vis deception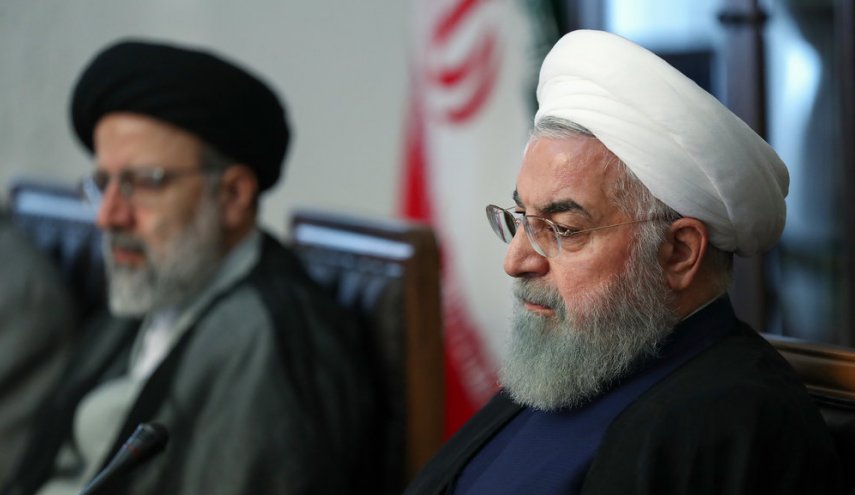 Hassan Rouhani recently made harsh remarks against the judiciary. He indirectly accused the judiciary of political deception. Rouhani believes that the judiciary has been dealing with smaller corruption cases in order to distract public opinion from bigger ones. Such remarks are just empty threats, and Rouhani like other presidents before him wouldn't go beyond making such threats.

The spokesperson of the judiciary accused Rouhani of having a political agenda , as Iran gets closer to parliamentary elections. Some also interpreted his words to indicate a confrontation with the Supreme Leader Ali Khamenei.

Rouhani seems to be criticizing the head of the judiciary, Ebrahim Raisi, and his other opponents while blaming the former President Mahmoud Ahmadinejad for Iran's current problems.

Rouhani's approach to the issue of corruption is absolutely populistic, as he is attempting to create a political wave for his own advantage. He has no plan or resolve to take action against corruption. His confrontation with his opponents is an example of political deception vis-à-vis their deception. If he really wanted to counter the abuse of power and corruption, he would have prepared a documented report in this regard, instead of just raising the issue in a public speech.

But in the Islamic Republic, different factions make accusations against each other without producing any pieces of evidence. Such an approach only makes society insensitive to the issue of economic corruption.
While Rouhani claims that not a single dollar has gone missing in the 11th and 12th governments, his government hasn't provided any explanation regarding the squandering of public resources as the result of his government's Forex policy. As a result of this policy, at least 10 billion dollars were pocketed by certain individuals, and the government did not provide any explanation about it.

Rouhani has obviously felt the danger: His opponents are ruthlessly vilifying and sabotaging his government, just as they did with the former presidents Rafsanjani, Khatami, and Ahmadinejad.
Didgahenow
Suspicious death of a young Arab poet; protests in Ahvaz

A number of protest assemblies were held in the city of Ahvaz after it was announced that Hassan Heydari, a 29-year-old dissident Arab poet, died in a hospital in this city. Protesters who believed Heydari was killed due to "being poisoned" in Shafa Hospital poured out onto the streets to express their rage. They blocked the road to Kut-e Abdollah, a city in Karun county, and set fire in some streets of Ahvaz.

An Arab activist Yousef Al-Sorkhi remarked this is not the first time a well-known poet has suspiciously died in Kut-e Abdollah. He added that another poet named Satar Sayahi suspiciously died in the southern part of Kut-e Abdollah about five years ago, which led to similar protests. He also pointed out that both poets had participated in different events such as marriage ceremonies and recited poems critical of the Islamic Republic establishment. "When such poets are killed for any reason, people think the Islamic Republic has silenced their voices, so they show a strong reaction against it ," said this Arab activist.

Hassan Heydari was arrested last summer and released a month later on bail. He was buried while a large number of security forces were present. IRNA, the Islamic Republic's official news agency, announced Heydari died due to a "brain condition."
Radio Zamaneh
Radio Farda
Discovering a big oil field in Khuzestan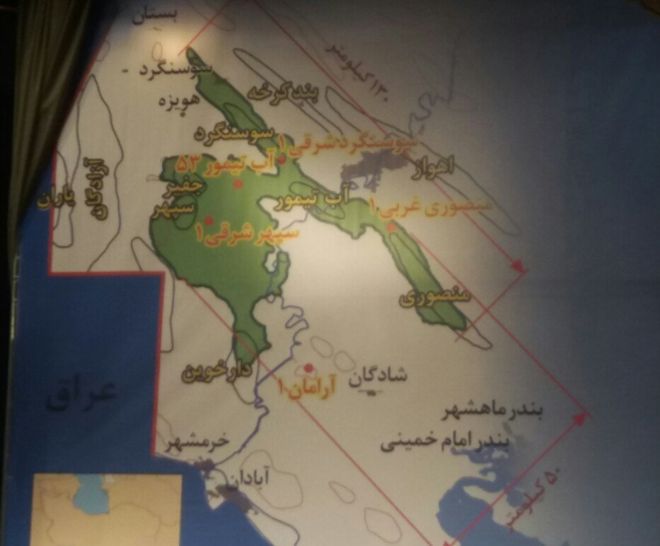 Iran announced discovering a big oil field, called Namavaran, with 22 billion barrels of oil in the Khuzestan Province. This is Iran's second-biggest oil field.

Hassan Rouhani, announcing the discovery of the oil field, said: "we need technology and new science to make our country rich, but some are against foreign companies and technology entering our country."
Due to the US sanctions, international companies have avoided participating in Iran's gas and oil plans. What is more, Iran is facing challenges to sell and export its oil.

Iran's biggest oil field, the Ahvaz oil field, too, is located in Khuzestan. The oil amount in the Ahvaz field is said to be upwards of 65 billion barrels. Iran's registered oil is 150 billion barrels, and the discovery of the new field means a 30% increase in Iran's oil reserve.

It must be noted that due to the US sanctions on Iran's gas and oil, Total of France and a Chinese oil company which had expressed interest in cooperating with Iran in the South Pars gas field had to terminate their contracts with Iran.
Deutche Welle
BBC Persian