Looking towards the East, but which East?
The editorial of Mostaghel focuses on Rouhani's recent claim that Iran has always pursued a policy of looking towards the East, emphasizing that it is not clear what he means by 'East'. It also goes over the significance of Rouhani's recent trip to Malaysia and Japan.
Hassan Rouhani, at the outset of his trip to Malaysia and Japan, said Iran's policy of looking towards the East and forging close relations with important Asian countries have always been the goals of the Islamic Republic. As for the objectives of this trip, he said at the Kuala Lumpur Summit, important countries from the Islamic world will participate. Iran, Turkey, Qatar, Malaysia, and Indonesia are among the countries whose leaders are to participate in this summit.
One should first ask President Rouhani what this policy of looking towards the East means. If by East, he means geographical east, it is not common in political terminology to classify countries geographically. If by looking towards the East, he means 'political east and eastern bloc', we should say that such a classification is no longer in use after the collapse of the Soviet Union and after the essential economic change in China and its turn towards a market economy. So there is no longer any eastern bloc.
On the other hand, Malaysia and Japan are geographically located toward the east of Iran, but Japan, for example, completely belongs to the western bloc, and after World War II, it is the closest ally of the United States in the far east.
Malaysia might not be considered as a strategic partner of America and the West, but given its free economy and social fabric, it definitely doesn't belong to 'eastern bloc' at all.
Rouhani also pointed to the presence of important Islamic countries at the Kuala Lumpur Summit, while Saudi Arabia and Egypt two of the most important and influential Islamic countries in the world are not present at this summit. One of the most critical problems facing the Islamic Republic's regional policy is its cold relationship with Saudi Arabia and Egypt.
Anyway, the countries present at the Kuala Lumpur Summit all have close economic, political, military relations with the United States. They have shown so far that they are not ready to endanger their good relations with the United States for any other country.
A sociological look at the recent protests
The editorial of Arman Melli mulls over the November protests in Iran, emphasizing that they not only highlighted the economic problems the people have to deal with but also reflected the widening gap between the Iranian people and the establishment. So far, at least 304 people have been killed in these protests.
The recent protests in November, triggered by tripling the price of gasoline, added fuel to social concerns over serious economic issues. Raising the price of gasoline without any prior warning was unwise. If it had been announced before, it would have been digested better by the people and we wouldn't have seen such bitter incidents.
But announcing the price hike overnight shows that Iran's officials were sure that there wouldn't be any serious reactions. For 2 or 3 weeks, Iran's officials and lawmakers were saying that the price of gasoline would be increased gradually, but suddenly the price of gasoline tripled.
And now, as time passes, we are witnessing that the people are more and more ignored and humiliated. The November protests indicated a serious rift between the people and Iran's officials, who seem not to understand the people's problems.
The rate of unemployment is high, and the youth are facing different issues. The authorities keep encouraging the youth to get married and have children, but nobody asks how they can do so under such poor conditions. Iran's officials, on the other hand, do not offer any clear explanations to the people regarding their social problems; they talk as if everything is okay and there is no problem.
Even after the recent protests, Iran's officials cannot manage the situation properly. There are still no exact statistics about those who were killed, injured, or detained. The recent events indicate public distrust towards Iran's officials, while some officials do not have a clear grasp of society.
Overt and covert goals of Rouhani's trip to Japan
The editorial of Setareh Sobh reflects on Rouhani's trip to Japan, as well as the possibility of Iran-US negotiations via this country.
On December 18, Iranian President Hassan Rouhani travels to Japan to meet with the country's Prime Minister Shinzo Abe. This is, of course, different from Abe's trip to Tehran. As the result of social turmoil and economic problems, Iran is the one that called for this trip and meeting.
Many consider that the main goal of these two trips is for Japan to mediate between the Islamic Republic and the United States. However, the recent prisoner swap deal between Iran and the United States can facilitate negotiations between the two countries.
The American side, and particularly Donald Trump, wants a big concession from Iran on the verge of the US presidential elections in 2020. The Iranian side, meanwhile, seeks to increase public participation in the upcoming parliamentary elections.
Due to the US sanctions which have negatively impacted the socio-economic conditions of the Iranian people – particularly after the recent protests in Iran in November – economic pressures make Iran more willing to hold negotiations with America.
Under the current circumstances, neither side seems to be willing to step back from their positions. Each side must give into certain demands and expectations of the other side.
America expects changes in Iran's domestic policies, as well as in its international and regional relationships. Both Iraq and Lebanon, Iran's close allies, are facing domestic crises, which makes Iran's role in the region more significant. Meanwhile, Iran wants US economic sanctions to be removed.
Both demands seem currently impossible. If these two countries are serious about holding negotiations, we should see what concessions they are willing to grant to each other. Some of these demands might be brought up in Rouhani's trip to Japan.
Japan has close ties with Iran and is one of the best buyers of Iran's oil. This country is trusted by both Iran and America, so Abe can do a great deal in this regard. But eventually, everything depends on either side's decision.
What do people want?
The editorial of Etemad explains the rift that exists between the Iranian people and the country's officials, emphasizing that Iranian officials act as if they are out of touch with the realities of Iranian society and public demands.
They say that during the French Revolution, Queen of France Mari Antoinette asked, what do people want? They answered: they are hungry and want bread. The Queen then said: "Let them eat cake!" This story points to the deep rift that existed between the monarch and the French people in the eighteenth century which eventually led to the French revolution.
This is also the story of some of the country's officials who are not in touch with Iranian society and its realities. The young minister of information and communication technology, Mohammad Javad Azari Jahromi, recently announced: "We have prepared the grounds for moving postal packages with drones so that there is no place in Iran that is inaccessible."
It seems that he is so out of touch with ground realities that he is unaware that many people in Iran do not have access to basic modern requirements such as the internet.
It is notable that this lack of communication with people is exactly what causes psychological insecurity in society. Society expects officials to understand the situation and take steps to improve it, but there are officials who do not take responsibility for their actions, as if by not paying attention to public demands, they are mocking society and it's problems.
Just recently, Iran's government spokesperson, Ali Rabiee, admitted to making a mistake by not presenting their case to the people in regard to raising the price of gasoline. But he should be asked, how can you earn the trust of the people when they see that the pressure of sanctions is only on their shoulders? How can people trust the government they have voted for when its minister of information and communication technology says that he doesn't like filtering but can't do anything about it?
As a result of this rift, people look at the country's officials and their actions with doubt more than ever.
Parliament's Research Center calls the budget bill's revenue sources 'unreal'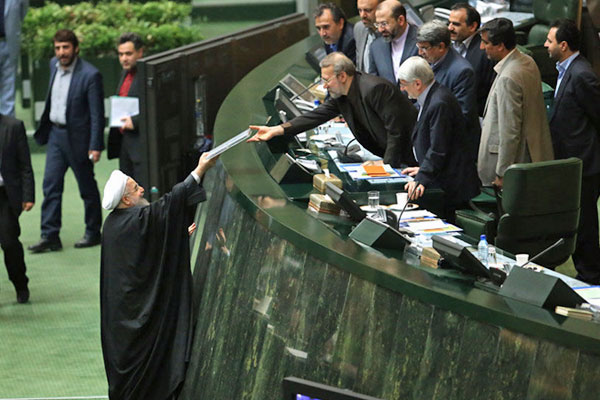 The Parliament's Research Center published a report and considered the major part of the 2020-2021 budget bill's revenue sources as 'unreal', stressing that the government must amend the process of drafting the budget bill. The Head of the Supreme Audit Court too says that unlike what the government says, the next year's budget relies on oil for more than 20% of its revenues.
The Research Center, in its report, says that there have been no serious amendments in the revenue sources and expenditure plans for next year's budget, emphasizing that the 2020-2021 budget bill is similar to this year's budget and has considerable overestimates in its revenue sources.
Meanwhile, Iran's First Vice President Eshaq Jahangiri has admitted to a severe drop in oil exports, emphasizing that the US sanctions have created structural problems in Iran's economy and management.
According to the statistics by Kepler tanker tracker company, Iran's entire oil exports in November reached 213,000 bpd, two-third of which was sent to China and the rest to Syria.
It is not clear if Iran receives any payments for these shipments, but before the US sanctions, Tehran exported 2.5 million bpd and in 2018, Iran's oil export revenues reached over $60 billion. Iran's current oil exports are estimated at 100,000 to 300,000 bpd.
While Jahagiri admits to a severe drop in oil exports, the government has predicted exporting 1 million bpd in the next year's budget. If this fails to come true, the budget deficit must be compensated through foreign currency reserves and the National Development Fund.
The 2020-2021 budget bill is also said to indicate that the public sector's debts to Iran's Central Bank have had a 999% growth reaching 63,000 billion tomans.
Rouhani's government will not be able to meet public demands, nor will it be able to make promises about the future. What is more, people will not pay any attention to any promises.
Shamkhani: If Europe doesn't live up to its obligations, we will take the next step
The British foreign minister, after meeting with his French and German counterparts, expressed concerns over Iran reducing its commitments in the nuclear deal. Iran's secretary to the Supreme National Security Council, Ali Shamkhani, says if Europe doesn't fulfill its obligations within the nuclear deal (JCPOA), Iran will inevitably take further steps in reducing its commitments in the JCPOA.
After the US pulled out of the JCPOA and imposed heavy economic sanctions on Iran, the Islamic Republic's officials announced that if Europe does not fulfill its banking and oil obligations to Iran, the Islamic Republic would pull out of the JCPOA step by step and would increase uranium enrichment.
The Islamic Republic has taken four steps in reducing its obligations in the JCPOA so far, and European leaders haven't been able to find a way for de-escalating the tensions between Tehran and Washington.
While Shamkhani has threatened that Iran will further reduce its obligations within the JCPOA, British Foreign MinisterDominic Raab has tweeted about his talks with French Foreign Minister Le Drian and German Foreign Minister Heiko Maas regarding Iran, saying that "Britain, France, and Germany remain committed to the nuclear deal, but Iran has taken steps that jeopardize its future. These must be addressed urgently."
A member of the Chamber of Commerce: the US gives a permit to several companies to export medicines to Iran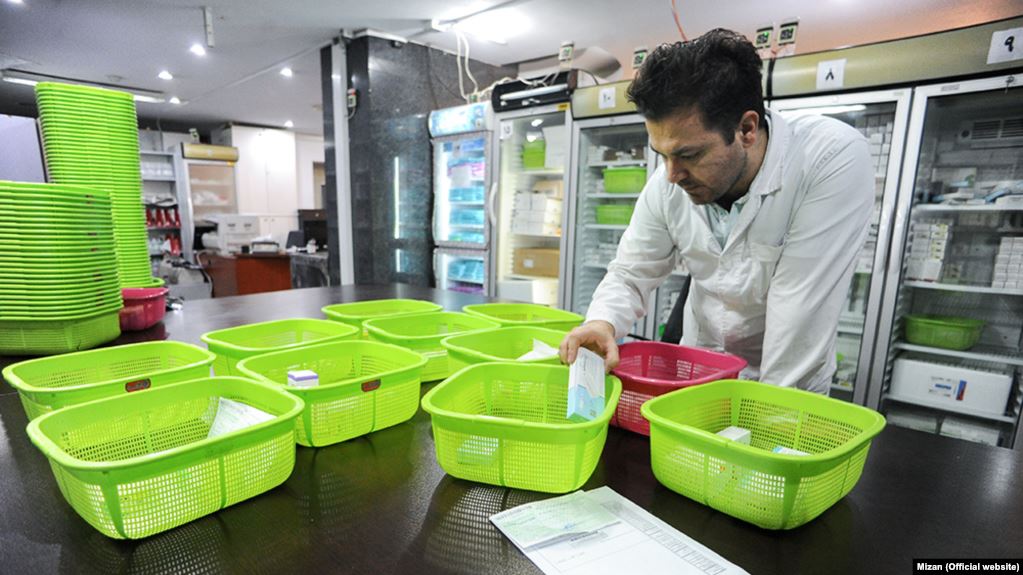 Alireza Kolahi, a member of Tehran's Chamber of Commerce, said several American companies have been able to obtain permits from the US Treasury Department to export medicines to Iran. According to ILNA, these companies have submitted a list of several banks for financial transactions, and the US Treasury has accepted two of these Iranian banks.
Kolahi didn't mention the names of these two banks but emphasized that if money laundering bills are not ratified by the Expediency Discernment Council, these banks too will face difficulties and this path too will be closed.
According to this member of Iran's Chamber of Commerce, not ratifying these bills is like breaching one of the main international laws and deliberately pulling out of the global banking system.
Earlier Sigal Mandelker, Under Secretary of the Treasury for Terrorism and Financial Intelligence, had welcomed exporting medicines and humanitarian aid to Iran, saying that the United States strongly supports this process.
Swiss and American officials recently told Reuters news agency that a humanitarian mechanism for exporting foods and medicines to Iran will be launched in the upcoming months. This mechanism can help to export Swiss goods to Iran without breaching the US sanctions.
In recent months there have been numerous reports regarding medicines in Iran. Human Rights Watch in its report had written about the negative impact of US sanctions on the availability of medicines in Iran. In addition, the reluctance of countries to engage in financial transactions with Iran has hindered the import of medicines.
Meanwhile, Foundation for Defense of Democracies had released a report indicating an increase in the export of medicines from Europe to Iran in 2019, noting that if there are any problems for patients, it is because of state corruption in Iran.
A 30% drop in visits to health treatment centers due to high prices
According to Koroush Farzin, deputy to Iran's Health Insurance Organization, the number of visitors to health treatment centers has had a 30% drop compared to last year.
He added the cost of treatment is very considerable for many people, and they do not go to health centers for ordinary diseases, not because there is no insurance coverage, but because everything has become more expensive.
Farzin said that due to a rise in prices, people do not go to see the doctor and try to treat illnesses such as catching a cold by home remedies and resting unless the illness becomes more serious.
During past two years, Iran's national currency has severely lost its value, and there has been a rise in medication prices and medical services. Recently Ali Nobakht, head of Parliament's Health and Treatment, said that before the US sanctions, the price of a bottle of aspirin was 42,000 tomans, but immediately after the sanctions, it became 145,000 tomans.
Recently, Fars news agency reported that long lines in front of government hospitals reflect the people's inability to pay treatment costs. According to this report, a considerable number of people cannot afford to go to health centers, which is why they have turned to self-treatment.