Class Disparity and Widespread Poverty
The editorial of Arman Melli focuses on the gap between the poor and the rich, urging that something must be immediately done to help the poor who are not even capable of paying for their own basic needs.
Every day, we can see the impact of poverty on people's lives more and more, while the number of poor people in the country continues to rise and the difference between the rich and the poor greatly widens. In this regard, Dr. Raghfar, a professor at Al Zahra University, has considered class disparity and the lack of equal access to the country's resources as the cause of poverty and the increase in the number of poor people, seeing it as a sign of the grave economic conditions rooted in the unfair distribution of resources.
Recently, Parliament Speaker Mohammad Bagher Ghalibaf stated that 80 percent of the country's economy is owned by the government and is plagued by rent-seeking and corruption, adding that the economy must be managed to benefit the people. We know that many companies are owned by the government, most of which sustain losses. If these companies are entrusted to the people, this national loss will halt, and poverty will decline. Moreover, while certain people have easy access to banking facilities, the poor have less access to these facilities due to discriminatory rules.
All these issues have resulted in the widening class disparity and an increase in the number of poor people, so much so that 40 percent of the people are deprived of the basic necessities of life.
On the other hand, the government obtains most of its revenues from selling oil and natural gas, but economic sanctions have made it very difficult to access these resources. Billions of dollars of Iran's money obtained from selling these products are now blocked in South Korea, India, Iraq, and China.
A poor person is defined as someone who has difficulty in providing for his or her basic needs such as food, clothing, housing, health needs, and education, which means that many of those who are employed and receive salaries are among the poor and something must be done to help them.
Poverty is divided into three categories: severe, relative, and absolute. Absolute poverty includes those whose incomes are not enough to cover their expenses. As such, it must be said that the number of poor people in Iran is much more than what is announced.
Repetition of Crises
As flooding in different provinces of Iran causes damage and claims lives, the editorial of Arman Melli criticizes the Iranian government and officials for not taking any preventive measures to mitigate the devastating effects of natural disasters.
Studies across all societies reveal that different crises, including natural disasters, have always been an unavoidable fact of human life. A study of Iran's history proves that it is not an exception. Iran has repeatedly experienced different natural disasters including floods, earthquakes, and storms.
In the spring of 2019, Iran experienced one of the worst flooding disasters in recent history, severely impacting 20 provinces in the country, leading to extensive damage and loss of lives.
These days, once again, the same cycle is being repeated: rains and flooding. People in the provinces of Sistan and Balochistan, Hormozgan, Fars, Kerman, Bushehr, etc. are facing the same problems, while they expect officials to help and plan in order to take preemptive measures before the catastrophe takes place.
This does not mean that we can stop natural disasters from occurring. But certain measures can be taken before these disasters happen. It is the government's duty in all societies to invest and plan for making houses and public spaces safe, because preserving people's lives and assets is one of the government's primary obligations. This is the rightful demand of all people in every society.
Article 1 of Iran's crisis management legislation states that "to promote society's capacity in predicting and taking preventive measures, decreasing risks and vulnerabilities, effectively responding to natural disasters, events and crises, orders will be issued to create an integrated management in policy making, planning and creating coordination in the fields of implementation and research, centralized information, organizing and reconstructing the damaged areas…"
Now, the question is: to what extent have the government and other organizations effectively planned for the implementation of Article 1? To what extent have they been successful?
In Iran, officials and managers are not good at taking preventive measures; instead they are focused on dealing with crises after they take place.
The Country's Problem: Lack of Wealth Production or Inequitable Wealth Distribution?
The editorial of Ebtekar argues that in Iran, the government has been always concerned about the distribution of wealth, instead of focusing on the production of wealth.
These days, the issue of eliminating the government's official rate for the dollar (at 4,200 tomans per dollar) is heated. Some who favor an open economy and a free market support this move and underline its benefits. But some disagree with it and mainly criticize it from the perspective of social justice.
Regarding this issue, the presumption is that the government focuses on the equitable distribution of wealth. The solutions, too, are based on this presumption. The very fact that there is an official currency rate in Iran is indicative of the pattern of wealth distribution in the country.
Those who favor eliminating the official rate hold that when there are several rates for forex in the market, this will result in rent-seeking and corruption, thus resulting in the unfair distribution of national wealth. Those who are against it maintain that the official rate must be allocated to essential goods to benefit low-income households, thus resulting in more fairness in the distribution of wealth.
The abovementioned issues are all related to the distribution of wealth. All governments in Iran, regardless of their political orientations, depend on oil revenues and are known as "governments of distributing wealth." Each Iranian government that has taken office has championed the equitable distribution of wealth. As such, all issues and problems center around the distribution of wealth and power, while all proposed solutions follow the same line.
Because of oil, governments in Iran have never faced a lack of resources, so the issue has always been focused on the distribution of these resources. US sanctions created an opportunity to shift from the distribution of wealth to the production of wealth. But no measure was taken in this direction.
In the absence of oil revenues, governments did not focus on producing real wealth; rather they preferred to impose taxes on people to compensate for the lack of resources.
It is evident that the traditional wealth distribution model is no longer adequate, but those who are in favor of this model insist on maintaining it. The government is facing a shortage of resources. The country's wealth has decreased to the extent that it cannot provide for people's basic needs and improve the country's economy.
The main issue is not the fair distribution of wealth; rather it is the generation of wealth. When no wealth is produced in the country, there is no use in talking about its fair distribution.
Alas!
The editorial of Aftab Yazd explains the fact that Iranian officials make careless remarks and comments about the existing problems as they do not feel like they need people's votes any longer. This has emerged as one of the serious issues in the Iranian political sphere.
A perfect example is Mehdi Chamran, head of Tehran's City Council. When a brave journalist goes to BRT buses in the middle of the night and writes an original report about so-called "bus sleeping" [those who sleep in buses all night because they cannot afford housing], this issue does not concern officials. Rather, they act defiantly, trying to prove that no such issue exists and all is well.
Mehdi Chamran first called the issue of "bus sleeping" unimportant, but following the continuous reporting on this issue by the media, he said that he is working with Tehran's mayor to address the problem.
But how? As always, it seems that instead of really resolving the problem, they are trying to simply hide it. This means that they are going to prevent homeless people from getting on these buses, so that no pictures of them are released!
This is nothing new. We are used to such solutions! We brush the problem under the carpet and pretend it does not exist. But the problem remains all the same.
The main issue is that officials like Mehdi Chamran think that they do not need people's votes any longer. When officials need people's votes, they do not make such comments and remarks. If elected officials were dependent on people's votes on an ongoing basis, then Mehdi Chamran would have been forced to resign under pressure from the people, NGOs, and the media.
But alas, alas!
Ukrainian Flight Downed as Human Shield to Be Blamed on America, Say Victims' Family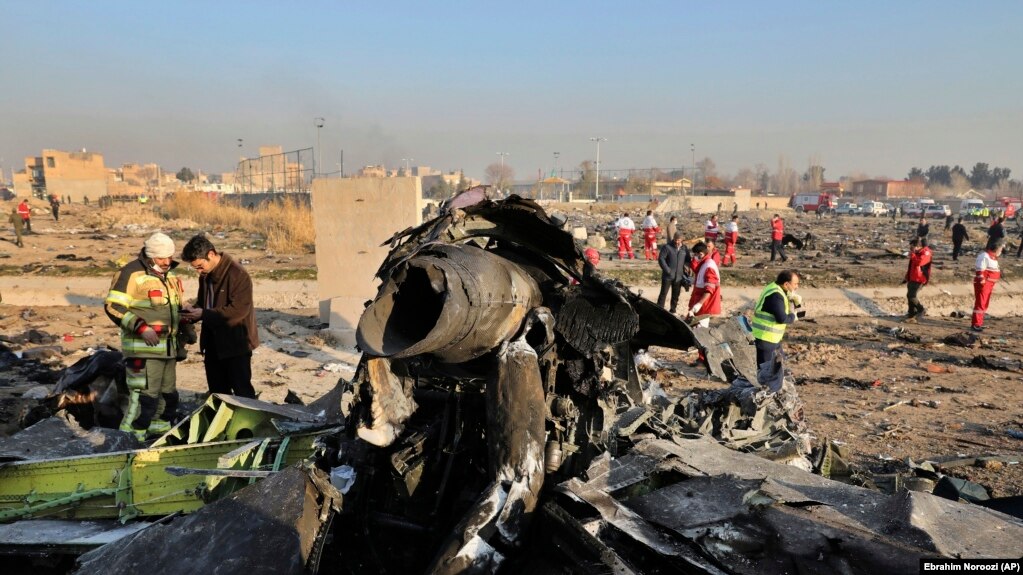 Parents of two victims of the downed Ukrainian flight say that based on evidence, the downing of the flight by IRGC missiles was intentional and "they downed the flight as a human shield and wanted to blame it on America, just as they had done in other similar cases."
Mohsen Assadi Lari and Zahra Majd, members of the Scientific Board of Medical Science at the University of Iran, who lost their two children in the disaster, Zaynab and Mohammad Hossein, referred to Iranian officials' remarks, saying, "they say that if the airplane was not downed, there would have been a hard war the day after, and the lives of 10 million people would have been endangered."
Mohsen Assadi Lari and Zahra Majd added that IRGC Commander-in- Chief Hossein Salami had told them that their children's role was more significant than that of martyrs in war and if it were not for them, there would have been a war.
They said that their meeting with Salami took place 40 days after the downing of the Ukrainian flight and had remained a secret on the insistence of Salami and those who were with him. This is the first time that Hossein Salami's name has been mentioned in direct relation to the case of the downing of flight PS752 in the Iranian media.
Earlier, the association of victims of Ukrainian Flight PS752 had released an investigative report, stating that the evidence shows that this flight was downed intentionally as a human shield to prevent America from attacking Iran.
In the early morning of January 8, 2020, the Ukrainian flight was downed shortly after taking off from Tehran International Airport by two IRGC missiles; all 176 passengers were killed.
After a few days of denial and contradictory remarks, the Iranian government admitted that IRGC missiles had downed the flight, but said it was human error. The Canadian government and a number of experts reject this claim, saying that the Iranian government is hiding the real reason.
Jailed Writer Baktash Abtin Died of COVID-19; Writers' Association Blames Iranian Government
The Iranian Writers' Association in a statement announced the death of Baktash Abtin in a hospital in Tehran due to coronavirus.
The statement reads that Baktash Abtin, 47, poet, filmmaker, and member of the Writers' Association "sacrificed his own life for freedom."
Abtin was sentenced to six years of imprisonment on charges of membership in the Writers' Association, and during the peak of the COVID-19 outbreak was taken to Evin Prison.
During the past year, Abtin was twice infected by coronavirus. On January 1, his health deteriorated, and following some tests, doctors decided to put him into a medically induced coma.
The Writers' Association had earlier said in a statement that Baktash Abtin's health had deteriorated due to a lack of medical care and attention and prison officials' intentional delay in transferring him from prison to the hospital.
In the past two weeks, efforts for releasing and providing better care for Abtin increased, and even PEN America wrote an open letter to Iranian Supreme Leader Ali Khamenei, calling for the immediate and unconditional release of Abtin and other political prisoners.
After Abtin's death, PEN America stated that "his unjust imprisonment was effectively a death sentence, he was denied medical treatment, his comorbidities were ignored and at times he was shackled to his bed."
In reaction to Abtin's death, Reza Pahlavi wrote in a tweet that the Iranian government "killed another protesting poet and artist. At a time when thugs and criminals are free and have seized power, Baktash Abtin was put in chains and shackles and killed on the charge of revealing the truth and not being indifferent to the pain and suffering of his homeland and people."
Baktash Abtin's death due to a lack of timely medical treatment provoked widespread reaction on social media with many calling it a "crime" and "murder."
Faezeh Hashemi: Raisi Is Not in Charge, He Is Managed by People From Behind the Curtain
Faezeh Hashemi Rafsanjani, political activist and daughter of the late Hashemi Rafsanjani, in an interview criticized the policies of Supreme Leader Ali Khamenei and Ebrahim Raisi's government at home and abroad, in some instances calling them "insane," "like the Taliban" and "propagandist."
In a video interview with Didehban website, Hashemi pointed to the security background of current government officials, stating that Ebrahim Raisi is not in charge of affairs and some are "managing him and influencing his decisions" from behind the curtain.
This political activist also pointed to the fact that some previous members of the IRGC have been appointed as governors in different provinces, but this cannot save Raisi and resolve the country's problems. She also added that in the ministries of Raisi's government, it is not the ministers who are making the decisions.
On a different note, Faezeh Hashemi referred to the international sanctions against Iran, calling these the result of the Iranian government's mismanagement, adding, "if we had proper management, it wouldn't have come to sanctions. We are our own enemy. Unfortunately, there is no prospect for us to achieve anything, because we have become worse than any country, and do more wrong things than America, Israel, and even the Pahlavi dynasty."
Mentioning Iran's intervention in Syria, Hashemi said, "if we only cite the number of those killed in the Syrian war, we have had a role in killing 500,000 people in Syria." She also stated that with the intervention in Yemen, the Iranian government has launched a "Muslim killing" war.
According to Hashemi Rafsanjani, the total number of Palestinians killed by Israelis is less than the number of Muslims killed in the Iranian government's proxy wars.
Hashemi criticized Khamenei's policy regarding increasing the population, asserting that if she were Ali Khamenei, she would first study why people are not keen on having children and address the most important issue of people's livelihood. She added that discriminatory and anti-women laws in Iran are another reason why people are not interested in marriage and having a family.
10 Million Households Below the Poverty Line
A member of the Parliament's Industry and Mine Commission said that almost 10 million Iranian households were below the poverty line. He added that the elimination of the official dollar rate by the Raisi government would increase this number.
MP Mehdi Asgari criticized the government's budget bill for next year, underscoring that the budget must be drafted in a way that "absolutely puts no pressure on low-income families, doesn't increase the expenses of poor families, and doesn't increase the poverty line."
Criticizing the government's decision to eliminate the official currency rate (the dollar at 4,200 tomans), Asgari added that "currently we have 10 million households under the poverty line" and eliminating the official currency rate will result in a rise in this number.
The lawmaker further explained that giving direct subsidies cannot compensate for the loss, as the government cannot tame inflation in this way.
Asgari called for changing "the theorists behind planning the budget," comparing Raisi's budget drafting with that of late Hashemi Rafsanjani's presidency, adding that "the experience wasn't successful and put heavy pressure on low-income families, created unbridled inflation in 1995, and heightened class disparities."
Several statistics regarding the population below the poverty line in Iran have been published.
One of the latest statistics released by Iran's Labor Ministry (2020) indicates that more than one third of the Iranian population is in "absolute poverty," which means that more than 26 million Iranian people are severely deprived of their basic human needs.
MP Rohullah Izadkhah has also urged that if the government increases the official currency rate to 23,000 tomans per dollar for the next year, prices of imported goods will increase fivefold.
In the meantime, the general outline of next year's budget bill was approved by lawmakers, although those MPs who have disagreed with the bill submitted by Raisi's government have warned about the fallout that will be caused by the 62 percent increase in taxes and the elimination of the official currency rate at 4,200 tomans per dollar.