National Automobiles and Airplanes!
The editorial of Shargh lambasts the Iranian government for not having any economic plans which has created nothing but chaos and crisis.
One of the benefits of digital media is that in a jiffy one can search for remarks that have been made before. In other words, it acts as our digital memory. For example, if we search the internet for "government's economic plans," tens or even hundreds of results will appear, which unfortunately are not consistent with each other.
The truth is that each government has an economic team, but it seems that the current President Ebrahim Raisi has no such team. Or else, he would not have said that in the next two months, they would prepare the ground for giving digital coupons to people. In the meantime, prices are skyrocketing, and they are not doing anything about it. The truth is that one cannot pay workers' wages merely by issuing orders and directives.
In so far as they can only come up with short-term, temporary solutions, the outcome will be the disarray that we are witnessing now. Such mayhem is unprecedented. Government policies are not clear which is why the Iranian people are facing more and more challenges.
We can take a look at car factories. The prices of automobiles have already skyrocketed, while the quality of cars keeps plummeting. We sought to manufacture local cars in accordance with international standards, but are now driving a very low-quality car, Samand, with very high fuel consumption, which is probably the heaviest car in the world! And then we realize that it is not even our national car!
As for national passenger airplanes, no such thing even exists!
Public confidence in the government's economic plans cannot be generated in this way. The government's economic measures cannot be based on trial and error. The financial challenges facing the South Pars gas field are enough to make us worried!
If we had followed a coherent plan, the train of the economy would not have been derailed.
Preconditions for Releasing Prices
The editorial of Akhbar Sanat underscores the measures that the Iranian government must take to make sure that the inflation rate is contained and prices do not soar.
If Iranian President Ebrahim Raisi can stop prices from soaring, it would be helpful for the poor. Otherwise, nothing new will happen, and paying cash subsidies exceeding 400,000 tomans per person, will not be the solution. To eliminate subsidies on basic goods and other products, several moves must first be made.
First, the price of the dollar in the free market and the Central Bank must be equalized so that the price of the dollar does not fluctuate on a daily basis. Second, the printing of money must be backed by either the dollar or gold; otherwise, it will lead to unbridled inflation which will cast a shadow over the country. Furthermore, the price difference between the official rate of the dollar according to its price in the free market must be directly paid to people.
If these preconditions are met, then the government can authorize the printing of more money. Or else, any measure will lead to skyrocketing inflation and will not have any useful outcomes. More importantly, rent-seeking will continue and prices will keep soaring.
Under these circumstances, the low-income segments in society will have to face serious challenges, while the rich are doing okay, because as they are close to the center of power and wealth, there will be no change in their lives.
It is absolutely necessary that instead of giving dollars to rent-seekers, the government must ensure people's full participation in the country's economy and production.
Oligarchs Rule Over Iran's Economy
The editorial of Tejarat Online explains how the dominance of a few wealthy people over Iran's economy has led to poverty for the majority of people, while the Iranian government is making economic decisions that favor the oligarchs.
Inequality is ruling over the country. The rulers make decisions as to how resources must be allocated, while determining the price of forex and who is going to receive it. The authorities also decide about banking facilities and who will receive these and at what interest rate.
After the Iran-Iraq War, we witnessed a certain power group which amassed great wealth and became oligarchs. At the end of the previous government's term, officials said they were not able to pay monthly cash subsidies, we now see that Raisi's government is increasing subsidies. But this is the money that should be spent on infrastructure, rather than on onions and potatoes.
Today, Iran has the richest natural gas resources, but has to import gas, because there has been no investment in this field and capital was allocated to subsidies on perishable goods. Article 44 of the Constitution was drafted so that mines and steel plants can be entrusted to people close to the circle of power.
Now, we are witnessing that rich oligarchs are ruling over different economic sectors in Iran. The net revenue of a steel plant, which belongs to these oligarchs, was 58,000 billion tomans in the first six months of the last year and it paid very little taxes. Under these circumstances, instead of levying taxes on these enterprises, the government is giving them considerable subsidies while depriving people of subsidies on bread.
From 2017 to 2022, wages have increased four to five times, but prices have skyrocketed five to 10 times, which means people have become poorer. It has become impossible to make up the difference between wages and high prices, and this will lead to an increase in crime. This is why we are witnessing armed robberies in broad daylight, while these economic policies have resulted in a dramatic rise in poverty all over the country.
The Delusions of the Russian Ambassador
The editorial of Etemad criticizes the Russian ambassador to Iran for his offensive comments about the Iranian people and his politically incorrect behavior.
In recent months, the Russian ambassador to Iran has recurrently behaved in a way which is inconsistent with diplomatic protocol and etiquette. Releasing images of a party which was reminiscent of the meeting of the leaders of the Allied Powers in occupied Tehran during World War II, publicly praising a Russian ambassador who had imposed a notorious treaty on Iran, ordering the Iranian media to cover the news of the Russian invasion of Ukraine in a particular manner, criticizing the Iranian authorities for their new year's messages are just come examples of the current Russian ambassador's inappropriate behavior.
In his recent delusional comments, the Russian ambassador went beyond foreign affairs and commented on the tourism policy and cultural values of Iranian society, saying that the hijab and the ban on alcoholic drinks were obstacles to Russian tourism in Iran. Of course, a few days after making these remarks, the Russian authorities tried to whitewash these statements.
Nonetheless, the Russian ambassador sees his own position as more than an ambassador. It is as if in his delusional world, he still thinks he is an ambassador to Iran under the Qajar dynasty. He acts as if the Iranian people are illiterate, and that Iranian rulers have no will of their own and are simply manipulated by the Russian and British governments.
In the 21st century, and with a culturally and politically informed Iranian population, how can the Russian ambassador brazenly defy diplomatic protocol and etiquette which indicate his condescending views regarding Iranian society?
Foreign Ministry officials must respond effectively to the Russian ambassador's "anomalous behavior." At least, someone must tell him that the era of the Qajar dynasty is no more. Iran, with its ancient history, has never bowed to colonization.
Hundreds of Activists Warn Iranian Government Over Crackdown on Popular Protests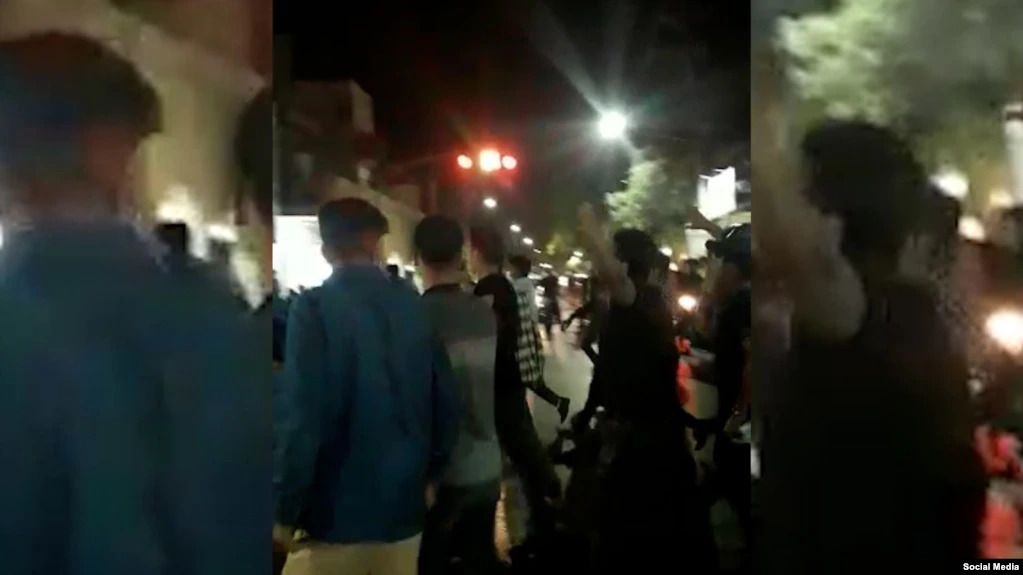 552 Iranian political and civil activists have issued a statement underscoring the necessity of eschewing violent confrontation with popular protests over skyrocketing prices.
The statement reads, "as political and civil activists, we warn the high-ranking officials that before it is too late, they should think of effective solutions to control problems, particularly spiraling prices and inflation."
Furthermore, these activists have asked the Iranian government to show restraint in countering protesters, rectify flawed policies, and pave the way for using full national and global capacities so that Iran and Iranians can overcome the overwhelming problems ahead of them.
The statement asserts that this deplorable, dangerous situation is the outcome of the adoption of incorrect strategies by the Iranian government and excluding the majority of people from the decision-making process.
It has been over a week since the launch of widespread protests in at least 10 provinces of Iran against soaring prices and government mismanagement, with people taking to the streets and chanting slogans against the government.
The internet has been reportedly cut off in Chaharmahal and Bakhtiari Province, while there are reports of severe battery and assault of protesters following home raids by security forces.
According to unofficial reports, several protesters have been killed by security forces.
There are also reports of security forces confronting citizens and arresting them, while security arrangements have been heightened in cities like Tehran, Zanjan, Mashhad, and Shiraz.
The recent presidential election, in which Ebrahim Raisi was elected, witnessed the lowest public turnout, while candidates who were not in line with the "ultra-conservative" faction in the Iranian establishment were disqualified by Iran's Guardian Council.
Amid the Spread of Protests in the Cities of Iran, Raisi Called for Sunni Clerics' Help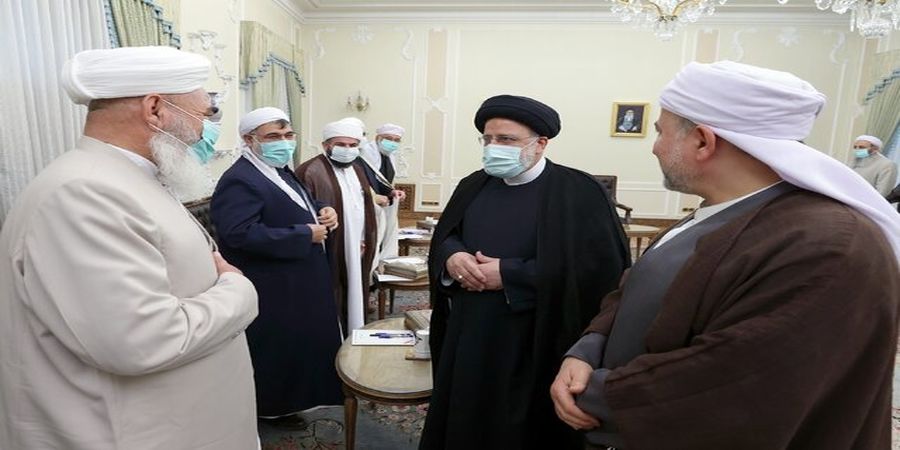 As street protests continued to spread across different Iranian cities, Iranian President Ebrahim Raisi met with a number of Sunni clerics, asking them not to allow "jihadis" to penetrate into Sunni-populated regions, located close to the country's borders.
Raisi told Sunni clerics that "we must be careful about Takfiri and Salafi ideologies," adding that "British Shiites and American Sunnis are two sides of the same coin."
In response to Sunni clerics' demand regarding appointing Sunnis to managerial positions, Raisi said he advocates nominating Sunnis in Sunni-populated regions.
Pointing to people's economic and livelihood problems, including in the border regions, which have led to public unrest in different cities, Raisi said that his government is facing a budget deficit of 500,000 billion tomans, urging that they must pay back 10,000 billion tomans of government debt each month. He underscored that when he took office, stocks of basic goods were low, while selling the dollar at the officially subsidized price had caused corruption and rent-seeking.
Raisi expresses his concerns while street protests are spreading to different cities across Iran, in reaction to plummeting living standards and the adoption of draconian security measures all over the country. Based on videos released on social media, these protests have spread from the provinces of Khuzestan, Chaharmahal and Bakhtiari to Tehran and its suburbs.
According to reports, following an attack by protestors against a Basij base in the city of Hafashjan, a protester was shot dead. A number of protesters have been killed in these street protests in different cities, while hundreds of people have reportedly been arrested.
In these spontaneous protests in different cities, protesters have chanted slogans against Ali Khamenei, Ebrahim Raisi, the clerics in power, high prices, and inflation in the country.
IRGC Commander Arrested on Charge of Leaking Audio File of Corruption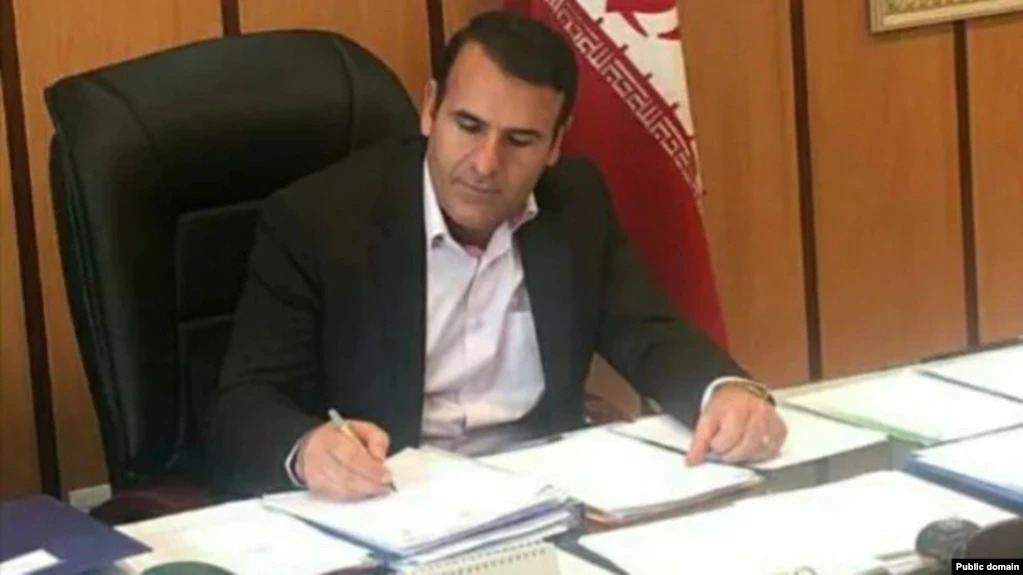 Mohammad Ghaemi, former head of Yaas Holding, affiliated with the IRGC, was reportedly arrested and has been in jail for two months without access to a lawyer.
Confirming the arrest of Ghaemi, Rouydad 24 website said the reason for his arrest is not clear, but some media outlets reported that Ghaemi was arrested primarily for leaking an audio file regarding the corruption of IRGC commanders.
Didehban website described Mohammad Ghaemi as an IRGC commander who has been temporarily detained on charges brought against him by Parliament Speaker Mohammad Bagher Ghalibaf.
In the reports, the organization which made the arrest has not been named, but it seems that Ghaemi has been detained by the IRGC Intelligence Organization, headed by Hossein Taeb, a staunch supporter of Ghalibaf in the Iranian establishment.
The leaked audio recording relates to a confidential meeting held by the former IRGC chief commander and other high-ranking IRGC commanders discussing widespread corruption in the IRGC Quds Force, the IRGC Cooperative Foundation, and the Tehran Municipality.
In the leaked audio file, confirmed by an IRGC spokesperson, Mohammad Bagher Ghalibaf, who was then Tehran's mayor, was accused of attempting to forge documents to cover up 8,000 billion tomans of embezzled money in the IRGC Cooperative Foundation.
Yaas Holding was the main arm of the IRGC Cooperative Foundation which was working in the services sector, dealerships and housing, acting as the main treasury of the IRGC Quds Force.
Fars News Agency, affiliated with the IRGC, had written that since the former government headed by Hassan Rouhani "wasn't ready to back fighters in the battlefield," Yaas Holding was established to finance the so-called "Resistance Front."
After the exposure of widespread corruption, resulting in the arrest of some of its managers in 2017, Yaas Holding was dissolved. One corruption case related to this holding involved the appropriation of 13,000 billion tomans.
Drop in Iran's Exports to Ukraine, Russia in Past Two Months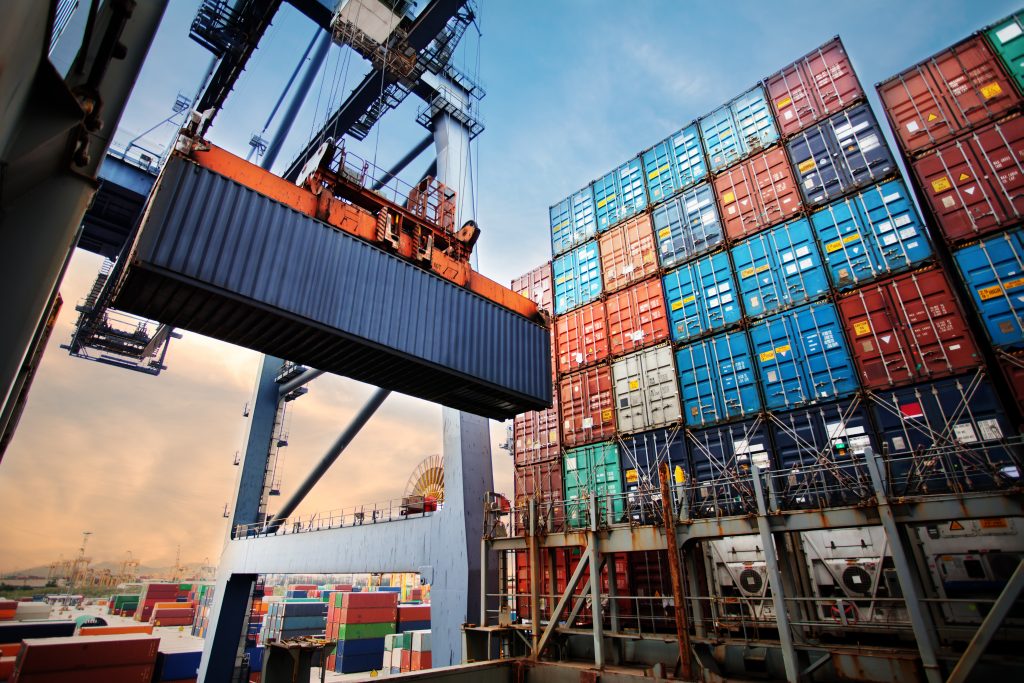 The Iranian Customs Office spokesperson announced a drop in exports to Ukraine and Russia following the Russian invasion of Ukraine.
While during the past three months, due to Western sanctions against Russia and tensions in the Black Sea, the Iranian authorities expressed hope for increasing exports to Russia and making Iran a corridor for transporting other countries' goods to Russia. The Iranian Customs Office spokesperson said that during the past two months, Iran's exports to Russia have decreased by 36 percent and its exports to Ukraine have dropped by 76 percent.
According to Ruhollah Latifi, Customs Office spokesperson, Iran has exported $61.5 million worth of goods to Russia in the past two months, representing a 36 percent drop compared to the same period last year.
In the same period, Iran's imports from Russia were $321 million, showing a 29 percent increase. As such, the trade balance between the countries has been to Iran's disadvantage, with Russia's exports to Iran being five times more than its imports from Iran.
Moreover, in the past two months, Iran's exports to Ukraine were nearly $3 million, showing a 76 percent drop. Iran's imports from Ukraine have dropped by 98 percent reaching $3.4 million.
In the meantime, according to Latifi, more than 3.5 million tons of basic goods have been cleared from Iranian ports and custom offices in the past two months. He added that currently 3.163 million tons are in the process of being cleared, while every day almost 50,000 tons of goods are being cleared.