Poisoning in Iranian Schools
The editorial of Arman Melli, penned by academic Sadegh Zibakalam, reviews the implications of the recent serial gas poisonings in Iranian girls' schools.
In 1978, Iranians who were fighting against the shah's regime sought to replace it with a new form of government. If someone had asked them then about the government they were hoping to create, the answer would be a form of government that would be superior to the West's humanism and the East's socialism. That government was supposed to have all the positive features of all governments of the world without having their defects. That form of government was supposed to be so good that it would become a model for the East and the West and all other nations.
At that time, Iranians really believed this was going to happen. So, if someone told them that in years to come, some individuals or groups would try to destroy schools and would not children to peacefully attend schools, they would have called him crazy and insane.
Now, in the 21st century, some people in Iran seek to create fear among schoolgirls, frightening their parents so that they do not allow their children to go to school.
What is interesting is officials' stance toward this issue. They act as if this incident has taken place in another country and has nothing to do with them. In the meantime, the Iranian regime claims to be so powerful in the field of intelligence and security, alleging that it can detect anything anywhere in the world. But with successive gas poisoning incidents in many schools, officials keep saying it is an issue that should be addressed. But no one is taking any measures in this regard.
Now, several families have school-age children. When children go to school, mothers and fathers and other family members are concerned about children getting poisoned and being taken to the hospital instead of returning home.
The Gap Between the Government and People Is Widening Because of Empty Promises
The editorial of Eghtesad Pooya explains that with Iranian economic conditions deteriorating, the unfulfilled promises made by Iranian authorities have only widened the gap between the government and the people.
Currently, Iran's economy has become very weak, particularly during the past decade. That is because in this decade, Iran's liquidity increased 11 times, economic growth became almost zero, and income per capita dropped sharply, the inflation rate has consistently risen for the past eight years. As a result of all these issues, the country's economy has deteriorated.
The policies adopted by Ebrahim Raisi's government have not been able to fix the economic problems created in the past decade. Last year, Iran's economy experienced high growth in liquidity, so much so that according to official statistics, 3,465 billion tomans were added to liquidity on average per day. And since this was not translated into investments, the real economic sector did not benefit from this liquidity.
Due to the increase in prices of government services and energy as well as the inflation rate which is reportedly at 54 percent, producers of goods and those in the public sector have never been in a weaker position. As a result of unfair taxes levied against entrepreneurs and economic actors, they are not interested in creating jobs and making investments under the current economic conditions because they will not be able to make profits.
The economic minister's promises which were reaffirmed by President Ebrahim Raisi as to decreasing inflation, building houses, fighting corruption, creating jobs, etc. have not been fulfilled. As a result of all these unfulfilled promises made by officials, the gap between the government and people has widened.
Woes of Insecurity of Schoolchildren
The editorial of Jahan Sanat highlights the fact that serial poisonings in girls' schools across different Iranian cities have created a sense of insecurity among families.
Iranians are living in a society in which they are experiencing different kinds of insecurities. During the coronavirus pandemic, there was a high rate of mortality as vaccines were not imported which created health insecurity among people. With regard to the economy, steep fluctuations in the price of the dollar has created economic insecurity in society.
Now, because of the serial gas poisonings of schoolchildren in different cities in schools, the insecurity has now been extended to families. It is still not clear who is behind these incidents. A while ago, the deputy health minister called the serial poisonings of schoolchildren "deliberate." Some have talked of sabotage groups behind these incidents.
Despite all this speculation, families have been frightened into not sending their children to school, thereby fulfilling the goal of the perpetrators of these crimes who seek to obstruct education for girls.
The other point that must be mentioned is the fact that due to cultural, legal and traditional factors, girls in Iran have always felt like second-class citizens – a feeling that has increased because of these poisonings which have taken place in girls' schools.
Currently, the Education Ministry is not capable of fulfilling its duties. If strong managers were in charge of this ministry and authorities had a better understanding of the education system, people would not be witnessing such poor quality in today's educational system and would not see such irresponsible measures taken by the officials.
The issue of serial poisonings must be followed up seriously and the outcomes must be openly announced to the Iranian people. Lack of transparency in this regard will only increase fear and insecurity among people.
This is not such a complicated issue, and there have been incidents like this in the country. So, it must be resolved and we must not allow schools to be empty of students.
These days, new crises are continuously surfacing in different regions of the country, which have put pressure on society. The continuation of these crises in the long run might exhaust people mentally. The issue of serial poisonings will not last long, but the question is: will people be witnessing more problems like this or not?
Iranian "Hardliners" Have Started Attacking Each Other!
The editorial of Arman Emrooz argues that with the next parliamentary election drawing closer, different "ultra-conservative hardline" groups have started to sabotage each other.
As we approach the parliamentary election in 2024, we can see that "hardline principlists" have increased their propaganda to sabotage each other. It must be noted that as different "principlist" groups have no political rivals any longer (particularly the "reformists"), they have started attacking each other, which can create more chaos in the political domain. Meanwhile, what the country needs is peace and calm in this domain so that all political factions can cooperate to overcome the problems.
As we get closer to the 2024 election, there will be more and more tensions and attacks by the media outlets belonging to the "hardline principlists."
One of the goals of the Iranian revolution was to keep Islam and the republic together. This means that no political faction is allowed to tip the balance toward the republic or Islam. The Iranian Constitution is based on combining the two and we must continue in the same vein.
As these "hardliners'" activities increase, we will certainly see that more moderate figures will be pushed to the sidelines as the atmosphere of cooperation and exchanging views will diminish. But the point is that such radical views held by "hardline" groups are not popular among people. What is for sure is that these radical "hardliners" must be stopped.
People will certainly ask the "ultra-conservatives:" why do you want to diminish the role of the republic in favor of Islam? Why do you want to make the role of Islam more prominent than the republic?
Everything must be within the framework of the law, or else it is illegal. With the Constitution losing its significance, the path will be paved for more radical figures to take over – something that is not welcomed by the moderate "conservatives" either.
Zahra Rahnavard: Attack on Schoolgirls Is Rulers' Revenge on Women and Girls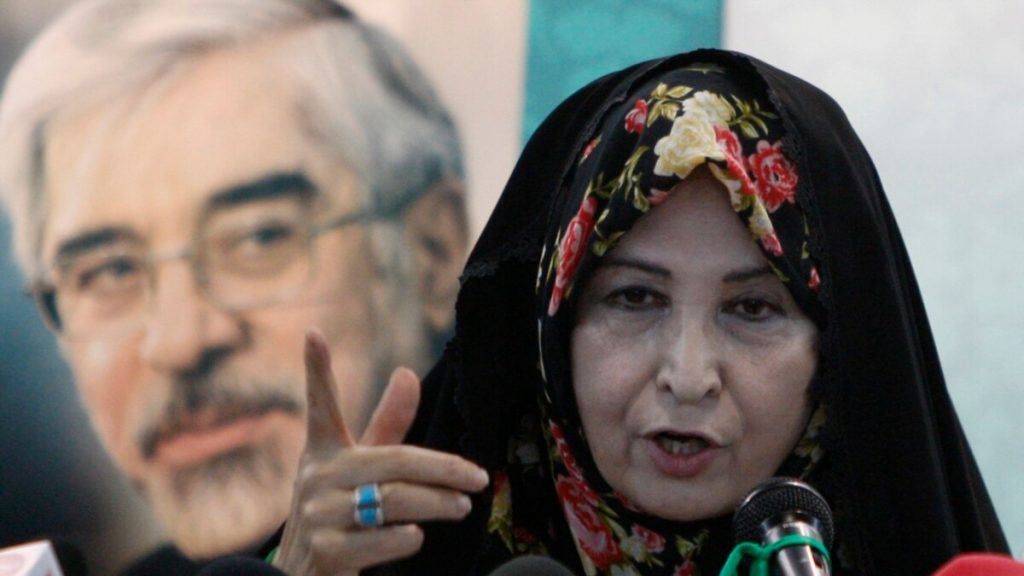 Political activist Zahra Rahnavard, who has been under house arrest with her husband for years, in a message, has called the widespread attacks on schools with poisonous gas as the revenge of the Iranian regime's rulers and reactionary groups against schoolgirls and the "worst anti-women scenario."
She stated, "The anti-women rulers know that protesting women and girls have gloriously led the movement of "Woman, Life, Freedom" and will be undisputed leaders in the epic events that are ahead."
Rahnavard has called the attacks on schools as "Revenge on innocent schoolgirls, high schoolgirls and female university students," saying that this vengeful act is because the Iranian republic's rulers see these girls as a part of the "Woman, Life, Freedom" movement which is a protest against not only forced hijab, but also any form of despotism and authoritarianism.
Rejecting the contradictory remarks of the Iranian regime's authorities about the attacks on schoolgirls with poisonous gas, Rahnavard has stressed that if the regime is not an accomplice to those responsible for these crimes, they must punish them and dismantle their networks and logistics.
In the meantime, famed Iran-based political activist Abulfazl Ghadyani issued a statement accusing the Iranian regime and the supreme leader of being behind the gas attacks in girls' schools.
In his statement, Ghadyani has held Iranian Supreme Leader Ali Khamenei responsible for these attacks, "In his poor mind, as street protests have subsided, he has now found the opportunity for taking revenge by targeting the frontrunners of the 'Woman, Life, Freedom' movement."
Giving a list of numerous cases of violations of human rights, the crackdown on opponents and women in Iran by the Iranian regime, Ghadyani considered the recent attack in line with religious despotism and an attempt to assert dominance over society.
In the past three months, thousands of schoolgirls have experienced shortness of breath, nausea and dizziness due to poisonous gas attacks carried out in schools. The Iranian people are angry at the authorities for their silence and indifference in this regard, while the opposition to the Iranian republic has linked these attacks to the regime itself.
Iranian Regime Makes More Threats Against the West: "Your Battleships Are Within Our Range"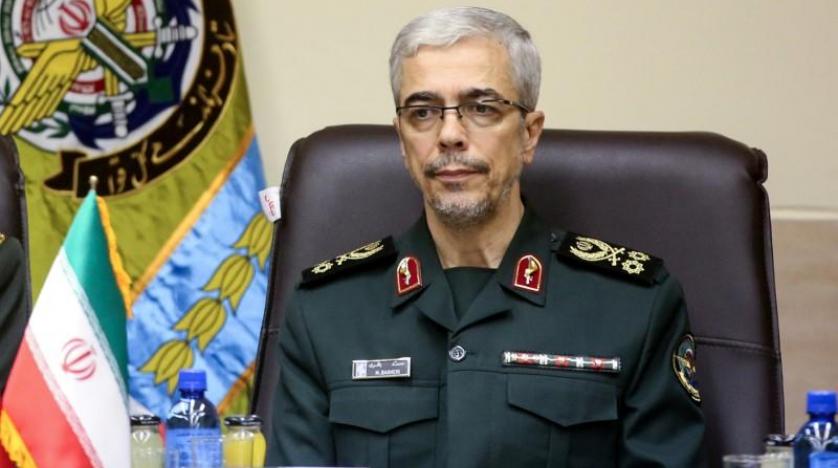 Chief of Staff of the Iranian Armed Forces Mohammad Bagheri claimed that Iran has achieved the ability to mass produce ballistic missiles with the capability of destroying moving ships.
Alleging that Iran is now one of the three countries in the world capable of producing these missiles, Bagheri added, "These ballistic missiles, with Mach 8 speed and a 1,500 kilometer range, can hit moving targets, and with this capability, aircraft carriers of other countries that are 1,500 kilometers away from Iranian coasts will not be safe any longer."
Earlier, IRGC Aerospace Commander Amir Ali Hajizadeh unveiled a cruise missile with a 1,650 kilometer range, saying, "It is out of respect for Europeans that we don't increase the range of our missiles to 2,000 kilometers ­– only if they keep acting respectfully."
And later, IRGC Commander-in-Chief Hossein Salami made threats against European countries, claiming that the Iranian regime has the capacity to increase the range of its military equipment.
Pointing to Europe's economic sanctions against Iran and the presence of opponents of the Iranian regime in Europe, Salami underscored, "The Islamic Republic hasn't blown any strikes on Europe yet."
Threats made by senior military officials of the Iranian regime are escalating while, upon the request of the European Parliament, EU officials are considering the conditions for adding the IRGC to the EU's list of terrorist organizations.
Recently, a US official stated that Iran's threats have now turned into a "global challenge" and Iran's further engagement in Russia's war against Ukraine might have "lasting consequences for the stability of the Middle East."
US Deputy Assistant Secretary for Defense for the Middle East Dana Stroul remarked that "We have reached a juncture when Iran's threats are no longer confined to the Middle East, but have turned to a global challenge."
Road Accidents; Two Killed, 60 Injured Per Hour
According to Iran's traffic police, annually 17,000 people are killed and 369,000 injured in road accidents in Iran. Although Germany has almost the same population and several times more cars, the number of victims of road accidents is less than 3,000 people per year.
Despite the fact that the number of victims of road accidents has considerably dropped in Iran in the past decade, it is still among the highest in the world and is almost incomparable to advanced countries in Europe.
According to Iranian traffic police, the number of road accident deaths was 28,000 per year in 2012, and has reached to about 17,000 per year now, but it is still "very bad."
17,000 deaths per year, according to the traffic police, means two individuals per hour, and 30 people get injured for each death, of whom 10 percent to 20 percent get disabled.
According to the estimate by the World Health Organization, each year there are 20 victims for every 100,000 people in Iran.
This number of casualties is five times more than the number of victims in countries like Germany and Spain.
The most important factor in the high rate of deaths in road accidents in Iran is because domestically produced vehicles are substandard, in addition to the fact that the infrastructure is not properly maintained.
With banning the import of high-quality cars to Iran's automobile market, the Iranian regime has created a monopoly for a few domestic companies, with automakers having no motivation for competing with each other and improving the quality of their products.
Death Threats Against Mother of Killed Dissident Blogger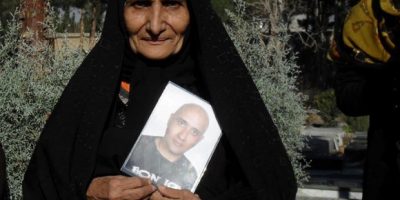 Gohar Eshghi, mother of Satar Beheshti, a blogger who was killed under torture while in police custody, has said that over the phone she received death threats stating that she would be killed with poisonous gas.
The Satar Beheshti Foundation announced on its Twitter account that Eshghi was threatened over the phone that if she does not remain silent and keeps making protests, she will be suffocated with poisonous gas. She responded to the threat via Twitter, "I swear by my children's blood that I will stand to the end."
Eshghi is one of the justice-seeking mothers in Iran who has openly criticized the Iranian regime, calling for overthrowing the regime in Iran. During the recent protests over forced hijab, she publicly removed her headscarf after 80 years to pay respect to those who were killed during the protests, saying she would not wear the hijab any more.
Eshghi has been subject to beatings and threats before. Last year, while she was going to her son's grave, she was attacked by two motorcyclists.
In recent days, there have been numerous cases of poisoning schoolgirls with gas.
Many schoolgirls in different cities including Qom, Isfahan, Tehran, Sari, Boroujerd, Kermanshah and Ardabil have been poisoned, and health officials announced that more than 1,000 girls have been poisoned.
There is widespread speculation about who is behind these poisonings.
Molavi Abdul Hamid, Sunni Friday prayer leader in the city of Zahedan, said in this regard, "Who can believe that the officials, the security and military forces don't know [who is behind these poisonings]?"
Opposition groups to the Iranian regime say that the regime is "taking vengeance" on girls for the protests in recent months in which people chanted the slogan of "Woman, Life, Freedom."
During the recent protests, schoolgirls took off their hijabs and chanted slogans against the regime and Supreme Leader Ali Khamenei.