The United States is trying to curb China's chip industry with the Biden administration urging US allies to curb Beijing's efforts to acquire high-end chips. Tit-for-tat responses exchanged between Washington and Beijing have created bottlenecks and uncertainties in global tech supply chains. The chip war is not only affecting tech companies but also countries such as the Gulf states that have accelerated their investments in cutting edge technology given their quest to become key players in AI and transition to a green economy.
The United States in recent years has increased its investments in the semiconductor manufacturing sector. In August 2022, the Biden administration passed the CHIPS and Science Act extending $280 billion in funding to enhance domestic research and the manufacturing of chips within the United States. In August 2022, the US Department of Commerce banned Nvidia and Advanced Micro Devices from exporting advanced chips to China which as per reports has left China's AI sector in a state of panic. This sector has been unable to buy advanced chips from companies like Nvidia which manufactures most of the chips that are used in AI training systems (see Table 1 and Chart 1). As a result of strong demand, there has been a growing market for smuggled chips that further complicates the semiconductor market supply chains.
The US tech giant Intel recently introduced its new Gaudi2 processor for AI deep-learning applications in China, targeting the high demand for advanced chips. Nvidia had previously attempted to comply with restrictions by modifying its chips for the Chinese market. This highlights the significance of the Chinese market to US semiconductor companies, despite export controls. Furthermore, recently the US-based Semiconductor Industry Association urged the Biden administration to refrain from more restrictions on chip sales to China as it could lead to a massive disruption of supply chains that could prompt further escalatory retaliation by Beijing.
The epicenter of the semiconductor battle is Taiwan which is responsible for over 60% of the world's semiconductor production, including over 90% of the most advanced chips. China heavily relies on imports or on locally manufactured semiconductors, with Taiwan playing a crucial role as a critical supply source. This dependence poses a significant risk to China's semiconductor industry as it lacks viable alternatives in the short to medium term. Escalating the ongoing chip war, on July 3, China imposed restrictions on the export of germanium and gallium, which are specialized metals that are critical in semiconductor and electronics production. Earlier, China also banned US chipmaker Micron from vital infrastructural projects. Just days before this move, the Netherlands, in coordination with the United States, had imposed restrictions on the export of advanced chip manufacturing machinery from the Dutch company ASML to China.
The Gulf states, particularly the UAE and Saudi Arabia, are focused on digital transformation as a key part of their national strategies and the US-China chip war is having a significant impact as it is disrupting supply chains and invariably increasing production costs. Both the UAE and Saudi Arabia are striving to enter the global semiconductor market by localizing production and talent, to an extent aligning with China's Digital Silk Road initiative. China has integrated its digital technology into the Gulf economies, which has raised the concerns of the United States. Chinese tech giant Huawei has been involved in building 5G networks in most Gulf states and Gulf officials have expressed openness to further cooperation with China in AI.
While the Gulf states have increased their technology cooperation with Beijing, countries like the UAE and Saudi Arabia are also reviewing wider technological cooperation with US companies, especially as most of the top semiconductor companies are based out of the United States. As per reports, last year, Foxconn offered to build a semiconductor manufacturing facility in Saudi Arabia known as a "foundry" in Neom. In March 2022, a memorandum of understanding was signed involving Saudi Arabia's Advanced Electronics Company (AEC), Tokyo's Yokogawa Electric Corporation and Aramco. This agreement aims to develop Saudi Arabia's digital ecosystem, which also encompasses efforts to establish localized semiconductor chip manufacturing. Meanwhile, Qatar and Turkey in their efforts to minimize future risks amid the US-China chip war have launched joint investments for chip production. Oman recently hosted the World Semiconductor and Chip Summit, further signaling the Gulf states' commitment to this sector.
Saudi Arabia, the UAE and Oman have the finances to engage in capital-intensive investments, and also have access to key raw materials like silicon, copper and aluminum that are needed to produce chips. However, the supply chains needed to manufacture advanced chips involve the participation of different countries across continents along with highly complex technology. The Gulf states aim to attract investment in semiconductor manufacturing, leveraging their existing technological investments. The Gulf states are also seeking partnerships with global tech companies and are actively positioning themselves to navigate this competitive landscape by investing in technology and pursuing partnerships with key players amid the ongoing US-China chip war.
Table 1: Top 10 Semiconductor Companies in the World
| | |
| --- | --- |
| Companies | Brand Value (US Dollars) |
| Intel (US) | 22,93,60,00,000 |
| TSMC (Taiwan, China) | 21,56,40,00,000 |
| Nvidia (US) | 16,92,20,00,000 |
| SK Hynix (South Korea) | 9,14,60,00,000 |
| Qualcomm (US) | 8,58,30,00,000 |
| Broadcom (US) | 8,20,80,00,000 |
| AMD (US) | 6,93,60,00,000 |
| ASML (Netherlands) | 5,40,60,00,000 |
| Micron Technology (US) | 5,27,60,00,000 |
| Texas Instruments (US) | 4,56,00,00,000 |
Chart 1: Brand Value of Semiconductor Companies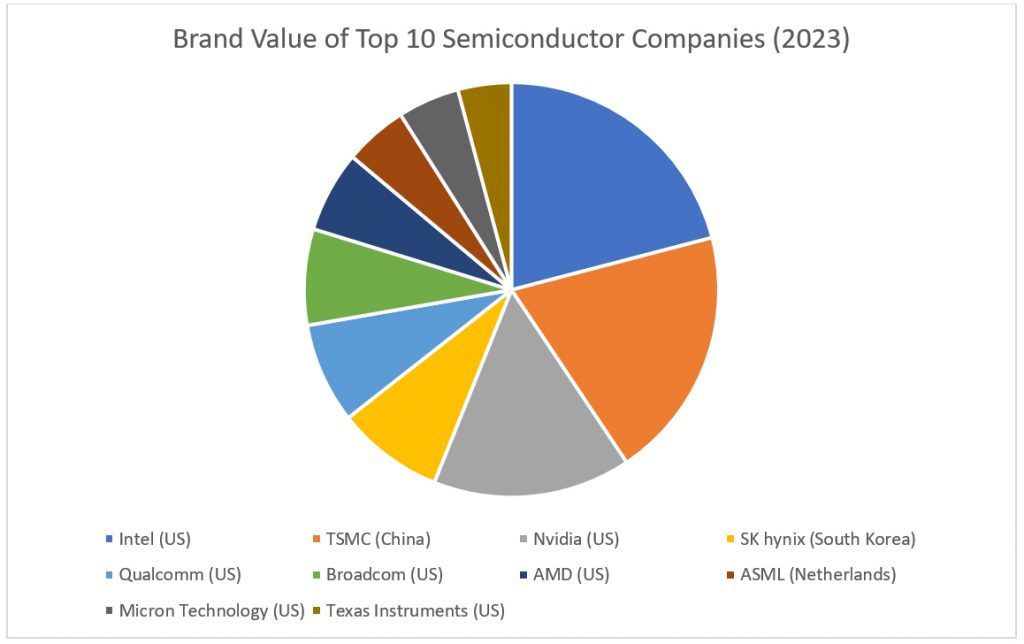 Data source: Brand Finance Directory, accessed August 28, 2023, https://brandirectory.com/rankings/semiconductors/table