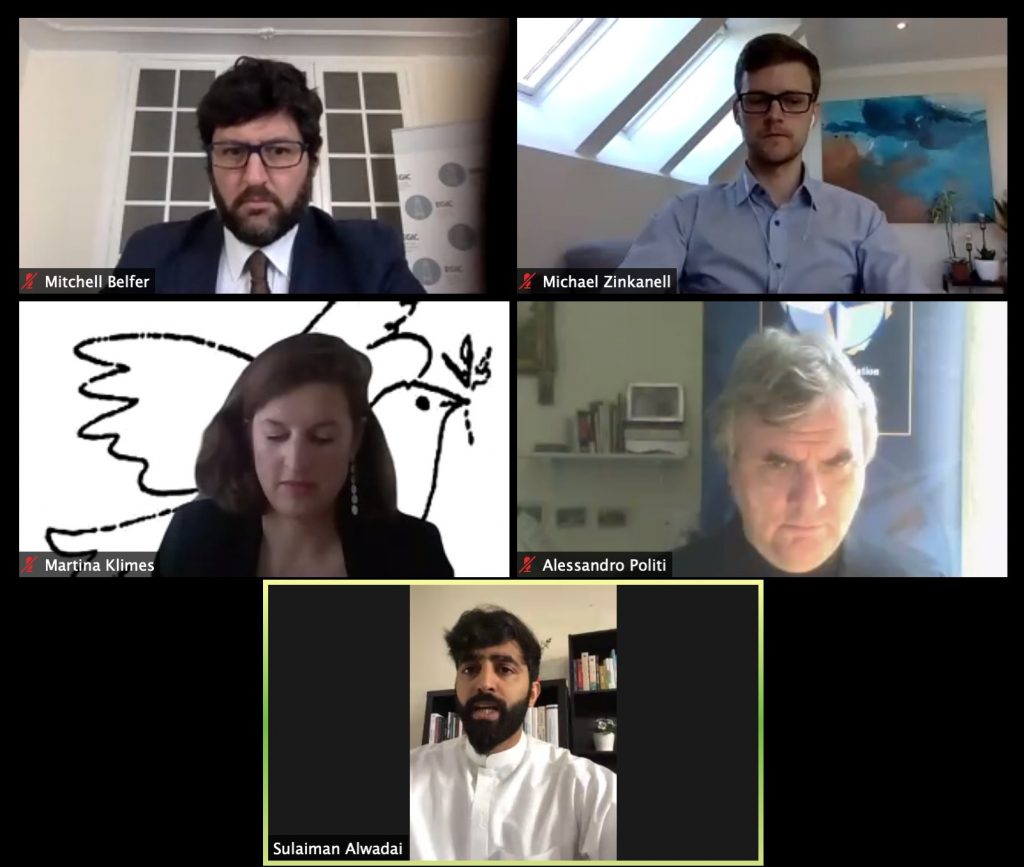 The International Institute for Iranian Studies (Rasanah), represented by its researcher Sulaiman Alwadai, participated in an online discussion, 'Disinformation in the Time of Coronavirus.' The discussion was hosted by the Euro-Gulf Information Center (EGI) on April 7, 2020 to discuss the disinformation in the time of coronavirus, actors, motivations, modus operandi and ways to tackle these.
Martina Klimes, a speaker at the discussion, stated the significance of water and climate change for security and in disinformation campaigns, highlighting that state and non-state actors like ISIS have exploited the people's lack of knowledge to spread disinformation.
The second speaker, Alessandro Politi explained disinformation according to NATO's perspective, saying that Russia has a long experience with disinformation. Now it uses social media to serve the interests of its disinformation.
Sulaiman Alwadai discussed the Iranian disinformation campaigns since the outbreak of coronavirus, citing facts confirming how the Iranian government dealt with the coronavirus pandemic. In his discussion, Alwadai focused on two disinformation campaigns: The first campaign, the virus spread is a mere "propaganda" triggered by Iran's enemies, according to the remarks of Iran's Supreme Leader Ali Khamenei. The second campaign, after admitting the virus spread across the country, they claimed it was US biological warfare against Iran and China.
Alwadai stated that there are four motives behind Iran's disinformation: The Iranian government did not want to hinder the voter turnout for the parliamentary elections and the 41st anniversary of the 1979 revolution; its concern about the deteriorating economic conditions, so it had not taken any preventive measures like imposing quarantine; its relations with China especially as a number of Chines students and engineers were in Qom; and finally the IRGC-owned Mahan Airline continued its flights to China though the virus originated there.
The fourth speaker, Michael Zinkanell, explored the disinformation campaigns against EU institutions, whether governmental or non-governmental organizations— in particular the disinformation campaigns that Russia and China launched to divide Europeans, mislead the people and cause suspicion between allies.
The webinar was moderated by Mitchelh Belfer, president of the Euro Gulf Information Center (EGIC).