Making people nervous!
The editorial of Jahan Sanaat daily focuses on how the recent fluctuations in the currency market are making Iranian people nervous, and the government is not doing anything in this regard.
The editorial starts with a recent plummet in the price of the dollar, which was followed by people rushing to streets to sell their dollars. The market had a lot of fluctuations on Tuesday, showing the ugly face of Iran's economy.
The editorial continues: on this day, two faces of the Iranian economy revealed themselves. On the one side, it is a government which, despite all its claims, is not transparent at all; on the other side, there are economic behaviors which are completely emotional and far from rationality. From an economy with such two sides, no improvement or development can be expected, as the necessary requirement for development doesn't exist.
The editorial adds: development can take place with either the government's policy or with people's desire. In a place where none of these exists, how can one have hopes for the future of the economy? As one of the agents of the development, the Iranian government has implemented 6 plans for economic development. The achievements of these development programs have been so insignificant that no additional explanation is needed. Severe economic dependence is just one of the results of these development plans.
The editorial goes on to say: in reality, the content of these programs has been nothing but a few popular slogans, with a change in their tone every now and then. The government has still not defined its own place in the economy so people now where it stands. The government says it is after privatization and the market economy, but in practice, it doesn't let go of the economy. When the economy is based on oil and the oil revenue is in possession of the government, it should naturally be the government that must supply the currency in the market. That is why the government must take charge of the currency market; not doing anything against the fluctuation in the currency just proves that there is no transparency involved.
The editorialist concludes: the government must now do something about the stock market. Knowing that the other side of the economy is emotional behavior, the government must intervene in the stock market and stop using the policy of making people nervous.
An editorial in Jahan Sanaat on October 3, 2018
Can Iranian hardliners guarantee financial transaction with the world in absence of FATF?
The editorial of Setareh Sobh newspaper focuses on the fact that Iranian hardliners cannot guarantee the continuation of financial relations with the world if Iran does not pass the bills for joining FATF (Financial Action Task Force).
The editorial states: neither the JCPOA nor bills related to FATF cannot resolve all the problems of the country. The hardliners know this very well, which is why they are asking the government to guarantee that 'joining FATF will resolve all the issues in the country'. But this is not so, and they are only pretending not to know this.
The editorial continues: in this regard, Karimi Ghodoosi, hardliner lawmaker from Mashhad, has said: 'our question from the government's representatives was if they were able to guarantee that by passing FATF, all monetary and banking issues of the country will be resolved'. And he added: 'they all said no, they won't guarantee that, and no such thing will happen'.
The editorial adds: this is obvious. Both the JCPOA and getting delisted from FATF's blacklist are just preliminary steps. It is something like 'security'; only when it doesn't exist, it becomes clear how important it is. Looking at conditions today can show the significance of the JCPOA: while there was the JCPOA, everyone was looking for its fruits. However, despite the fact that the government exaggerated in some cases and raised the expectation of the society and its opponents, everyone felt the significance of the JCPOA when the US withdrew from it.
The editorial concludes: it shouldn't be said that FATF will resolve all the problems of the country. The opponents of the government want to attribute any sanction to FATF, saying that it is the result of these bills and another treason. The hardliners must be asked if they are ready to guarantee that with Iran returning to FATF's blacklist, the country can continue its financial and trade relations with the world.
An editorial in Setareh Sobh on October 2, 2018
Government's spokesperson must be appointed
The editorial of Mardomsalari newspaper deals with the significance of appointing a spokesperson for Rouhani's government – a position that has been vacant for a while– at the time when Iranian government already suffers from weakness in information team.
According to the editorial, the government hasn't had any spokesperson for two months. Mohammad Bagher Nobakht who, in addition to the head of Budget and Planning Organization, was the government's spokesperson for a long time, resigned from this position in early summer. As such, the government's tribune of accountability was closed, even though Rouhani's government never fully utilized it.
The editorial continues: meanwhile, proper and fast accountability of the governments to various developments and changes is one of the significant tools in managing the country's affairs. But as it was mentioned, the government's information team has not been successful so far. This issue was even pointed out by late Hashemi Rafsanjani.
The editorial goes on to say: such criticisms, however, have never been taken seriously. And with shutting down the tribunal of the government's spokesperson, the conditions have worsened – particularly at a time when the country is in special conditions, due to particular economic conditions and crises resulting from all-out economic war with the US.
The editorial adds: many rumors are flying around, and people are perplexed about the future. Meanwhile, an active government spokesperson — who would only concentrate on government's accountability– can help in managing the society's mental atmosphere. When people see there are certain measures in the government's agenda to manage and control the situation, it will certainly have an impact on the market. But when the society faces the statesmen's silence at the time when it is necessary to react to severe fluctuations in prices, it is only natural for the country's economic conditions to be affected, and people to get increasingly worried.
An editorial in Mardomsalari on October 1, 2018
Parliament's reservation, government's duty
The editorial of Arman daily demands that Iranian lawmakers should not impeach Rouhani's cabinet members and not creating more issues for the government which is already under a lot of pressure.
According to the editorial, Iran is currently facing the regional and international threats. Meanwhile, there are many problems inside the country. Iran is not in a desirable condition, which has made the national interests and integrity of the country very vulnerable. Lack of complete unanimity among the three branches provides the ground for mismanagement over the country.
The editorial then continues: to get out of these conditions, it is required to have solidarity, unity, and convergence at all levels. Impeaching ministers, not filling certain positions – like those of Economy Minister, the government's spokesperson and ambassadors to big countries like China and India – all seem to indicate disintegration in management.
The editorial adds: under such conditions, it isn't expedient for the country to add to the problems of ministries such as Ministry of Road and Transportation and Ministry of Industry, Mine and Trade. All political forces should ask the lawmakers to minimally use their legal rights to question, impeach and remove ministers, even though it is their right to do so.
The editorial goes on to say: certainly replacing key ministers under such conditions is not only not helpful, but adds to the problems. Political groups and figures must ask the parliament to stop sacking the ministers through impeachment. Of course, the editorialist concludes, the government itself must make necessary changes when necessary.
An editorial in Arman Emrooz on September 30, 2018
Russia's mediation over Syria
The editorial of Ebtekar daily focuses on a recent announcement made by Russian's Foreign Minister Sergei Lavrov as to Russia's readiness to host talks between Iran and Israel in Moscow.
According to the editorial, the news was very strange: Russia's readiness to mediate between Iran and Israel. After his speech in the UN General Assembly, Sergei Lavrov announced that Russia is ready to host talks between Iran and Israel in Moscow, adding that there should be talks between these two countries.
The editorial asks: what is Russia's goal in bringing up the issue of talks between these two hostile countries? What is Russia's benefit in normalizing the relation between Iran and Israel? Is Russia thinking about Iran's national interests? The editorialist then responds: taking a look at Russia's past political relations with Iran very well shows that this country has always been after its own interests.
The editorial continues: Some media suggest that the main issue of these talks will be Syria. What Russians are looking for in these talks is strengthening their own presence in Syria. In other words, Russia and the US are after dividing Syria into two regions under their own influences, with regional actors like Iran, Turkey, and Israel kept away from it.
The editorial adds: with influence in Syria, Russia enjoys the benefit of getting closer to the Mediterranean Sea and Europe. Giving S-300 air defense system must be viewed from this perspective. No doubt this system which is to be located in Syria — regardless of financial issues — will be managed by Russians themselves and will not be given to Syrian army.
The editorial concludes: what exactly Russians are after in proposing these talks is not clear. But whatever it is, it might limit the presence of both Iran and Israel in Syria.
An editorial in Ebtekar news on September 30, 2018
Zibakalam: who is responsible for people's losses?
In a tweet, Sadegh Zibakalam, reformist academic, criticized the performance of the officials in the field of economy. He wrote, "Who is responsible for the people's losses? Many officials will point the finger towards people. No doubt, people are partly to be blamed. But if the officials had managed to create a successful, stable economic order in the country, would people rush to buy currencies, gold coins or properties?"
Bartarinha
Falahatpisheh: Iran is no longer a targeted country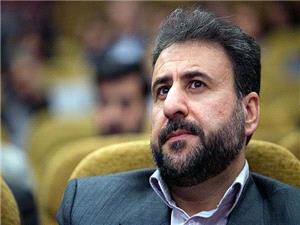 Heshmatollah Falahatpisheh, head of Parliament's National Security Commission, said, in a joint meeting with 26 ambassadors of European countries, that Iran is no longer a 'target country', but is a 'sympathetic country' in the region. He added, "if it weren't for sacrifices and the resistance of Islamic Republic against terrorism and ISIS in Syria and Iraq, today ISIS had reached European borders."
Falahatpisheh urged that Iran and European countries are in 'dangerous situation' and must develop their cooperation.
Arya news
Ghodoosi: Washington's campaign against Tehran is just bragging


Javad Karimi Ghodoosi, the member of Parliament's National Security and Foreign Policy Commission, said the support of 'puppet countries' for Trump indicates failure of the US plans against Iran, adding: US pressure campaign against Iran will not be formed and will backfire. Pointing out to allegations by the US president against Iran, Karimi Ghodoosi asserted that in the past, the US could create a global consensus against a country, but it is no longer so, which is why Trump tries to intimidate others while pretending to be a supporter of other countries.
Parliament news agency
Zarif on Iran's possible pullout of JCPOA


Iranian Foreign Minister Mohammad Javad Zarif said in a press conference in New York that in case European countries' special mechanism for preserving the nuclear deal (JCPOA) is inefficient, Iran may withdraw from the JCPOA. He also added that Iran and European countries are close to an agreement for selling oil.
On the other hand, in an interview with The New Yorker regarding diplomacy with the US, Zarif did not refuse the possibility of dialogue with the United States, adding that 'being reliable' is the necessary condition which must be provided.
Zarif said 'being reliable means that when you sign a document, you remain committed to it'. He compared diplomacy with the United States to a Hollywood movie called "50 First Dates", in which everything has to start the day after. Zarif urged that Iran cannot start all over again as any relationship must be based on some foundations.
Young Journalists Club
Salehi: the United States is isolated in international communities!


Head of Atomic Energy Organization of Iran said that Iran is taking "smart measures" in its foreign policies, and the United States which follows the logic of force has become isolated in international communities. Ali Akbar Salehi added even though the United States is a member of the United Nations, it breaks all the laws of the U.N. organizations, urging that Iran has demonstrated that it has advanced its foreign policy "wisely and smartly" and has been successful so far.
Young Journalists Club
A new commander for Khatam Anbiya Headquarters


Major General Mohammad Ali Jafari, chief of Iranian Revolutionary Guard Corps (IRGC), appointed Saeed Mohammad as commander of IRGC's Khatam Anbiya Headquarters. Saeed Mohammad will replace Brigadier-General Ebadollah Abdullahi, who was in this position since 2012.
Hamshahri online
IRGC fires missiles against militants in Syria to retaliate Ahvaz attack


Following the attack against military parade in the city of Ahvaz, IRGC missile unit responded on Monday with a missile attack against militants' base in Syria (Al-Bukamal region in the eastern side of Euphrates River). IRGC said it fired six missiles from western bases at 2 a.m. local time, killing and wounding several militants. It said its combat drones then targeted the sites.
Fars news agency
Iran targets bases of KDPI in Iraq once again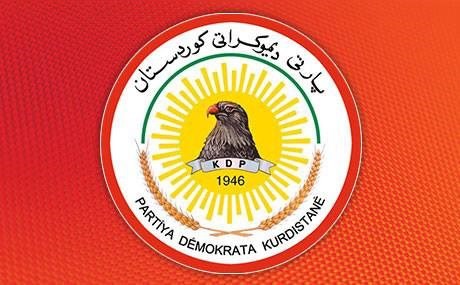 Command of Kurdistan Peshmerga forces, affiliated with Democratic Party of Iranian Kurdistan, issued a statement, saying that Iran bombed Kudo mountains with drones. According to this statement, one of the Peshmerga forces was wounded in this drone attack.
Earlier, IRGC had attacked this headquarters of Democratic Party of Iranian Kurdistan with missiles, in which several people were killed. Iraqi foreign ministry condemned this attack.
Radio Zamaneh
Iran welcomes election of new Iraqi president


Iran's Foreign Ministry welcomed the election of Barham Saleh as the new president of Iraq. Bahram Ghassemi, the spokesperson of Foreign Ministry, congratulated the new Iraqi President, expressing hope that "long-standing, firm, brotherly relations of both countries" will develop and deepen in the upcoming era, creating economic prosperity and welfare for both nations.
Khabar online
Hossein Amir-Abdullahian: Iran to stand by Syria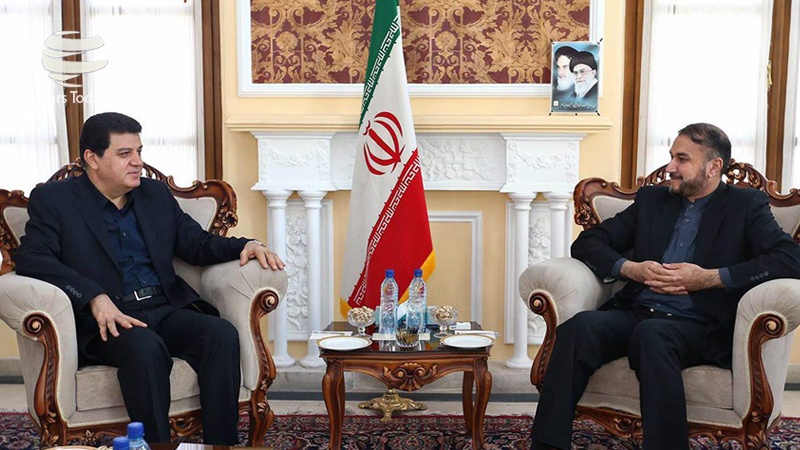 Special Assistant to Iran's deputy foreign minister, Hossein Amir Abdullahian stressed on the "unchangeable position" of Islamic Republic in comprehensive support for the Syrian government and people until this country's final victory over terrorism. Hossein Amir-Abdullahian, in his meeting with Adnan Hassan Mahmoud, Syrian Ambassador to Tehran, emphasized that Iran 'sees backing Syria as a religious duty to create security and stability in the region and Syria'. He added that the US "unconstructive policies" in Syria have created problems for Syrian people and government.
Pars Today
Portuguese parliamentarian friendship delegation meets with Zarif's deputy


A five-member delegation of the Portugal-Iran Parliamentary Friendship Group met with Morteza Sarmadi, Iran's Deputy Foreign Minister, and talked about expanding parliamentarian relations, the nuclear deal (JCPOA), Europe's measure to provide Iran's interests, and the regional issues. Sarmadi said, 'we believe that European countries' parliaments can try to preserve the JCPOA and multilateralism by disagreeing with the US position.
Continuation of selling Iran's oil and creating banking channel for Iran's financial transactions with different countries were two other issues raised by Sarmadi to guarantee successful implementation of the nuclear deal.
Fars news agency
Former Iranian ambassador on the attack against US consulate in Basra

Hossein Kazemi Qomi, Iran's former ambassador in Iraq, said, "the incident of US consulate in Basra is the result of this country's wrong policy in Iraq, which has been responded to by the popular resistance." He added, "accusing Iran in this incident is an effort to restrict Iran's presence in the region'.
After three rockets were fired close to the US consulate in Basra, US officials blamed Iran for the attack. The US Department of State ordered its diplomats to close the consulate and leave this city to protect their own lives.
Donaya-e Eqtesad
Velayati warns the US to leave the eastern Euphrates before having more damages


Ali Akbar Velayati, a top foreign-policy advisor to the Supreme Leader, said, "on behalf of the resistance front, we warn Americans that they should leave Syria and the eastern side of the Euphrates River before having more damages," adding that they will certainly leave the region shamefully.
Velayati urged, "the resistance front will not allow separation of any part of Syria, which has made Americans angry, which is why they keep saying that Iran must go out of the region."
ISCA news
Iran non-oil export, more than $23 billion


Iranian customs office reported that Iran' non-oil exports in the first 6 months of Iranian year [starting in March] had a new record, reaching $23.123 billion. Iran's exports, compared to the same period last year, had a 13% increase, while the imports reached $22.182 billion in the same period.
According to this report, the most important destinations for Iranian exports were respectively China, Iraq, UAE, Afghanistan, and India.
Pars Today
Unclear destiny of activities of the joint gas field between Iran and Britain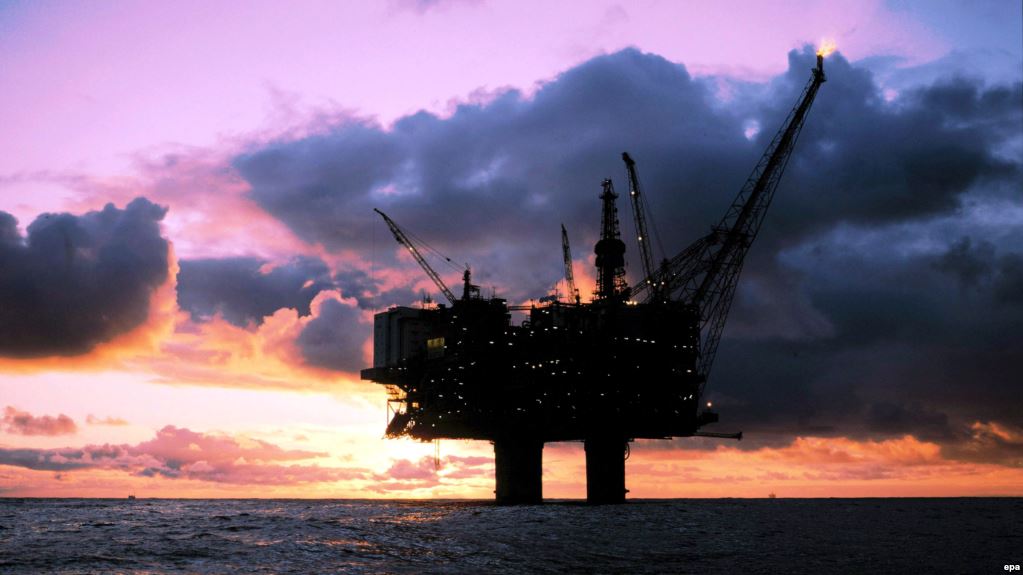 US new permit with regard to a joint gas field project between Iran and Britain has increased speculation on ceasing production of gas in this field. British Petroleum (BP) had earlier stopped development of Rhum Gas Field in the North Sea due to US sanctions and has now faced a serious problem, which will probably force this company to stop producing gas there. BP owns half of the shares of this field, and the other half belongs to NICO, a subsidiary of Iran's National Oil Company.
US previous permit to exempt this project from sanctions came to an end on September 30. With the US not renewing the permit, the destiny of this project has become more complicated.
Radio Farda
France freezes assets of Iranian intelligence ministry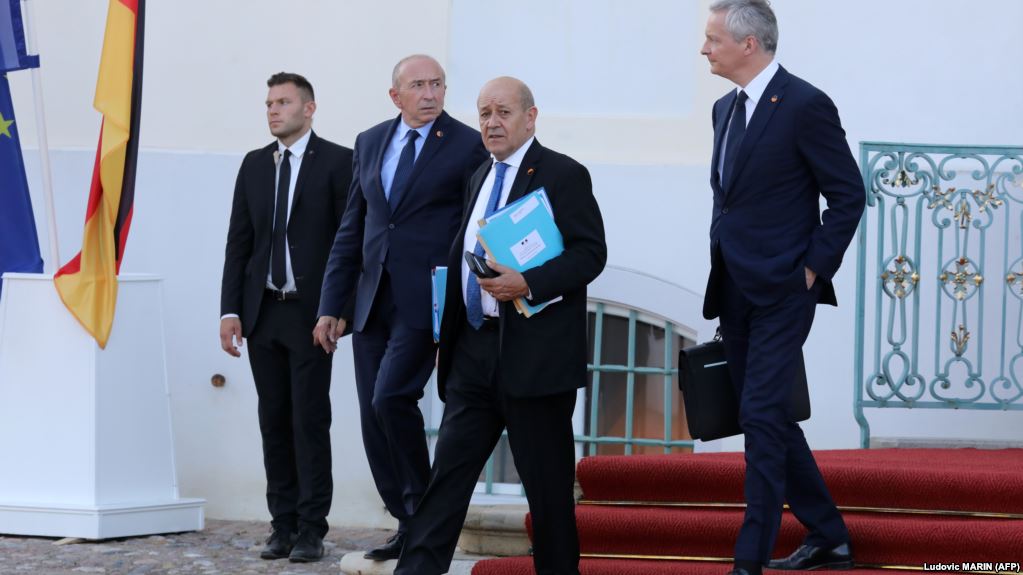 According to Reuters, the French government announced on Tuesday that it has frozen the assets of Iran's intelligence services and two Iranian citizens, in reaction to the plan for 'attacking MEK's conference' in June. Earlier France had arrested an Iranian diplomat and two others in this regard, warning Tehran to expect a 'strong response'.
According to the Associated Press, the frozen assets belonging to the security forces of Iran's Intelligence Ministry and one of the diplomats suspicious of being an accomplice in 'planning the attack".
Radio Farda
Zarif: special financial channel, good policy for destroying banking sanctions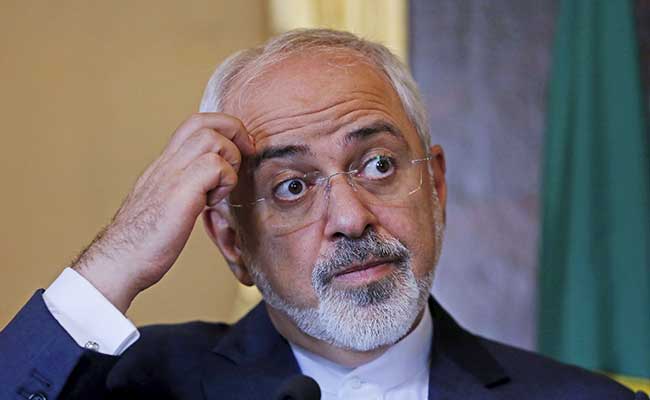 Iran's Foreign Minister Mohammad Javad Zarif said that special financial channel is a good policy for destroying the US banking sanctions. He called creating a special financial channel between Iran, Europe, and third countries a very good solution. Zarif expressed hope that the participation and cooperation of seven European central banks in this special channel so far will be useful in destroying the US sanction mechanisms in the field of banking and financial transactions.
IRIB news
Rahmani Fazli: currency rate is declining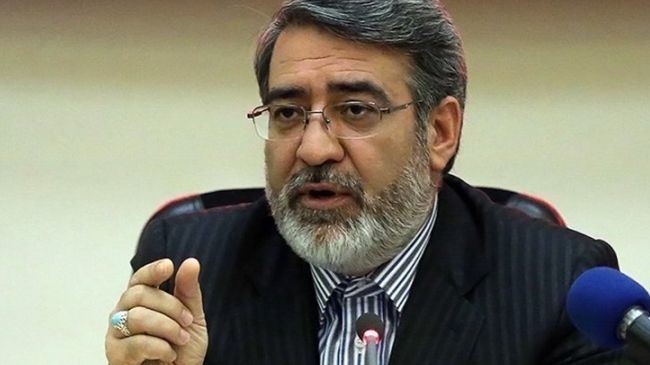 Iran's Interior Minister Abdul-Reza Rahmani Fazli pointed out to "unreal turbulence" in the currency and gold coin markets, urging that "with proper decisions taken by the heads of the three branches at the Supreme Council of Economic Coordination, we will witness that order will return to the market, and the prices of the currencies and gold coins will decline."
Bartarinha