Poverty Bites to the Bone
The editorial of Arman Melli written by Seyed Hassan Mousavi Chelek, head of the Iranian Association of Social Welfare Workers, focuses on how the poor are under crushing pressure, urging that something must be done about it.
These days, when people get together, they will surely talk of high prices, the high cost of living, health, education. Statistics and reports show that life has become tougher for all, but the poor are suffering more than others. This is a serious issue and if no solution is proposed in next year's budget, the poor will be crushed by soaring prices and the high cost of living.
Today, a woman in charge of her family receives 300,000 to 350,000 tomans monthly, and a family of five or more receives 1.1 million tomans. A healthy person cannot live on that amount of money, let alone a person with health problems or special needs.
What is bothering social welfare workers is how poverty is damaging the poor. Perhaps, before coronavirus, the poor were able to earn some money by undertaking domestic work in other people's houses, but they are now deprived of this opportunity. Something must be done for the poor. Their health is suffering, their standard of living is deteriorating, they have no hope.
The government and the Parliament must take a more effective and resolute approach to address the needs of this group of people. We must pay more attention to the conditions of the poor than before. The basic needs of the poor are not being met. According to Article 29 of the Iranian Constitution, it is a universal right to enjoy social insurance, but in spite of this the state is unable to provide for people's basic requirements. These people are entitled to have a decent life.
Do Not Worsen People's Problems
The editorial of Setareh Sobh explains why the Iranian negotiation team's approach to the nuclear talks is unconstructive and will make life more difficult for people.
Dialogue and negotiations have certain rules and principles that if followed, will lead to positive outcomes. On the contrary, if these rules and principles are not observed and if unrealistic, idealistic proposals are made during negotiations, the results will be disappointing.
The members of Iran's negotiation team in the nuclear talks do not speak English fluently, and more importantly, they were previously against the nuclear deal (JCPOA). Professional negotiators are those who can assess the positive and negative consequences of their proposals beforehand, knowing exactly the outcome of each proposal.
For example, during the seventh round of talks, Iran's negotiation team offered two new documents to the Western sides, thinking that these documents would make the United States back down and be ready to resume negotiations from scratch.
The main question is: why is the negotiating team which is not fluent in English questioning the outcomes of the previous six rounds of negotiations and calling for starting the talks from scratch? The Western sides openly declared that they will not accept these proposals, and even worse, Russia and China that were previously on Iran's side, called for resuming the talks from where they left off in the sixth round. America used this issue to create a consensus among the major world powers.
The Iranian negotiation team must be after win-win agreements and avoid raising maximum demands. With every move they make, they must think of the Iranian people who today are deprived of bread, water, clean air, etc. It has now become clear that radical policies have always backfired – an approach which has always been adopted by Iranian "hardliners" and has always worsened people's problems.
Economic Conditions Necessitate Logical Management
The editorial of Tejarat penned by Hassan Sadeghi, House of Workers deputy, underscores the significance of a long-term agreement between Iran and the international community and how it will have a positive impact on people's lives.
With the establishment of the new government in Iran, we must be careful and understand the problems we are dealing with. The biggest issue goes back to Iran's relationship with the global community which will eventually impact the economy and people's living standards.
With the new government taking office in Iran, there are expectations about controlling inflation and there might even be a decline in the inflation rate. If next year's budget is drafted tightly, if the sanctions are lifted, if there is an agreement over the nuclear issue, and if the coronavirus pandemic comes to an end, there is hope for improvement in economic conditions.
Under these circumstances, lifting sanctions plays an important role in exiting this situation. The problems due to inflation and low investment will impact Iran for a very long time. So, whether Iran reaches an agreement over economic issues and the nuclear deal or not, the country will not reach a balanced situation immediately.
The way out of recession is attracting investment; capital goes wherever there is security; and security is created when investors are given assurance. Lifting sanctions can improve the prospect for improving investment if Iran adopts the policy of mutual understanding. With a long-term policy of mutual understanding, Iran's economy can become more balanced and the prospect for economic growth will be more promising. But if agreements between Iran and the international community are temporary, there will be growth for some time, but inflation and recession will prevail once again.
On the other hand, there has been growth in liquidity. In the past month, 146,000 billion tomans were added to the country's liquidity, widening the gap between costs and wages. Although the deleterious effects of this is not just felt by workers, they are undoubtedly the ones who will suffer the most.
Under these circumstances, politicians must be clear about whether they are after finding temporary solutions or are after eradicating the problem. Short-term solutions will result in more widespread poverty which will impact workers more than others.
Futile Planning for Bringing Immigrants Back
The editorial of Jahan Sanat asserts that the increase in the rate of migration from Iran is because of poor economic conditions, and, unlike what some Iranian officials allege, it cannot be attributed to university professors encouraging their students to leave the country.
In recent months, the issue of increased migration from Iran across different social groups has concerned the government. A large number of government officials and other authorities have attributed the growing rate of migration from Iran to the advice given by university professors to their students to seek employment abroad. Iranian officials have criticized university professors for this. One of the current lawmakers denounced these professors and made veiled threats against them.
The true story of migration from Iran is that the economic conditions are not suitable for young talented Iranians. In the 2010s, Iran's economy was severely damaged because of the wide-ranging sanctions imposed by the West and the decline in revenues from exporting oil. The worrying decrease in public and private investment, as well as Iran's long-term foreign policy which has escalated tensions with the West making the future uncertain, are the main reasons for the high level of migration of Iranians from different walks of life.
A close look at the types of migration and the diverse range of people who want to migrate or have migrated from Iran shows that they are not from the same background and that they did not plan to migrate but found themselves compelled to do so. Iranian citizens, without any coordination with each other and without any involvement from other governments or civil institutes, decide to migrate from the country individually while knowing that they will have to face a lot of difficulties.
Knowing that there is no red carpet rolled out for them, Iranian migrants decide to face all the difficulties to get out of the country. But now, different organizations and institutes are allocating funds to bring Iranian immigrants back to the country.
Recently, Foreign Ministry officials stated that dual nationals can easily go back to Iran. Iranian immigrants and those who plan to migrate from the country seem to get angrier when an institute or organization within the country is granted a budgetary allocation just to bring them back to the country.
If Iranian immigrants believe that doing business in Iran is possible and creative individuals with innovative ideas are able to earn good incomes within the country, they will return to Iran voluntarily.
Mother of Blogger Who Was Killed in Custody Brutally Attacked; Security Forces Remain Silent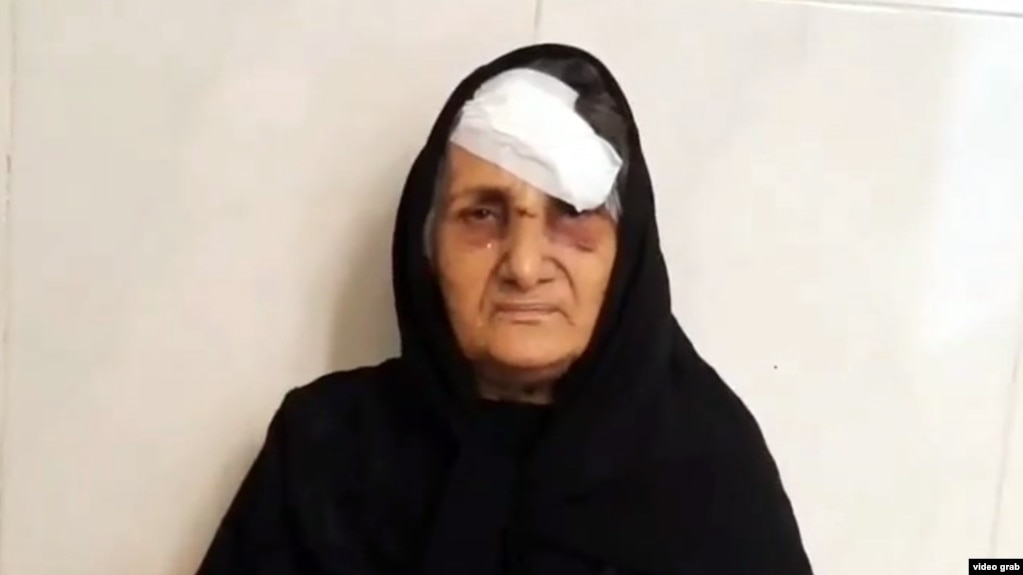 Gohar Eshghi was attacked on her way to her son's grave and was injured; an incident that provoked widespread outrage on social media, but all Iranian security forces and bodies have remained silent in this regard.
Gohar Eshghi was going to her son's grave, Satar Beheshti, when she was attacked by anonymous motorcyclists and sustained injuries to her head and face.
Images of Ms. Eshghi's injured face attracted widespread sympathy on social media, as well as a firestorm of criticism against the Iranian government.
In 2012, Satar Beheshti was arrested by cybersecurity police for publishing critical material against the Iranian government and was later tortured to death in custody.
The court ruled Satar Beheshti's death as "manslaughter" and the perpetrator, who was a law enforcement agent, was sentenced to three years of imprisonment. Ever since, his mother, Gohar Eshghi, has been seeking justice for her son in different ways.
Regarding the attack against Gohar Eshghi, Iranian political analyst Abbas Abdi has written that either the attack was officially ordered which, if so, is "woeful, or it has been carried out arbitrarily. In either case, it must be followed up immediately and effectively."
Security and law enforcement officials did not react to this attack, except for some social media users affiliated with the IRGC and the security forces who, with no proof, have called the attack a "hoax" or committed by the Iranian establishment's opponents.
The Satar Beheshti Foundation earlier announced that security forces had asked Gohar Eshghi and her family to halt the foundation's activities, but Gohar Eshghi strongly rejected this demand.
According to the latest report of the foundation, last month following the arrest of Gohar Eshghi, "the security forces had said that not everyone dies in prison or under torture, some die in an accident or a scuffle or an incident."
Gohar Eshghi had earlier announced that given the repeated threats against her daughter and grandson, the onus of any incident for Satar Beheshti's family is on the Iranian government and the security forces.
Ebrahim Raisi's First Budget Draft: Feast for Military, Austerity for People
Iranian President Ebrahim Raisi submitted his first budget draft for the next Iranian year (starting March 21), which even domestic media outlets have criticized for making life more difficult for people. Furthermore, in next year's budget draft, the price of the dollar is no longer calculated at 4,200 tomans. Importers of six essential goods including wheat, barley, corn, soy, cooking oil, and oilseeds, along with certain medicines and medical equipment, are currently receiving the dollar at 4,200 tomans.
Meanwhile, there is a considerable increase in the budgets of the IRGC and Iran's state-run television (IRIB). The IRGC's budget was increased by 58 percent last year from 24,335 billion tomans to 38,564 tomans, and in next year's budget draft, it is set to more than double to reach 93,000 billion tomans.
The other significant increase can be seen in IRIB's budget which is under the aegis of the Iranian supreme leader. According to the budget draft for next year, 5,289 billion tomans have been allocated to IRIB. This organization's budget is 3,384 billion tomans this year, showing a 56 percent increase for next year.
In the budget draft, the government has predicted selling 1.2 million barrels of oil per day (bpd) at $60, which is 10 dollars more than this year, while this year oil exports were predicted to be 2.3 bpd.
According to Iran's Statistical Center's report, the annual rate of inflation for November was 44.4 percent showing a minor decrease in the past two months after 14 months of continuous growth. Despite this rate of inflation, the annual increase in government employee salaries is set at 10 percent on average.
4.6 billion euros will be allocated to the "plan for bolstering defense foundations and defense strategic research" which is a part of Iran's military activities.
In the wake of former US President Donald Trump pulling out of the nuclear deal in 2018 and the reimposition of oil and banking sanctions against Iran, the country's oil revenues sharply decreased, while Iran's economic growth has been negative in recent years.
Raisi's Government Pursues Relations With Neighboring Countries to Bypass US Sanctions
Iranian President Ebrahim Raisi has described relations with neighboring countries as "strategic for Iran." Earlier, a member of the Iranian Parliament's National Security and Foreign Policy Commission said that cooperating with favorable countries and attention to economic diplomacy are very important for defusing and bypassing the sanctions.
The Iranian president underscored the policy of interaction with neighbors and Iran's nuclear talks with global powers, adding that "we will follow the two measures of defusing the sanctions and lifting them."
Raisi emphasized that domestic production must increase, and the Foreign Ministry should play its role in this regard, urging that consul-generals and ambassadors must go to Iranians overseas and should not wait for them to come to embassies.
Since taking office, Ebrahim Raisi has placed emphasis on attracting capital from Iranians overseas. However, by arresting dual nationals, Iran has pursued contradictory foreign policy goals at the same time.
Moreover, Saeed Khatibzadeh, spokesperson for the Iranian Foreign Ministry, has claimed that there have been new openings for Iran in the commercial sector, as well as export opportunities with neighboring countries, promising that in the coming days, there will be more good news about mitigating the impact of US sanctions.
According to Khatibzadeh, the Iranian Foreign Ministry plays a role in economic diplomacy, cooperating with other ministries directly involved in economic affairs.
Khatibzadeh said that there have been serious commercial opportunities including the possibility of developing exports with neighboring countries, while economic relations with Tajikistan have witnesses a two-and-a-half to threefold increase in the past 100 days.
US sanctions have made it difficult for Iran to have any financial and banking relations with the world, even with neighboring countries like Iraq.
Teachers Launch Strike Again in Protest Over Livelihood Issues in Several Cities
Upon a call from the Coordinating Council of Teachers' Union, thousands of Iranian teachers launched a strike across Iran for two days in protest against the unfulfilled promises made by the government and the Parliament and the increase in their financial problems.
The strike lasted two days and represented the third protest by teachers in the past month. Teachers on strike neither went to classes, nor held online classes.
Security forces attacked teachers who had gathered in front of the Iranian Parliament building in Tehran. In video clips released on social media, security forces tried to arrest one of the protesters, which provoked a strong reaction from the other teachers present at the gathering.
The teachers present at the gathering also chanted "free the imprisoned teacher." Earlier, security forces had beaten and arrested Rasoul Bodaghi, a civil activist and member of the Teachers' Union Center.
Reportedly, teachers took part in this strike in the cities of Bushehr, Qeshm, Lahijan, Isfahan, Sanandaj, Qom, Marivan, Marvdasht, Kerman, Karaj, Yazd, Hamedan, Tehran, Qazvin, Kazeroon, Najafabad, and other cities all over Iran.
The Teachers' Union has announced that if the government and the Parliament keep ignoring the demands of teachers, these protests will expand and continue for a longer duration in the upcoming weeks.
In recent years, due to the worsening economic crisis and the widespread poverty among different groups of people, Iranian teachers have organized many protests mostly because of their low salaries.
These protests have led to a violent response from Iranian security forces who have not only tried to prevent these gatherings, but have also arrested and threatened teachers.