Behind the scene of disagreement with Zarif The editorial of Setareh Sobh focuses on Iranian Foreign Minister's recent remarks about extensive money laundry in Iran and ensuing confrontation with Mohammad Javad Zarif for these remarks. The editorial puts it: the remarks of the Foreign Minister regarding hidden financial corruption in Iran is out of compassion and this is a reality in Iranian society. Zarif is one of the most experienced diplomats who has done positive and valuable things for the country. That is why he has access to information that we are not aware of. The editorial continues: Mr. Zarif didn't accuse the Iranian establishment of money laundering, but talked of existing realities in Iran that must be confronted. Iran must identify and confront the bottlenecks that have created these conditions for the country. There are issues that pushed Iran towards sanctions and the origins of those issues must be found. The editorial adds: in the beginning sanctions were not that extensive. By the time of the 9th government of Mahmoud Ahmadinejad, Iran was sanctioned for his inappropriate remarks and UN Security Council's Resolution 1929 targeted Iran's economy. With the JCPOA in 2015, the sanctions were somehow eased, but with Trump coming to power, once again the sanctions were imposed. The editorial goes on to say: some people attacked British Embassy in Tehran and Saudi Consulate in Mashhad, thus sabotaging Iran's relationship with the world. And meanwhile, they set fire to the JCPOA in the parliament. These people knowingly or unknowingly disrupt Iran's positive relationship with the world. The editorial concludes: one of the outcomes of sanctions is the mechanism of sidestepping these sanctions. It can rightly be said that Iran could sell its oil during sanctions, but it resulted in creation of people like Babak Zanjani who transferred the money in suitcases.
An editorial in Setareh Sobh on November 14, 2018
Tax should replace oil The editorial of Jahan Sanat focuses on replacing oil revenue with taxes in Iran and how that can become possible by joining FATF and cooperating with the global community. According to the editorial, even though tax is the best option to replace oil in the current condition of Iranian economy, Iran has one of highest rate of tax evasion in the world. The ratio of tax to GDP in Iran is about 5.7%, while this ratio must be about 20%. The editorial continues: according to the 6th development program, the current budget of the country must be provided from tax revenues. But the performance of the government last year shows that only 65% of the current budget was provided from the tax revenues and the rest was from oil revenues; whereas the government must spend oil money on the country's development funds. The editorial adds: but under the current conditions in Iranian economy, increasing tax rates is not a good option for the government. Therefore, instead of increasing tax rates, the government must confront tax evasions and cut them to zero. As a result, with cutting the tax evasions to zero, launching an efficient tax system can be the best source of revenue for the government. The editorial goes on to say: this becomes possible when the banking system moves towards transparency, when combatting money laundering is the special agenda of the Central Bank of Iran, when Iran's relationship with the global community increases, and when FATF's regulations are accepted so that cooperation with the world's banking system becomes possible.
An editorial in Jahan Sanat on November 13, 2018
Country's economy ensnared in mismanagement The editorial of Tejarat online mulls over the deteriorating economic conditions in Iran, asking if it is due to the US sanctions or Iranian officials' mismanagement. The editorial asserts: the conditions have changed in the field of economy and politics in Iran. It has been a while that Iranian statesmen keep announcing, on any possible excuses, that the US sanctions are not working. But they never admit that they have been escaping forward and have gone too far in their mismanagement. The editorial continues: one just needs to compare the prices in the beginning of Iranian year with today. Dollar was 3500 tomans, chicken 5500 tomans per kilo, gold coin 1 million tomans, Kia Pride 19 million tomans. All in all, prices of goods were much lower than today until the issue of US sanctions was raised. At that time, it seems that Iranian officials decide to escape forward and raise the prices. The editorial goes on to ask: wasn't the United States after making the value of the national currency collapse? Weren't the Americans after making the price of gold coin five million? How come the price of red meat has doubled? Why have all goods had significant increase in prices? Wasn't the United States after the increasing the prices too much to put pressure on the people? Is this not an economic war and aren't all these signs of economic defeat? The editorial adds: when the majority of those who receive salaries receive 2 million tomans per month, and 60% of the retirees receive 1,100,00 per month, isn't it obvious what will happen to those who receive salaries with these skyrocketing prices? The editorial concludes: now the question is: didn't the authorities know that with Trump coming to power this is going to happen to the JCPOA? With having 11% of the world's resources, why is the country still dependent on oil and hasn't been able to become self-sufficient or less vulnerable? The answer to all these questions is: mismanagement.
An editorial in Tejart online on November 11, 2018
Let's not be too optimistic! The editorial of Ebtekar daily focuses on the result of US mid-term elections, suggesting that Iran shouldn't be too optimistic about the impact of this election on Iran-US relationship. The editorial asserts: the results of the US mid-term elections have become clear – the elections which have created some expectations in Iran. In these elections, two Muslim immigrant women have been elected to go to the US Congress, which can be considered as a result of Trump's anti-immigration and anti-Islam policies. Probably, democrats had put these women in their list in reaction to these policies. The editorial goes on to say: despite this victory, one cannot be too optimistic about changes in the United States. As we know, the US Senate is controlled by the Republicans, which makes it a serious obstacle for the Congress. Even though the Congress can somehow stop Trump, it doesn't seem that it can create any changes in Trump's resolve to confront Iran. Trump's power will decrease, but not enough to make Iran optimistic that the sanctions will be removed. The editorial adds: Democrats taking the US Congress can bolster the global front that is created against Trump. And Iran too has shown tendency towards this front. Meanwhile, Iran must seriously follow the policy of working with Europe. If the JCPOA has failed, it is because it was not unanimously supported in Iran. Now if there is serious decision to work with Europe, Iran must give in to its requirements and all in the country must boost this decision.
An editorial in Ebtekar on November 10, 2018
Sanctions won't starve Iran, but will they change its behavior?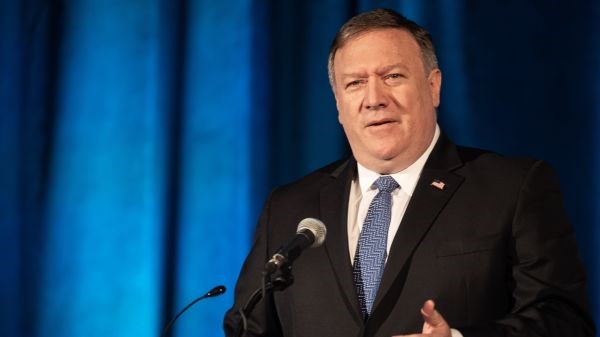 The US has re-imposed comprehensive and effective sanctions against Iran. The sanctions aim to pressure Iran to end its interventions in the Middle East and the Arab world, and dismantle its suspicious nuclear and ballistic missile capabilities. Iran has tried to frame the sanctions as a US tactic to harm its people, in part to earn public sympathy and encourage states to ignore the sanctions system. The US dismisses Iran's charges, and insists that the purpose of the sanctions is to alter the political system behavior in Iran. The US Secretary of State Mike Pompeo has even dismissed efforts by Iran's foreign minister, Javad Zarif, to frame the sanctions as a punitive measure against the people of Iran. The US secretary of state insists that the sanctions system allows food and medicine to reach Iran. Zarif had earlier stated in his twitter account that the sanctions threatened to starve Iranians. To get his message across, he even penned an article for Newsweek, titled "Mike Pompeo Says Iran Must Listen to U.S. If They Want Their People to Eat."
Iran admits that it is unable to encourage the Europeans to continue trading with it, despite the sanctions. In an effort to shield Iran from US-led sanctions, the European Union (EU) has set up a Special Purpose Vehicle (SPV). This will allow the EU and other interested countries to engage in trade and special financial transactions with Iran. Iran can engage in transactions in euros or sterling instead of the US dollar, to clear its export-import balance with the EU through SPV. Iran says that it will take time, before the SPV can actually work. Austria has rejected serving as a host for the SPV, and it is likely that other European countries might also delay using SPV in order to trade with Iran.
Most European companies have opted to pull out of Iran's markets, fearing US fines if they ignore the sanctions. The SPV is designed mainly for small companies that have no trade with the US, and can easily invest in Iran. If the SPV mechanism succeeds, the negative impact of sanctions on Iran will recede. The US could target SPV by sanctioning its operation or officials, banks and countries that host the special transaction channel with Iran. If it succeeds, the EU will fail to retain trade with Iran under the renewed sanctions system imposed against Iran by the Trump administration.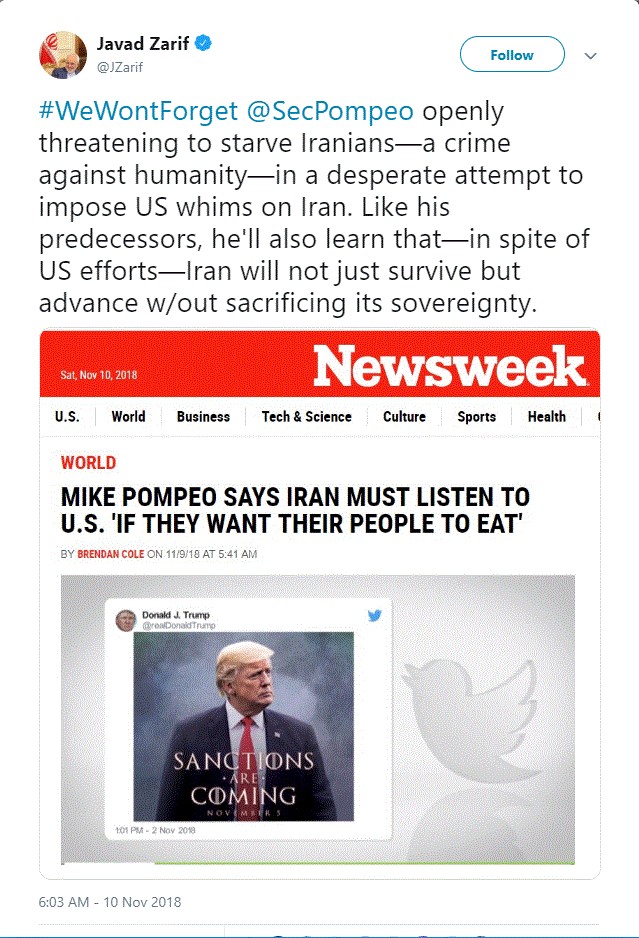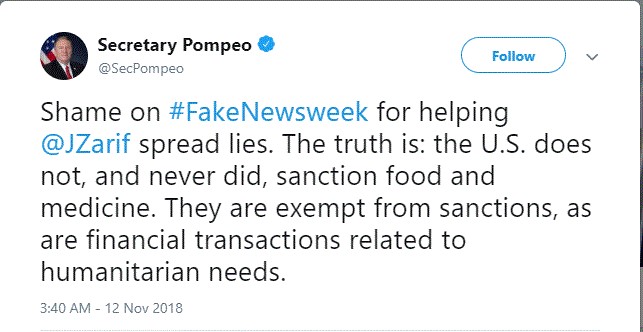 US National Security Advisor John Bolton insists that Washington will not allow any country or entity to help Iran evade the sanctions. Secretary of State Mike Pompeo has directly criticized the SPV, saying that it will harm US efforts to stabilize the Middle East region and make it harder to contain Iran through the sanctions system. The US hopes that pressures on Iran will encourage it to change its foreign policy behavior, and use its wealth and resources to improve the lives of average Iranians rather than funding conflicts in the region.
Iranians officials offer mixed statements about renewed sanctions

Iran is boasting that it continues to spread its influence in the Arab world, regardless of the sanctions. Former foreign ministry spokesman Ramin Mehmanparast says that Iran has awakened the people in the region. If Iran's statement is correct, it can thank the money it received through the nuclear deal for its ongoing influence across the region. The fact that the deal was made with the US, and that Washington delivered cash to Iran and unfroze Iranian assets following the deal, seems to have increased Iran's confidence about retaining its regional influence.
Despite renewed sanctions and the potential breakup of the nuclear deal, other senior Iranian state officials have also dismissed speculations that the sanctions can force Iran to roll back its regional influence. Parliament Speaker Ali Larijani said that US sanctions can turn ineffective if Iran realizes its full potentials. He stressed that Iran would not surrender to US pressures. Larijani echoes the same sentiments as Iran's Supreme Leader Ayatollah Ali Khamenei who also insists that the Iranian people can carry the burden of the sanctions. Iran's Interior Minister Abdulreza Rahmani Fazli and his Vice President Eshaq Jahangiri have made similar statements, talking of the need to confront the sanctions with boldness and find means to circumvent them.
Iranian officials of all ranks have meanwhile rallied behind President Hassan Rouhani in the face of sanctions. His opponents in Iran's last presidential race in 2017 have expressed sympathy for the hardships that his government faces due to sanctions, and as internal pressures on him inside Iran mount. The reformist politician Mostafa Hashemitaba insists that no Iranian president can solve the country's problems, and criticizes those who attack Rouhani's performance for turning to cheap political tactics to deflect blame.
Iran's Foreign Minister Mohammad Javad Zarif's comments this week, stating that money laundering was rampant in Iran, aimed to hit back at Rouhani's critics. The Rouhani government has pushed Iran to join the Financial Action Task Force (FATF) to fight money laundering. Therefore, Iran is reviewing a bill on Combating the Financing of Terrorism (CFT) as a way to appease US concerns about its actions in support of proxy groups in the Arab region. Some in Iran have condemned Zarif's comments as an insult. But his comments are substantiated by international groups that report rampant money laundering has indeed taken place in Iran. Zarif might be summoned to parliament to be questioned about his comment. But what is clear is that he represents one of many conflicted voices inside Iran trying to figure out how best to deal with the sanctions, and appease international concerns over Iran's regional actions.
To this end, the Rouhani government is seeking approval from Iran's parliament and Guardian Council to pass CFT and FATF. The measure will build confidence with the Europeans who want to help Iran fight the sanctions system. It will also make trading with Iran more justifiable, because it will show that Iran is determined to halt money laundering and fight funding for terrorism. But Rouhani's government faces several obstacles. The Council for the Maintenance of the Constitution, a body responsible for overseeing compliance with the Iranian constitution, favors voices in Iran that reject joining FATF. If Iran joined FATF, it would have a hard time funding its regional activities in support of its proxies. Zarif admitted this week that groups opposed to FATF spend sums of money campaigning against it that exceed his ministry's annual budget. His statement seemed to point to rampant money laundering efforts in Iran, and the economic benefits that it provided to those groups that engaged in it. If his comments are true, according to the economist Mehrdad Emadi, Iran would have a hard time convincing the EU to work with it, given the non-transparent nature of financial transactions in Iran.
Israel continues to pressure Iran over its regional actions
Israel says that it is concerned that the Iranian-backed Hezbollah forces have increased their missile stockpiles and capabilities. Hezbollah admits that it receives funds from Iran, and it is conceivable that Iranian money has allowed the group to improve its rocket launchers. Iran may have also offered Hezbollah advanced GPS components to guide its missiles. Reports indicate that Iran has built several underground missile conversion factories in Lebanon in March 2017. Iran is well aware of the importance of Lebanon's strategic location. Its attempts to build up Hezbollah's missile capabilities seem to point to its desire to have precision-guided rockets to use against Israel.
Israel knows the danger that Hezbollah can pose, especially after the war that it led against Hezbollah in July 2006. During that war, Hezbollah launched hundreds of rockets on Israel's northern territories. Since then, it is believed that the group has ramped up its arsenal dramatically to over 100,000 missiles with the ability to hit any target in Israel. If true, Hezbollah now has more missiles than all NATO countries in Europe combined, according to a report submitted by the Jewish Institute for National Security Affairs (Jinsa).

Israel's government has sent a message to Lebanon through French intermediaries to demand Beirut to bring Hezbollah's missile arsenal under control or expect swift Israeli military action. Hezbollah has meanwhile stayed close to mainstream political groups in Lebanon, to shield criticism about its military capabilities. It works well with President Michel Aoun, and insists that it will never disarm, despite calls on it to do so.